Who says ice cream is just for summer? This winter-fruit-flavored Cranberry Amaretto ice cream is slightly tart and slightly sweet.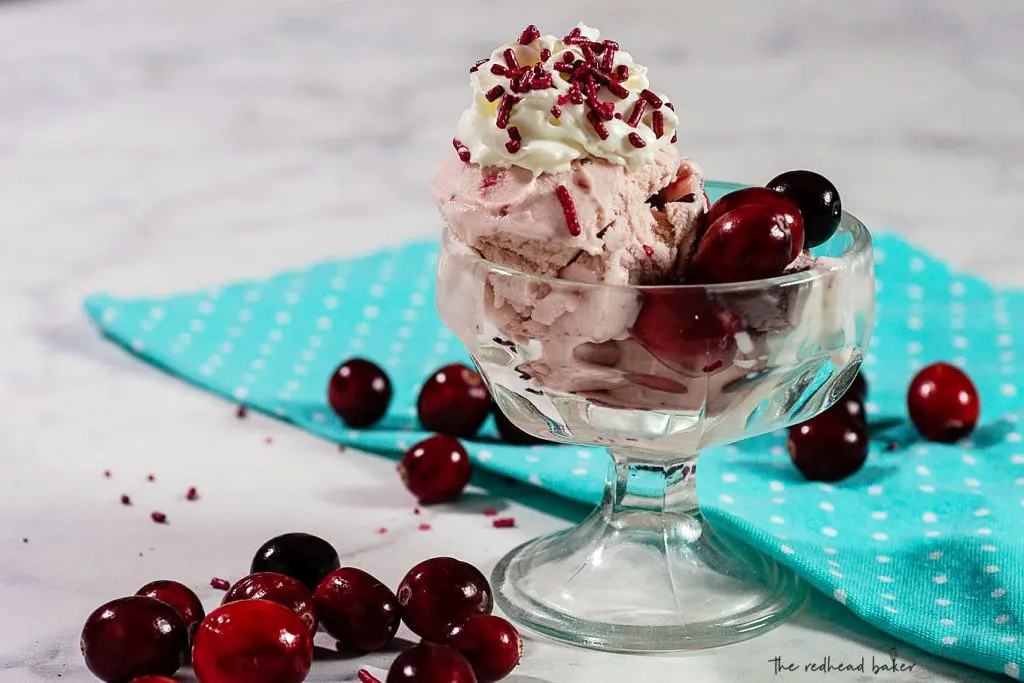 Welcome to another day of Cranberry Week! This is probably my favorite dessert of the week. I'm really excited to share it with you!
Think ice cream is only for summer time? Think again! Cranberry amaretto ice cream is slightly tart, slightly sweet, and incredibly delicious.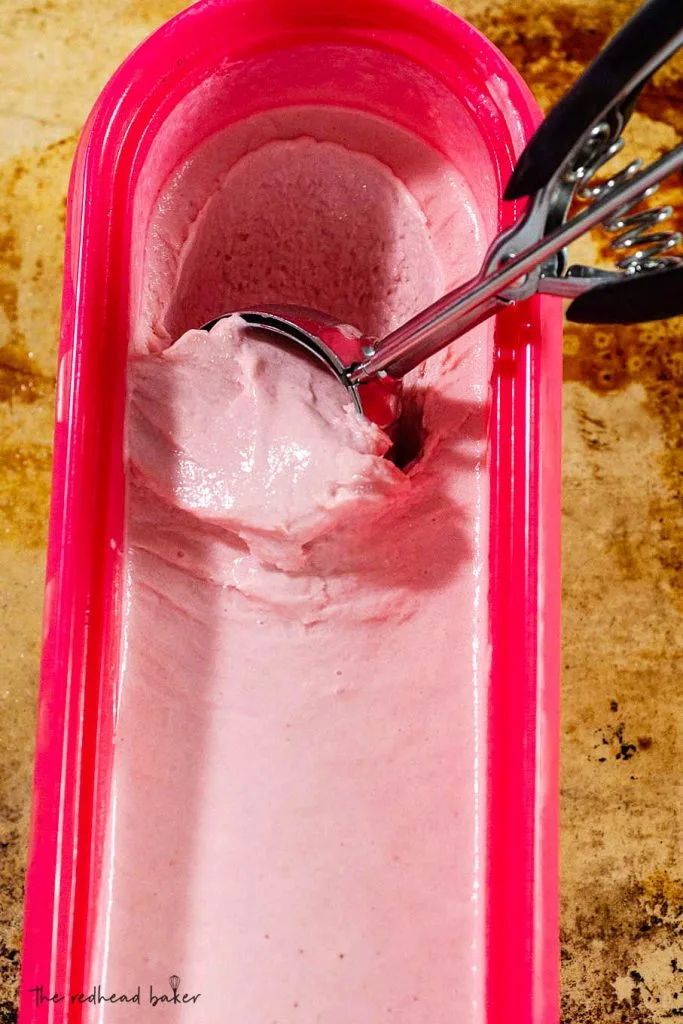 Ice cream starts with a cooked custard. Milk and cream are mixed with beaten egg yolks until thickened. Then, you stir in the flavoring, and churn in an ice cream maker.
The trick is heating the egg yolks without scrambling them. You do this through a process called "tempering" ⁠— using a small bit of hot liquid to gradually raise the temperature of the eggs before adding them to the rest of the hot liquid. If you do happen to cook a few egg proteins, you can strain them out with a fine-mesh sieve.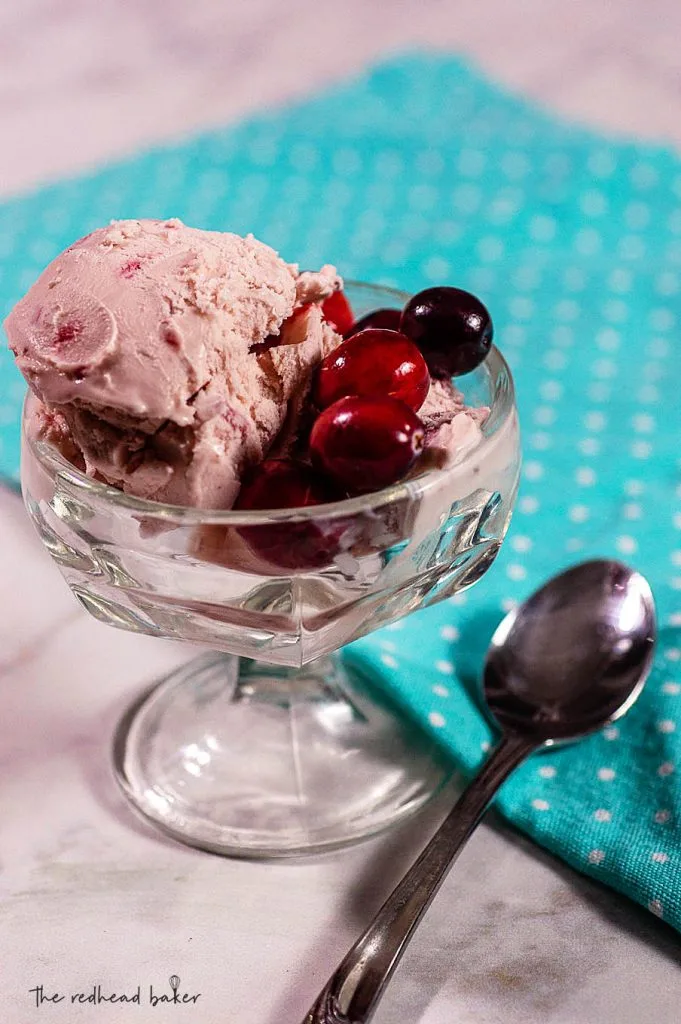 The pureed cranberries give this ice cream a slightly tart flavor and a beautiful pink hue. It almost looks like strawberry ice cream.
Freezing also dampens flavors, especially sweet ones, so your ice cream base should taste slightly too sweet before churning.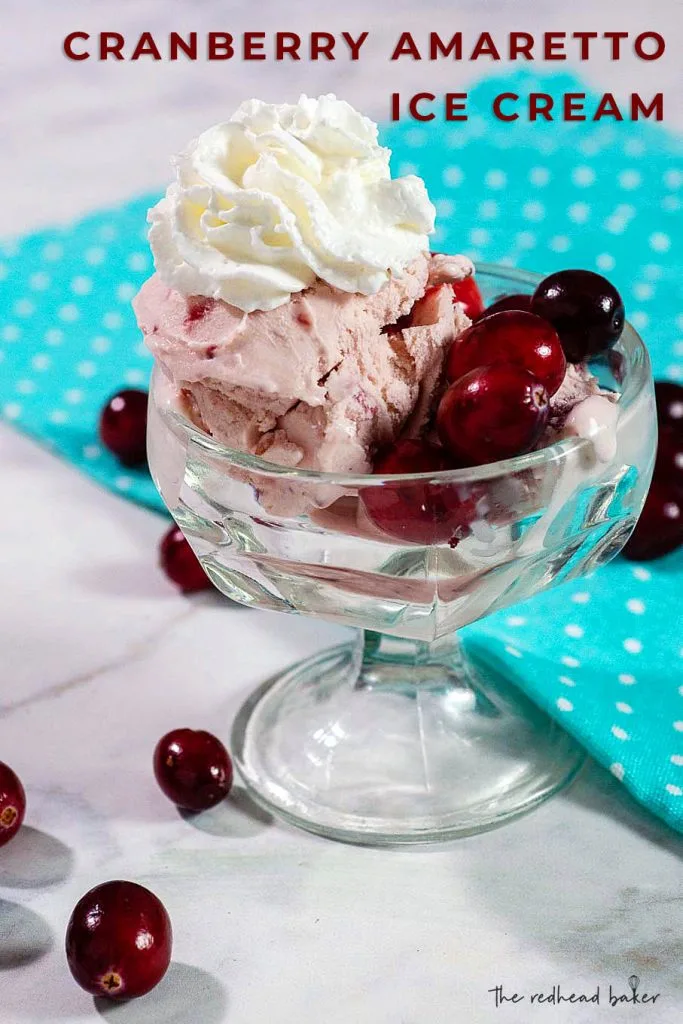 The subtle flavor of amaretto hits after you taste the cranberries. It might be my favorite part of the ice cream! Alcohol lowers the freezing temperature of ice cream, so don't add any more than 4 tablespoons to the ice cream base, or it won't churn properly.
What can you do with this ice cream? Well, I wanted to eat it straight out of the ice cream maker. But you can also use it to top a slice of apple pie after your holiday dinner. Sandwich it between two oatmeal cookies. Or, instead of scooping it into a store-bought graham cracker crust before freezing to make an ice cream pie.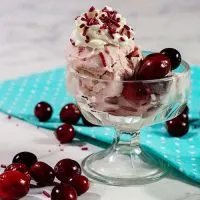 Cranberry Amaretto Ice Cream
Chilling/Freezing Time:
12 hours
Total Time:
12 hours
30 minutes
Who says ice cream is just for summer? This winter-fruit-flavored Cranberry Amaretto ice cream is slightly tart and slightly sweet.
Ingredients
12 oz fresh cranberries
1 (3-inch) cinnamon stick
1 cup sugar, divided
2 cups heavy cream
1 cup whole milk
5 large egg yolks
Pinch of salt
2 to 4 tablespoon amaretto
Instructions
Place the cranberries, ⅓ cup of the sugar, and the cinnamon stick in a saucepan set over medium-high heat. Stir until cranberries are hot. Lower the heat to low, cover, and cook for 10 minutes, stirring often and burst.
Remove from the heat, remove and discard the cinnamon stick, and puree with an immersion blender.
Press the puree through a fine-mesh sieve, discarding the solids in the sieve. Cover the remaining puree and keep warm.
Meanwhile, place the cream, milk, another ⅓ cup of sugar, and the salt in a saucepan. Heat over medium heat to scalding. Do not let the mixture boil.
While the milk and cream are heating, in a large mixing bowl, continuously whisk together the egg yolks and the remaining sugar. Do not stop mixing the yolks, because sugar is hydroscopic, meaning it absorbs water from the yolk, causing the yolk to coagulate into clumps.
Once the milk/cream is scalded, while continuing to whisk the yolks, gradually drizzle half a cup of the milk/cream mixture into the yolks to temper them (raise the temperature without cooking the yolks).
Pour the milk/yolk mixture back into the saucepan, and using a wooden spoon, cook over medium-low heat until the mixture thickens and coats the back of the spoon (if you're using a thermometer, the target temperature is 170 degrees F).
Remove from the heat and pour into a large bowl. Whisk in the warm cranberry puree. Stir in 2 tablespoons of amaretto. Taste, and add up to 2 more tablespoons to achieve your desired taste. Cover and refrigerate for at least four hours.
Pour the ice cream base into your ice cream maker. Churn according to manufacturers directions. Scoop the ice cream into a freezer-safe container and freeze until hard, at least 4 hours.
Recommended Products
As an Amazon Associate and member of other affiliate programs, I earn a small percentage from qualifying purchases.
Nutrition Information:
Yield:

12
Serving Size:

1
Amount Per Serving:
Calories:

295
Total Fat:

17g
Saturated Fat:

10g
Trans Fat:

1g
Unsaturated Fat:

6g
Cholesterol:

140mg
Sodium:

62mg
Carbohydrates:

26g
Fiber:

1g
Sugar:

24g
Protein:

5g
I am not a certified nutritionist. This nutrition information is automatically calculated by third party software and is meant as a guideline only.
SEE MORE CRANBERRY WEEK RECIPES
And follow #cranberryweek on social media to see even more