Special holidays call for special desserts. Cranberry creme brulee is a holiday twist on the dessert with a layer of cranberry sauce under the creamy custard.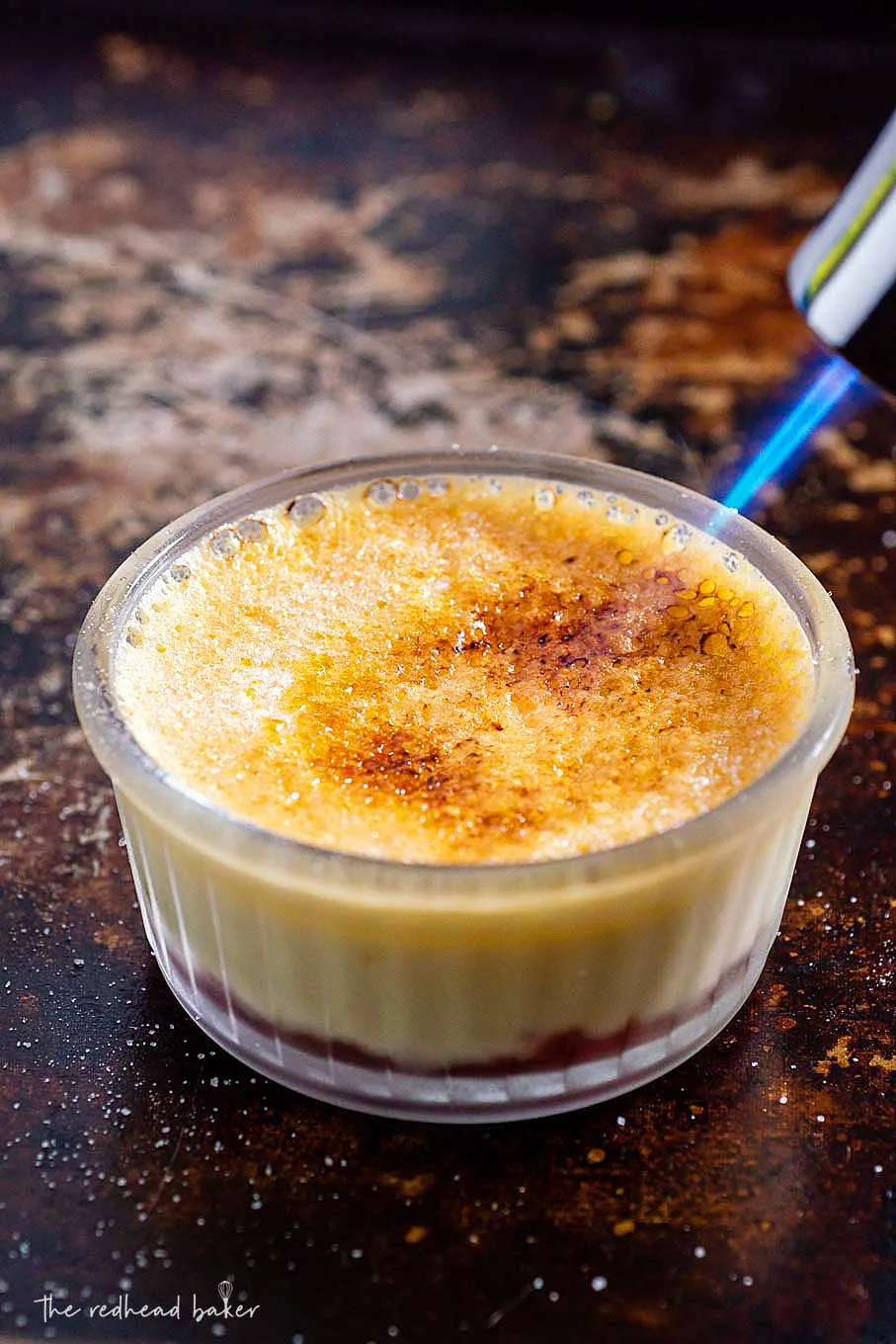 While I'm not a fan of cold weather, November and December are one of my favorite times of the year. The day after Halloween, I get such a feeling of excitement!
Christmas is my favorite holiday, but I also host Thanksgiving, and I love the planning and cooking of the big meal.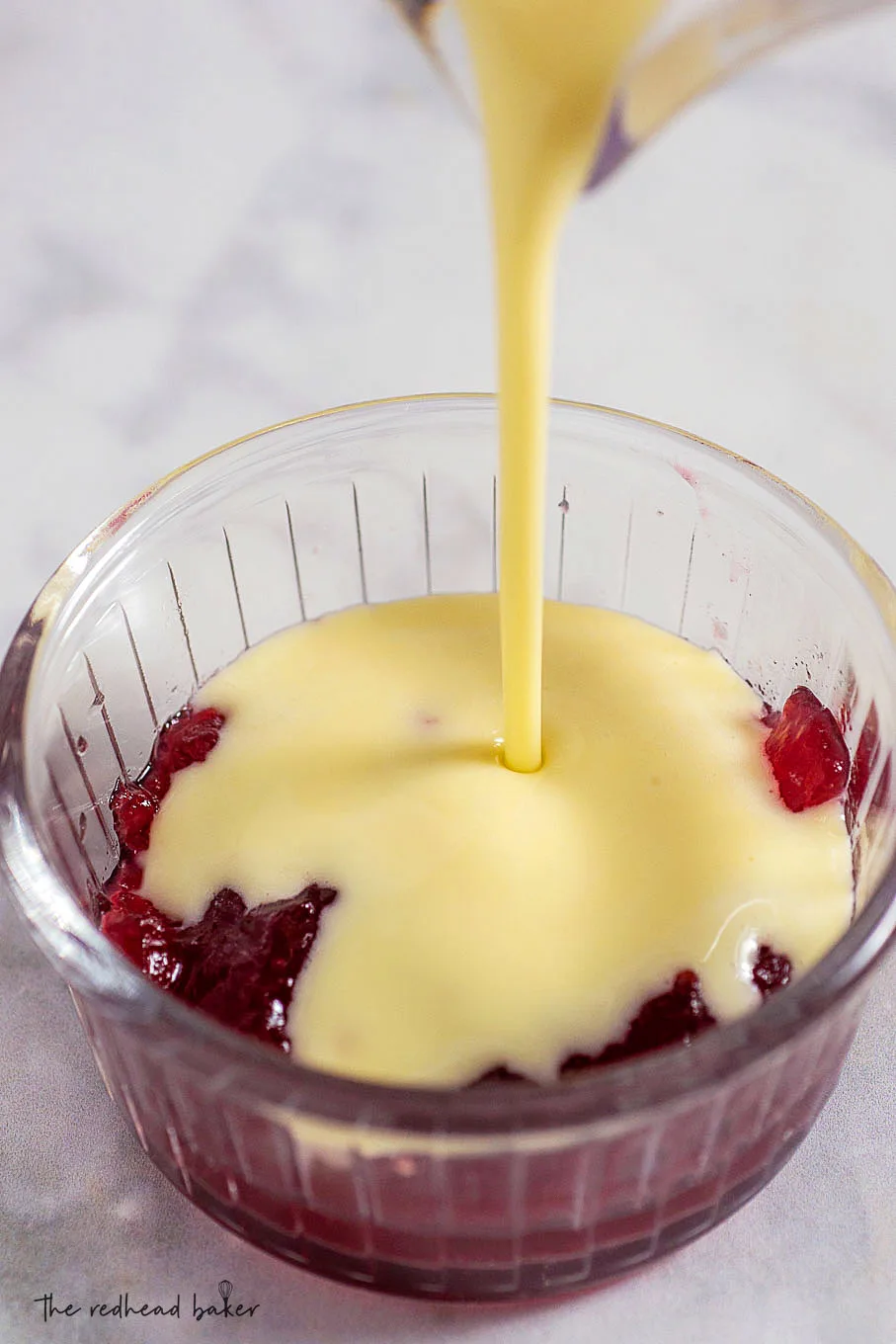 Such a special time of year deserves a special dessert. And creme brulee is a special dessert. It's not a dessert you typically make at home. Most people don't keep ramekins in their cabinets, or a kitchen torch.
But I think this custard is easier to make than an ice cream base or pastry cream, because you likely won't need to temper the eggs and cook the custard until it thickens, but without curdling the eggs.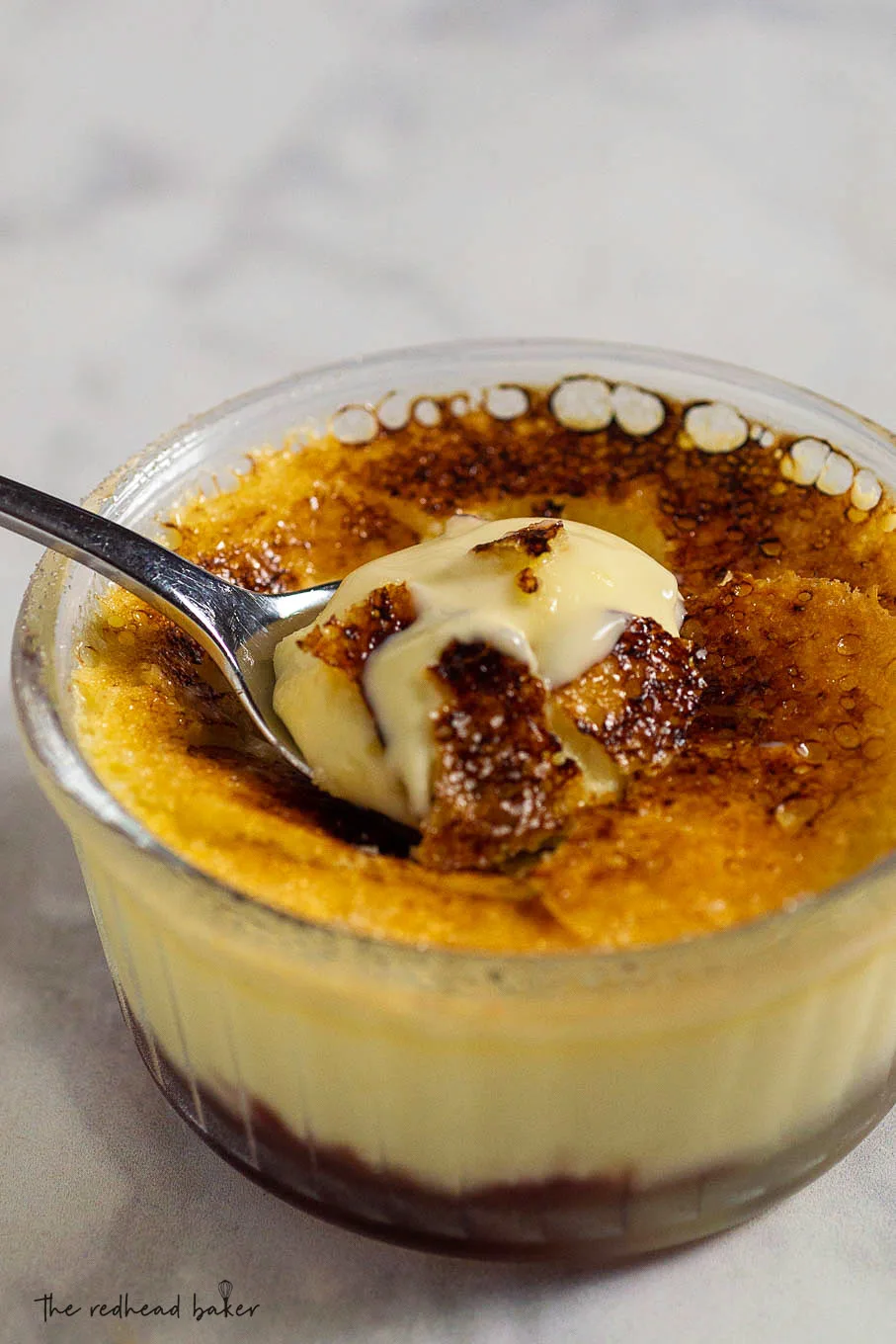 If you don't have a kitchen torch, it is possible to melt the sugar under the broiler, but it's much harder to control the amount and evenness of the melting.
I used white sugar for topping these creme brulees, but you can use light brown sugar, vanilla sugar, or other flavored sugar.
At restaurants, creme brulees are typically served on doily-covered dessert plates, with a small piece of biscotti on the side. Personally, I used leftover sugared cranberries for garnish.
These cranberry creme brulees can be made up to three days ahead. Just take them out of the refrigerator about 30 minutes before you melt the sugar topping. These custards are best served cool, but not too cold. It makes a nice contrast with the warm, crispy melted sugar topping.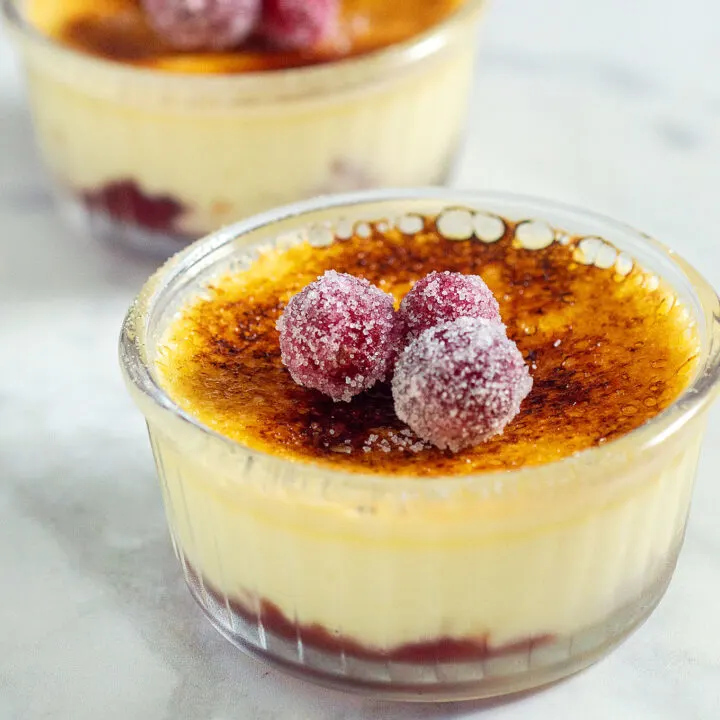 Cranberry Creme Brulee
Special holidays call for special desserts. Give creme brulee a holiday twist with a layer of cranberry sauce under the creamy custard.
Ingredients
2 cups heavy cream, divided
4 oz white chocolate chips
1 teaspoon vanilla extract
Pinch of salt
5 large egg yolks
½ cup sugar, divided
½ cup cranberry sauce (store-bought or homemade)
Instructions
Place 1 cup of the heavy cream and white chocolate chips in a medium saucepan set over medium-low heat. Stir continuously until the chocolate is melted.
Remove from the heat, and stir in the remaining cup of cream, vanilla and pinch of salt. Set aside.
In a medium mixing bowl, with a handheld mixer, beat the egg yolks with ¼ cup of the sugar until the mixture is pale yellow and tripled in volume.
Feel your cream mixture. If it's still hot, gradually drizzle ½ cup of the cream mixture into the egg yolk mixture while continuously whisking, then add the remainder of the cream. If your cream mixture is room temperature, or even cool, you can add it all at once to the egg yolk mixture.
Preheat your oven to 300 degrees F.
Place 8 four-ounce ramekins in a large cake pan or roasting pan. Place 1 tablespoon of cranberry sauce in the bottom of each. Use a fork to mash it down into an even layer.
Pour some of the creme brulee custard into each ramekin, filling each nearly full.
Pour very hot water into the cake or roasting pan (being careful not to splash any water into the creme brulee ramekins), and carefully place the cake or roasting pan in the oven.
Cook the custards for 45 to 55 minutes, until the edges are set and the center jiggles just slightly when gently shaken.
Remove the custards from the water bath and place in the refrigerator for at least 2 hours, or up to 3 days.
Remove from the refrigerator at least 30 minutes before browning and serving.
To brown, sprinkle about a teaspoon of sugar across the top of each ramekin. Use a kitchen torch to melt the sugar. Let stand for 5 minutes before serving.
Notes
Attention: Propane/butane gas torches are highly flammable and should be kept away from heat, open flame and prolonged exposure to sunlight. They should be used only in well-ventilated areas. Follow torch manufacturer's instructions for use.
Recommended Products
As an Amazon Associate and member of other affiliate programs, I earn a small percentage from qualifying purchases.
Nutrition Information:
Yield:

8
Serving Size:

1
Amount Per Serving:
Calories:

408
Total Fat:

30g
Saturated Fat:

18g
Trans Fat:

1g
Unsaturated Fat:

10g
Cholesterol:

210mg
Sodium:

92mg
Carbohydrates:

30g
Fiber:

0g
Sugar:

28g
Protein:

7g
I am not a certified nutritionist. This nutrition information is automatically calculated by third party software and is meant as a guideline only.
SEE MORE CRANBERRY WEEK RECIPES
And follow #cranberryweek on social media to see even more