Eggnog marshmallows are a delicious Christmas-time treat. They also make great hostess gifts! After all, who wouldn't love to receive homemade marshmallows?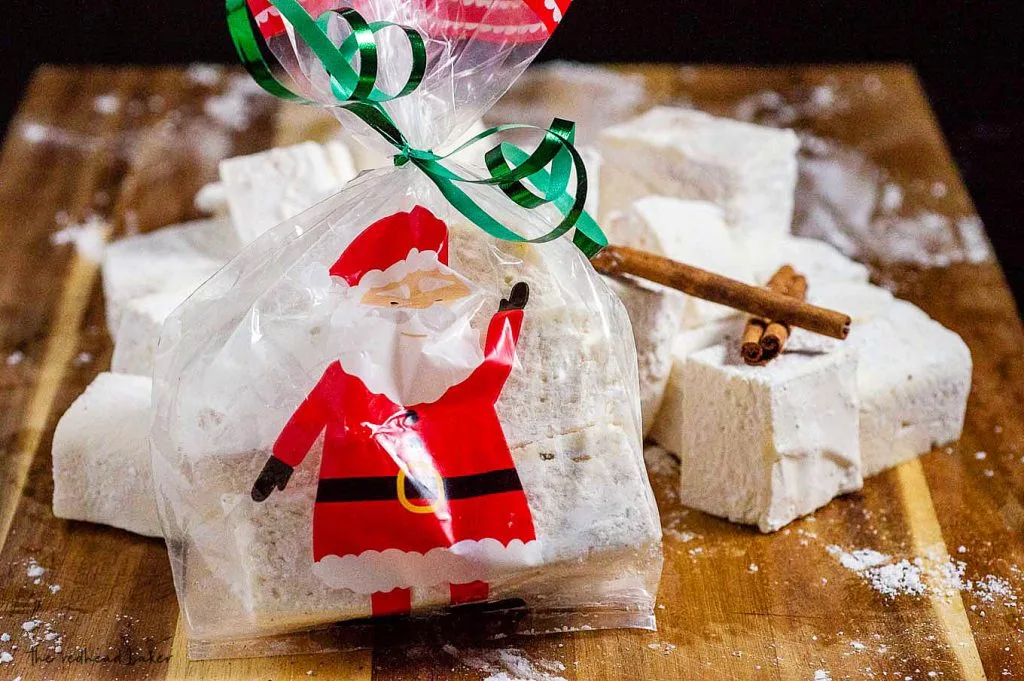 Welcome to #ChristmasSweetsWeek 2019! Co-hosted by Terri from Love and Confections and Christie from A Kitchen Hoor's Adventures! What better way to celebrate the holidays than with food and fun? 25 bloggers from around the country have come together to share some of their favorite sweet Christmas recipes!! Deck the halls and get ready for very merry sweet treats, like fudge, cookies, Christmas morning breakfasts, layer cakes, cocoa, and more! Follow along on social media with our #ChristmasSweetsWeek hashtag. Happy Holidays!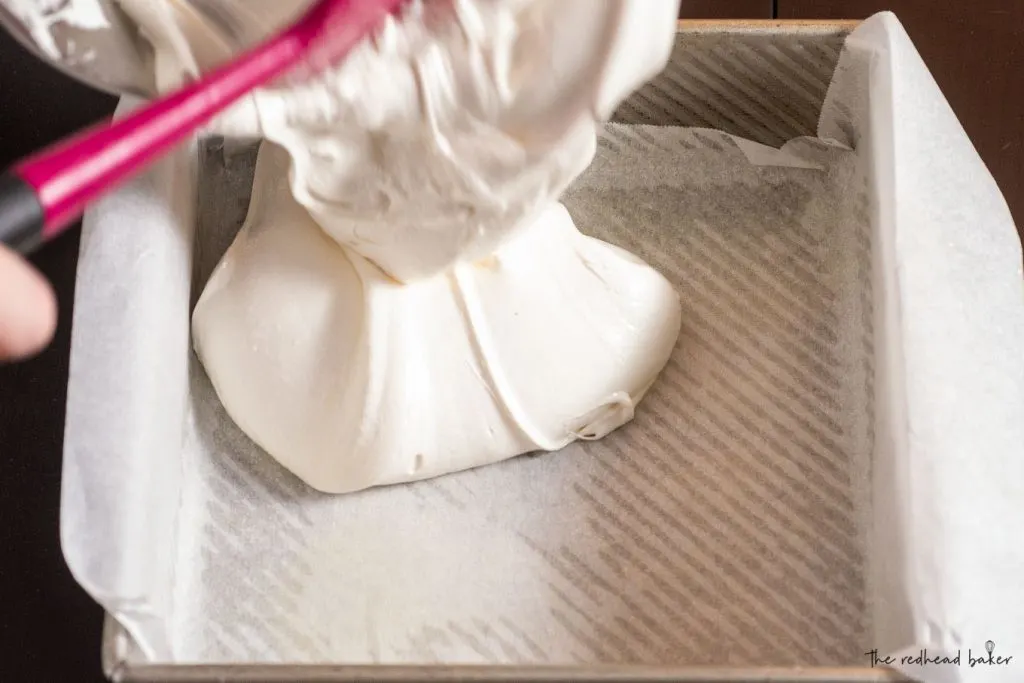 Marshmallows are a staple in our household. We use them in s'mores in the summer, and in hot cocoa in the winter. And my son will ask for them as a snack year-round. I love making them at home because I can expertiment with different flavors.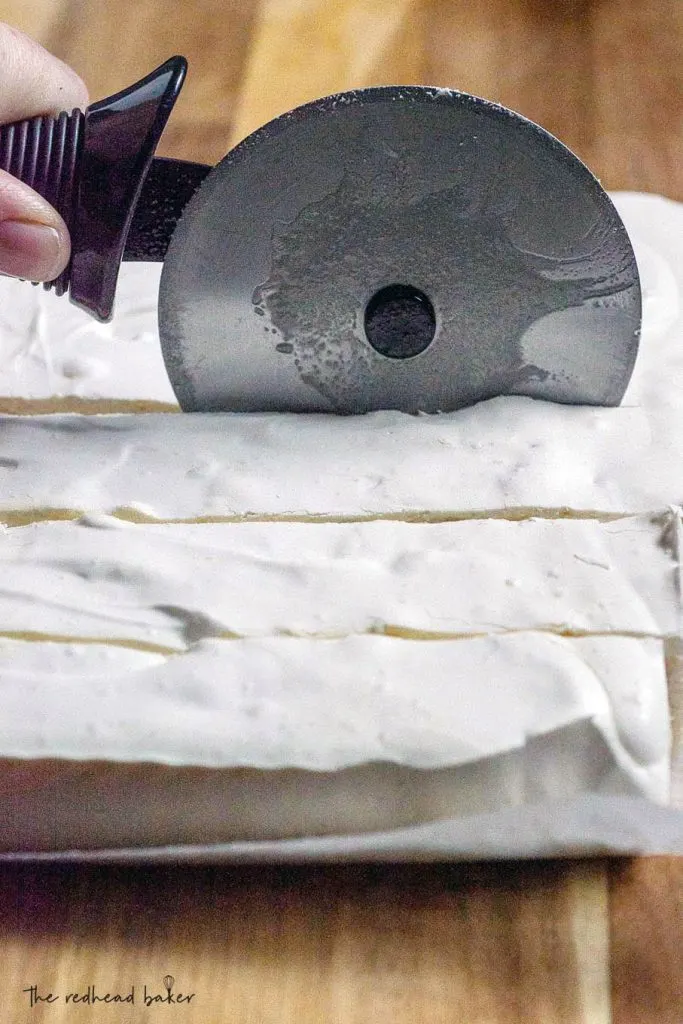 Marshmallows are pretty easy to make at home, if you have the right equipment. You'll need a heavy-duty saucepan, a candy thermometer, and a stand mixer with a whisk attachment.
Oh, and a lot of nonstick cooking spray. Making homemade marshmallows is a messy, messy businnes. If you're a stickler for kitchen cleanliness (or if you have a stickler-for-cleanliness-husband who just cleaned the kitchen ...), you might want to skip this recipe.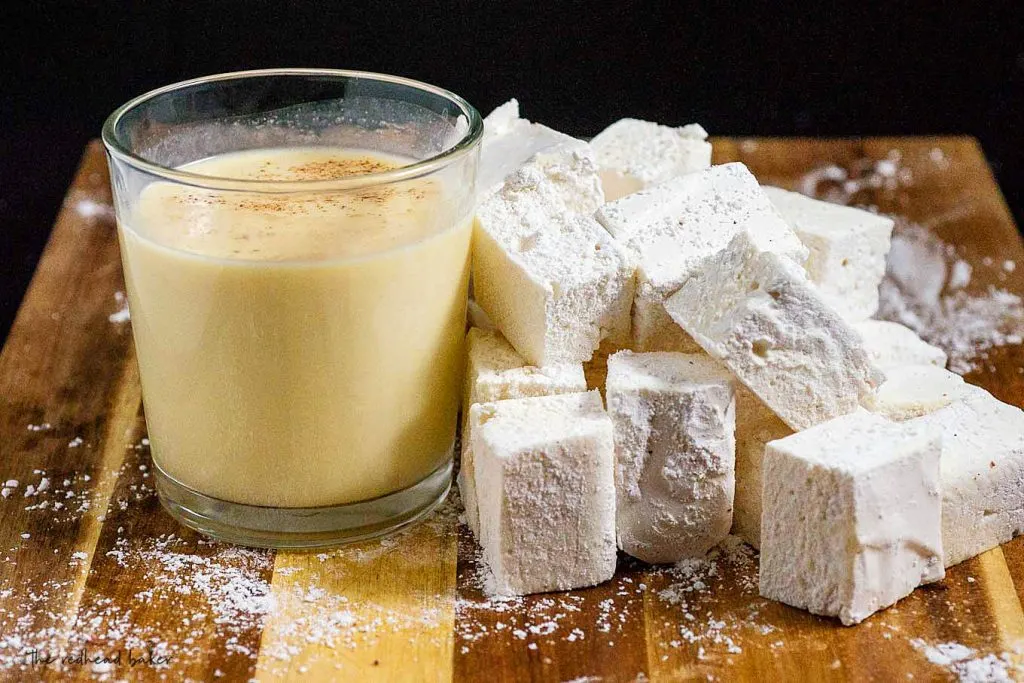 This is also not a recipe where you want to try to scrape every last bit from the mixer bowl into your pan. It's just not going to happen. You'll end up looking like you're wrapped in strings of marshmallowy cobweb.
Some people are intimidated by cooking sugar, but if you can boil water, you can cook sugar, if, as I said before, you have the right equipment. If you don't cook your sugar enough, or cook it too much, it'll affect the final texture of your marshmallows.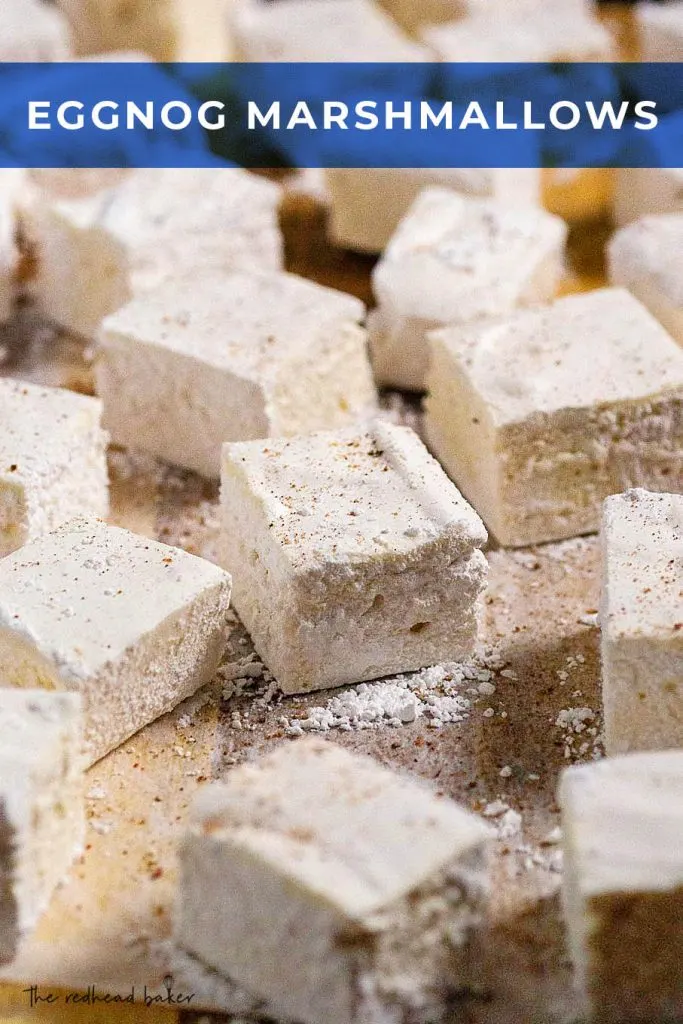 Also, cooked sugar is HOT. If you think it hurts to get splashed by boiling hot water, you've never been burnt by cooked sugar. My old culinary instructor called it "liquid napalm." Long story short, be super careful not to get any hot sugar on your bare skin.
Once the eggnog marshmallows have set, you can divide them into cute treat bags, tie them with festive ribbon, and give them out as hostess gifts. They will keep for about a week at room temperature in an airtight container.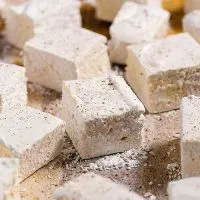 Eggnog Marshmallows
Total Time:
8 hours
25 minutes
Eggnog marshmallows are a delicious Christmas-time treat. They also make great hostess gifts! After all, who wouldn't love to receive homemade marshmallows?
Ingredients
½ cup water
3 tablespoon gelatin (3 packets)
2 cups sugar
½ cup eggnog
¼ cup grade B maple syrup
1 teaspoon vanilla extract
½ teaspoon eggnog extract
1 cup powdered sugar
½ cup cornstarch
Nutmeg for light dusting
Instructions
Spray an 8-x 8-inch pan with non stick spray, then line with parchment paper, allowing two opposite ends of the parchment to hang over the sides of the pan. Spray the parchment lightly with cooking spray.
Pour the water into the bowl of a stand mixer fitted with a whisk attachment. Sprinkle the gelatin on top; briefly whisk to combine, then set aside.
In the meantime, place the sugar, eggnog, and maple syrup in a medium saucepan set over medium heat; cook and stir until sugar dissolves. Continue cooking the mixture over medium heat, bringing it to a simmer. Cook without stirring until a candy thermometer inserted into the mixture reads 240 degrees F (aka "hard ball stage"), about 8 to 10 minutes.
Carefully pour the syrup mixture into gelatin mixture without dripping any on the sides of the bowl. Once all of the sugar mixture is added, turn the mixer on low. Once combined and the gelatin has dissolves, increase speed to high and beat until thick and fluffy, and mixture triples in volume and the bowl feels lukewarm, about 10 minutes. Add vanilla and eggnog extract and beat until well combined.
Using a lightly oiled spatula, scrape the mixture into the prepared pan. Use a lightly oiled offset spatula to smooth out top (top surface will not be completely even).
In a bowl, whisk together the powdered sugar and cornstarch. Use a fine-mesh sieve to dust the top of the marshmallow (you won't use all of the cornstarch mixture) in a light, even layer. Set aside to cool at room temperature for 8 hours or overnight.
Use a lightly oiled pizza cutter to slice the marshmallow slab into 1-inch cubes. Toss cut marshmallows in the remaining powdered sugar/cornstarch mixture. Dust with nutmeg. Marshmallows will keep in an airtight container for up to 5 days.
Recommended Products
As an Amazon Associate and member of other affiliate programs, I earn a small percentage from qualifying purchases.
Nutrition Information:
Yield:

36
Serving Size:

1
Amount Per Serving:
Calories:

73
Total Fat:

0g
Saturated Fat:

0g
Trans Fat:

0g
Unsaturated Fat:

0g
Cholesterol:

2mg
Sodium:

4mg
Carbohydrates:

18g
Fiber:

0g
Sugar:

16g
Protein:

1g
I am not a certified nutritionist. This nutrition information is automatically calculated by third party software and is meant as a guideline only.
Adapted from The Kitchn
Enjoy these #ChristmasSweetsWeek recipes from our bloggers:
Christmas Beverages:
Rudolph's Punch
from Seduction In The Kitchen
Christmas Pastries and Desserts:
Christmas Tree Cupcakes
from Our Good Life
Christmas Candies:
Eggnog Marshmallows
from The Redhead Baker