It's recipe swap time again, hosted by A Taste of Home Cooking! This round's theme was desserts—right up my alley!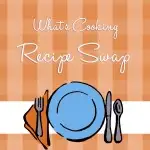 Before we get to the food, I want to make sure you are aware that Google will be retiring Reader, their RSS reader. That means if you follow my, or any other, blog with Google Reader, you'll need to find a new service. There are a few to choose from, the most popular being Feedly and BlogLovin'. Click the following link to follow my blog with Bloglovin.
Now — dessert! My favorite meal of the day. I submitted the caramel shortbread bars that I made last November. I was really excited to see what recipe I'd receive. I have to admit, I was surprised to get a souffle recipe. Not a bad surprised. Just surprised.
I've made souffles once before, in culinary school. They are typically made by folding together a flavored yolk-based cream sauce and whipped egg whites. Souffles can be either sweet or savory. A souffle can be baked in almost any dish, but most choose porcelain oven-safe ramekins, from small (for individual souffles) to a single large souffle. The dish is buttered, then coated with something for texture (typically sugar for sweet souffles; bread crumbs or Parmesan cheese for savory) to give the souffle something to cling to as it rises.
In this lighter souffle, whipped egg whites are folded with fruit puree (skipping the calorie- and fat-laden cream sauce). The recipe I received called for raspberries, but since blackberries were on sale near me, I substituted with those instead. I probably should have increased the amount of blackberries, because I didn't get even the minimum amount of puree called for in the recipe. But still, the souffles had a subtle blackberry flavor, and a beautiful purple color.
One other thing I'd do differently next time is strain the puree to remove the seeds.
Flourless Blackberry Souffles
Adapted from Kosher Kitchen
Ingredients
3 (6-oz) containers of blackberries
¾ cup sugar, divided, plus more for prepping the dishes
2 ¼ teaspoon fresh lemon juice
softened unsalted butter, for greasing the souffle dishes (¼ to ½ a cup)
9 large egg whites
confectioners' sugar, for garnish
Directions
Reserve 8 of the blackberries; set aside. Place the remaining blackberries in a medium saucepan, and add ¼ cup of the sugar and the lemon juice. Cook over medium heat until the blackberries are very soft and have begun to break down, about 15 to 20 minutes. Remove from the heat and puree with an immersion blender. Transfer to a bowl, and refrigerate for at least one hour.
Preheat your oven to 400 degrees. Grease 4 (8-ounce) ramekins generously with the butter. Place a tablesoponful of sugar in each dish, and turn to coat the bottom and sides. Repeat with each ramekin. Set the ramekins on a baking sheet, leaving space between each.
Place the egg whites in a clean, dry bowl of a stand mixer. Using the whisk attachment, whip the egg whites to soft peaks. Gradually add the remaining ½ cup of sugar, and continue whipping until the whites reach stiff peaks.
Remove the bowl from the stand mixer. Measure out 1 ¼ to 1 ½ cups of the puree (more puree will mean stronger flavor). Gently but quickly fold one third of the puree into the egg whites with a rubber spatula until nearly fully incorporated. Add another third of the puree and fold until nearly incorporated, then add the remaining third and fold until fully incorporated.
Divide the mixture among the prepared ramekins, filling each nearly full. Cut the reserved blackberries in half, and place four halves on top of each ramekin.
Place the entire baking sheet in the oven and bake for 15 minutes, or until fully puffed and the tops feel dry.
Sift confectioners sugar over the souffles, and serve immediately.
Cooking time: 15 minute(s)
Number of servings (yield): 4
See more recipes from the Dessert Swap by clicking the photos below!