Every year, my mother's department at work exchanges tins of edible goodies rather than gifts. Since my mother and the oven (well, pretty much the entire kitchen) don't get along well, she commissions me to bake for her.
I like to change up the recipes I made each year, and for that, the 12 Weeks of Christmas Treats link-up was quite helpful. There were loads of new cookies to choose from, but I ended up choosing Hot Cocoa Cookies from Cooking to Perfection.
So, I packed up my baking ingredients, baking sheets, cookie scoop, and the baby, and headed to my mother's. She entertained the baby while I baked.
Seeing as I haven't learned my lesson in all the years I've been baking, I didn't fully read the instructions ahead of time, so I didn't have the option of refrigerating the cookie dough overnight. Chilling cookie dough is usually done to keep the cookies from spreading too much; it doesn't alter the taste. So, chilling isn't absolutely necessary, you'll just end up with bigger, thinner cookies. That being said, some of the fudgy texture is lost in the spreading. If that's important to you, chill your cookie dough, even if it's only for an hour.
However, my cookies did still come out tender and chewy, if not fudgy. How did they taste? Like a cup of hot cocoa! Seriously. I loved these cookies, with the marshmallows, and the extra chocolate punch from the chocolate chips. I think kids and adults alike would get a kick out of these cookies.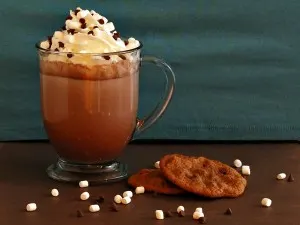 [gmc_recipe 1568]