Today was supposed to be a Monday Randoms post. It was supposed to be my 20-week update. I was going to post a poll, asking if you thought it was a boy or a girl.
But on Sunday, June 2, we had to say goodbye to our baby, 19 weeks and 1 day into the pregnancy.
Around 1:30 a.m., I woke up, feeling like I was "leaking." My side of the bed was soaked. I went into the bathroom, and saw brown blood. I woke Dave up, and told him I was going to the hospital. He started to get dressed to come with me, but I reminded him he needed to stay home with Liam.
In the Labor & Delivery unit, I was taken into an exam room. A medical assistant took me into an exam room. She briefly tried to find the fetal heartbeat with an external monitor, but could not. A nurse-midwife came in and started up the ultrasound machine. She quickly located the baby, and showed me the beating heart.
A doctor came in to finish the ultrasound. She was concerned by the lack of fluid around the baby, and thought she saw a partial placenta abruption (separation of the placenta from the wall of the uterus). She called a perinatologist (a high-risk pregnancy doctor) into the room. He did not see an abruption, but was also concerned about the lack of fluid.
They did a physical exam, and took swabs of the fluid, and left the room to test it. While she was gone, I called my parents and asked them to go to our apartment. As soon as they arrived, Dave came to the hospital.
The doctor confirmed that the leaking fluid was amniotic fluid: my water had broken. We asked about bed rest, but she shook her head. I had no amniotic fluid left. Even if I were to go on bed rest, the baby would need that fluid to help its lungs mature. I was still five weeks away from viability. So close, but still so far away.
She told us we could induce labor, or they could do a "dilation and evacuation" (D&E). Because I was not dilated or contracting, inducing would likely lead to a D&E anyway. Part of me wanted to try induction. It would be my only chance to see our baby. But I would be risking my ability to have another baby in the future. And I was afraid I wouldn't be able to handle seeing my baby, only to have him or her taken away.
So, we began prepping for the D&E. It's considered surgery, and I was under general anesthesia during the procedure. I don't remember a thing. I do know that my blood pressure and heart rate both dropped during the procedure. While most women are discharged the same day, I had to spend the night in the ICU. I wasn't able to go home until late the next day.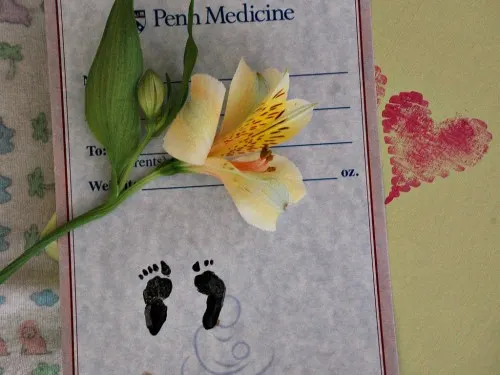 It's been over a week, and it still doesn't seem real. Little things remind me that I'm no longer pregnant, and I break down and cry.
We feel . . . cheated. I had just begun to feel the baby kick. The night before my water broke, Dave was able to feel a few light kicks through my belly. The hospital gave us a memory box, which contains the baby's footprints, and a knitted gown that would have been the baby's size. I added my hospital bracelet, and a few sympathy cards that we've received.
One thing that surprised me was the number of messages I've received that said, "Something similar happened to me." I now feel like I'm in some "secret club," that nobody talks about, and nobody wants to be a part of. I feel like an "other."
If you find yourself a part of this "club," there are resources to help:
UNITE, Inc. — This group was recommended by the Family Planning department at our hospital
Share — Started in 1977, and has been active in advocacy for grieving parents
Through the Heart — a new group, started by a mother who lost her baby at 20 weeks, which aims to be the leading organization in education about miscarriage and pregnancy loss
There are also pregnancy loss support chat forums on just about all the major pregnancy planning websites: TheBump.com, BabyCenter.com, WhatToExpect.com, etc. If you're not comfortable attending an in-person support group, chatting online with other moms who've had similar experiences may help.
And please don't hesitate to contact me, my email address is on the Contact page. At this point, my experience is very recent, and I don't have any advice to give. But I will listen and extend my sympathy.