Before I get to the food, I want to express my sincerest thanks to everyone who commented on Monday's post. We're still trying to make sense of our loss, and I'm still a crying mess more often than not, but having people reach out, even just to say, "I'm sorry," or "we're thinking about you" means the world to us.
Life will never go back to "normal." Instead, we have a "new normal." And in this "new normal," well, we still need to eat. During the first week A.T.L. (after the loss), I had no interest in cooking, and no interest in eating. I wasn't allowed to leave the hospital until I had proven that I could keep food down (a standard "test" after undergoing any form of surgery). My nurses understood that my lack of appetite was due to grief, and not a physical side effect of the surgery. I ate a few graham crackers and drank a cup of ginger ale.
Now, however, I find comfort in the ritual of cooking. It's familiar. It's distracting. So, I made a meal plan and we went on a huge grocery shopping trip. Shrimp were on sale; we hadn't had shellfish in forever. I had a suspicion that Liam wouldn't eat the shrimp, but I was hoping he'd at least eat the rice.
I chopped all of the veggies and peeled the shrimp after our shopping trip, and put everything in the refrigerator. On Monday evening, it was so quick and easy to throw this dish together. Bonus? It's a one-pot dish. Less mess to clean up afterwards!
I made only minor changes to the ingredients, but one rather major change to the original recipe's instructions. A few reviews commented that the recipe called for adding the shrimp too early. I followed their suggestion of adding them at the end with the peas, and the shrimp came out cooked perfectly.
This meal was very flavorful. And most importantly: LIAM ATE VEGETABLES! He did not want to sit in his high chair, but instead, happily went back and forth between our tray tables (we can't fit a kitchen table in our apartment) with his little fork, eating from both of our plates.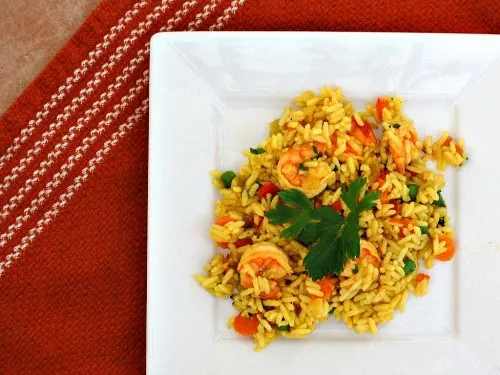 Spanish Shrimp and Rice
Adapted from Food Network Magazine
Ingredients
3 tablespoon canola or vegetable oil
1 small yellow onion, chopped
2 cloves garlic, chopped
½ teaspoon turmeric
1 medium tomato, seeded and chopped
2 small carrots, peeled and diced
½ red bell pepper, diced
Kosher salt and freshly ground pepper
1 pound large shrimp, peeled and deveined
1 ½ cups parboiled white rice (such as Uncle Ben's Original)
1 tablespoon chopped fresh parsley, divided
½ cup frozen peas, thawed
Directions
Heat a large, deep skillet over medium-high heat. Add the oil to the skillet and heat for a minute.
Add the onion, garlic and tumeric to the skillet, and cook, stirring frequently, until the onion is soft and translucent, about 3 minutes.
Add the tomato, carrot and bell pepper to the skillet and cook, stirring frequently, until softened, about 4 minutes.
Season the contents of the skillet with salt and pepper.
Add the rice, water, and half of the chopped parsley to the skillet, and stir until all the rice is moistened. Increase the heat to high, and bring the water to a boil. Reduce the heat to medium-low, and cover the skillet. Simmer until the rice is tender and almost all of the water has been absorbed.
Keeping the heat at medium low, stir in the shrimp, peas, and the remaining parsley to the skillet. Cover the skillet again, and let sit until the shrimp is pink and cooked through.
Taste the dish, and season again with salt and pepper, if necessary.
Number of servings (yield): 4