Only two weeks left of 12 weeks of Christmas treats (hosted by Meal Planning Magic)! Is Christmas really that close? Eeek, I need to start my shopping!
One of the things that I look forward to every fall/winter is eating a caramel apple. In fact, one of the best wedding favors I ever received was a caramel apple. How fun!
While a caramel-dipped apple on a stick is perfect for a fun, informal occasion, I've made this slightly more elegant version for special occasions or holiday dessert.
As you cut into the softened apple, the caramel runs out onto the plate. The baked puff pastry wrapping provides a contrasting, crunchy texture.
This is deceptively easy to prepare, though your guests will be thoroughly impressed. Take a shortcut and use store-bought caramel ice cream topping to save even more time.
[gmc_recipe 1341]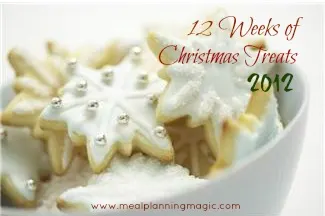 See what other bakers made for the link-up! Click the photos below.