This post was created for #HalloweenTreatsWeek! I was sent products by some of the sponsor companies but as always, opinions are 100% mine.
This easy chocolate jack-o-lantern bundt cake can be as cute or as spooky as you want to make it! Use this tutorial to learn how to make it.
It's October, which means Halloween is less than a month away! Planning a Halloween party? All this week, we'll have lots of Halloween Treats, so you'll get lots of ideas!
This jack-o-lantern bundt cake can be used for any kind of Halloween party (not-so-spooky kids' party or terrifying adult party) because just like with pumpkin-carving, you control how the face looks!
I've written out step-by-step instructions below, and included a video. If your gathering will be small, I recommend using two bundts baked in 6-cup bundt pans. You'll need one recipe of your favorite chocolate cake (or one box of chocolate cake mix), and divide the batter between the two bundt pans. If you only have one, bake half of the batter, unpan the cake, and then bake the second half of the batter.
If you're having a larger gathering, you can make this with two bundts baked in standard size 12-cup bundt pans. You'll need a double recipe of your favorite chocolate cake, or two boxes of chocolate cake mix. You'll also need to double the amounts of fondant listed in the tutorial below.
Whether I make my cake from scratch or not, I like to use canned frosting for this cake. It's faster, and since we want the surface of the cake to look bumpy like a real pumpkin would, it doesn't matter than canned frosting is difficult to get super-smooth.
If you're feeling really adventurous, you can also grab some green fondant, and use a leaf cutter to cut green leaves and add them where the stem meets the pumpkin, and roll thin ropes of green fondant for vines.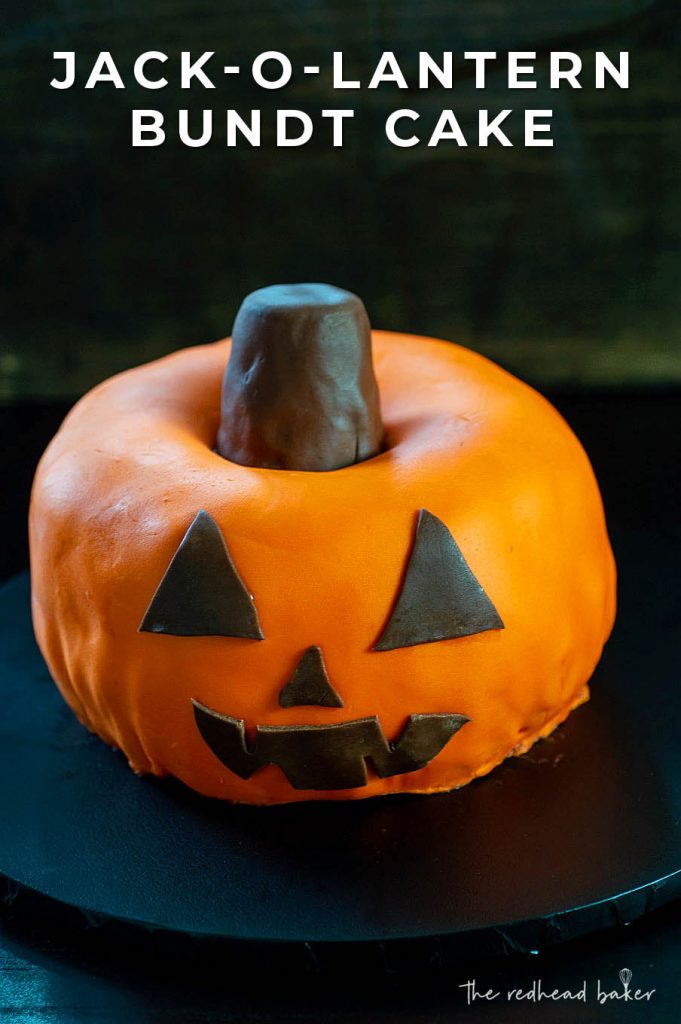 When it's time to cut the cake, you'll need a serrated knife to cut through the fondant. A cake made with two 6-cup bundts should serve about 8 to 10 people.
Once the cake is covered in the orange fondant, do not refrigerate the cake. This can cause the fondant to "sweat," which will cause the fondant to sag or even stretch and rip.
Jack-O-Lantern Bundt Cake
Yield:
1 cake (8 to 12 servings)
Total Time:
1 hour
10 minutes
This easy chocolate bundt cake can be as cute or as spooky as you want to make it! Use this tutorial to learn how to make it.
Materials
2 chocolate bundt cakes baked in 6-cup bundt pants
1 can (16 oz) chocolate frosting
1 lb orange fondant
8 oz brown fondant
1 flat-bottomed ice cream cone
Tools
Cake turntable
Small offset spatula
Rolling pin
Vegetable shortening
Paring knife
Serrated bread knife
Cake board or plate
Silicone pastry mat (recommended but not required)
Instructions
Place the cake board or plate on a cake turntable.
Trim the bottom of each bundt cake to make it relatively flat.
Place one bundt cake upside-down on the cake board. Frost with a little less than a quarter of the can of frosting. Place the other bundt cake right-side-up on top of the first one, aligning the wide and narrow bumps.
Frosting the top and sides of the entire cake., not too thickly, because we want to preserve the shape of the bundt cake.
Cut a small hole the center of the fondant, and gently smooth it down to conform to the inner portion of the bundt. Don't worry about ragged edges.
Use a ruler to measure the cake from top to bottom at the highest point, and the diameter of the top of the cake (for example, my cake was 4 inches tall and 6 inches in diameter). Add those two numbers together. This will be how large a circle of fondant you need. Set the cake aside.
Smear a layer of vegetable shortening on a clean work surface. Roll out the orange fondant to the diameter calculated above, about 1/8-inch to 1/4-inch in thickness.
Carefully transfer the fondant and lay it over the cake. Smooth it over the outer edges of the cake, conforming to the shape of the bundt cakes. Run a paring knife around the bottom of the cake and remove any excess fondant.
Use a serrated knife to saw off the wider top part of the ice cream cone. Discard that piece, keeping only the narrower bottom of the cone.
Roll out half of the chocolate fondant the same way that you rolled out the orange, this time making the fondant a rectangle about the same width as the length of the ice cream cone.
Coat the ice cream cone in chocolate frosting, then cover the cone in the fondant, smoothing out any creases. Wrap the fondant under and inside the ice cream cone. Pat a small amount of water on the bottom edge and place it in the center of the bundt.
Roll out the second half of the brown fondant. Use a paring knife to cut out eyes, a nose and a mouth for your jack-o-latern. Pat a small amount of water on the shapes, and place the damp side against the orange fondant. The water will make it stick.
Notes
If your fondant is stiff, microwave on HIGH for 10 seconds per pound (do not overheat) and knead until it softens. Keep unused fondant covered to prevent drying out.
You can use two bundts baked in a standard 12-cup bundt pan. You will need to double the amount of frosting and fondant needed for this tutorial.
Recommended Products
As an Amazon Associate and member of other affiliate programs, I earn a small percentage from qualifying purchases.
Check out the amazing #HalloweenTreatsWeek recipes from our bloggers today!
Happy Halloween! It's October which means it's time for Spooky Season and this year's #HalloweenTreatsWeek event! #HalloweenTreatsWeek is hosted by Angie from
Big Bear's Wife
& its a creepy and haunting week-long event is filled with some amazingly wicked Halloween treats, recipes and some frightfully fun giveaways.
"When witches go riding, and black cats are seen, the moon laughs and whispers 'tis near Halloween."
For the 2nd annual #HalloweenTreatsWeek event we have 41 fantastically talented bloggers that are sharing their favorite Halloween recipes throughout the week! There are going to be over 160 Halloween themed recipes shared during this year's #HalloweenTreatsWeek and we can't wait for you to see them all! Follow the hashtag #HalloweenTreatsWeek on social media and look at the bottom of each post to see all of the Halloween recipes that we're sharing!
Plus, don't forget that we have 6 (six) great giveaways for you this week thanks to our amazing sponsors!
Scroll down to take a look!
Prize #1
Prize #1 — Dixie Crystals is giving away a "Dinner and Dessert Set" – ONE 6-Quart Cook & Carry Programmable Slow Cooker, a Pyrex mixing bowl set plus some fun Dixie Crystals items like a Dixie Crystal Apron and Cookbook!
Prize #2
Prize #2 — Adam's Extract is giving away – 1 Gift Pack – including 4oz Adams Best, 1.5 oz Peppermint, 1.5oz Almond, 1 bottle vanilla cinnamon sugar, 1 bottle pumpkin pie spice
Prize #3
Prize #3 —Wilton is giving away a Texturra 7-Piece Bakeware Set
Prize #4
Prize #4 — Sweets and Treats Shop is giving away a large baking box of goodies! Sweets and Treats will send one lucky winner a large assortment of sprinkles and lines and other samples of their products!
Prize #5
Prize #5 — Treat Street USA is giving away a set of Holiday Treat Decorations (1 Gummy Assortment, 1 Marshmallow Snowman, 1 Toy Solider and 1 Gingerbread Men)
Prize #6
Prize # 6
–
Litehouseis giving away the following: 1
Litehouse® Honeycrisp Apple Cider, 1
Litehouse® Old Fashioned Caramel, 1
Litehouse® Pumpkin Spice Caramel, 1
Litehouse® Butterscotch Caramel & 1
Litehouse® Chocolate Dip, Snack Packs
a Rafflecopter giveaway
Giveaway open to US Residents 18 years or older. All entries will be verified. No PO Boxes Please. Prizes will be sent directly from sponsors to winners, bloggers are not responsible for prizes. This giveaway runs from October 7th – October 13th at 11:59PM EST. Winners will be selected soon afterward and contacted by e-mail. Winners will have 48 hours to respond or a new winner will be chosen. There are a total of 6 (six) prizes and therefore we will have a total of 6 (six) winners. No purchase necessary. Void where prohibited by law.
Disclaimer:
These posts and recipes are part of the week-long event, #HalloweenTreatsWeek but all opinions are 100% mine! We would like to Thank our amazing sponsors:
Dixie Crystals, Adam's Extract
,
Wilton
,
Sweets and Treats Shop,
Treat Street USA and Litehouse
! These wonderful sponsors provided the prize packs for our giveaways and also sent samples and products to the #HalloweenTreatsWeek bloggers to use in their recipes.