Lavender Lemon Panna Cotta is a no-bake custard set with gelatin. The custard is flavored with lavender buds and lemon juice. Serve with a berry sauce for a delicious dessert!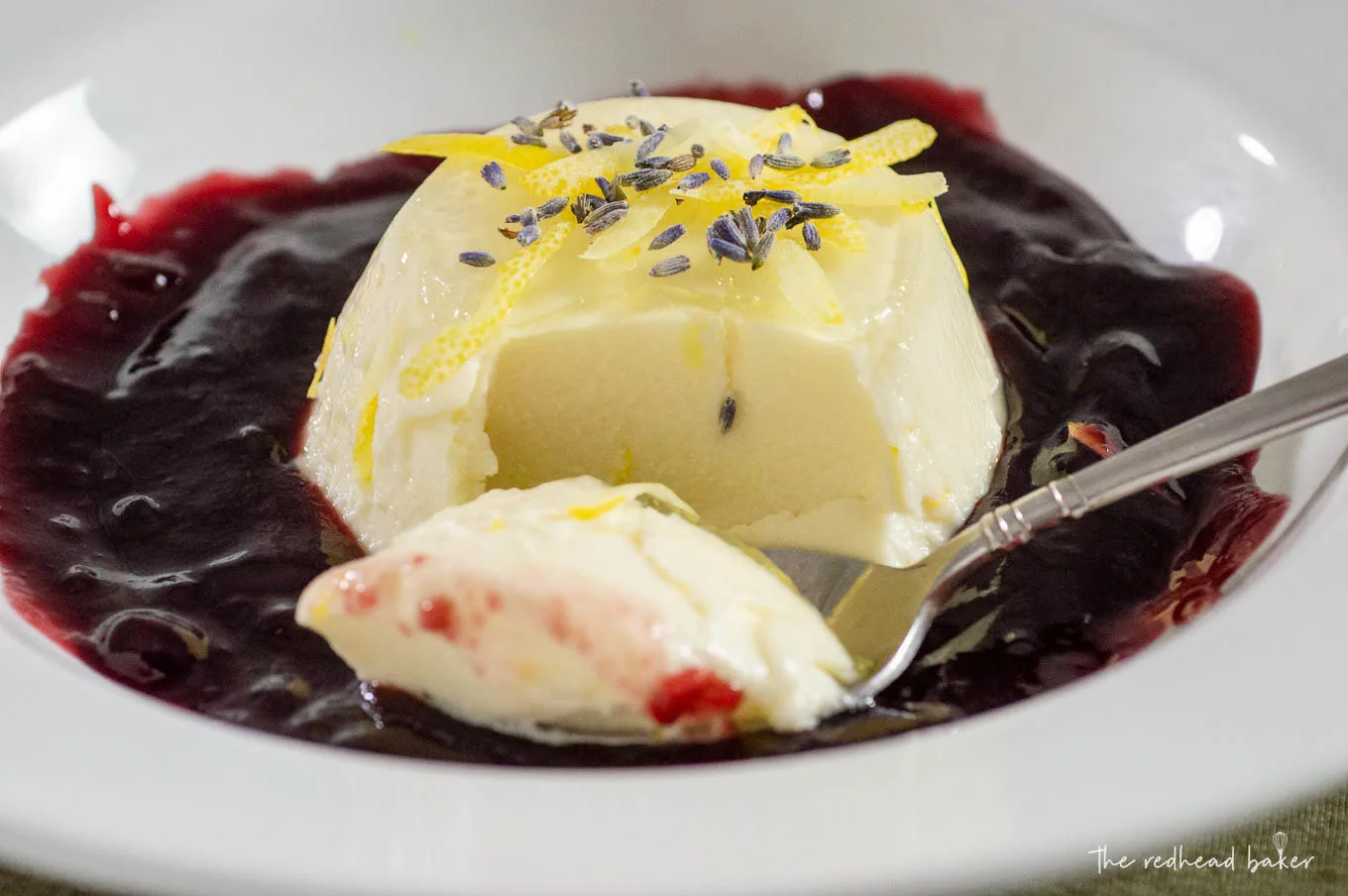 It's the five-year anniversary of #ProgressiveEats! So, we're throwing an elegant dinner party in its honor.
If you're unfamiliar with the concept, a progressive dinner involves going from house to house, enjoying a different course at each location. With Progressive Eats it's a virtual party. A theme is chosen each month, members share recipes suitable for a delicious meal or party, and you can hop from blog to blog to check them out. Come along and see all of the deliciousness we've put together for our celebration inspired dishes!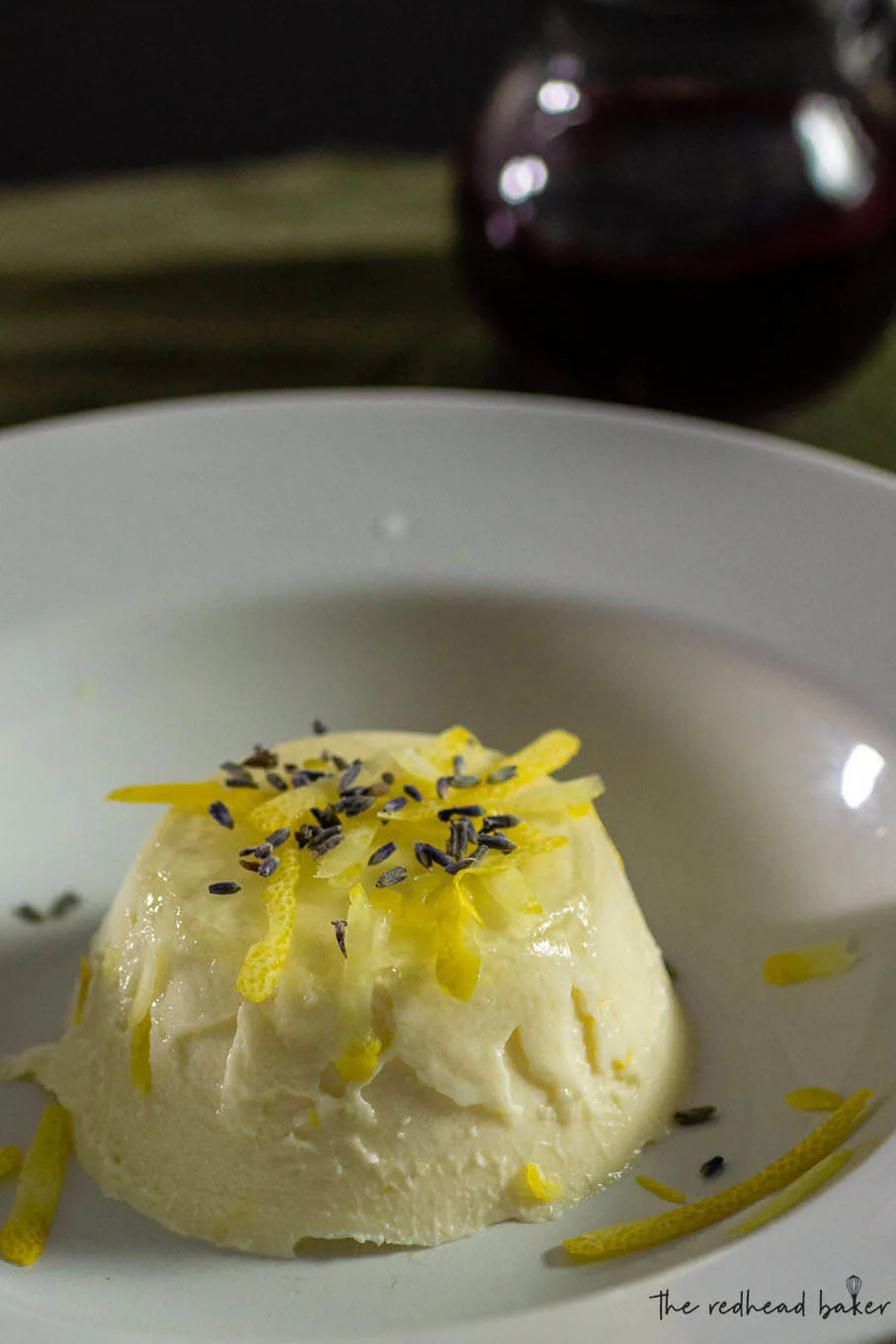 The dessert I'm serving is a lavender lemon panna cotta. Panna cotta is an Italian custard set with gelatin. Even though the name literally means "cooked cream" in Italian, there's no baking involved. Only enough heating to infuse the cream and milk with lavender flavor, and then to dissolve the gelatin.
Infusing the dairy with the lavender flavor is done by gently heating the milk and cream with food-grade dried lavender buds, then allowing the mixture to cool before straining out the buds. Food-grade lavender buds are available in specialty spice shops or online.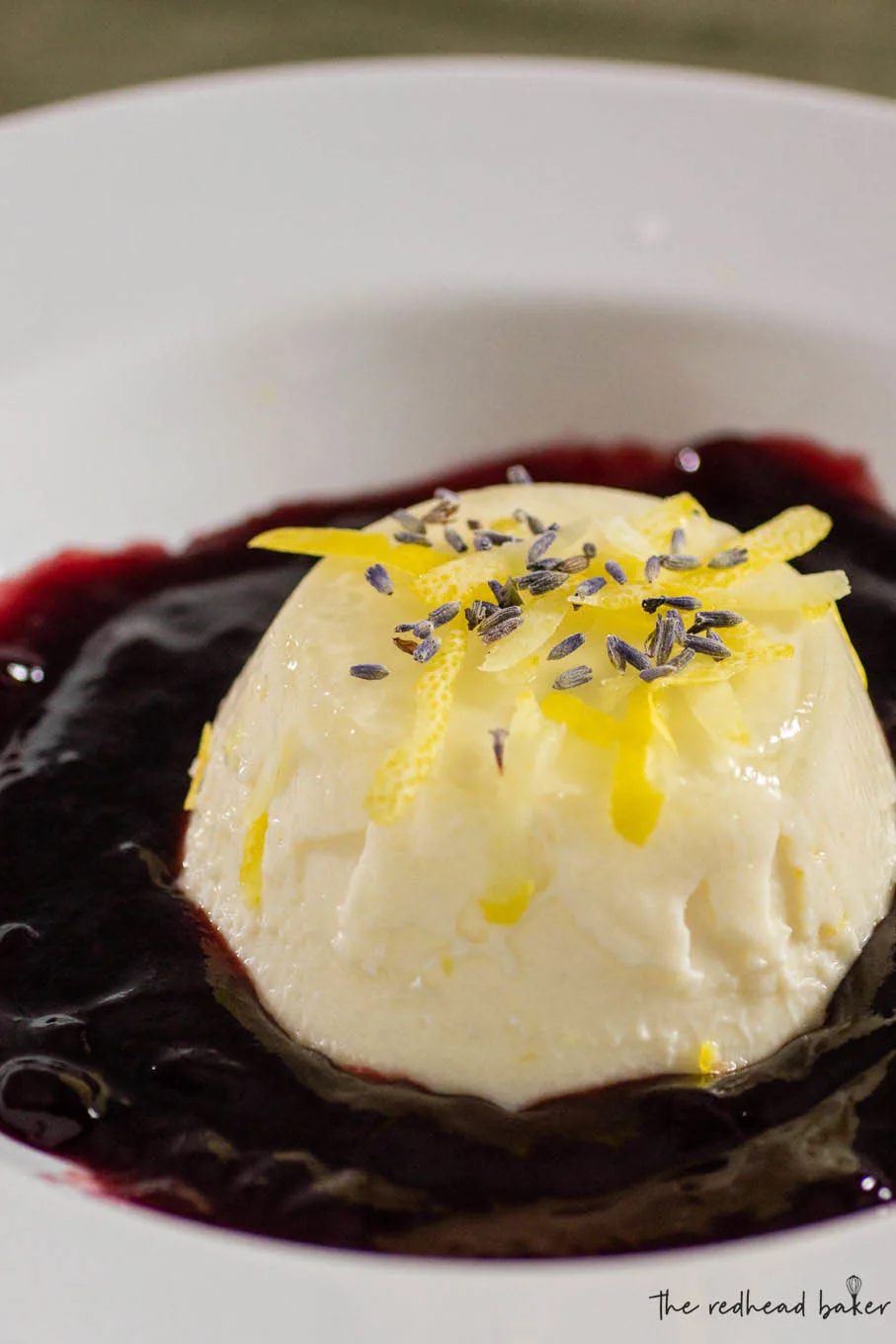 The custards are portioned out into custard cups and then chilled in the refrigerator to set the gelatin. To serve, the custard is turned out onto a plate or into a bowl and served with a sauce.
I made a mixed berry sauce to go with this custard, but you can substitute an equal amount of just one kind of berry, if you choose.
The panna cotta can be a bit stubborn and cling to the custard cups. Don't forget to spray the ramekins with nonstick spray, and if needed, repeat the process of dipping them in hot water until they come out.
I love making panna cotta for summer dinner parties because everything can be made a day ahead of time, AND I don't have to turn on my oven. It's a double win!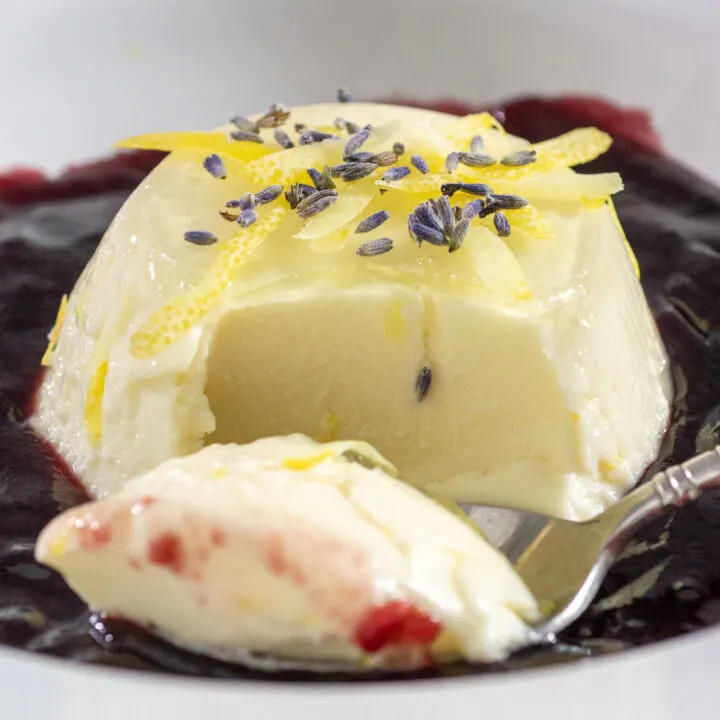 Lavender Lemon Panna Cotta
Lavender Lemon Panna Cotta is a no-bake custard set with gelatin. The custard is flavored with lavender buds and lemon juice.
Ingredients
For the panna cotta
2 teaspoon dried lavender buds
1 cup heavy cream
1 cup whole milk
5 tablespoon freshly squeezed lemon juice
2 teaspoon unflavored gelatin
½ cup sugar
1 cup creme fraiche
Zest of one lemon
For the sauce
3 cups frozen mixed berries (12 ounces), thawed, drained, juices reserved
3 tablespoon (packed) light brown sugar
Instructions
Place six ¾-cup ramekins in a 9x13 baking pan. Lightly mist each ramekin with nonstick spray. Set aside.
Place the cream and milk in a medium saucepan. Stir in the lavender buds. Heat the mixture just until scalding, then remove from the heat and set aside to steep for 30 minutes.
Pour the lemon juice into a large mixing bowl. Sprinkle the gelatin over the juice and let stand until the gelatin blooms (softens), about 10 minutes.
Pour the lavender/cream/milk mixture through a sieve into the lemon juice/gelatin mixture. Discard the lavender buds.
Pour the mixture back into the saucepan and add the sugar. Heat over medium-low heat until the sugar and gelatin dissolve (about two minutes).
Remove from the heat and whisk in the creme fraiche and the lemon zest.
Divide the custard mixture between the ramekins. Cover the whole baking pan with plastic wrap and place the pan in the refrigerator for at least 8 hours, or until the panna cotta is set.
Puree ⅔ of mixed berries and all reserved juices, plus brown sugar in a blender. Strain the mixture through a fine-mesh sieve into a medium bowl, pressing on solids to extract as much liquid as possible. Discard the solids remaining in the strainer. Stir remaining berries into the sauce. Cover and chill.
To serve, run a paring knife around each panna cotta. Place the bottoms of the ramekins, 1 at a time, in bowl of hot water for 45 seconds. Place a serving plate on top of a ramekin. Hold plate and ramekin together; invert, shaking gently, to turn out panna cotta. Serve with sauce.
Recommended Products
As an Amazon Associate and member of other affiliate programs, I earn a small percentage from qualifying purchases.
Nutrition Information:
Yield:

6
Serving Size:

1
Amount Per Serving:
Calories:

447
Total Fat:

33g
Saturated Fat:

20g
Trans Fat:

1g
Unsaturated Fat:

10g
Cholesterol:

98mg
Sodium:

120mg
Carbohydrates:

37g
Fiber:

3g
Sugar:

32g
Protein:

5g
I am not a certified nutritionist. This nutrition information is automatically calculated by third party software and is meant as a guideline only.
Adapted from Epicurious
Welcome to Progressive Eats, our virtual version of a Progressive Dinner Party. This month's theme is all about an elegant summer evening celebration, and our host is Barb who blogs at
Creative Culinary
. This event is celebrating five years of bringing together great cooks, concepts, and especially great food through the collaboration of Progressive Eats.
Elegant Summer Evening Soiree!
Beverages
Appetizers
Bread
Main Courses
Side Dish
Desserts