This S'mores cheesecake is flavored with melted marshmallows, which take the place of eggs in traditional cheesecake, so the only thing that needs to bake is the crust!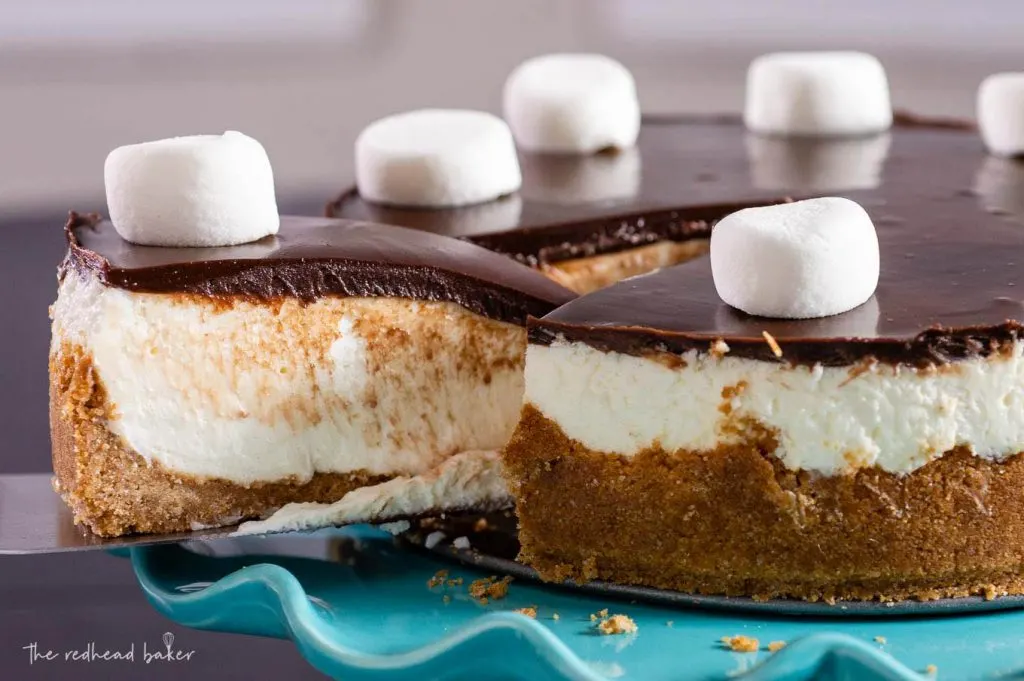 Happy National Cheesecake Day! I gathered some blogger friends together to share lots of delicious cheesecake recipes with you in honor of the "holiday."
As soon as I started planning this post, I knew I wanted to make a s'mores cheesecake. Most s'mores cheesecakes involve a chocolate cheesecake with marshmallow topping. But I find most chocolate cheesecakes to be too heavy, too sickeningly rich.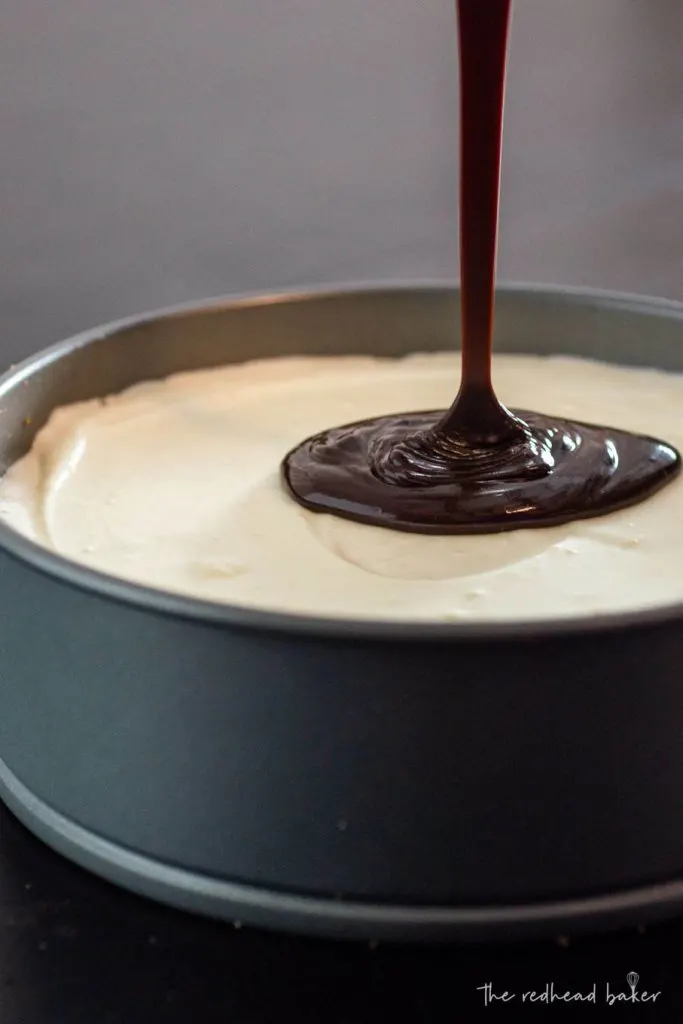 I wanted a lighter flavor. I wanted the cheesecake part to be marshmallow flavored. I experimented a few times, trying marshmallow fluff in the cream cheese mixture, but it didn't really taste like marshmallows.
Finally, I decided to try melting actual marshmallows. Because marshmallows are made primarily of eggs and sugar, I omitted those from the cheesecake batter. Without the eggs, the cheesecake wouldn't need to be baked!
Most cheesecakes have a graham cracker crust, so no substitutions needed there. This is the only part that gets baked. Baking the crust melts the sugar in the crust mixture. When the crust cools, the sugar solidifies and makes the crust stronger.
A nine-inch springform pan needs about 1 ½ cups of graham cracker crumbs to cover the bottom and slightly up the sides. Use 2 cups if you want the crust to go all the way up the sides of the cheesecake. Increase the butter to 8 tablespoon and the sugar to ½ cup.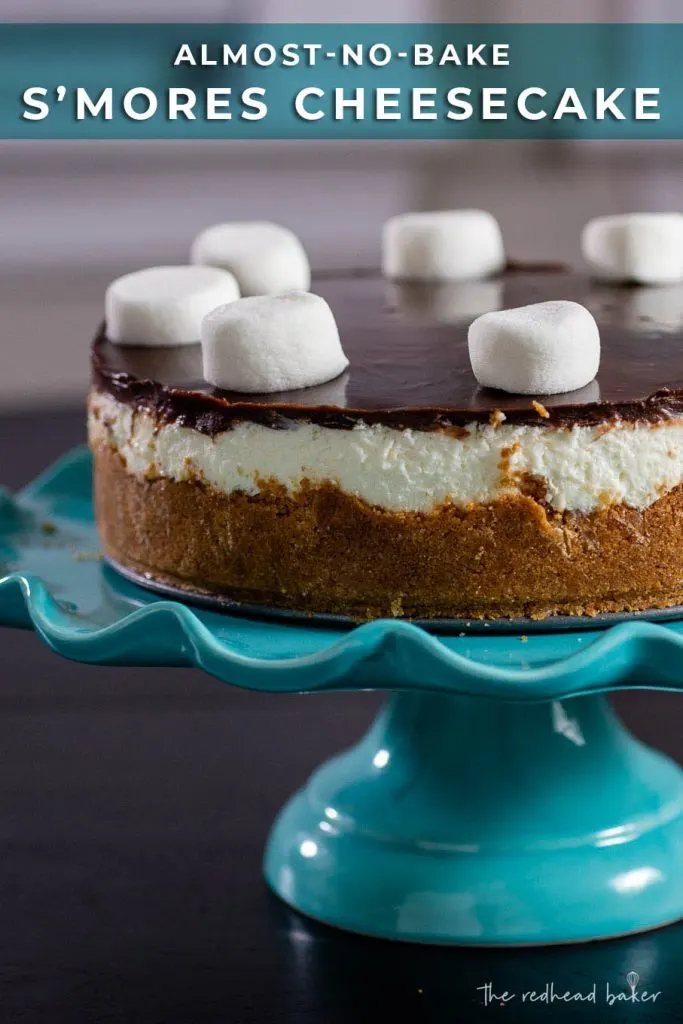 Finally, s'mores aren't complete with chocolate! Ganache is a simple, yet amazing (and versatile) chocolate topping. When warm, it can be poured over cakes, cheesecakes, etc. When cool, it can be whipped and used like frosting.
Finally, I cut 4 large marshmallows in half and placed them at intervals around the edge of the cheesecake. I considered toasting them first, but it's hard to have patience for that when you really want to dig into this cheesecake!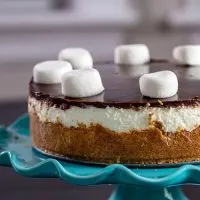 S'mores Cheesecake
Total Time:
8 hours
28 minutes
In this easy, almost-no-bake dessert, velvety marshmallow cheesecake is sandwiched between a graham cracker crust and chocolate ganache topping.
Ingredients
For the crust
1 ½ cups (6.5 oz) finely ground graham cracker crumbs
⅓ cup sugar
6 tablespoon unsalted butter, melted
For the filling
⅓ cup milk
10 oz mini marshmallows
16 oz cream cheese, at room temperature
2 tablespoon lemon juice
1 cup heavy whipping cream, whipped
For the ganache topping
½ cup heavy cream
6 oz semisweet chocolate chips
Instructions
Preheat oven to 375 degrees.
Pulse the graham cracker crumbs, sugar and melted butter in a food processor until large clumps form.
Press the mixture into the bottom and slightly up the sides of an 8- or 9-inch springform pan.
Bake for 6 to 7 minutes, then remove to a wire rack to cool.
In a large saucepan set over medium-low heat, warm the milk and marshmallows, stirring very frequently, until the marshmallows are melted. Set aside to cool.
Beat together the cream cheese and lemon juice. Once the marshmallow mixture has cooled, beat it into the cream cheese mixture.
Gently fold in the whipped heavy cream.
Spoon the mixture into the baked graham cracker crust.
Chill for at least 8 hours.
Place the semisweet chocolate chips in a medium mixing bowl.
Warm the heavy cream just to scalding in a medium saucepan.
Pour the warm cream over the chocolate and let stand for one minute, then stir until smooth.
Pour the chocolate ganache over the chilled cheesecake. Refrigerate for about 30 minutes to set the ganache.
Recommended Products
As an Amazon Associate and member of other affiliate programs, I earn a small percentage from qualifying purchases.
Nutrition Information:
Yield:

12
Serving Size:

1
Amount Per Serving:
Calories:

469
Total Fat:

34g
Saturated Fat:

21g
Trans Fat:

0g
Unsaturated Fat:

11g
Cholesterol:

88mg
Sodium:

170mg
Carbohydrates:

40g
Fiber:

1g
Sugar:

30g
Protein:

5g
I am not a certified nutritionist. This nutrition information is automatically calculated by third party software and is meant as a guideline only.
More Delicious Cheesecake Recipes