Holiday season, with large dinners, rich desserts and drinks, is upon us. Save calories without sacrificing flavor with this lightened-up eggnog!
It's here: holiday season. Halloween candy, Thanksgiving dinner, cookie swaps, Christmas parties ... Eating healthy? See you after New Year's!
But wait! Today's #SundaySupper is all about lightening up holiday food. One of my favorite holiday indulgences is egg nog. It's basically a custard (meaning lots of whole milk, cream, sugar and eggs), flavored with nutmeg and alcohol, usually brandy or rum. One 8-ounce cup can set you back 225 to almost 350 calories!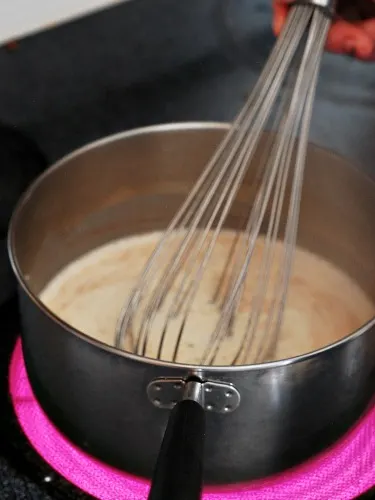 The lightened-up eggnog still has dairy, and it still has eggs. But I used fat-free half-and-half and fat-free sweetened condensed milk. The condensed milk, along with a small spoonful of flour, helps thicken up the mixture, so we can use fewer (calorie-heavy) egg yolks. Since the condensed milk is sweetened, we don't need additional sugar. In the end, it's about half the calories of full-fat eggnog.
This mixture isn't quite as thick as the full-fat version. But the flavor is definitely there. We also save some extra calories by pouring a 6-ounce cup instead of an 8-ounce cup.
If you want to make this recipe kid-friendly (without the alcohol), you can replace the brandy with ¾ of a teaspoon of brandy or rum extract.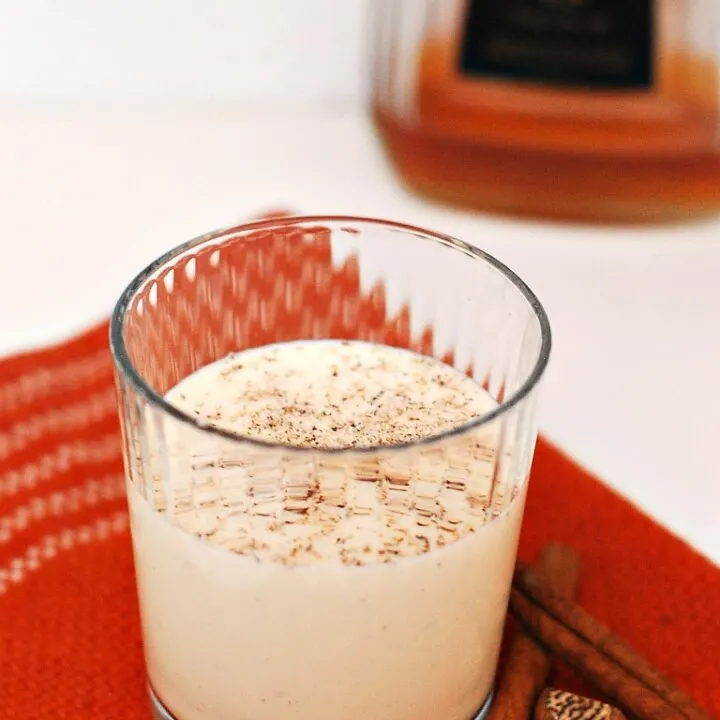 Lightened Up Eggnog
Yield:
4 (6-ounce) beverages
Ingredients
1 ¾ cups fat-free half-and-half
¼ cup fat-free sweetened condensed milk, NOT evaporated milk
½ tablespoon all-purpose flour, 1 ½ tsp
⅛ teaspoon freshly-grated nutmeg, plus more for garnish
Pinch of cinnamon
Pinch of salt
Yolk of one large egg, beaten
1 tablespoon brandy or rum
½ teaspoon vanilla extract
Instructions
Place the half-and-half, condensed milk, flour, nutmeg, cinnamon and salt in a medium, heavy-bottomed saucepan over medium-high heat. Whisk constantly until the mixture comes to a boil.
Once the dairy mixture boils, gradually pour about a third of the mixture over the egg yolk, whisking constantly. Once fully whisked, pour the egg/dairy mixture back into the saucepan and return to the heat. Whisk until the mixture boils again, and cook for a minute. If the mixture bubbles up to the top of the saucepan, briefly pull it off the burner so it doesn't bubble over. You may need to do this a few times.
After it cooks for a minute, pour the eggnog into a pitcher or tall container. Stir in the brandy or rum and the vanilla. Let cool at room temperature for about half an hour, then place in the refrigerator for at least 4 hours, or overnight.
Pour 6 ounces into a mug or glass, garnish with a little freshly grated nutmeg and serve.
Nutrition Information:
Yield:

6
Amount Per Serving:
Calories:

146
Carbohydrates:

23g
Sugar:

18g
Protein:

6g
Nutrition data calculated with MyFitnessPal recipe calculator.
Don't forget to check the other #SundaySupper lightened-up holiday recipes!
Drinks
Appetizer or starter
Main Dishes
Side Dishes
Desserts