Scare up some Halloween fun with these homemade graham crackers, subtly flavored with pumpkin and spice, dressed up with royal icing and black candy chips!
Happy Halloween, readers!
For the past several months, I've been posting about recipes that I made for Liam's daycare class Snack Share. Now that Liam has "graduated" to the transitional preschool room, they continue to invite parents to send in snacks to share with the class each week.
In addition, we're invited to send in snacks for special occasions like Halloween. They prefer that the snacks be on the healthier side, which I understand, but being a baker, can be challenging sometimes. When I searched for kid-friendly Halloween snacks, a lot of what came up was decorated cookies and cupcakes.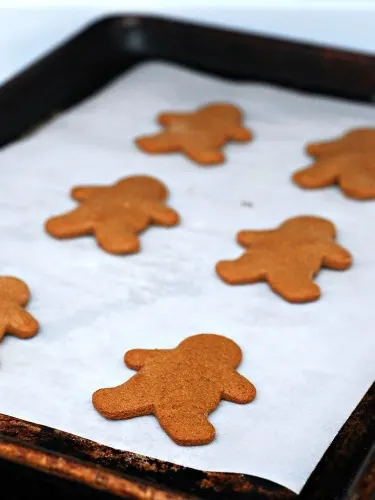 But you know what? There's no reason you can't decorate other foods! True, graham crackers aren't as healthy as kale chips, but really? I can just imagine the face on my son if you put kale chips in front of him.
But they've got whole wheat flour, and these crackers have pumpkin (lots of fiber and healthy vitamins). The amount of sugar (in the crackers, anyway) and fat is minimal.
As far as the decorating goes, it's very easy, even a beginner can do it. Just go back and forth and a bit diagonally. When piping, remember to apply even pressure, and when you're ready to stop, release pressure, then pull the tip back from the cracker. I use Wilton's Candy Chip Sprinkles as the eyes (the bottle is "rainbow," I just used the black ones), but Wilton also makes mini candy eyeballs (don't wait until the night before Halloween to buy them, they will be sold out — ask me how I know!), or you could use mini M&M's, or pipe with melted Wilton Candy Melts.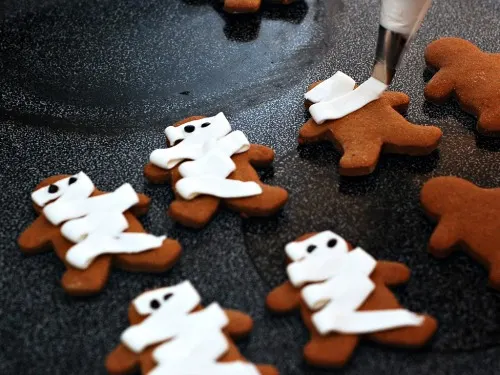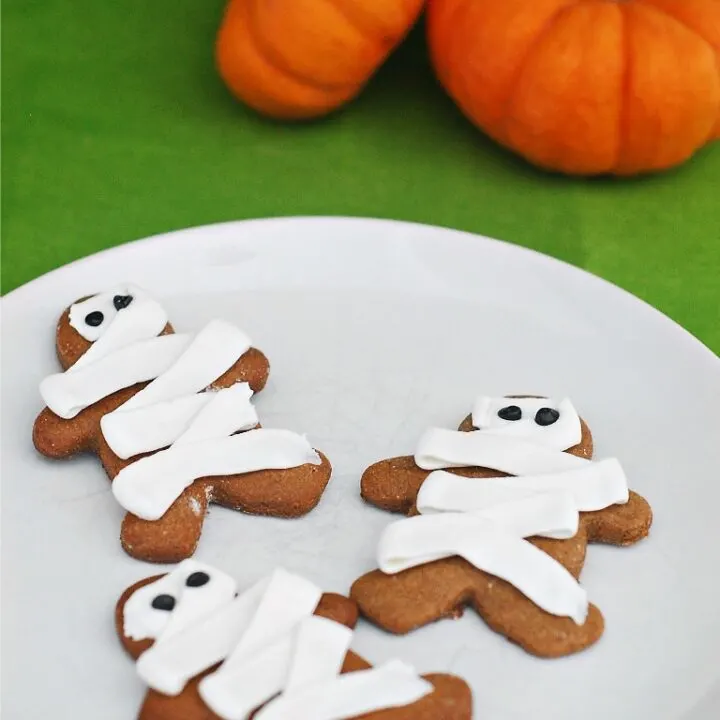 Pumpkin Graham Cracker Mummies
Yield:
36 (3-inch) crackers
Ingredients
For the crackers
2 tablespoon unsalted butter, softened
2 tablespoon pumpkin puree, not pie filling
1 large egg
6 tablespoon sugar
2 tablespoon honey
2 tablespoon molasses
½ teaspoon baking soda
2 teaspoon water
1 teaspoon ginger
1 teaspoon nutmeg
1 teaspoon cinnamon
¾ teaspoon allspice
¾ teaspoon salt
1 ½ cups whole wheat flour
¾ cups all-purpose flour
For the icing mummy wrappings and eyes
8 ounces confectioners sugar
1 ½ tablespoon meringue powder
2 ½ warm water
Wilton Candy Chip Sprinkles (or Wilton Candy Eyes, or other small, round brown or black candies, or a handful black candy melts, melted)
Instructions
In the bowl of a stand mixer, beat together the butter, pumpkin, egg, and sugar until smooth and creamy.
Beat in the honey and the molasses.
Dissolve the baking soda in the water and add to the butter mixture.
In a separate bowl, stir together the whole wheat flour, all-purpose flour, spices and salt. Add to the butter mixture in the stand mixer bowl, and stir on low speed until fully combined. The dough should form a ball and not feel sticky. If it does, add more whole wheat flour, ¼ cup at a time, until the dough is manageable.
Scrape the dough onto a sheet of plastic wrap, cover tightly and chill at least one hour, up to 24 hours.
Preheat your oven to 350 degrees and line two sheet pans with parchment paper. Let the dough sit at room temperature for 30 minutes. Break into 2 pieces.
Liberally dust a clean work surface with flour, and roll one of the pieces of dough out to ⅛th of an inch thickness. Use a floured gingerbread man cookie cutter to cut as many crackers as you can. Carefully transfer to the prepared cookie sheet, and combine the scraps into a disc and set aside.
Bake for 10 minutes. While the crackers are baking, roll out the second piece of cracker dough, cutting shapes and placing them on the second sheet. Continue baking and cutting until the dough is gone. When crackers are done baking, transfer them to a wire rack to cool.
Store the baked crackers in a sealed zip-top bag until ready to decorate, if not doing it as soon as they are cool.
Make the icing: place the confectioners sugar, meringue powder and water in the bowl of a stand mixer. Mix with the paddle attachment on medium speed for about 7 minutes.
Scrape the icing into a piping bag fitted with a #45 tip, and pipe the icing back and forth across each cracker to look like mummy wrappings. Ice three or four crackers, then place two black candy chip sprinkles in the head area to look like eyes (don't ice all the crackers at once, then go back and try to apply the eyes, because the icing will have set and the eyes won't stick).
If you prefer, you can melt a handful of black Wilton Candy Melts. Scrape the melted candy into a small piping bag fitted with a #1 tip, and pipe two dots on the head for eyes. Let the crackers sit at room temperature about another hour to fully set, then seal in a zip-top bag to store.
Graham cracker recipe slightly adapted from Cupcake Project