Can't decide between sweet and salty? These white chocolate funfetti popcorn balls will satisfy both cravings!
Sometimes I crave sweet; sometimes I crave salty. It took me a long time to try combining sweet AND salty (Ina's Salted Caramel Brownies, anyone??), but once I finally did, I don't know why I held out so long!
Popcorn by itself can be a low-calorie, filling snack if you don't smother it in melted butter, but what fun is that? Sometimes, when you can't decide between sweet or salty, you just need popcorn smothered in chocolate.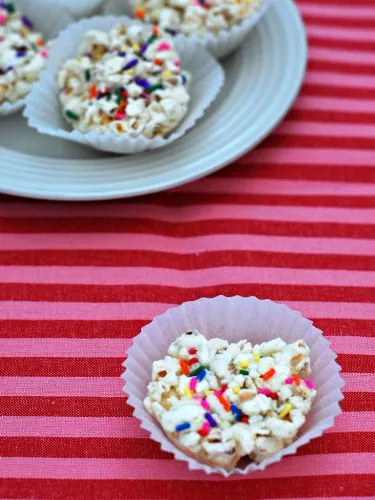 Years ago, I worked for an upscale catering company. We did most of the prep cooking and baking in our on-site kitchens, but did the finishing at the party, which was usually held in someone's (large) house. Like when the founder of a certain diet-food home-delivery service decided throw a party for 300 of his closest friends, just because it was October.
One of the dessert-type snacks on our menu was white chocolate popcorn balls. These are so deliciously addictive, and fun for adults and kids alike. You can customize them for any kind of theme by using colored candy melts instead, or use white chocolate, but use red and green sprinkles for Christmas, pastel for Easter, whatever works!
On a scale of clean to messy, these fall somewhere between Rice Krispie Treats (a little messy) and homemade marshmallows (whoa, messy!). It looks like way too much chocolate-to-popcorn ratio, but trust, you need a lot of chocolate to hold the balls together. Too little, and they will fall apart. Use a large cookie or ice cream scoop to make the balls a consistent size, and serve in decorative cupcake liners! If you wanted to, you could also insert a wooden lollipop stick into each ball, then set the chocolate in the refrigerator.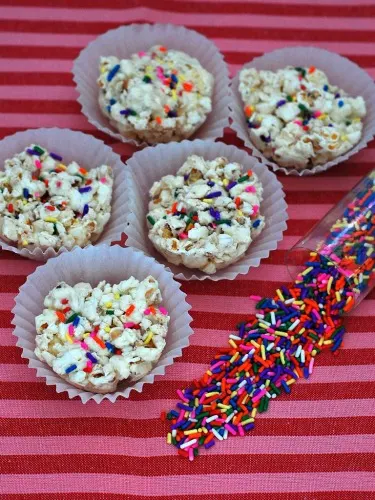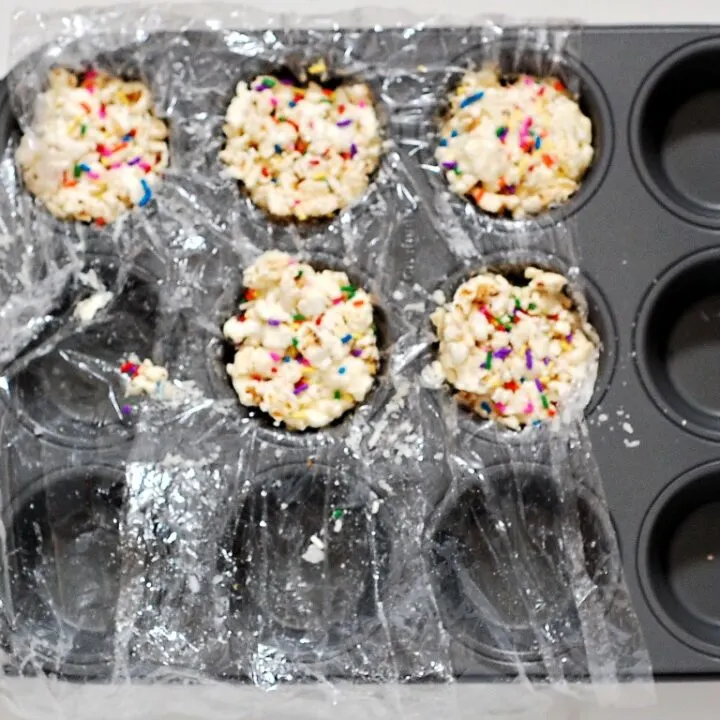 White Chocolate Funfetti Popcorn Balls
Chocolate chips (also known as morsels) contain
Ingredients
1 regular size bag popcorn (salted is fine, but look for one with no butter flavor)
12 ounces good quality white chocolate, melted but still warm
1 tablespoons to 2 of sprinkles
Instructions
Line a 12-well cupcake tin with plastic wrap. Set aside.
Pop the popcorn according to the instructions on the bag, erring on the side of underpopping to avoid scorching.
Pour the popped popcorn into a large bowl. Pour the melted white chocolate over top, and quickly, using a spatula or your hands, toss to coat *all* of the popcorn with the chocolate.
Quickly scoop balls of the popcorn mixture, and press each ball into one of the plastic-lined cupcake wells. Scatter a pinch of sprinkles over top, and gently press into the popcorn ball.
Once all of the balls are formed, place the cupcake tin in the fridge to help the white chocolate set. Then remove each ball from the plastic to a cupcake liner and serve!
Inspired by Peachtree & Ward catering