Pumpkin and warm spices are tossed with rolled oats, flax seed, cranberries and white chocolate in these seasonally-flavored granola bars!
Oh, pumpkin. Is there any form you can take that I won't like (except Dunkin' Donuts Pumpkin Creme Brulee Latte — that is WAY too sweet for me)? In addition, pumpkin season also means fall, which means scarf-weather. Hoodie weather. Riding boots weather. Halloween. Thanksgiving.
When Roxana from Roxana's Home Baking announced Pumpkin Day, it didn't even take a split second for me to sign up. Choosing a recipe, however, took a little bit longer. I was thinking about all the pumpkin things that I like to eat (donuts — made them already; pie — made that already; etc.), and it dawned on me that I've never seen commercially-made pumpkin spice granola bars when the onslaught of pumpkin-flavored things arrive at grocery stores.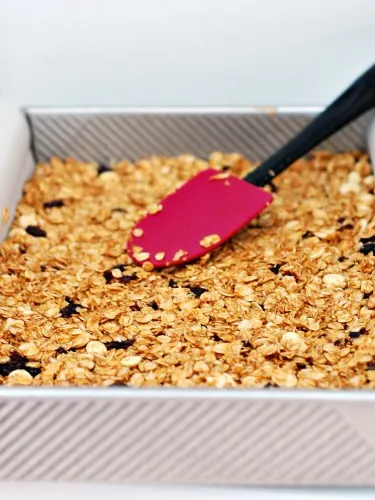 These bars are so super simple to make. They're also super customizable. Don't like (or can't find) wheat germ? Leave it out. Use chocolate chips instead of white chocolate. Omit the dried fruit; add in nuts instead, if you prefer.
Simply toss the dry ingredients in one bowl, whisk the wet ingredients in another bowl. Fold the two together, press into a pan, and bake!
I tried cutting my granola bars with a pizza cutter, and they were a bit too thick for that to work well. Instead, use a sharp chef's knife or bread knife.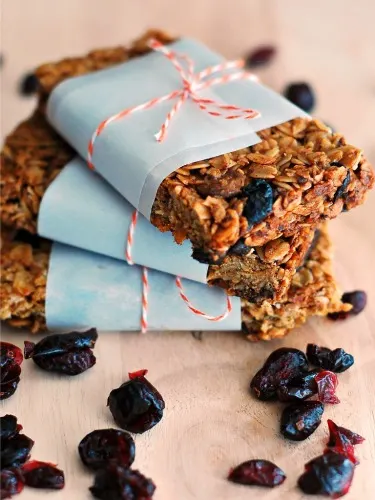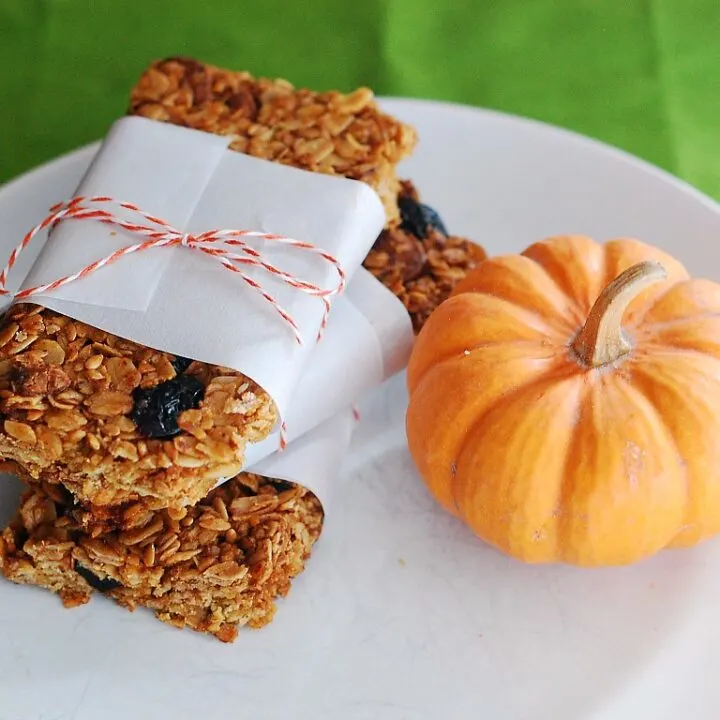 Pumpkin Spice Granola Bars
Yield:
12 (4-inch by 2-inch) bars
Ingredients
4 cups old-fashioned rolled oats
1 teaspoon cinnamon
½ teaspoon ginger
¼ teaspoon ground cloves
¼ teaspoon ground allspice
½ teaspoon salt
¼ cup flax seeds
1 tablespoon wheat germ
½ cup dried cranberries
1 ½ cups white chocolate chips
½ cup canola oil
½ cup brown sugar
½ cup pumpkin puree
¼ cup honey
¼ cup pure maple syrup
Instructions
Line a 9x13 baking pan with parchment paper, letting the paper hang over two sides of the pan. Preheat your oven to 325 degrees.
In a large bowl, stir together the rolled oats, cinnamon, ginger, ginger, cloves, allspice, salt, flax seeds, wheat germ, cranberries and white chocolate chips.
In a medium bowl, whisk together the canola oil, brown sugar, pumpkin puree, honey and maple syrup. Pour over the dry ingredients, and fold together until all of the ingredients are well-coated.
Press the mixture firmly and evenly into prepared pan.
Bake for 20 minutes. Pull the pan out of the oven and press down again with a flat spatula. Place back in the oven for another 30 minutes.
Once fully baked, place the pan on a wire rack to cool for about 30 minutes. Then pull the granola out of the pan by the parchment "handles" and cool on the wire rack completely. Then use a sharp knife to cut into bars.
Don't forget to check out these other delicious pumpkin recipes!