Eating tasty food at home doesn't have to be expensive! This homemade shrimp fried rice costs just $2.30 per serving!
Today's #SundaySupper is all about eating on a budget. Even though the economy is (slowly) rebounding, many people (myself included) need watch their finances carefully. But eating inexpensively doesn't have to mean instant ramen.
This homemade version of shrimp fried rice costs just $2.30 per serving, and tastes even better than take-out. It's primarily a rice dish, and the shrimp is stretched by chopping it, so it appears that the dish contains more than it really does. You could bulk this up even more by adding more veggies, like peas or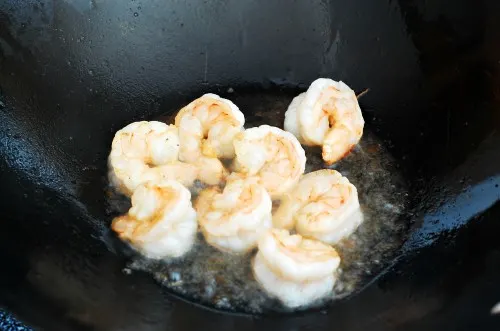 The least expensive kind of shrimp is the kind that is sold with the peel on, and the vein still inside. These take quite a bit effort to prepare for cooking, since you'll need to slit open each shrimp and remove the vein. The most expensive shrimps are the peeled, deveined, cooked shrimp.
I went with the middle-of-the-road shrimp: deveined, but raw. It's quick work to pull the peels and tails off, and they cook so quickly, that this meal would be perfect for a busy weeknight. They were on sale at my local grocery store for $12.99 per pound, but since they are sold loose behind the seafood counter, I could get as many or as few as I wanted.
The remaining ingredients are found in nearly every pantry or refrigerator. And if they aren't, they're quite inexpensive to buy.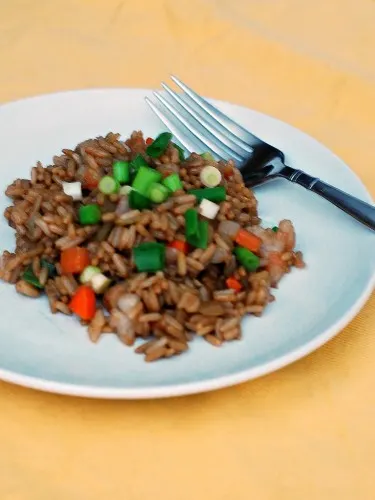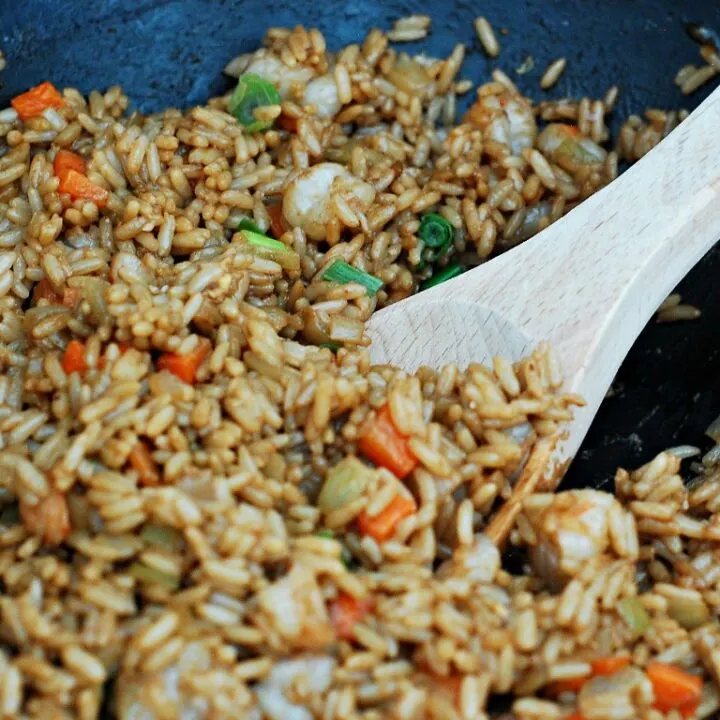 Shrimp Fried Rice
Ingredients
1 cup white rice
2 tablespoon canola oil
½ lb extra-large raw shrimp, peeled and deveined, about 8, also known as 16-20
½ cup chopped onion
2 cloves garlic, finely minced
½ cup chopped carrot
1 large egg, lightly beaten
3 tablespoon soy sauce
3 scallions, sliced, white and light green parts only, divided
Instructions
Cook the rice according to package directions, omitting fat and salt. Once cooked, set aside.
In a deep skillet or wok, heat canola oil over medium-high heat. Add the shrimp and cook until shrimp are pink and opaque. Remove from the skillet with tongs to a cutting board, and roughly chop.
Add the onion and garlic to the pan, and saute for a minute, stirring frequently. Add the carrot to the pan and saute another 2 minutes, stirring frequently. Add the rice and stir to break up any clumps and incorporate with the vegetables. Add the egg and cook another minute or so, stirring constantly. Add the soy sauce and about ⅔ of the scallions and stir to incorporate.
Scoop one quarter of the mixture per person onto a plate, and garnish with the remaining scallions.
Recipe by Food Network
Don't forget to check out the other budget-friendly recipes!
Scrumptious Mains (Breakfast and Dinner)
Satisfying Sides
Sweet Treats
Sips, Spreads, and Snacks