Air fryer chicken chimichangas have all the crunch without the fat. The filling is loaded with chicken, cheese, and lots of spices.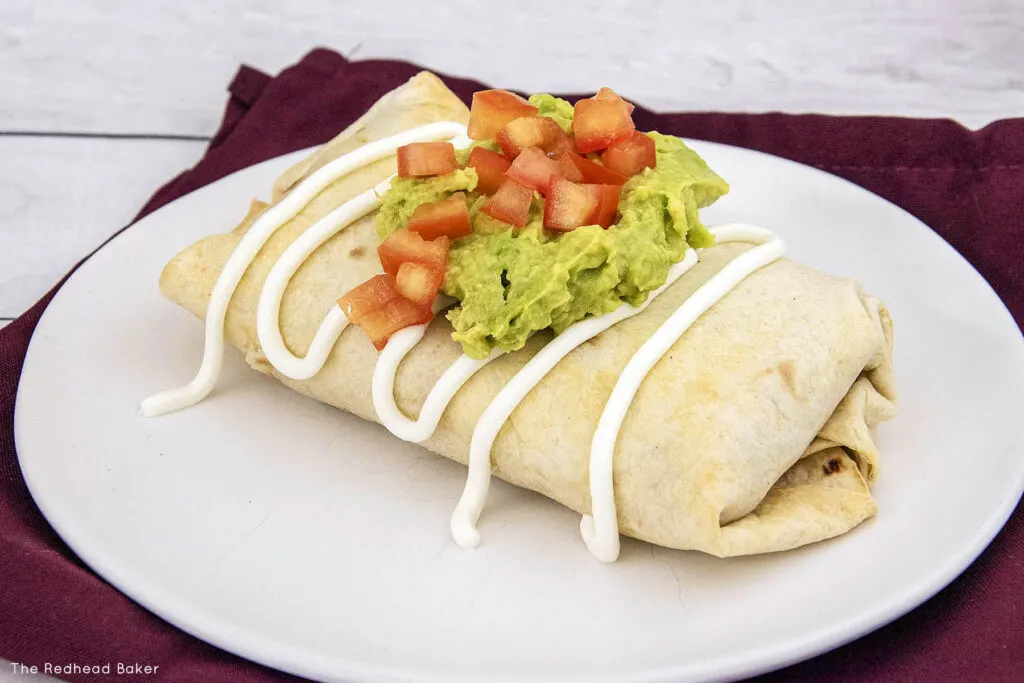 I will admit, I was an air fryer skeptic at first. I received one for testing three years ago, used it once, and gave it away to a co-worker. I didn't think I'd use it much, and didn't have the room for an extra appliance in my tiny kitchen.
However, I'm now on the air fryer bandwagon. I upgraded from the original Instant Pot (affiliate link) to the Instant Pot Duo Crisp (affiliate link). This post isn't even sponsored by Instant Pot, I'm just really a fan of the appliance. I think I've used the air fryer function more often than the pressure cooker function.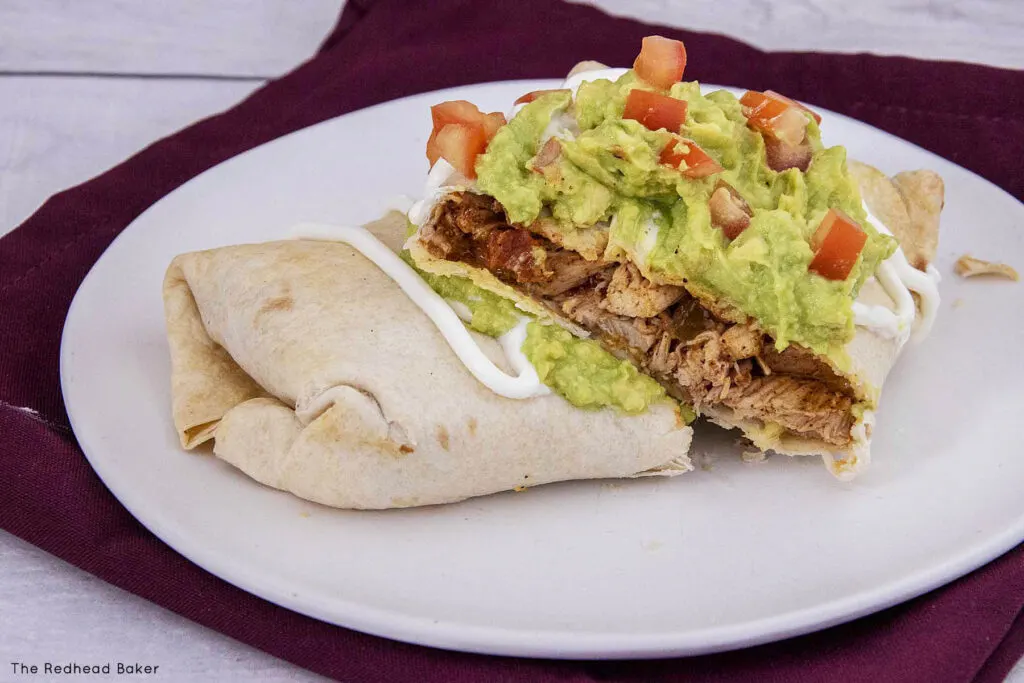 What is air frying?
It mimics the texture and feel of deep-fried foods without all the oil. Food is placed in a fryer-style basket, and a fan rapidly blows hot air all around the food to crisp it up. I will never make frozen fries in the oven again.
While some air fryers work with no oil, I prefer adding a little bit of oil for flavor. The downside to the fryer is the limited size, so these air fryer chicken chicken chimichangas need to be cooked in batches. Although, each only takes about 6 minutes to "fry," so it doesn't take a long time.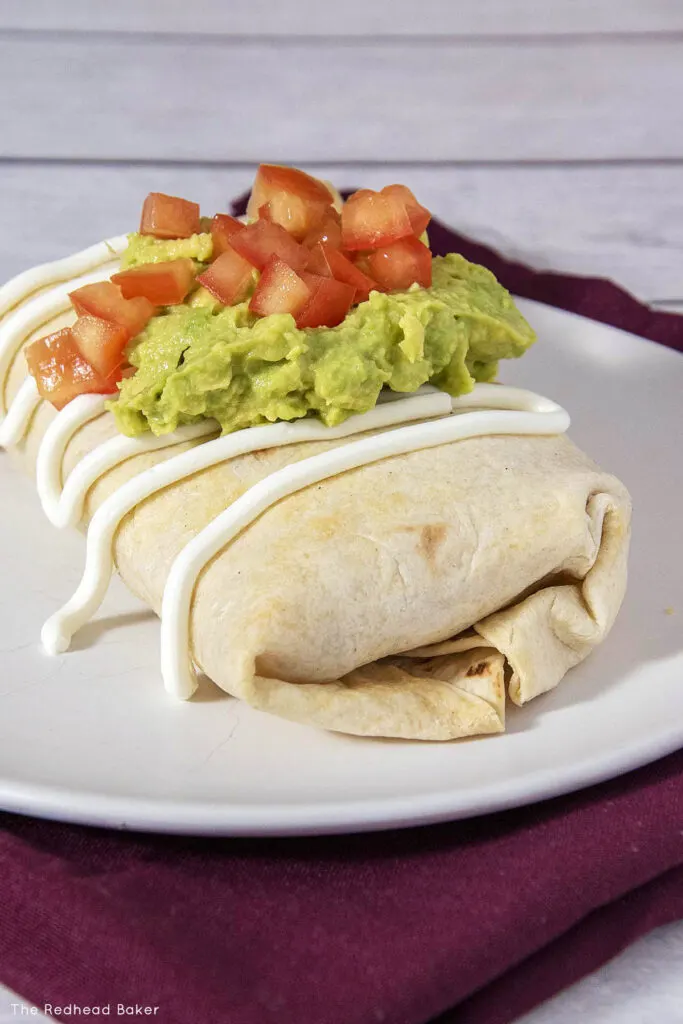 FAQs or Tips
Q1: Can I freeze these?
A1: Yes! After the chimichangas are assembled, do not brush with oil. Instead, wrap them tightly in foil, then place two or three of the foil packages in a freezer-grade zip-top bag and freeze. When ready to cook, place two chimichangas (still in the foil) in the air fryer, and fry for 18 to 20 minutes, turning halfway through cooking. The foil will make sure the tortilla doesn't burn before the filling is heated through.
Q2: Can I use chicken breasts? Or a different kind of protein altogether?
A2: I prefer thighs over breasts because they have more fat and don't dry out in the air fryer. But yes, you can use chicken breasts instead, or even other kinds of protein (beef, pork, chorizo, beans, etc.).
Q3: What should I serve with the air fryer chicken chimichangas chimichangas?
A3: Some typical Tex-Mex side dishes include rice, refried beans, jicama, elote (Mexican street corn), corn fritters, guacamole, or cucumber tomato avocado salad.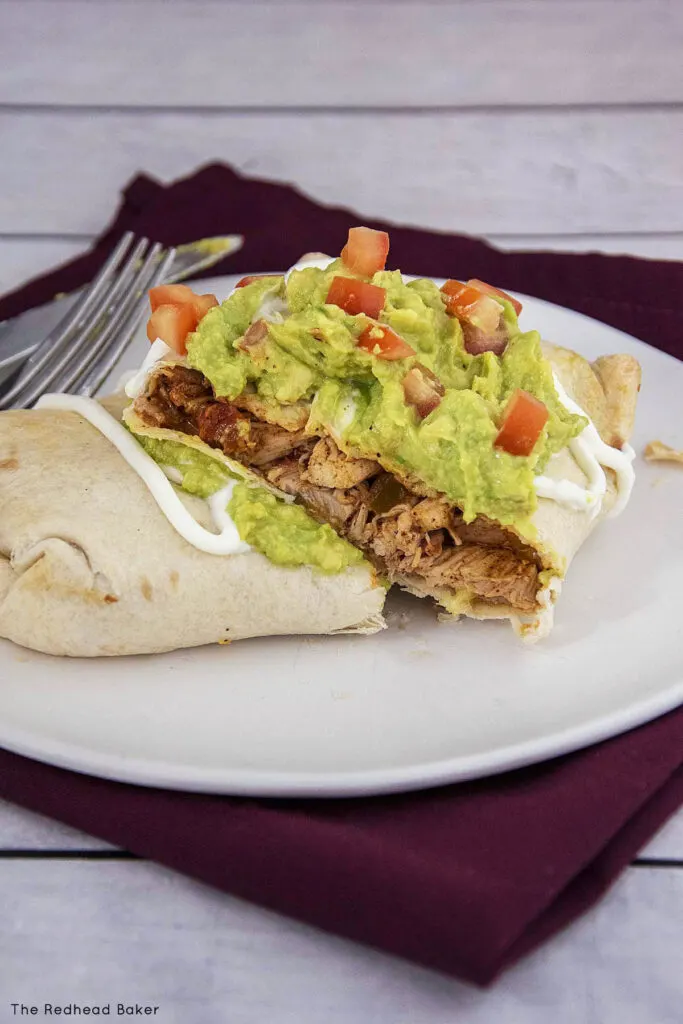 I love how easy this recipe is, with minimal prepping required. It's perfect if you're cooking another chicken recipe: simply cook extra, and chill the rest until you're ready to make these chimichangas. Or, you can pick up a rotisserie chicken from the grocery store.
If you're working from home, you can easily toss some leftover filling into a tortilla and air fry it for a quick hot lunch. If you're not working at home, you can air fry at home, and warm them up in the microwave, though they won't be as crispy.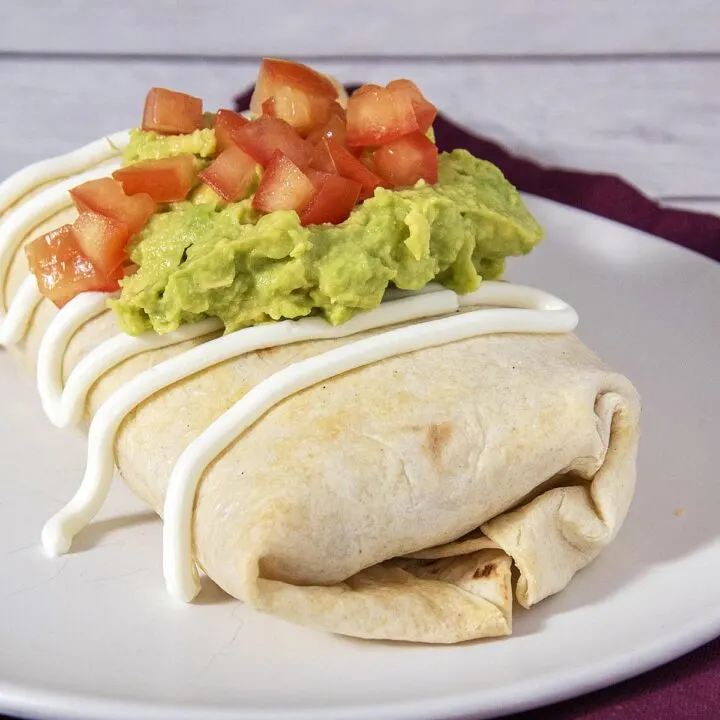 Air Fryer Chicken Chimichangas
Air fryer chicken chimichangas have all the crunch without the fat. The filling is loaded with chicken, cheese, and lots of spices.
Ingredients
2 tablespoon olive oil
1 cup chopped yellow onion (about half of one large onion)
1 teaspoon chili powder
Kosher salt and pepper
2 garlic cloves, minced
1 lb cooked chicken thighs, shredded (See Note 1)
4 chipotle chilis in adobo sauce, minced
½ cup salsa (See Note 2)
2 cups cooked rice
8 large (burrito-size) flour tortillas
1 cup shredded Mexican cheese blend
1 tablespoon vegetable oil
Instructions
Heat the olive oil in a skillet over medium heat. Add the onion, chili powder, salt and pepper. Saute for about 3 minutes.
Add the garlic and saute another minute, until fragrant.
Add the shredded chicken and chipotle chilis, and toss to coat. Add the salsa and rice, and toss to combine. Remove from the heat.
Lay a burrito on a flat surface. Spread about ½ cup of filling in the center of the burrito. Top with about two tablespoonfuls of shredded cheese. Fold the top and bottom over the filling, then roll sideways to close. Repeat with remaining burritos and filling.
Brush two of the chimichangas with vegetable oil, and place seam-side down in the air fryer. Air-fry for 6 minutes at 400 degrees. Repeat with remaining chimichangas.
Serve with avocado slices, guacamole, chopped tomatoes, salsa, sour cream or any of your favorite Mexican toppings.
Notes
Note 1: Rotisserie chicken works great, or you can roast boneless, skinless thighs at 425 degrees for about 20 minutes, cool slightly, then shred. They can be made a day ahead of time and chilled.
Note 2: you can use red or green salsa.
Recommended Products
As an Amazon Associate and member of other affiliate programs, I earn a small percentage from qualifying purchases.
Nutrition Information:
Yield:

8
Serving Size:

1 chimichanga
Amount Per Serving:
Calories:

564
Total Fat:

27g
Saturated Fat:

8g
Trans Fat:

0g
Unsaturated Fat:

16g
Cholesterol:

100mg
Sodium:

771mg
Carbohydrates:

48g
Fiber:

4g
Sugar:

4g
Protein:

32g
I am not a certified nutritionist. This nutrition information is automatically calculated by third party software and is meant as a guideline only.