Irish style burgers have beef patties flavored with Guinness, and are topped with bacon, Irish cheddar, and an Irish whiskey aioli.
May means that it's Girl Carnivore's Burger Month! This is my fourth year participating. In the past, I've shared a French bistro burger, an Oscar-style burger, Chipotle Guac burgers, Beef Burgundy Burgers, and Neptune-style burgers. Yes, that's more than four recipes, but some years, I just couldn't narrow it down to one burger recipe, so I contribured twice.
This year, we're having a low-key event, just sharing awesome burger recipes, no event sponsors or giveaways. These are one my favorite burgers yet: juicy beef patties flavored with Guinness, topped with bacon, Irish cheddar and Irish whiskey aioli.
How to Make Irish Burgers
Here's what you need to make these burgers:
Ground beef, preferably 15% to 20% fat
White onion, finely minced
A clove of garlic, finely minced or grated
Guinness or other Irish stout beer
Dijon mustard
Olive oil
Salt and pepper
You'll also need burger buns. I love a good hearty potato bun, toasted. You'll also need bacon. I generally prefer to cook it in the oven, but I cook it in the skillet here, so I can re-use the bacon grease to cook the burger patties.
You'll also need some Irish cheddar. A finer shred will melt more quickly than a larger shred. I prefer to use Kerrygold Skellig.
And finally, the Irish whiskey aioli. Traditional aioli is just olive oil, garlic, salt and pepper. I take shortcut by starting with mayo, and adding grated garlic, salt and pepper. For this recipe, I also add a little Irish whiskey.
FAQs
Q: Can I grill these burgers instead of cooking them on the stove?
A: Absolutely! Cook them as you would any other burger.
Q: How do I store leftover burgers?
A: Store the patties separately from the buns. Wrap them in foil or plastic wrap, and store in the refrigerator. If you have more than one leftover patty, you can store the wrapped burger together in a store container or plastic zip-top bag.
Q: How do I reheat a leftover burger?
A: Here are a few options: 1) Reheat over medium heat in a skillet, about 3 to 4 minutes per side; 2) Reheat in a 400-degree preheated oven for 3 to 4 minutes. Place the patties directly on the grates, and place a baking pan beneath to catch any drips of fat, or 3) use your air fryer! Air fry the patties for 3 to 4 minutes at 350 degrees.
Q: What can I serve as a side with these burgers?
A: There's always the standard burger side dish: french fries (traditional or sweet potato). The whiskey aioli also makes a good French fry dip. There's also onion rings, salad, cole slaw, potato salad, or corn on the cob or steamed veggies.
I wouldn't hesitate to serve the burger patty to children or pregnant women because the patties contain such a small amount of Guinness and most of the alcohol will cook out. I wouldn't, however, give a child or pregnant woman the whiskey aioli, since there's no cooking to remove the alcohol from the whiskey.
And if you'd rather use up the remaining Guinness, you could always try making this Guinness Barbecue Sauce from The Black Peppercorn instead of the Irish whiskey aioli.
Don't forget to see all the Burger Month recipes! Click the Burger Month graphic below.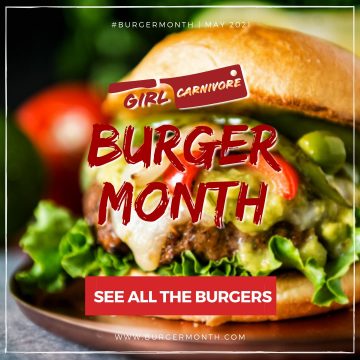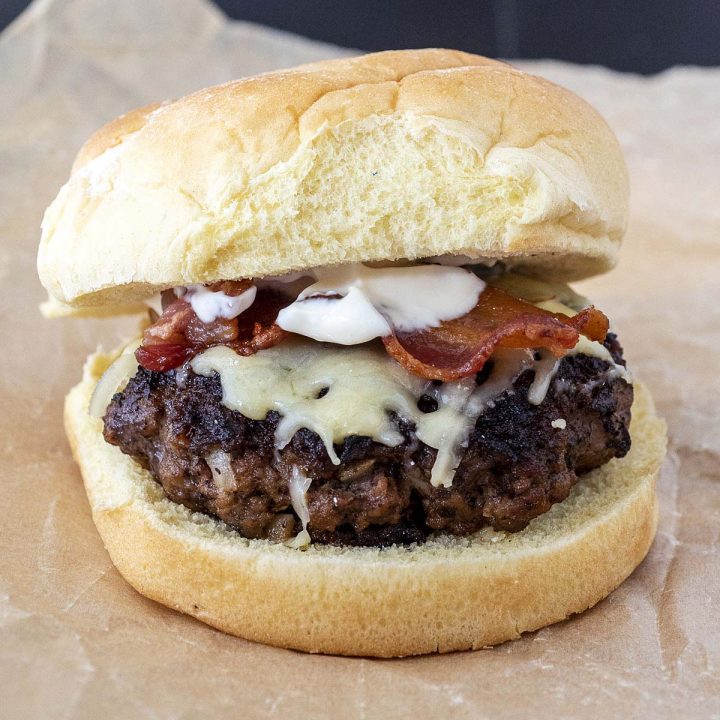 Irish Burgers
Irish burgers have beef patties flavored with Guinness and are topped with crispy bacon, Irish cheddar, and Irish whiskey aioli.
Ingredients
For the beef patties
1 lb ground beef
¼ cup Guinness or other Irish stout
2 tablespoon finely minced onion
1 garlic clove, grated
2 teaspoon Dijon mustard
½ tablespoon olive oil
1 teaspoon kosher salt
¼ teaspoon freshly ground pepper
For the burgers
4 slices bacon
4 oz shredded Irish cheddar
4 burger buns
For the whiskey aioli
¼ cup mayonnaise
1 tablespoon Irish whiskey
1 garlic clove, grated
Salt and pepper
Instructions
In a large mixing bowl, combine the beef patty ingredients. Divide evenly into four patties. Set aside.
Place the bacon in a cold cast-iron pan. Set over medium-high heat. Cook until crispy. Remove with tongs to a paper-towel lined plate. Pour the bacon grease into a small bowl.
Pour two tablespoons of the bacon grease back into the cast-iron pan and set over medium-high heat. Once hot, add the beef patties, and cook to desired degree of doneness, about 4 minutes on each side for medium-rare.
While the burgers are cooking, toast the burger buns in a toaster on the bagel setting, or place on a baking sheet, cut-side up in a 350-degree oven for 5 minutes.
One minute before done cooking, place ½ ounce of shredded cheese on each patty, and let melt.
Place the burgers on a plate to rest.
In a small bowl, whisk together the mayo, Irish whiskey, grated garlic, salt and pepper.
Place a beef patty on each burger bun half. Top with bacon and a dollop of whiskey aioli. Top with second bun half, serve.
Recommended Products
As an Amazon Associate and member of other affiliate programs, I earn a small percentage from qualifying purchases.
Nutrition Information:
Yield:

4
Serving Size:

1
Amount Per Serving:
Calories:

782
Total Fat:

47g
Saturated Fat:

16g
Trans Fat:

1g
Unsaturated Fat:

26g
Cholesterol:

146mg
Sodium:

1258mg
Carbohydrates:

28g
Fiber:

1g
Sugar:

4g
Protein:

46g
I am not a certified nutritionist. This nutrition information is automatically calculated by third party software and is meant as a guideline only.
Visit Fellow Burger Month Participants
Don't forget to visit these blogs and check out their burgers throughout the month of May:
Chiles and Smoke 🍔 Grumpy's Honeybunch 🍔 Honeybunch Hunts 🍔 Miss in the Kitchen 🍔 Out Grilling 🍔 Our Good Life 🍔 Culinary Adventures with Camilla 🍔 A Kitchen Hoor's Adventures 🍔 Simple and Savory 🍔 For the Love of Food 🍔 Grillax 🍔 The Beard and The Baker 🍔 Or Whatever You Do 🍔 The Kindred Plate 🍔 Sumptuous Spoonfuls 🍔 Sweet reciPEAs 🍔 Real Life with Dad 🍔 A Day in the Life on the Farm 🍔 Wildflour's Cottage Kitchen 🍔 Grilling Montana 🍔 Devour Dinner 🍔 Making Miracles 🍔 Plateful of Passion 🍔 Pastry Chef Online 🍔 An Affair from the Heart 🍔 Sarah's Cucina Bella 🍔 Karen's Kitchen Stories 🍔 The Best Vegetarian Recipes 🍔 Wok and Skillet 🍔 BwellQue 🍔 The Spiffy Cookie 🍔 Bacon Fatte 🍔 Cheese Curd in Paradise 🍔