These soft pretzels with a light coating of melted butter and a sprinkle of pretzel salt are just like the Auntie Anne's pretzels you'd find at the mall!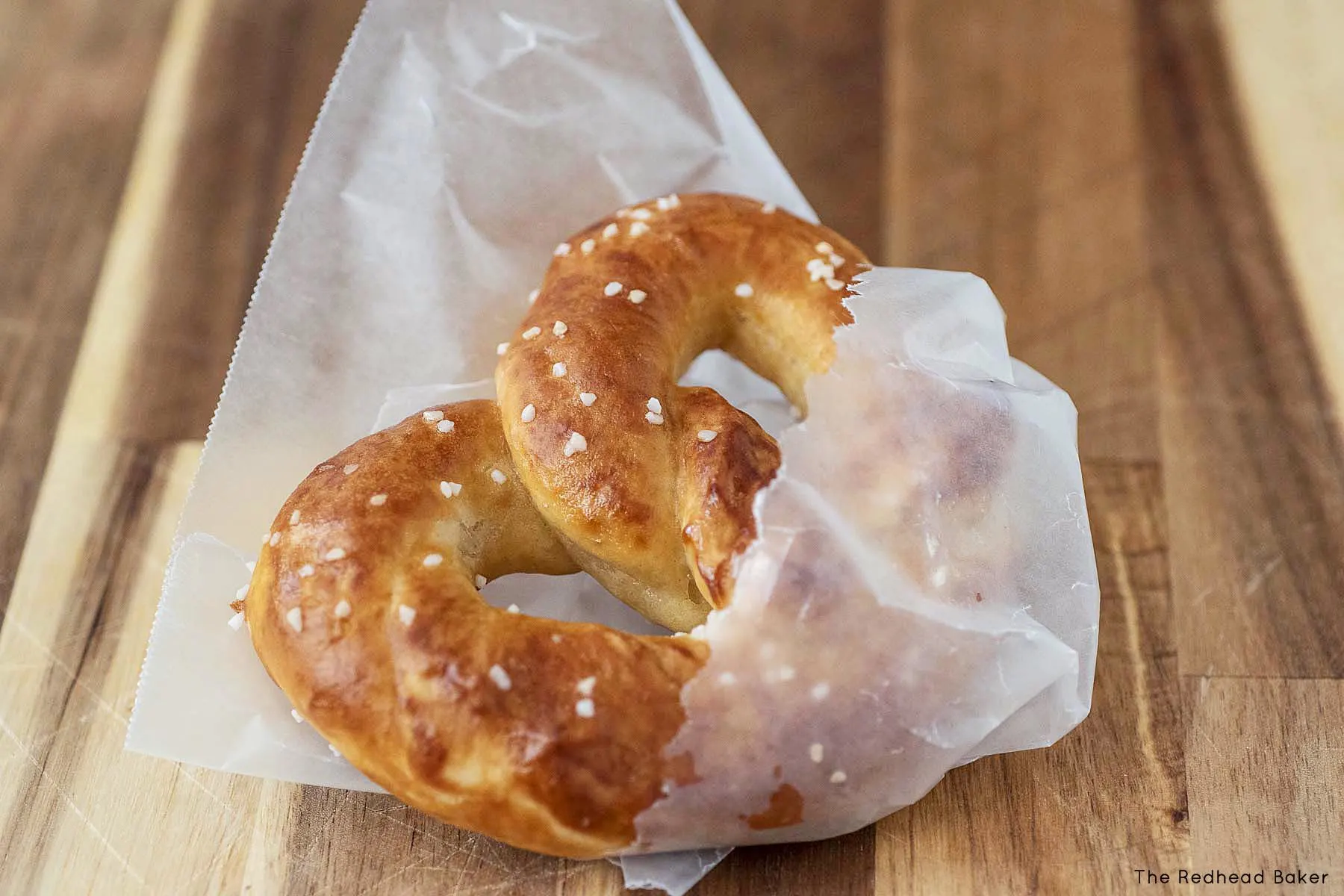 It's time for Progressive Eats, and today we're sharing our favorite copycat recipes. In the past, I've made copycat Starbucks Sweet Cream Coffee Creamer, and copycat Friendly's Monster Mash sundaes. Today, it's copycat Auntie Anne's soft pretzels.
Since I'm from Philadelphia, an appreciation for soft pretzels is in my DNA. Settlers that came to be known as the Pennsylvania Dutch brought them over from Europe, and they became very popular.
Now, soft pretzels are everywhere. Auntie Anne's is probably found in every mall in the United States. It's not a Philly soft pretzel (they're thicker, without a melted butter finish), but I do love their original pretzels, dipped in butter, with a light sprinkle of pretzel salt.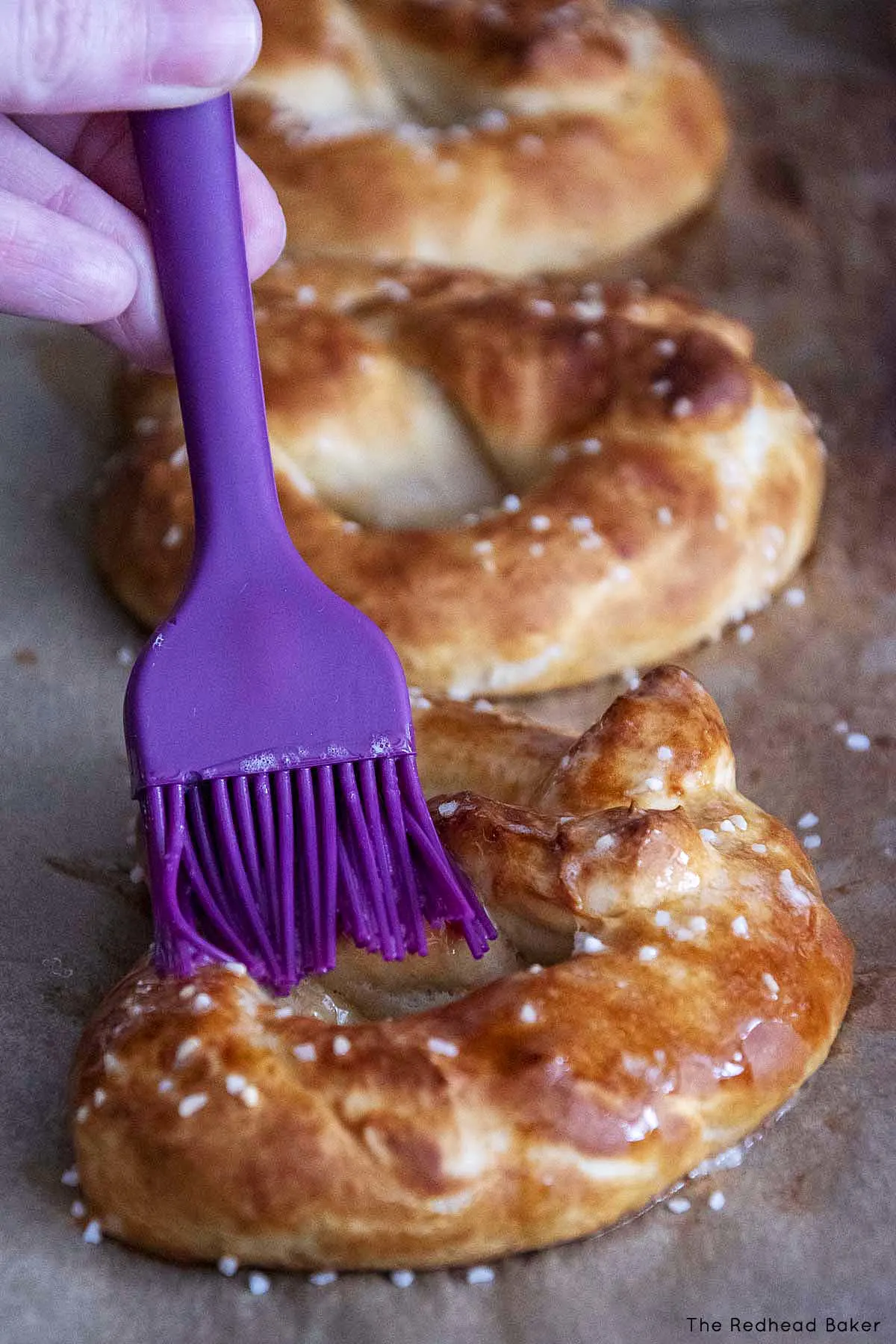 How to Make Soft Pretzels
Pretzels are basically a yeasted bread. I prefer using instant yeast, because there's no need to proof the yeast in warm water. Pretzels also contain bread flour, whose higher protein content gives the pretzel a chewier texture. Sugar gives the yeast something to eat, which makes the dough rise.
Milk and butter make the interior of the pretzel rich and soft. A sprinkle of pretzel salt gives extra flavor and a little crunch. And of course, the final brush with melted butter.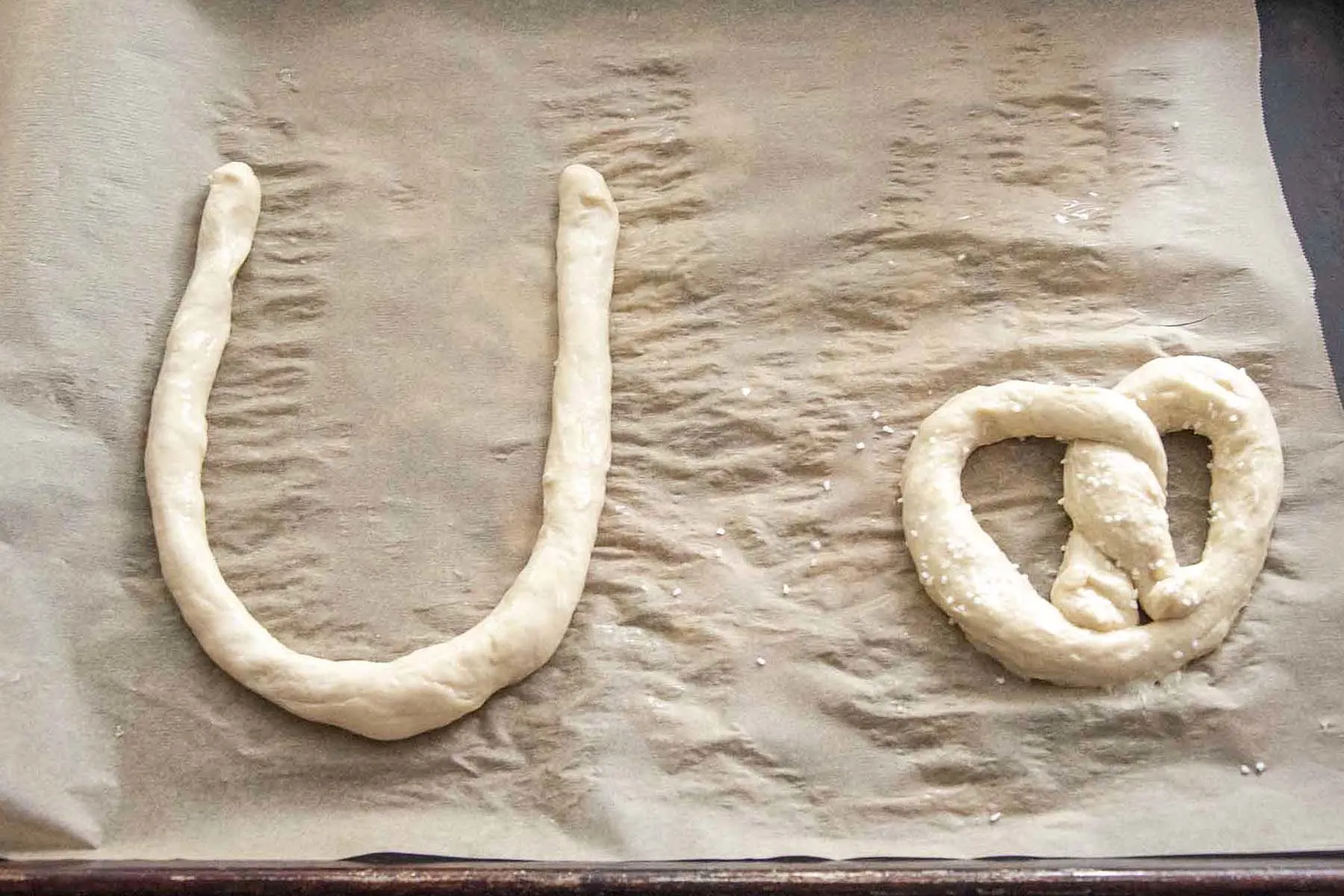 FAQs
Q: I don't have bread flour. Can I use all-purpose flour?
A: Yes, though the pretzels will be slightly less chewy. Bread flour has a higher protein content, giving baked goods like pizza dough, pretzels and bagels their signature chewy texture.
Q: Why do you dip pretzels in a baking soda solution?
A: Dipping the unbaked pretzel dough in an alkaline "bath" (baking soda dissolved in warm water) gelatinizes the outer crust of the pretzel, preventing the dough from rising as much as say, a loaf of bread would. It is also what gives the pretzel is signature chewy crust.
Q: I can't find pretzel salt. What can I use instead?
A: Pretzel salt can be difficult to find if you don't want to buy in bulk. I bought 1 pound of it on Nuts.com, and shared it with a neighbor. If you don't want to order online, you can use coarse sea salt or coarse kosher salt instead. It's not exactly the same (pretzel salt is processed to make it harder to melt on the warm pretzel) but it's close enough.
Q: Can I freeze these?
A: Yes! Pretzels freeze very well. Follow the recipe through step 12. Cool the pretzels completely, then lay them on a baking sheet in a single layer and freeze solid. Remove the baking sheet from the freezer and place the frozen pretzels in a freezer-grade plastic zip-top bag. Use within 3 months. Thaw them in the refrigerator, then reheat in a 350 degree oven or in the microwave. Brush with melted unsalted butter.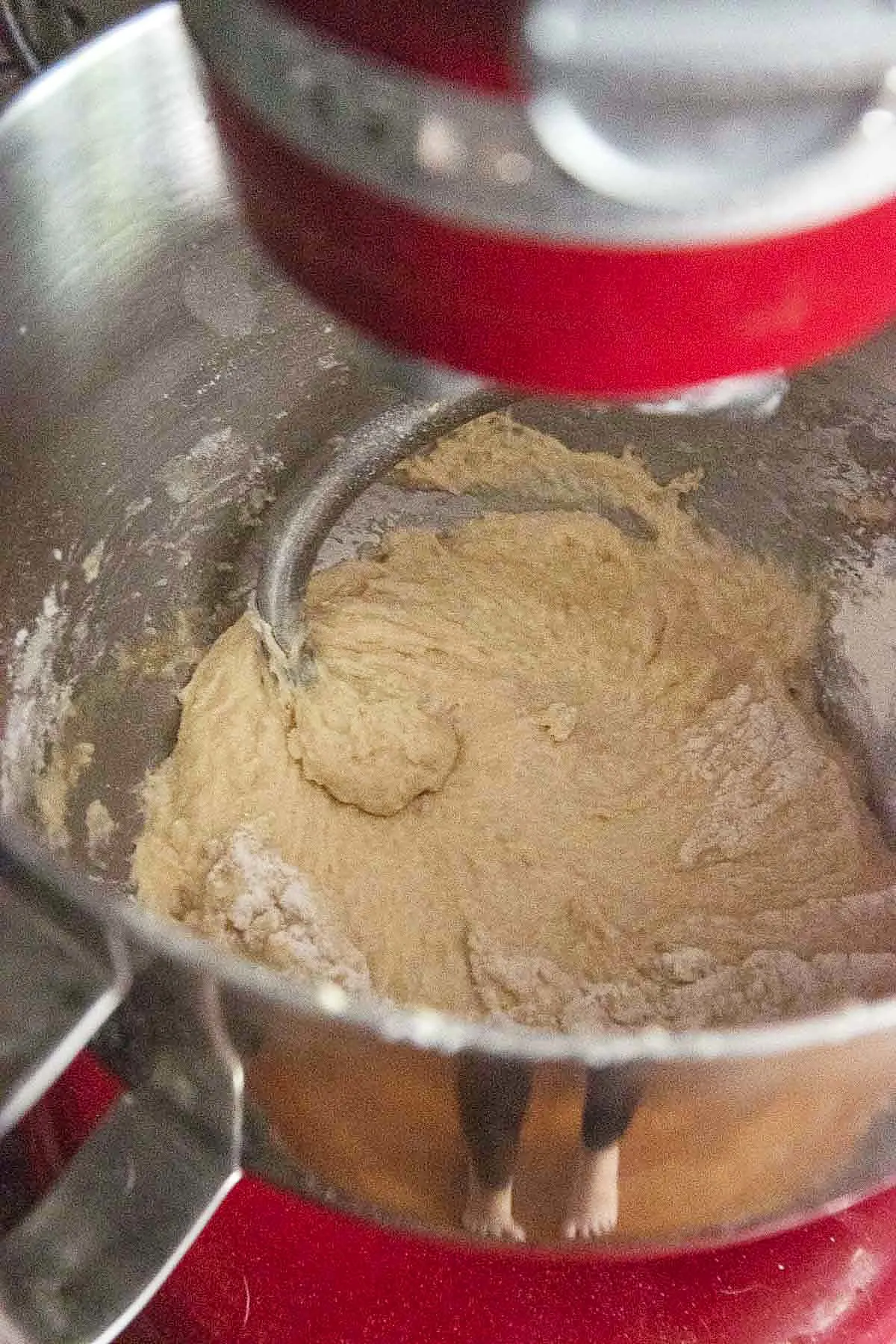 If you don't want to attempt shaping the pretzel, you can always turn them into Auntie Anne's signature pretzel bites. See my pretzel bites recipe for shaping instructions. If you prefer their cinnamon sugar pretzels, skip the pretzel salt. After brushing with melted butter, toss the pretzel in cinnamon sugar (¼ cup white sugar whisked with 1 tablespoon cinnamon).
These make a great after-school snack, or a snack for a party (and this recipe is easy to scale up if you need more than 6). They can be stored at room temperature for 2 to 3 days, cooled completely and stored in an airtight container with sheets of wax paper between the pretzels.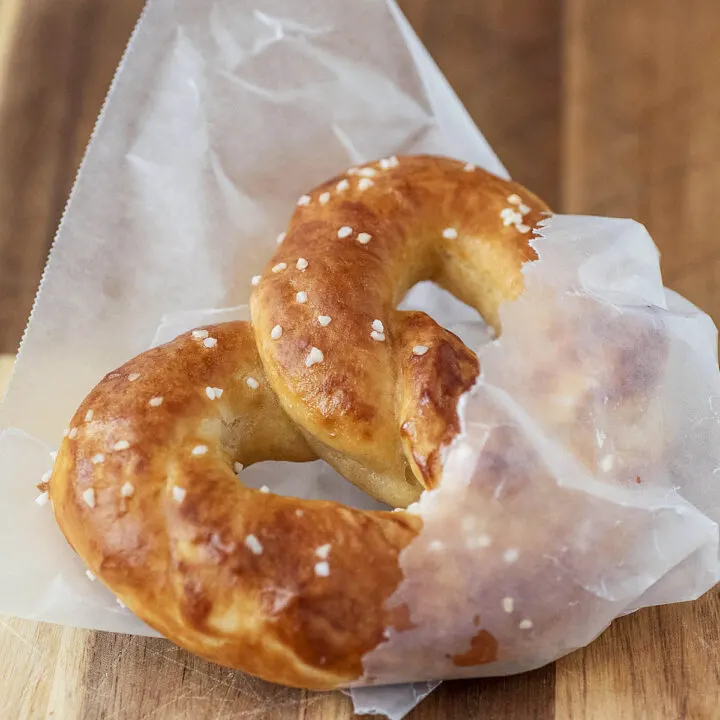 Copycat Buttery Soft Pretzels
Total Time:
2 hours
27 minutes
These soft pretzels with a light coating of melted butter and a sprinkle of pretzel salt are just like the Auntie Anne's pretzels you'd find at the mall!
Ingredients
For the dough
1 cup whole or reduced fat milk
2 tablespoon unsalted butter
3 tablespoon light brown sugar, packed
2 ½ cups (10.5 oz) to 3 ½ cups (14.75 oz) bread flour
2 ¼ teaspoon (.25 oz) instant yeast
1 teaspoon table salt
For the baking soda bath
¼ cup baking soda
2 ¼ cups warm water
For topping
¾ teaspoon pretzel salt
3 tablespoon unsalted butter, melted
Instructions
In a glass measuring cup, microwave the milk and 2 tablespoon unsalted butter on HIGH for 90 seconds.
Add the brown sugar to the warm milk/butter mixture and stir to dissolve.
In the bowl of a stand mixer fitted with the paddle attachment, stir together 2 ½ cups of the flour with the yeast and salt.
Turn the mixer on to low speed and slowly pour in the warm milk mixture and continue mixing until the mixture appears uniform in texture.
Switch to the dough hook. Turn it on to medium-low speed and knead the dough for 5 minutes, adding more flour one to two tablespoonfuls at a time if needed, until the dough forms a ball that clears the sides of the bowl, but still feels tacky to the touch.
Transfer the dough to a mixing bowl sprayed with nonstick spray. Mist the top of the dough with nonstick spray and cover the bowl with plastic wrap and clean towel. Let the dough rise for 1 to 2 hours.
Preheat the oven to 450 degrees. Stack two baking sheets on top of each other (this is called double-panning and prevents the bottoms of the pretzels from burning), and line the top pan with parchment paper.
In a large mixing bowl, combine the baking soda bath ingredients.
Punch the dough down, gently shape it into a log, and use a knife or bench scraper to divide the dough into 6 equal pieces.
On a clean surface, roll the first piece of the dough out into a thin rope about 2 feet long. Dip the rope into the baking soda bath, then shape into a pretzel directly on the prepared baking sheet: Set the rope down in a U-shape. Taking the ends, twist them two or three times, then fold the ends down and press them into the bottom of the pretzel. Sprinkle with a pinch or two of the pretzel salt.
Repeat with remaining dough pieces.
Bake for 8 to 12 minutes, or until golden brown.
Brush the melted butter onto the baked pretzels. Let the pretzels sit for about 10 minutes to cool slightly and absorb some of the butter, then enjoy!
Recommended Products
As an Amazon Associate and member of other affiliate programs, I earn a small percentage from qualifying purchases.
Nutrition Information:
Yield:

6
Serving Size:

1 pretzel
Amount Per Serving:
Calories:

352
Total Fat:

11g
Sodium:

555mg
Carbohydrates:

51g
Sugar:

2g
Protein:

10g
Welcome to Progressive Eats, our virtual version of a Progressive Dinner Party. This month's theme is Copycat Recipes, and our host is Karen who blogs at Karen's Kitchen Stories.
If you're unfamiliar with the concept, a progressive dinner involves going from house to house, enjoying a different course at each location. With Progressive Eats it's a virtual party. A theme is chosen each month, members share recipes suitable for a delicious meal or party, and you can hop from blog to blog to check them out. Come along and see all of the delicious copycat inspired dishes!
CopyCat Recipes
Beverage
Appetizer
Copycat Auntie Anne's Pretzels - The Redhead Baker (recipe above)
Bread
Main Courses
Side Dish
Desserts