Looking for an easy pie that's delicious any time of year? Try this s'mores pie! Flaky pie crust, chocolate filling, and toasted marshmallow topping.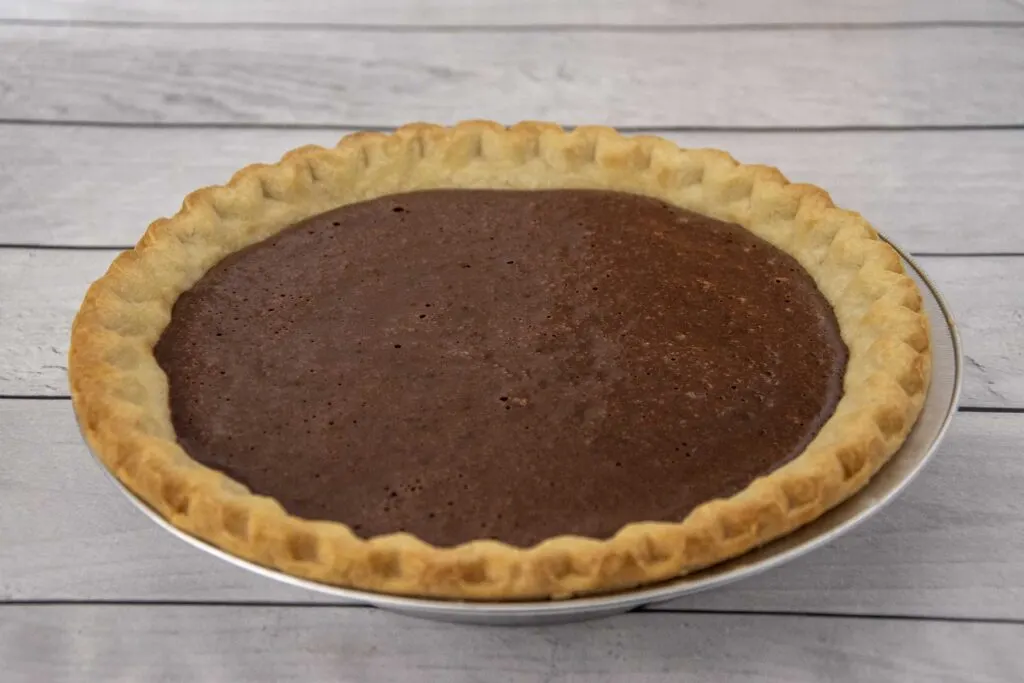 Happy Pi(e) Day! Every year, I invite several food blogger friends to join in posting pie recipes to celebrate this day. You can find links to their recipes at the bottom of the page.
Looking for a super easy pie recipe to celebrate? It can't get any easier than this almost-no-bake s'mores pie. Store-bought crust, pudding mix filling, and mini marshmallows and graham cracker bits for topping. It's helpful to have a kitchen torch (affiliate link) for toasting the marshmallows, but you can also do that in your oven.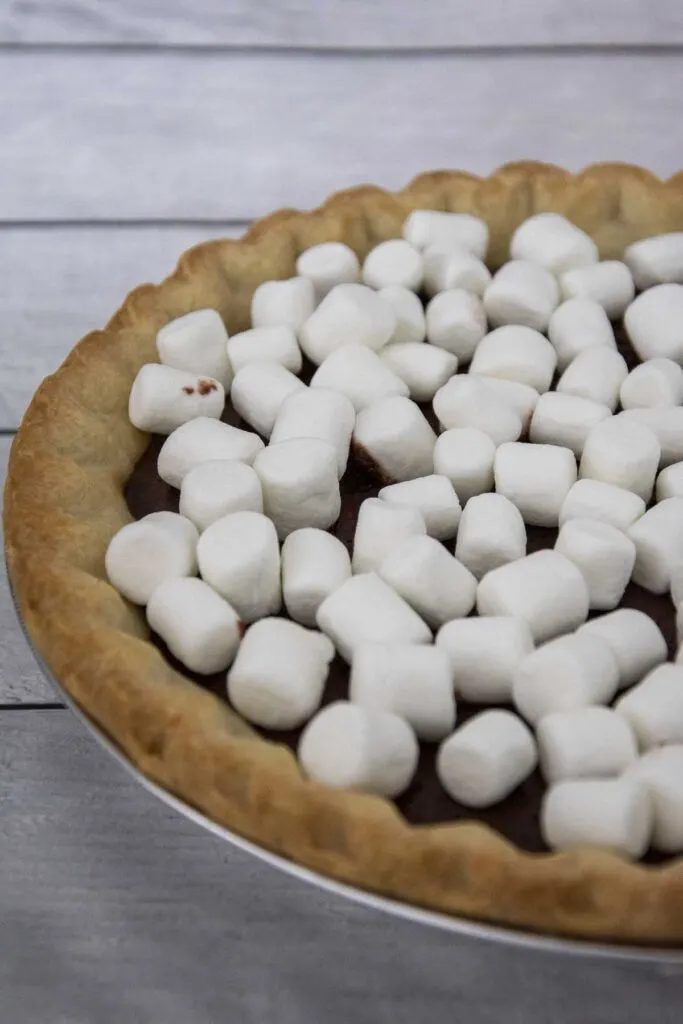 How to Make S'mores Pie
I prefer a flaky pie crust. You can buy the refrigerated crust that you roll out yourself, the frozen pre-formed pie crust, or you can make your own pie dough if you prefer.
So, pudding. Chocolate, of course. Mix the pudding according to the "pie filling" directions (instead of the cook-and-serve directions), and pour directly into the cooled crust.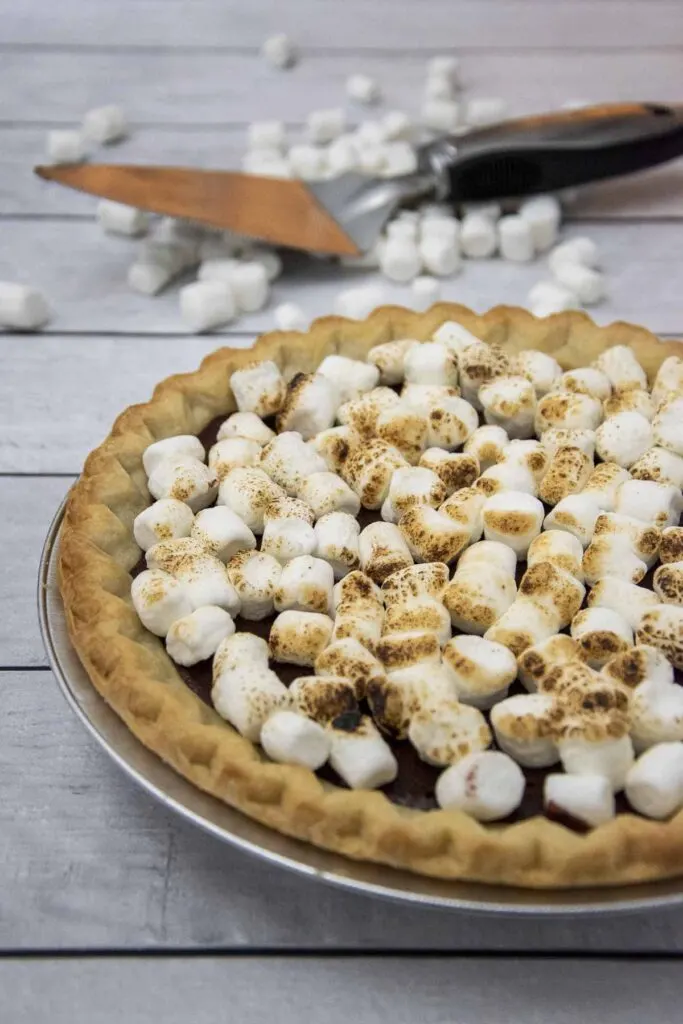 FAQs
Q: Why not use a store-bought graham cracker crust?
A: You could use a store-bought graham cracker crust, but those tend to be smaller than a pie. You may not need to use all of the chocolate pudding.
Q: I can't have dairy. Can I use dairy-free pudding?
A: Absolutely!
Q: Can I use marshmallow fluff or marshmallow creme instead of mini marshmallows?
A: Yes, you can. Don't spread it all the way to the edge of the pie, because it will spread when toasted in the oven. You might also want to set the pie plate on a baking sheet before toasting the marshmallow fluff or creme.
Q: How far in advance can I make this?
A: You can bake the pie crust and make the filling a day ahead of time. Wait until just before serving to add the marshmallows and toast them. Nothing would go bad if you added the marshmallows before chilling, but they'd take longer to toast if they are cold.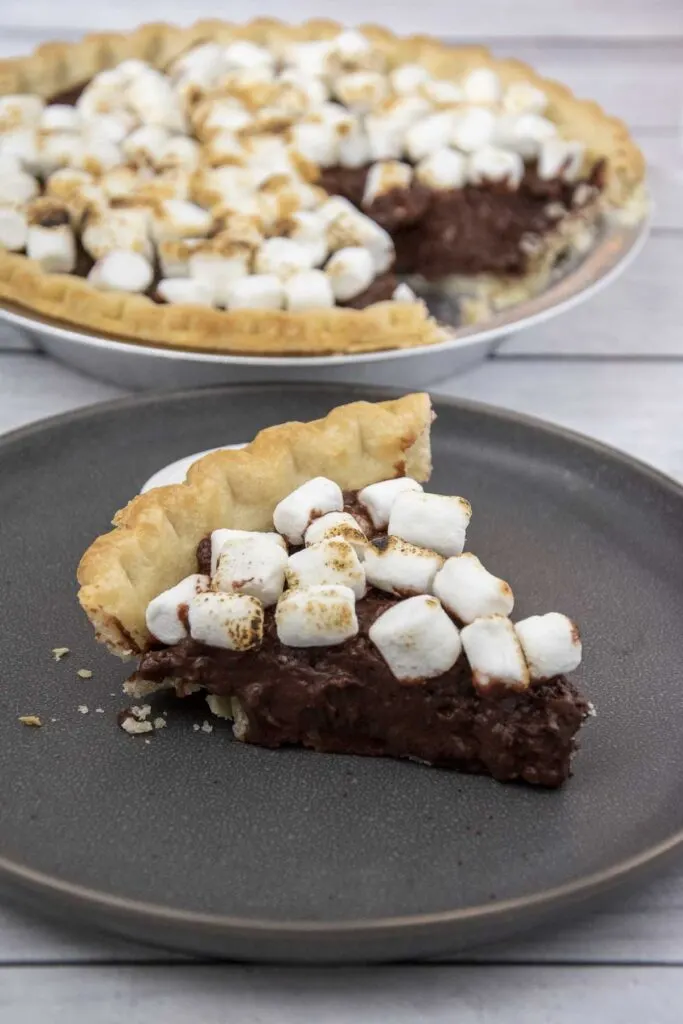 After toasting the marshmallow topping, I sprinkle a few crushed graham crackers over the top (that is, if my son hasn't eaten them all, which is why they don't appear in the photos). You could also use a handful of graham cracker cereal, if you have it in the house.
This is such a simple yet delicious dessert, and I love how easy it is to make. S'mores are a big hit at any age. It's also a good recipe to make with your kids, if they're interested in cooking and baking.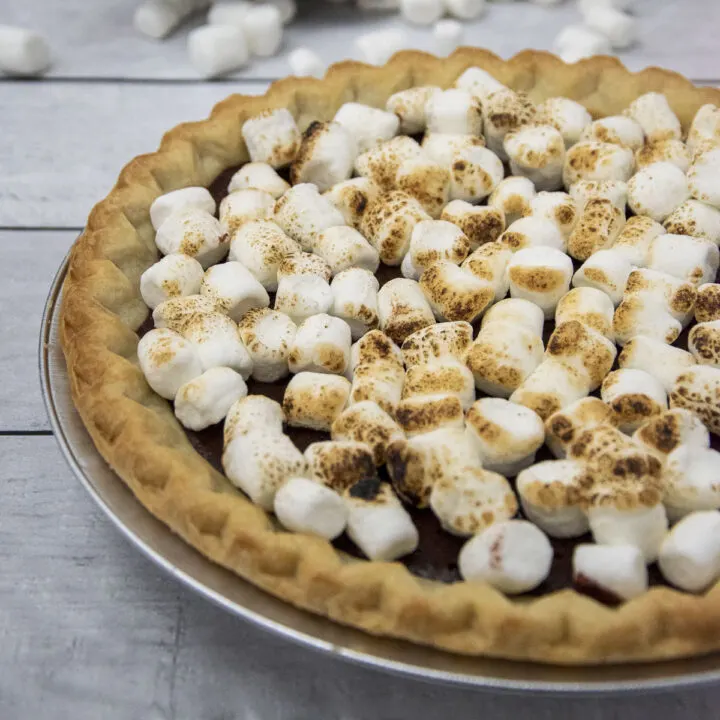 S'mores Pie
Chilling Time:
30 minutes
Looking for an easy pie that's delicious any time of year? Try this s'mores pie! Flaky pie crust, chocolate filling, and toasted marshmallow topping.
Ingredients
1 pie crust (store-bought or homemade)
3.9-oz package chocolate pudding mix
2 cups cold milk
1 cup mini marshmallows
½ cup crushed graham cracker bits
Instructions
Preheat your oven to 400 degrees.
Roll the pie crust out to a 10-inch circle. Lay in a pie plate and cut off any excess. Crimp the edges as desired.
With the tines of a fork, lightly prick the pie crust all over. Lay a piece of tinfoil over the crust, and press down. Pour dried beans or rice into the tinfoil to weigh it down. This will prevent the pie crust from puffing up too much.
Bake for 15 minutes. Place on a wire rack to cool competely.
Once the crust is cool, whisk together the pudding mix and the cold milk. Pour into the pie crust. Chill until ready to serve, or at least 30 minutes.
Just before getting ready to serve, sprinkle the mini marshmallows over the pie in an even layer. Toast the marshmallows with a kitchen torch, or place the pie in a 450-degree oven for 4 to 5 minutes.
Sprinkle graham cracker bits over the toasted marshmallows.
Slice and serve.
Recommended Products
As an Amazon Associate and member of other affiliate programs, I earn a small percentage from qualifying purchases.
Nutrition Information:
Yield:

8
Serving Size:

1 serving
Amount Per Serving:
Calories:

224
Total Fat:

8g
Saturated Fat:

3g
Trans Fat:

0g
Unsaturated Fat:

4g
Cholesterol:

5mg
Sodium:

396mg
Carbohydrates:

35g
Fiber:

1g
Sugar:

15g
Protein:

4g
I am not a certified nutritionist. This nutrition information is automatically calculated by third party software and is meant as a guideline only.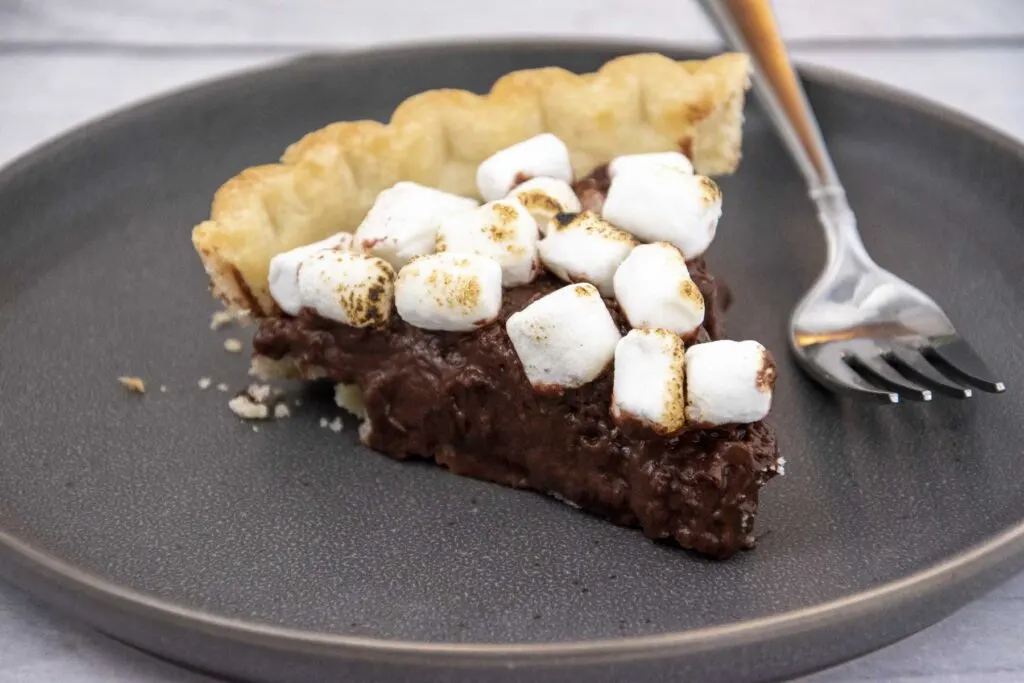 More Recipes for Pi(e) Day