These French Bistro Burgers are full of over-the-top flavor: an herb aioli, smoked gouda cheese, bacon and a sunnyside up egg. Serve with rosemary fries or a frisee salad.
May is National Burger Month, and Kita of Girl Carnivore hosts a fun challenge each year: post a delicious, over-the-top burger. Well, I may be a baker, but I love a good burger. I joined the challenge with my French Bistro Burgers.
And while this is fun, community-building event for bloggers, there's also something in it for you. A kick-ass prize package, with items from 11 different brands, making up everything you'll need to make your own kick-ass burgers. Check out the prize descriptions under the recipe, then click the link to enter the giveaway.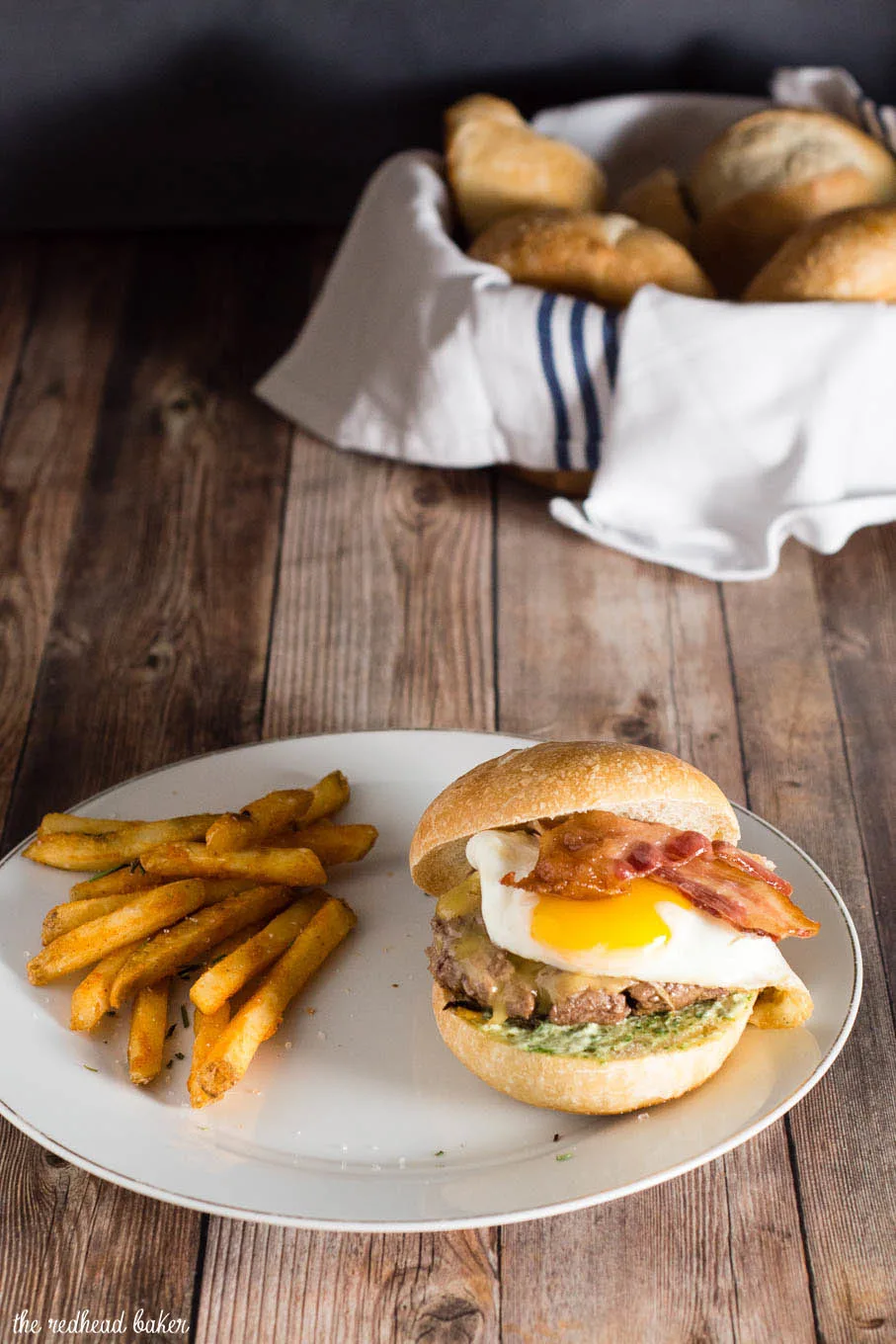 I considered many different flavor options before settling on this burger recipe. Did I want to go Tex-Mex? Asian-inspired? I thought about my favorite burger: a breakfast-for-dinner style burger with an egg and hashbrowns on top. The egg was my favorite part, so I wanted to incorporate that into my burger.
When I was in France in 2006 with my culinary school class, we had hotel-provided breakfasts and group dinners at Michelen-star restaurants, but we were on our own for lunch. And I remember the burgers in the bistros almost always had a poached egg on them, which is why I call them French Bistro Burgers.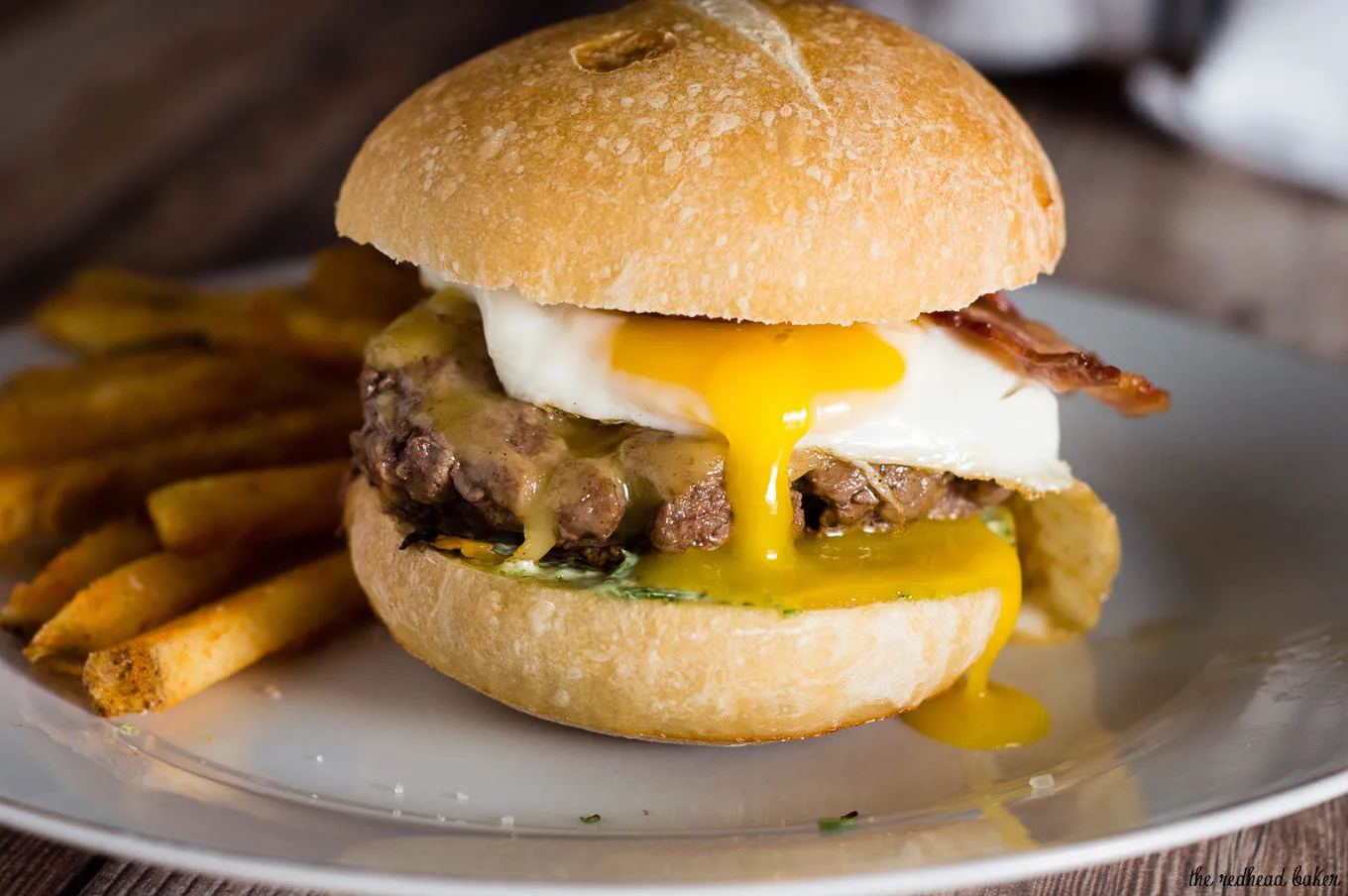 I decided to go with a sunnyside up egg, because poaching is more difficult and time-consuming. What I really wanted on my burger was the runny yolk. I also included bacon, because, come on. It's bacon.
And finally, an herb aioli. The French do not use ketchup. Contrary to popular belief, it is not banned in France, but it's not used. An aioli is an emulsion, like mayo. This shortcut aioli starts with prepared mayo, and blends it with herbs and Dijon mustard. It's a flavorful sauce, and also delicious when used as a dip for fries.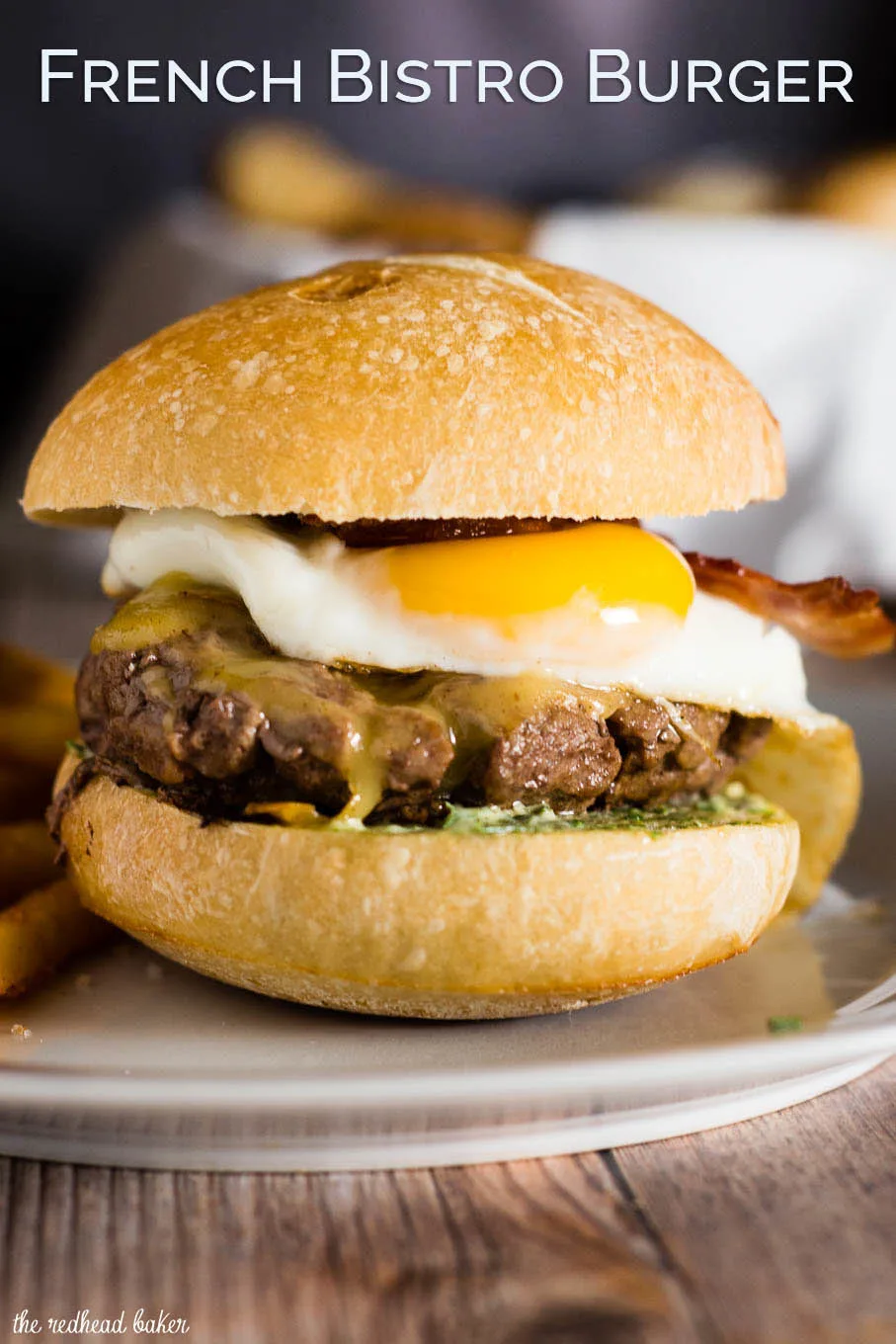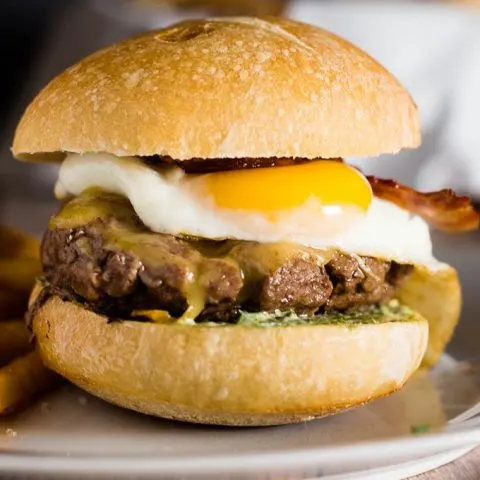 French Bistro Burgers
Ingredients
For the aioli:
½ cup prepared mayo
2 tablespoon basil
2 tablespoon parsley
2 tablespoon rosemary
2 teaspoon Dijon mustard
Kosher salt
For the burgers:
4 strips bacon
1 lb ground chuck
4 slices Gouda cheese
4 large eggs
4 crusty French rolls
Instructions
Make the aioli
Place the mayo, herbs, and Dijon mustard in the bowl of a mini food processor. Process until the ingredients are evenly combined, and only specks of herb are visible.
Taste, season with salt if necessary (pulse a few times to incorporate the salt). Transfer to a bowl, place a piece of plastic directly on the surface, and keep refrigerated until ready to use. Can be made a day ahead of time.
Make the burgers
Cook the bacon using your preferred method (skillet, oven or microwave). Set aside.
Form the beef into 4 patties. Season both sides with kosher salt. Preheat a cast-iron skillet over medium-high heat. Pour a thin layer of vegetable oil in the pan and tilt to coat.
Cook the burgers in the skillet for 3 minutes on each side for medium-rare doneness.
Lower the heat under the skillet to medium-low. Place a slice of gouda cheese on each burger, and cover the skillet to melt the cheese.
Once the cheese has melted on the burgers, remove them from the skillet and set aside to rest. Tent with foil to keep warm.
Heat a nonstick skillet over medium heat. Spray with nonstick spray. Crack the eggs into the skillet (in batches, if necessary, don't overcrowd the skillet). Cook until the whites set, about 5 to 7 minutes. Gently transfer the cooked eggs with a spatula and place them on top of each burger.
While the eggs are cooking, turn on the broiler. Split the French rolls, and place, cut-side-up, on a baking sheet. Place under the broiler for 1 to 2 minutes, until lightly toasted. Set aside.
Assemble:
Spread the herb aioli on the toasted rolls. Place an egg-topped cheeseburger patty on each roll. Top with a slice of bacon and serve.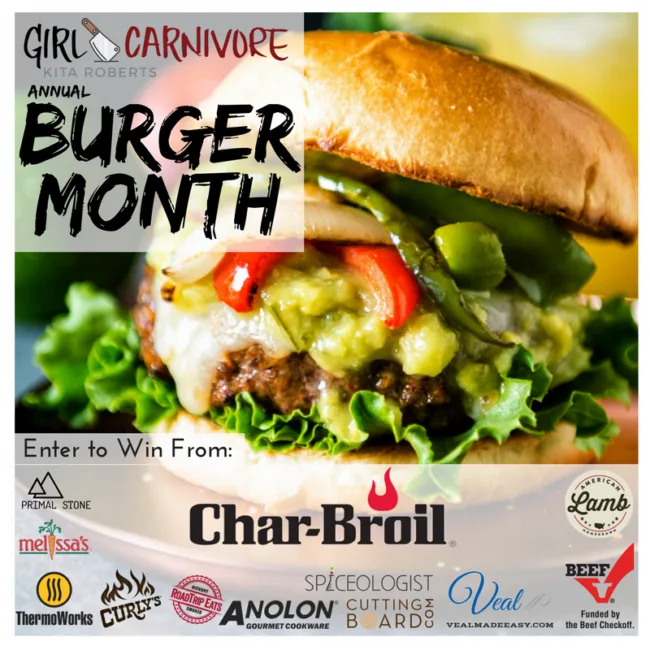 This post is part of the #BurgerMonth celebration happening all month long at Girl Carnivore and across the web with 100 other talented foodies!! Be sure to follow #BurgerMonth on social media to see all of the Burger Month burger creations!