This post is presented in conjunction with the #BurgerMonth grill giveaway, hosted by GirlCarnivore. All opinions stated are my own.
Surf-n-turf meets backyard cookout in these Oscar-Style Burgers. Hamburger patties are topped with crab meat, tender-crisp asparagus and rich Bearnaise sauce.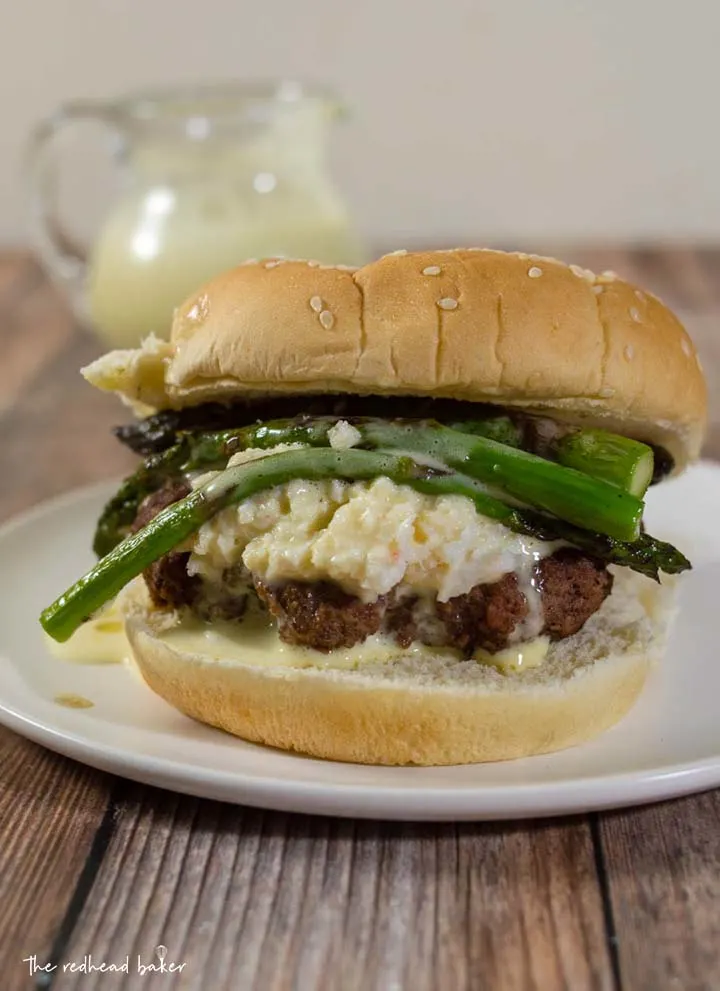 I'm really excited to be participating Girl Carnivore's Burger Month again this year! What's in it for you? A month of epic burger recipes from some really great bloggers, and weekly giveaways! The giveaway widget is just above the recipe, further down this post. But check out these prizes!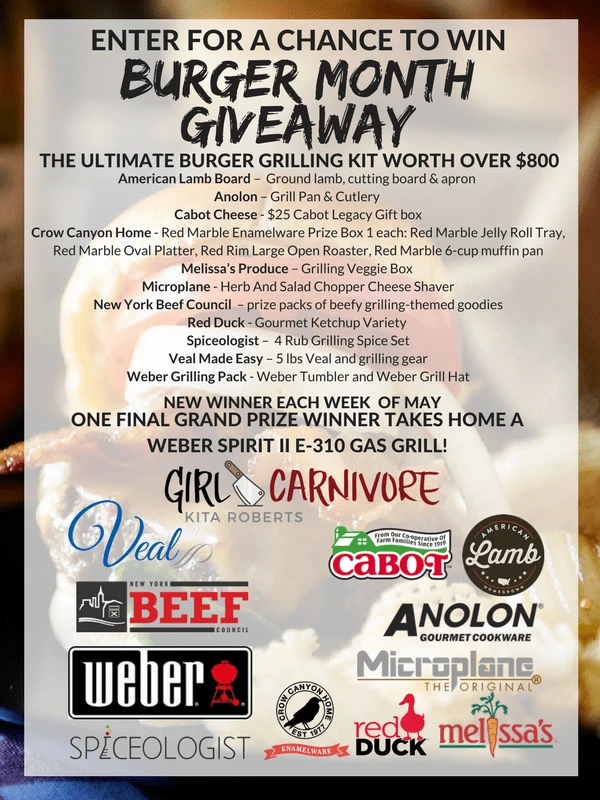 I love burgers of all kinds, and coming up with epic burger recipes. This time around, I took one of my favorite steak recipes and turned it into a burger. Steak Oscar is a classic dish, in which filet mignon is topped with crabmeat, asparagus and Bearnaise sauce. In this burger recipe, the filet is replaced with a burger patty. I keep the burger patty on the plain side, because I don't want it to compete with the toppings.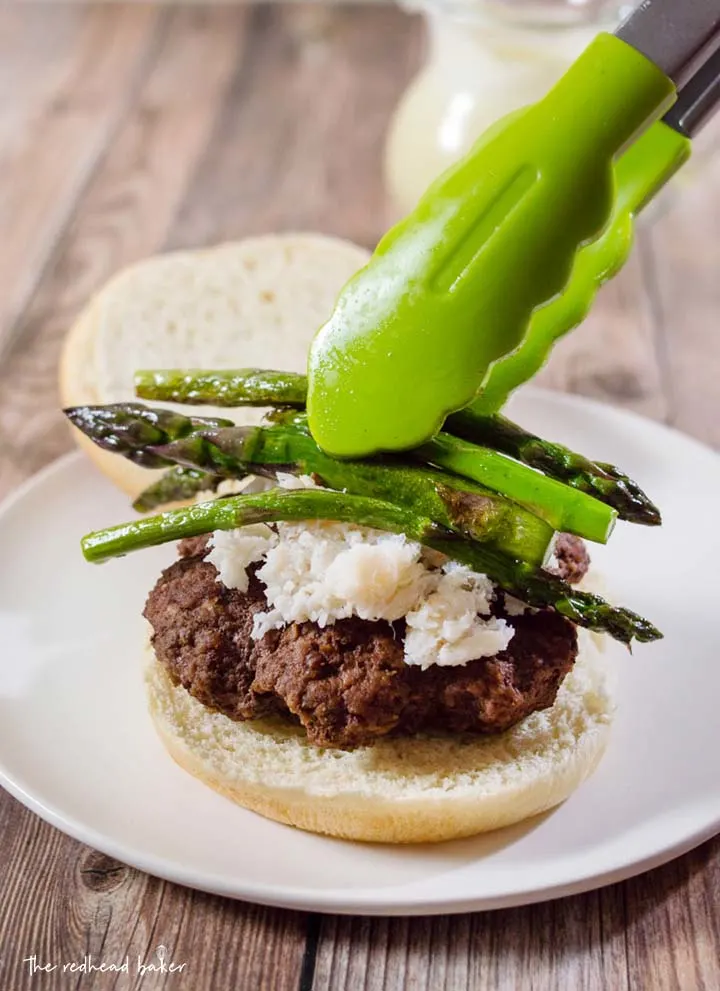 Bearnaise sauce is a classic French "child" sauce. It's called a child sauce, because it is derived from one of the French mother sauces, Hollandaise. You could use Hollandaise in this recipe instead, but I really like the tangy flavor the Bearnaise sauce brings to this burger.
The sauce is made using a process called emulsification, in which you blend together two things that don't normally combine. My biggest tips are to have ALL of your ingredients prepped (chopped, melted, whatever) before you start, and keep them close at hand. Also, don't try to rush things by turning the heat up, because you'll end up scrambling your egg yolks.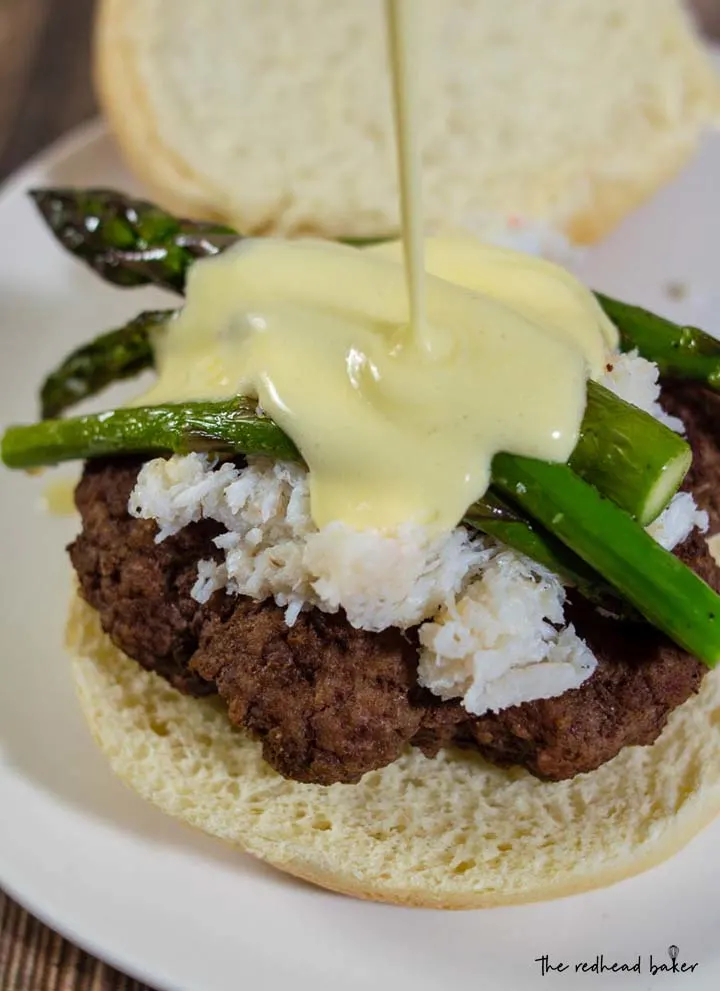 I served this burger with sweet potato french fries on the side, which were delicious dipped in the Bearnaise sauce that dripped off the burger. Thanks so much to Girl Carnivore for starting Burger Month, and inviting me to come up with an epic burger recipe to share!
And a big thanks to the #BurgerMonth sponsors American Lamb Board, Anolon, Cabot Cheese, Crow Canyon Home, Melissa's Produce, Microplane, New York Beef Council, Red Duck, Spiceologist, Veal Made Easy, and Weber Grills.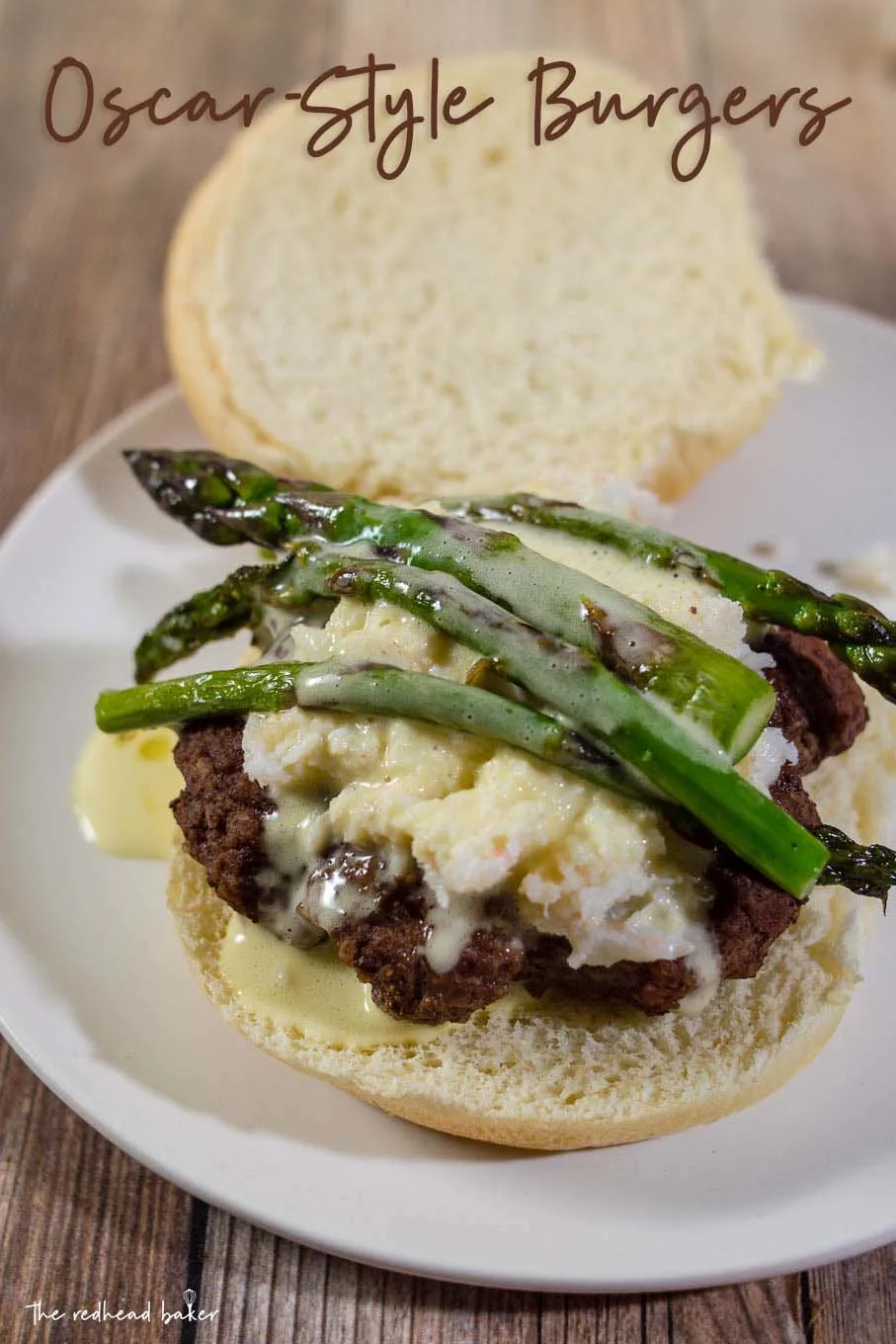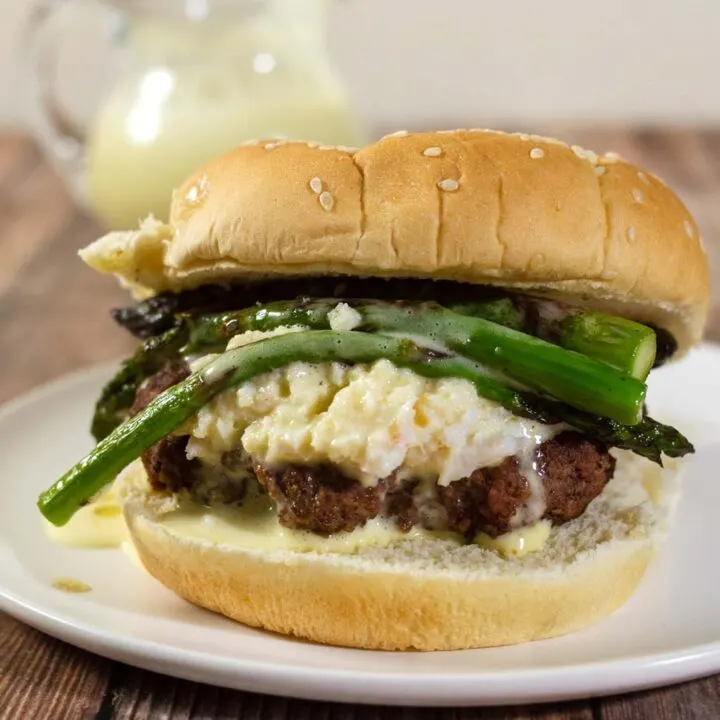 Oscar-Style Burgers
Surf-n-turf meets backyard cookout in these Oscar-Style Burgers. Hamburger patties are topped with crab meat, tender-crisp asparagus and rich Bearnaise sauce.
Ingredients
For the Bearnaise sauce
¼ cup white wine vinegar
1 tablespoon tarragon leaves, chopped
1 small shallot, peeled and minced
½ teaspoon freshly ground black pepper
2 egg yolks
1 tablespoon water
¾ cup unsalted butter, melted and still warm
Kosher salt
Splash of lemon juice
For the burgers
1 lb 80/20 ground beef
1 teaspoon Worcestershire sauce
½ teaspoon garlic powder
Salt and pepper to taste
2 tablespoon unsalted butter
8 oz asparagus, trimmed of woody ends
8 oz crab meat, picked over for cartilage
4 hamburger buns
Instructions
Place the white wine, tarragon leaves, shallot and pepper in a small saucepan set over medium heat. Bring to a boil, then reduce the heat to low and simmer for 5 minutes. Transfer to a medium-sized mixing bowl to cool.
While the mixture is cooling, form the burgers. Combine the ground beef, Worcestershire, garlic powder, salt and pepper in a large bowl. Use your hands to ensure the ingredients are evenly distributed, and divide into four patties.
Heat a large cast-iron skillet over medium-high heat. Cook the burgers to your preferred doneness. Transfer to a plate and tent with foil to keep warm while they rest.
While the burgers are cooking, melt the 2 tablespoon of butter in a saucepan. Add the asparagus, toss to coat with the melted butter, and saute for about 5 minutes, just until crisp-tender. Transfer to a bowl, cover with foil to keep warm.
Place about an inch of water in a medium saucepan and bring to a boil. Add the egg yolks and water to the mixing bowl with the cooled vinegar/tarragon/shallot mixture and whisk to combine.
Once the water in the saucepan boils, reduce the heat to keep the water simmering. Place the mixing bowl with the egg/vinegar over the simmering water and whisk vigorously for 5 to 7 minutes, until the yolk mixture lightens in color and thickens.
Very slowly drizzle the melted butter into the yolk mixture, whisking constantly, then whisk in a splash of lemon juice. Taste, and add salt and pepper if necessary. Transfer the sauce to a measuring cup, gravy boat, or other serving dish.
Place one burger patty on each burger bun. Top with 2 oz of the crab meat, 2 oz of asparagus, and a drizzle of Bearnaise sauce.
Nutrition Information:
Yield:

1
Serving Size:

burger
Amount Per Serving:
Calories:

819
Saturated Fat:

33g
Cholesterol:

305mg
Sodium:

792mg
Carbohydrates:

26g
Fiber:

2g
Sugar:

4g
Protein:

39g
Bearnaise sauce from New York Times Cooking
Don't forget to check out the rest of the #BurgerMonth participants!
A Day in the Life on the Farm ♦ A Kitchen Hoor's Adventures ♦ A Southern Fairytale ♦ Adventures of Frugal Mom ♦An Affair from the Heart ♦ Bread Booze Bacon ♦ Cluttercafe ♦ Comfortably Domestic ♦ Cookie Named Desire ♦ Courtney's Sweets ♦ Culinary Adventures with Camilla ♦ Eating Richly ♦ Everyday Southwest ♦ Family Around the Table ♦ Family Food on the Table ♦ Fearless Dining ♦ Food Above Gold ♦ Gimme Some Grilling ♦ Girl Abroad ♦ Grilling Montana ♦ Grumpy's Honeybunch ♦ Hall Nesting ♦ Jolene's Recipe Journal ♦ Kecia's Flavor Breakthrough ♦ Kudos Kitchen by Renee ♦ Life of a Ginger ♦ Love and Confections ♦ Mildly Meandering ♦ Miss in the Kitchen ♦ Moore or Less Cooking ♦ My World Simplified ♦ Palatable Pastime ♦ Pastry Chef Online ♦ Pook's Pantry ♦ RDelicious Kitchen ♦ Sailrockland ♦ Sarah's Cucina Bella ♦ Seduction In The Kitchen ♦ Sumptuous Spoonfuls ♦ Sweet ReciPEAs ♦ Tampa Cake Girl ♦ The Beard and The Baker ♦ The Complete Savorist ♦ The Crumby Kitchen ♦ The Farmstand Market ♦ The Redhead Baker ♦ The Schmidty Wife ♦ The Spiffy Cookie ♦ The Suburban Soapbox ♦ Thyme for Cocktails ♦ Wildflour's Cottage Kitchen ♦ Wok & Skillet