Cinnamon oatmeal cookie ice cream sandwiches pair homemade cinnamon ice cream between two soft oatmeal raisin cookies. You won't find this combination in your grocer's freezer!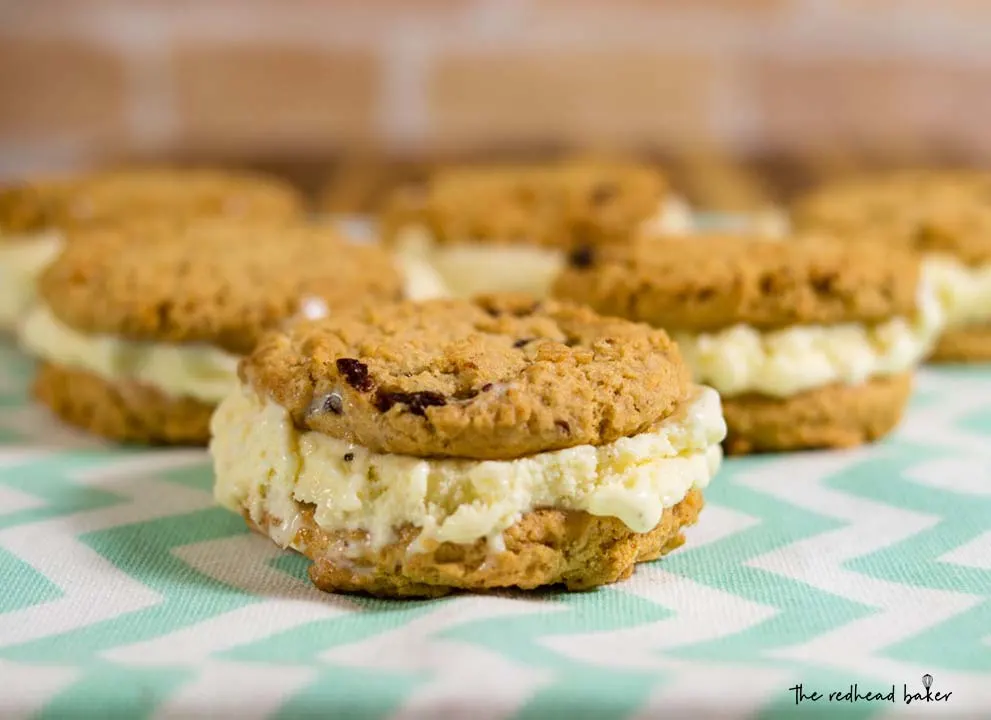 Welcome to another month of Progressive Eats! This month's theme is Frozen Treats! I knew I wanted to make something with ice cream, since it is my favorite dessert. I quickly settled on ice cream sandwiches, but deciding on a flavor combination was much harder!
I really wanted some oatmeal raisin cookies, so what would taste great in the middle? Why, cinnamon ice cream, of course!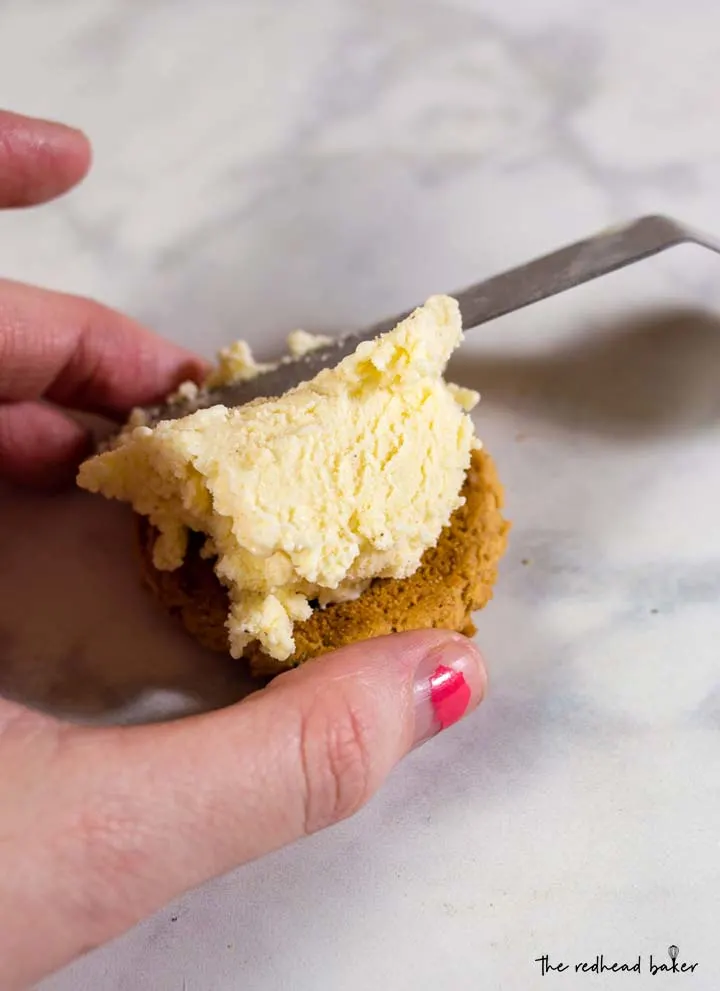 David Lebovitz has a great cinnamon ice cream recipe. You use cinnamon sticks to flavor the milk and cream, and then use that flavored milk to make the custard base. David specified 10 cinnamon sticks, but not what length, though most recipes specify 3 inches in length.
I used an entire container (about 1 ounce) which contained 5 cinnamon sticks that were about 4 inches in length. I preferred to under-spice the custard base rather than over-spice it, because I could always add more ground cinnamon but not take it out. I added about half a teaspoonful of ground cinnamon just before churning.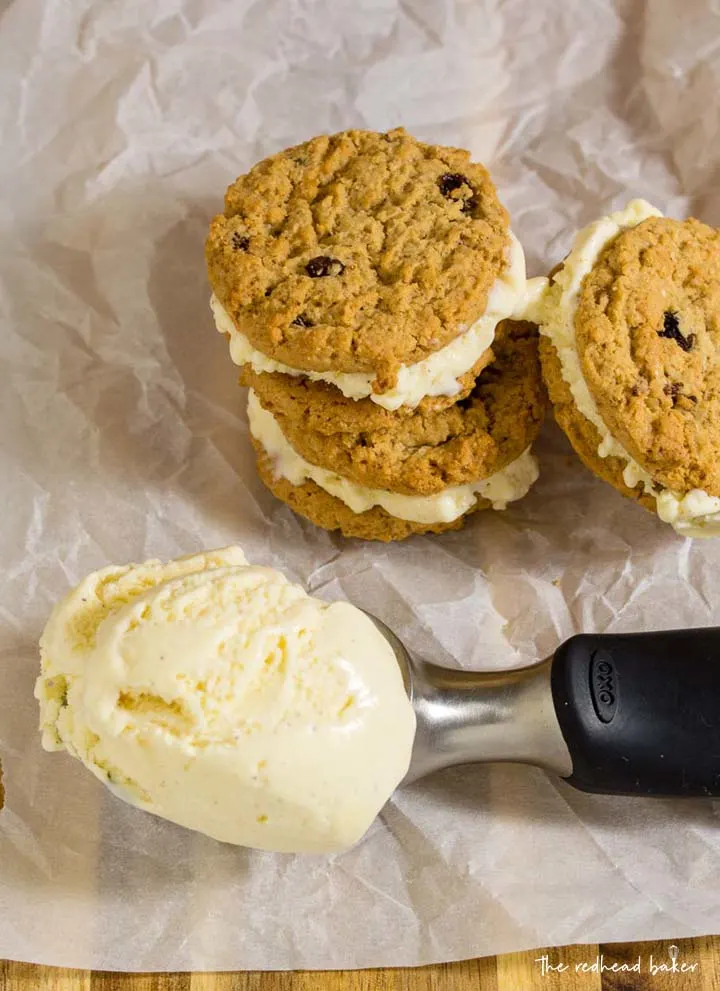 You can use store-bought oatmeal cookies if you prefer, but I love homemade. You can also swap out chocolate chips for raisins, or leave out mix-ins altogether.
You'll probably have more cinnamon ice cream than cookies, depending on how much ice cream you put between your cookies. This ice cream is delicious on its own, but it's also fantastic on top of apple or peach pie.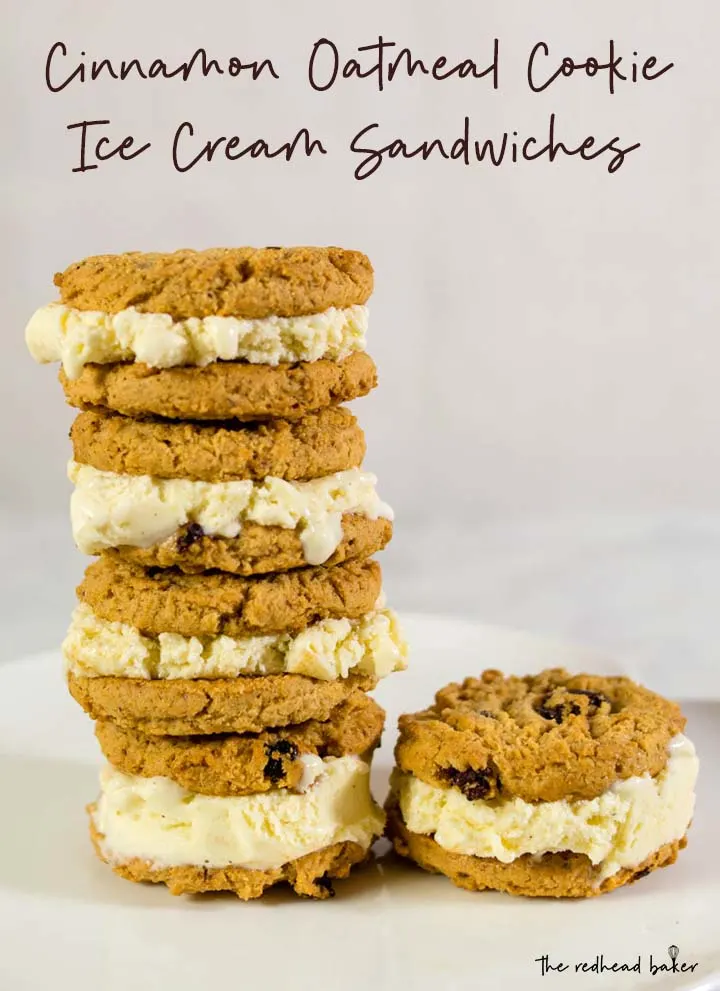 [amazon_link asins='B003KYSLMW,B019F0771A,B003BEDQL2,B000P9CWNY,B0000CDVD2,B0798NVTKW' template='ProductCarousel' store='theredheadbak-20' marketplace='US' link_id='5129084a-6158-11e8-8f17-8dbd9fd902c3']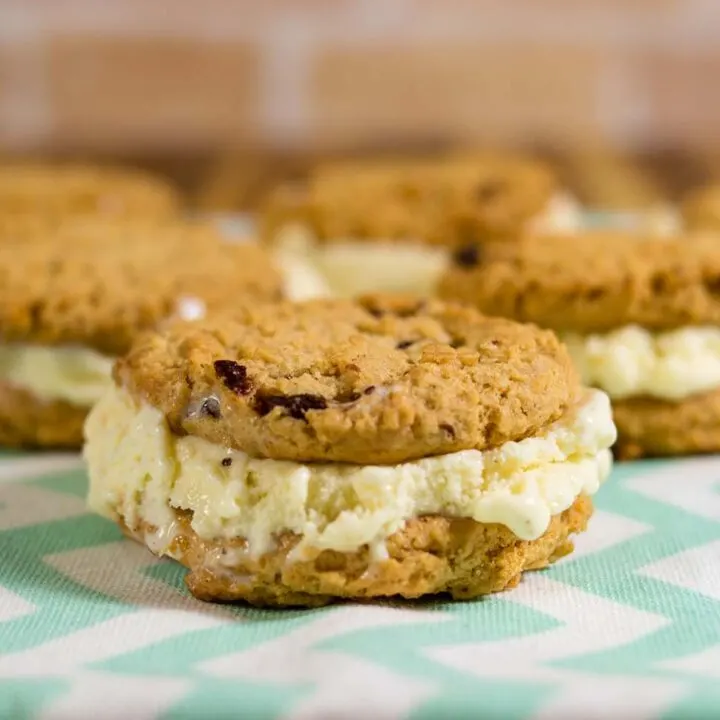 Cinnamon Oatmeal Cookie Ice Cream Sandwiches
Cinnamon oatmeal cookie ice cream sandwiches pair homemade cinnamon ice cream between two soft oatmeal raisin cookies. You won't find this combination in your grocer's freezer!
Ingredients
For the ice cream
1 cup whole milk
¾ cup sugar
Pinch of salt
1 oz cinnamon sticks , (lightly crushed with a hammer in a ziptop bag)
2 cups heavy cream, divided
5 large egg yolks
ground cinnamon , (optional)
For the oatmeal cookies
½ cup unsalted butter, softened
⅓ cup sugar
⅓ cup dark brown sugar, packed
1 large egg
2 teaspoon vanilla extract
⅔ cup all-purpose flour
½ teaspoon baking soda
¼ teaspoon salt
¼ teaspoon ground cinnamon
1 ½ cups quick-cooking oats, not instant
½ cup raisins
Instructions
Make the ice cream
Heat the milk, sugar, salt, cinnamon sticks, and 1 cup of the heavy cream together in a medium saucepan just to scalding. Cover, remove from heat, and let steep 1 hour.
Rewarm the mixture and remove the cinnamon sticks with a slotted spoon.
Set a mesh strainer over a medium bowl and pour the remaining cream into the medium bowl.
Whisk together the egg yolks until thick and lemon-colored in a small bowl. Gradually add about a quarter of the warm cinnamon-infused milk to the yolks, whisking constantly. Scrape the warmed yolks back into the saucepan and cook over medium heat, stirring constantly and scraping the bottom with a heatproof spatula, until the custard thickens and coats the spatula.
Remove from heat and immediately pour the custard through the strainer into the cream. Stir the custard until cool, then chill overnight in the refrigerator.
Taste the mixture before churning, and add a bit of ground cinnamon, if desired, then freeze the custard in your ice cream maker according to the manufacturer's instructions.
Make the cookies
Preheat oven to 350°. In a large bowl, cream butter and sugars until light and fluffy. Beat in the egg and vanilla, then scrape down the sides and bottom of the bowl. In another bowl, whisk together the flour, baking soda, salt and cinnamon; gradually beat into the creamed butter mixture. Stir in the oats.
Use a medium scoop to portion out the dough onto ungreased baking sheets; flatten slightly with bottom of a glass dipped in sugar. Bake 10-13 minutes or until golden brown. Transfer from pans to wire racks to cool completely.
Assemble
Remove the ice cream from the freezer and let sit at room temperature for 20 to 30 minutes to soften.
Use an ice cream scoop to place ¼ cup ice cream on bottom of a cookie. Top with a second cookie, pressing gently to flatten ice cream. Place on a baking sheet; freeze overnight or until firm. Repeat with remaining cookies and ice cream.
For longer storage, wrap frozen sandwiches individually in plastic wrap or wax paper and return to freezer.
Nutrition Information:
Yield:

1
Serving Size:

ice cream sandwich
Amount Per Serving:
Calories:

472
Saturated Fat:

18g
Cholesterol:

206mg
Sodium:

253mg
Carbohydrates:

45g
Fiber:

2g
Sugar:

30g
Protein:

5g
Ice cream recipe from David Lebovitz
Frozen Treats
Cocktails & Other Beverages
Desserts
Welcome to Progressive Eats, our virtual version of a Progressive Dinner Party. Each recipe in our menu this month features Frozen Treats, to welcome the beautiful summer months. Our host this month is Ansh from Spiceroots .
If you're unfamiliar with the concept, a progressive dinner involves going from house to house, enjoying a different course at each location. With Progressive Eats, a theme is chosen each month, members share recipes suitable for a delicious meal or party, and you can hop from blog to blog to check them out.