This post is sponsored by Flahavan's. As always, all opinions are my own.
Classic apple pie gets a twist with a cinnamon-spiced oat crumb topping that adds texture and flavor. It's the perfect dessert for any fall occasion!
You might be thinking, apple pie for AppleWeek? Why write a recipe for apple pie? You buy the pie crust, the can of filling, you've got an apple pie! Well, yeah, you could do that.
But while this pie takes a bit more effort, the results are so very worth it. Yes, I was questioning my choices as I was coring, peeling and chopping 4 pounds of apples. That's a LOT of apples.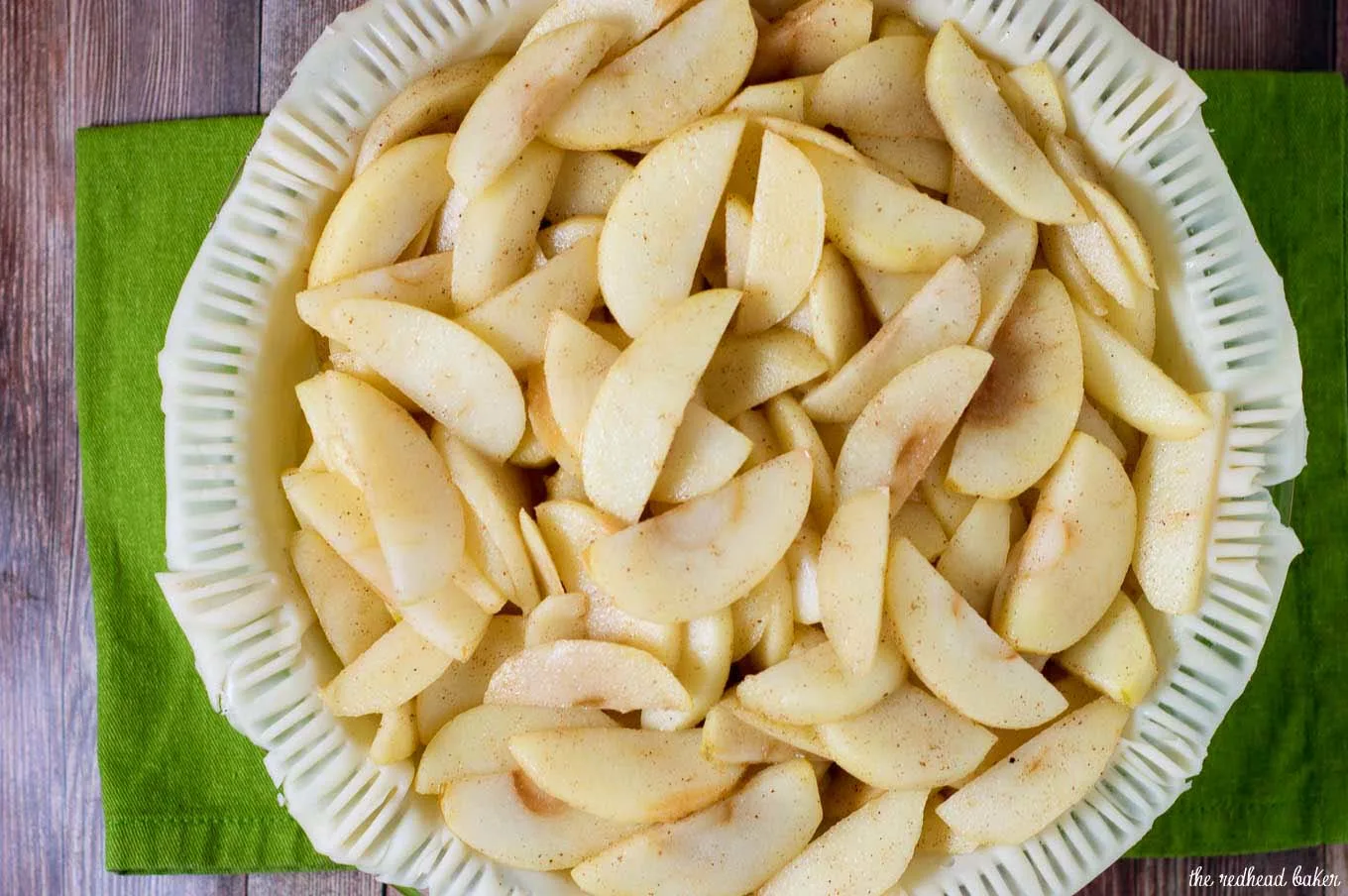 Usually when making a pie from scratch (no canned filling involved), you core, peel and slice the apples, then dump the raw apples into the crust. When the pie is baked, the apples reach the ideal state of soft-but-not-mush before the pie crust is fully baked.
But one of my favorite chefs, J. Kenji Lopez-Alt, discovered that if you soak the apples in hot water or cider for about 10 minutes, the apples will actually cook more slowly in the pie, becoming soft but still retaining their shape once the pie crust is fully baked.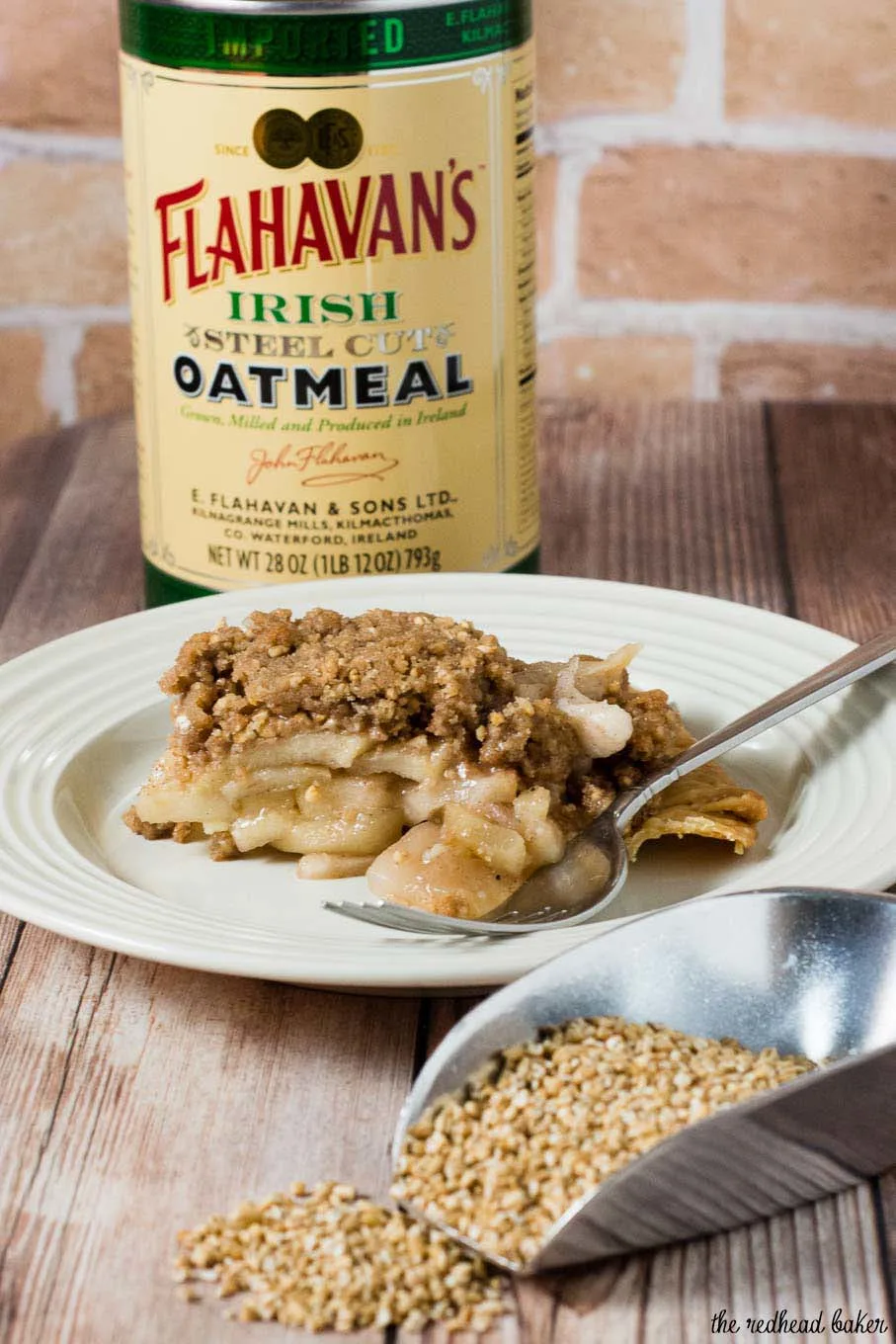 For a textural twist, this pie doesn't have a top crust. Instead, it has a slightly crunchy oat crumble topping. One of our sponsors, Flahavan's, sent me a tin of Irish steel-cut oats, as well as several packets of their instant oatmeal. I used the steel cut oats to make the crumble topping.
I tell myself that the fiber-rich Irish steel-cut oats make this pie healthy. OK, maybe not really. But it does make for a really delicious pie that's slightly different than the typical apple pie that you might make all the time.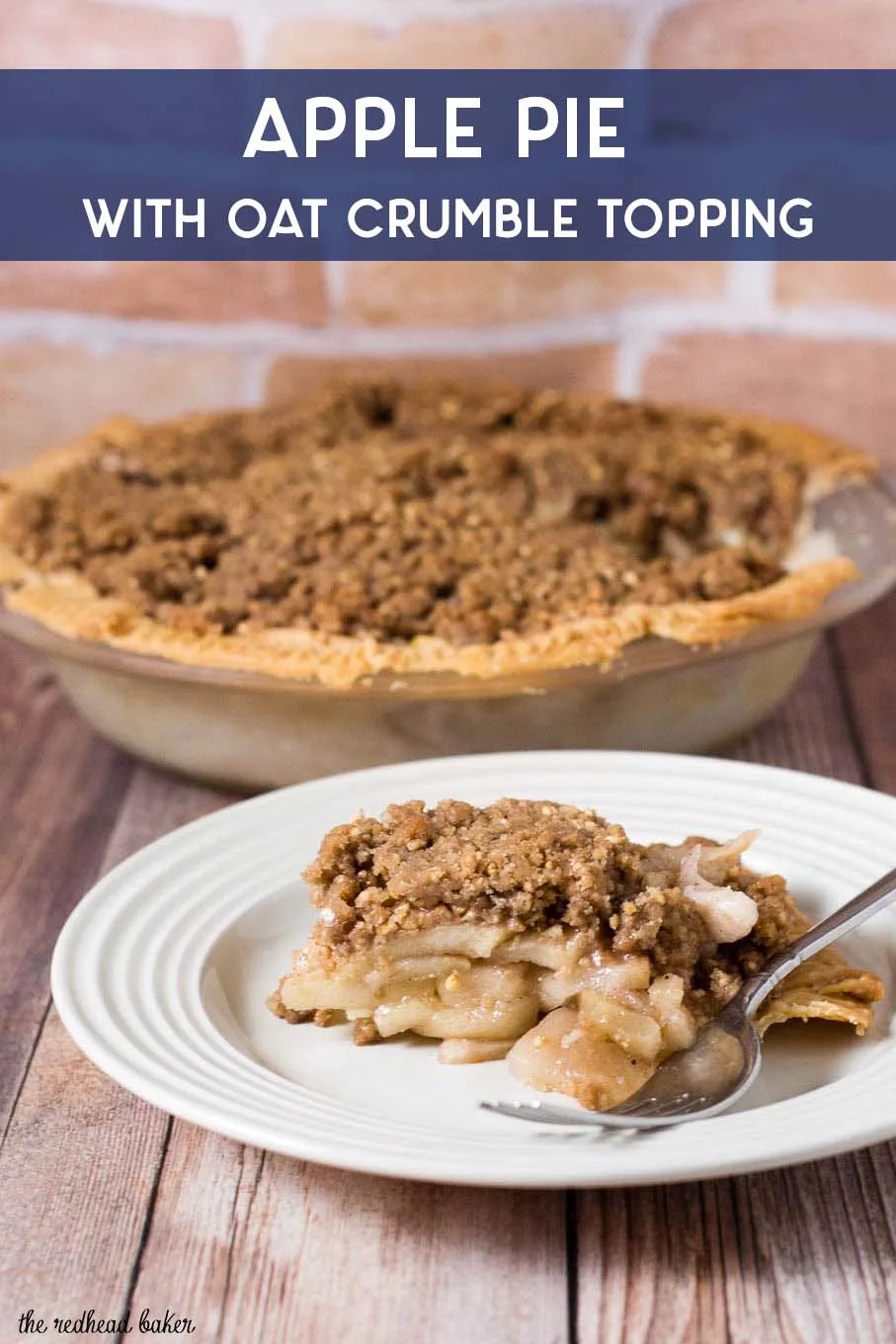 Don't forget to enter to win one of five prize packs from our AppleWeek sponsors! Get the details of the prize packs from Monday's post.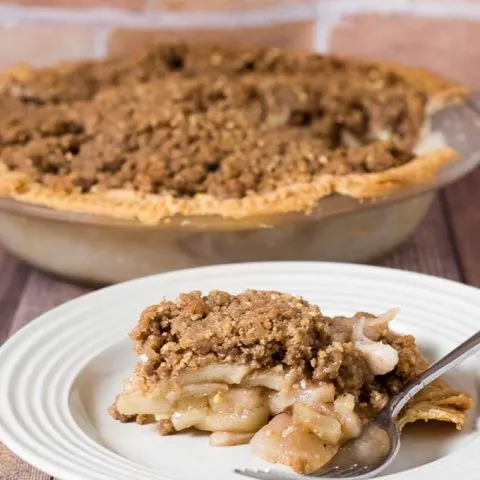 Apple Pie with Oat Crumb Topping
Ingredients
For the pie:
4 lbs Granny Smith apples, peeled, cored, and sliced into ¼-inch slices
3 quarts boiling water
10 tablespoon granulated sugar
½ teaspoon cinnamon
¼ teaspoon nutmeg
⅛ teaspoon cloves
⅛ teaspoon allspice
¼ teaspoon salt
4 tablespoon cornstarch
1 pie crust, store-bought or homemade
For the crumb topping:
1 cup light brown sugar
¾ cup all-purpose flour
¾ cup Flahavan's Irish Steel Cut Oats
½ teaspoon cinnamon
¼ teaspoon salt
½ cup unsalted butter, cold, cubed
Instructions
Adjust oven rack to lower middle position and place a heavy rimmed baking sheet on it. Preheat the oven to 425°F. Place apple slices in a large bowl or pot. Pour boiling water directly over top. Cover and set aside at room temperature for ten minutes. Drain apples well and let sit in a colander in the sink, tossing occasionally until completely dry, about 10 minutes. Transfer to a large bowl and add 10 tablespoons sugar, cinnamon, salt, and cornstarch, and toss until apples are evenly coated. Set mixture aside.
Roll the pie dough into a circle roughly 12-inches in diameter. Transfer to a 9-inch pie plate. Add filling, discarding any excess juices in the bottom of the bowl. Using a pair of kitchen shears, trim the edges of the pie crust. Use a fork to press lines into the pie crust.
Place all of the crumb topping ingredients except butter in the bowl of a food processor. Pulse a few times to combine.
Add the butter and pulse a few more times until the mixture resembles coarse bread crumbs.
Spread the oat topping in an even layer over the pie (you may not need to use all of the oat mixture).
Transfer the pie to sheet tray in the oven and bake until light golden brown, about 20 minutes. Reduce heat to 375°F and continue baking until deep golden brown, about 25 minutes longer. Remove from oven and allow to cool at room temperature for at least 2 hours before serving.
Adapted from J. Kenji López-Alt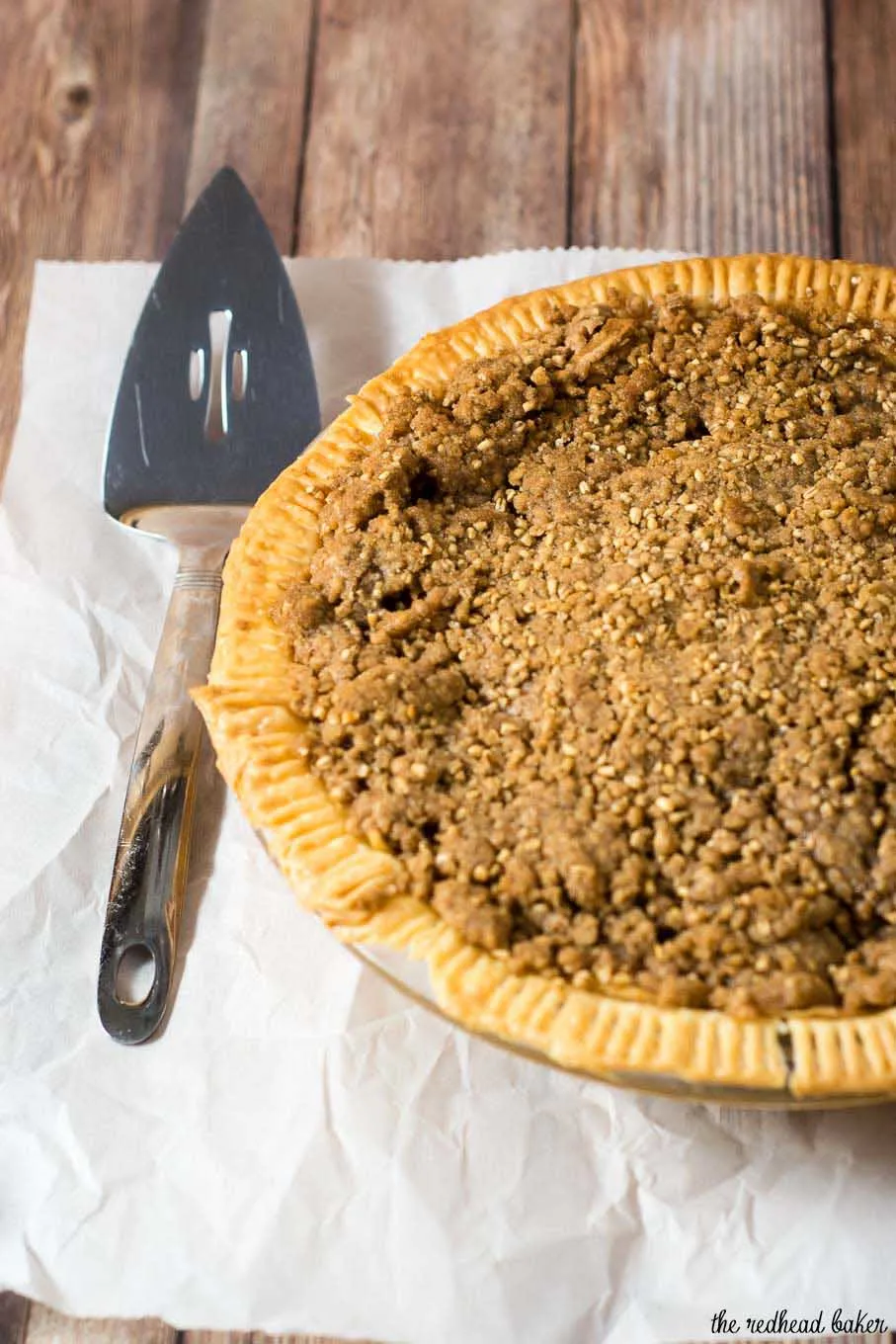 Check out more AppleWeek recipes