This Calvados-glazed chicken is an adaptation of the duck prepared by Downton Abbey's Mrs. Patmore, but the flavor is still worthy of any upscale dining room.
Welcome to the September edition of Progressive Eats! It's my month to host, and I chose dishes inspired by movies or TV shows. One of my favorite TV shows is Downton Abbey, and one of my favorite characters is Mrs. Patmore portrayed by Lesley Nichol.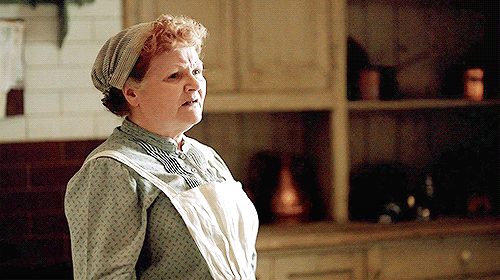 The show featured quite a few events involving food, from the garden party to the hospital fundraiser, upstairs dinners (with the infamous salty raspberry meringue pudding) and of course, the wedding between Edith and Sir Anthony that never took place. The food from the wedding is served to the servants for their dinner. Mrs. Patmore explains the dishes to the servants who've likely never seen food like this before: "There's lobster rissoles in mousseline sauce. Or Calvados glazed duckling. Or do you fancy a little asparagus salad with champagne saffron vinaigrette?"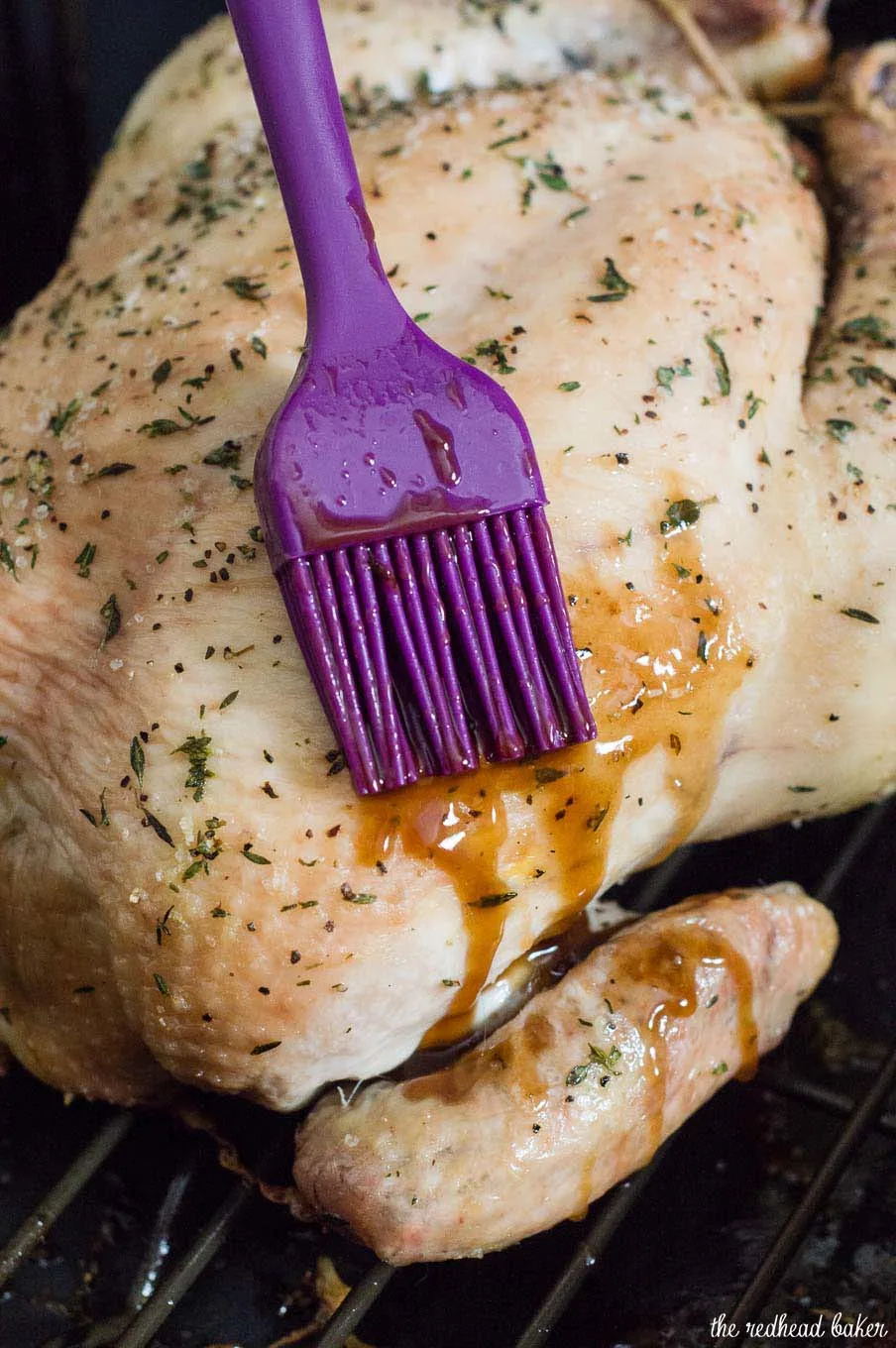 I had intended to make an authentic recreation of the Calvados-glazed duck, but it was difficult to find a whole duckling. Instead, I substituted the much easier to find whole chicken. But the rest of the recipe is similar to what would have been served at an upper-class dinner in the early 1900s.
Calvados is a specific brand of apple brandy, so if you can't find that specific one, there are others on the market that you can use instead. If your family avoids alcohol, you can substitute apple cider instead.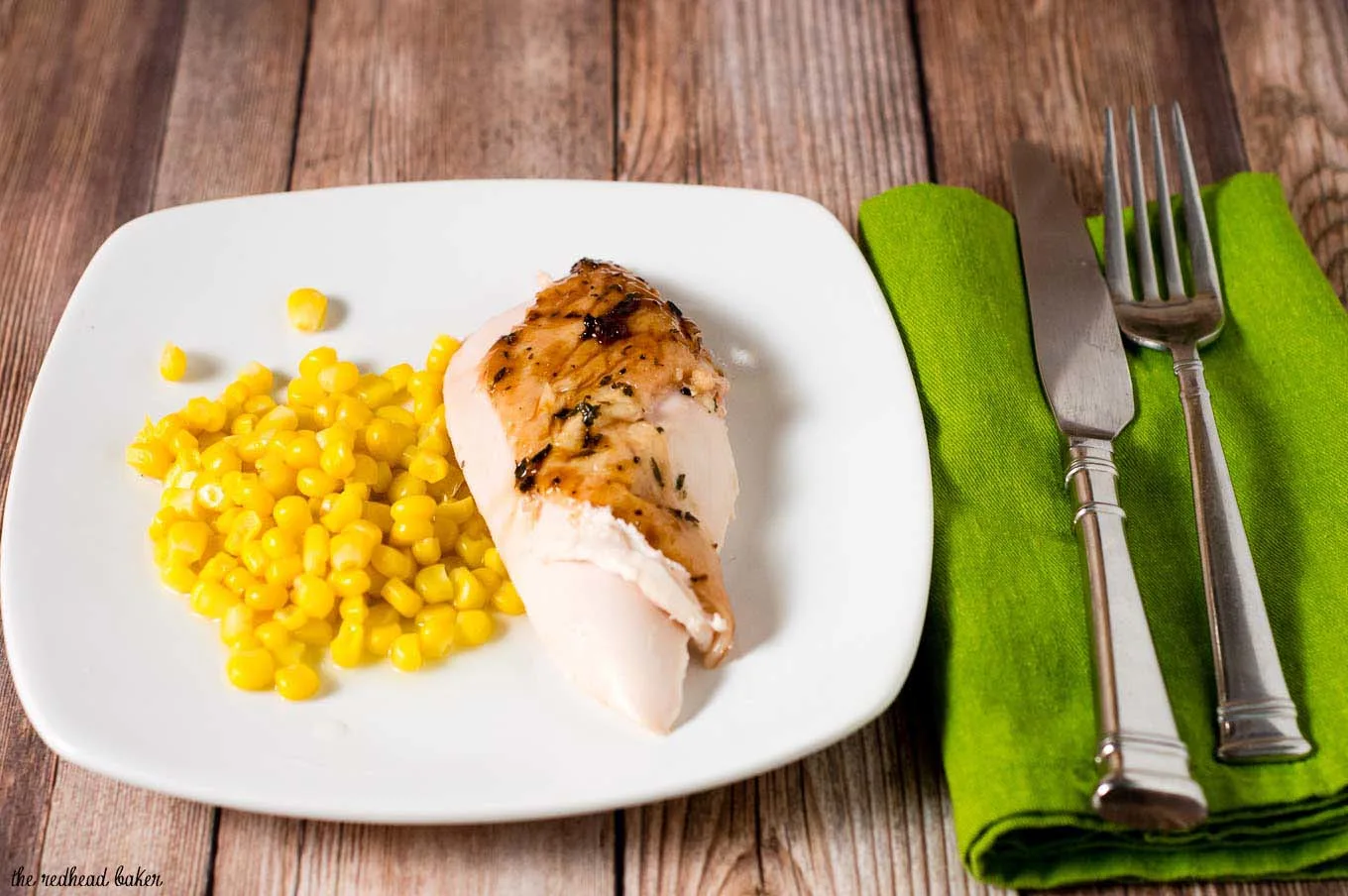 From the context of the conversation on the show, it sounds like Mrs. Patmore's Calvados-glazed duckling was served as a canapé — an appetizer. But this recipe is meant to be served as a main course. Choose your family's favorite sides to serve with it.
If you want to speed up the cooking process, you can spatchcock the chicken, which means cutting out the backbone and flattening the breast. This results in a more evenly-cooked chicken, too. As I didn't use this method myself, I can't estimate how long it will take the chicken to cook. Use a meat thermometer to gauge the progress.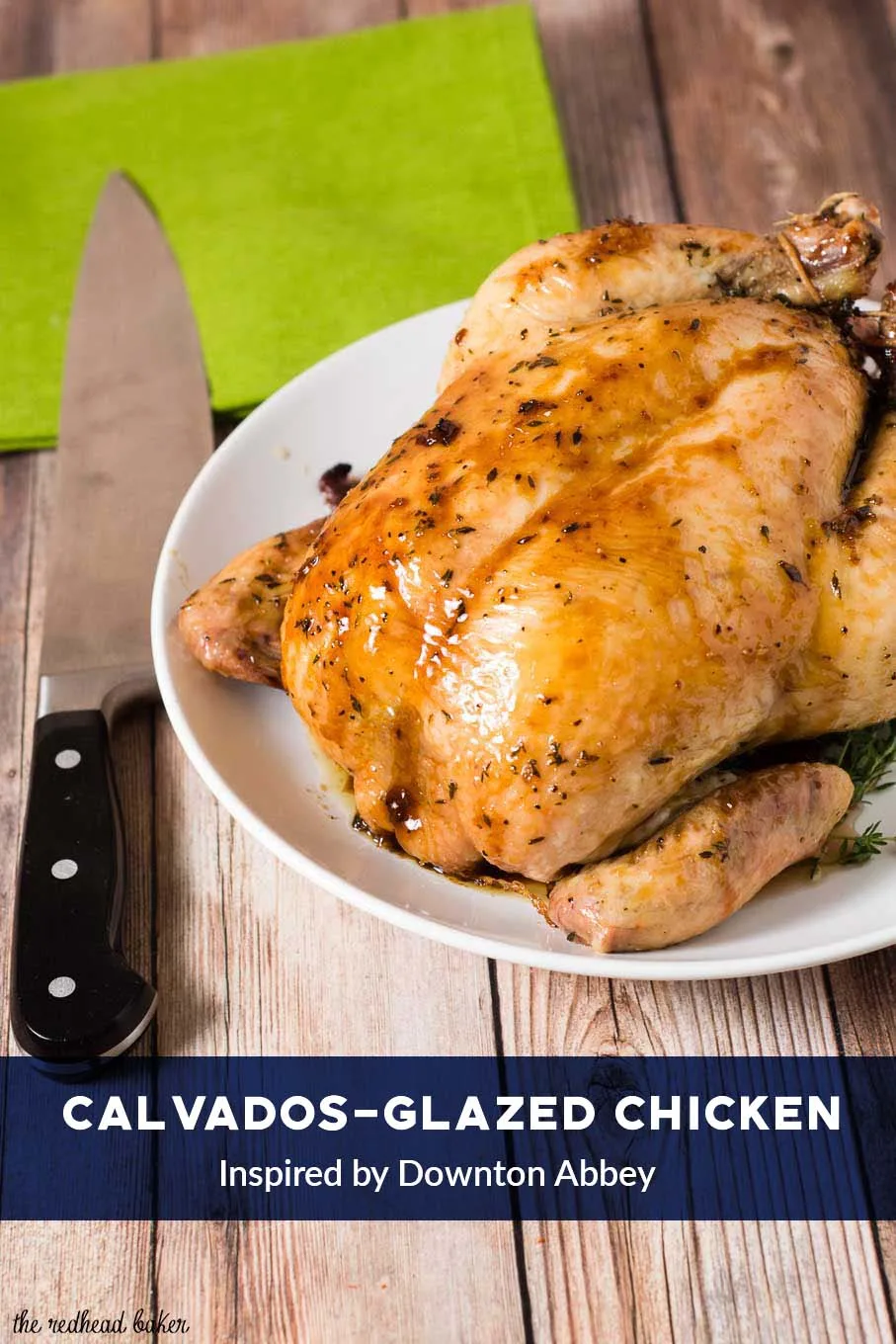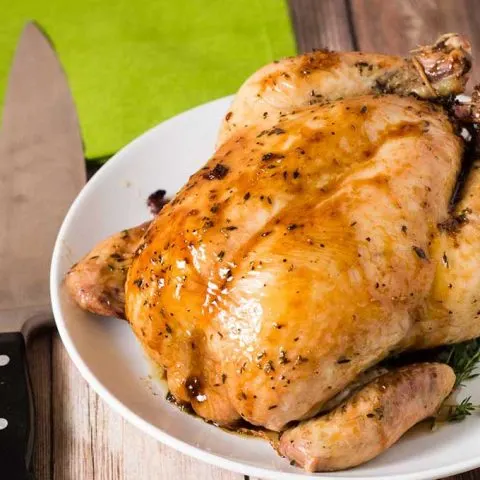 Calvados-Glazed Chicken
Ingredients
For the chicken:
1 roasting chicken, about 4 lbs/1.8 kg
1 tablespoon chopped fresh thyme
½ teaspoon salt
½ teaspoon pepper
2 shallots, peeled & halved
1 small tart apple cored & quartered
½ cup chicken broth
½ cup calvados (apple brandy) or apple cider
½ cup dark brown sugar
Instructions
Make the chicken:
Remove giblets from chicken, rinse and pat dry inside and out.
Trim excess fat from both ends of cavity. In small bowl, stir together thyme, salt and pepper, rub all over the chicken, inside and out. Place shallots and apple inside cavity. Using kitchen twine, tie the legs together to close the cavity. Twist wing tips behind back.
Place chicken, breast side up, on rack in large roasting pan. Roast in 425°F oven for 20 minutes. Shield breast meat with foil, reduce heat to 350°F and bake for 1 hour or until instant-read meat thermometer registers 180°F when inserted into leg. Place on heated platter.
Set roasting pan on stove over medium-high heat; skim off fat. Stir in chicken stock and Calvados. Bring to boil, stirring to scape up any brown bits. Boil for 5 minutes or until reduced to ½ cup. Stir in sugar and continue to cook for 3-5 minutes or until slightly syrupy. Pour into heatproof bowl.
Return chicken to the roasting pan; remove foil and brush with half the glaze. Bake in 350°F oven for 5 minutes and brush with remaining glaze. Roast for 20 minutes longer. Increase heat to 475°F and cook for 5 minutes or until skin is well browned and crisp. Remove to heated platter, tent with foil and let rest for 20 minutes before slicing and serving.
Slightly adapted from Downton Abby Cooks
Dishes Inspired by Movies or TV
Appetizers
Main Courses
Side Dishes
Desserts
Welcome to Progressive Eats, our virtual version of a Progressive Dinner Party. Our menu this month features dishes inspired by our favorite TV shows and movies! We've got a great mix from appetizers to desserts! Hosting this month is Coleen from The Redhead Baker.
If you're unfamiliar with the concept, a progressive dinner involves going from house to house, enjoying a different course at each location. With Progressive Eats, a theme is chosen each month, members share recipes suitable for a delicious meal or party, and you can hop from blog to blog to check them out.