This shortbread lemon tart combines a sweet, crunchy cookie crust with a tangy, buttery lemon filling.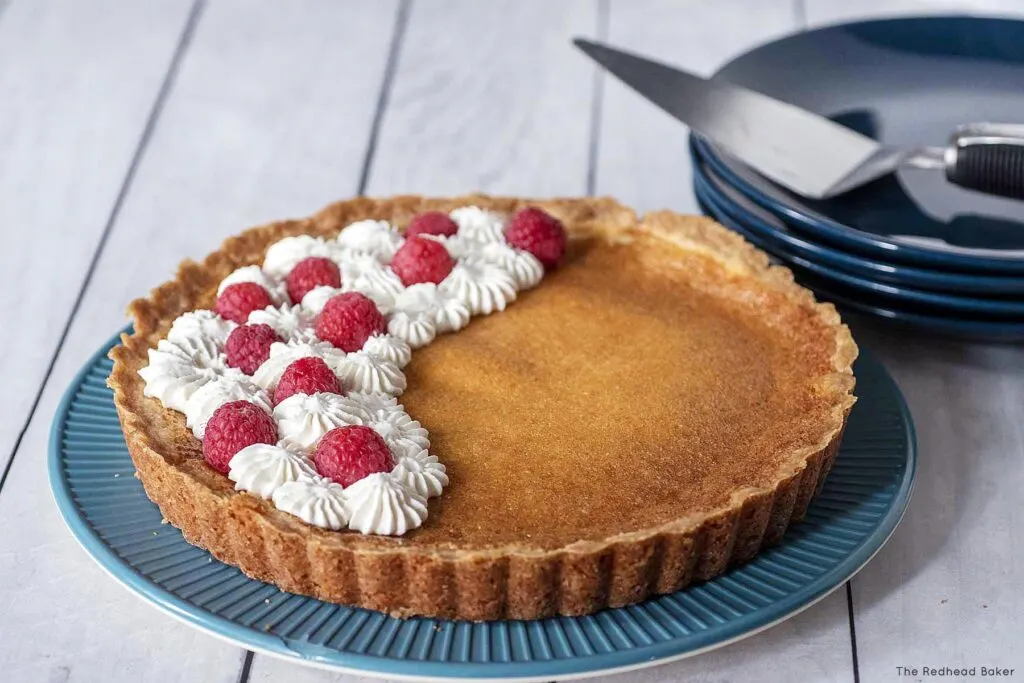 Welcome to #LemonWeek 2021 hosted by Lynn from Fresh April Flours! What better way to welcome summer than with over 50 recipes featuring bright and sunny lemons? Come join me and my fellow Lemon Week bloggers as we bring you recipes from appetizers to drinks to entrées and desserts!
I'm pretty partial to chocolate desserts, but I love a good lemon tart on a warm summer night, topped with whipped cream and fresh berries.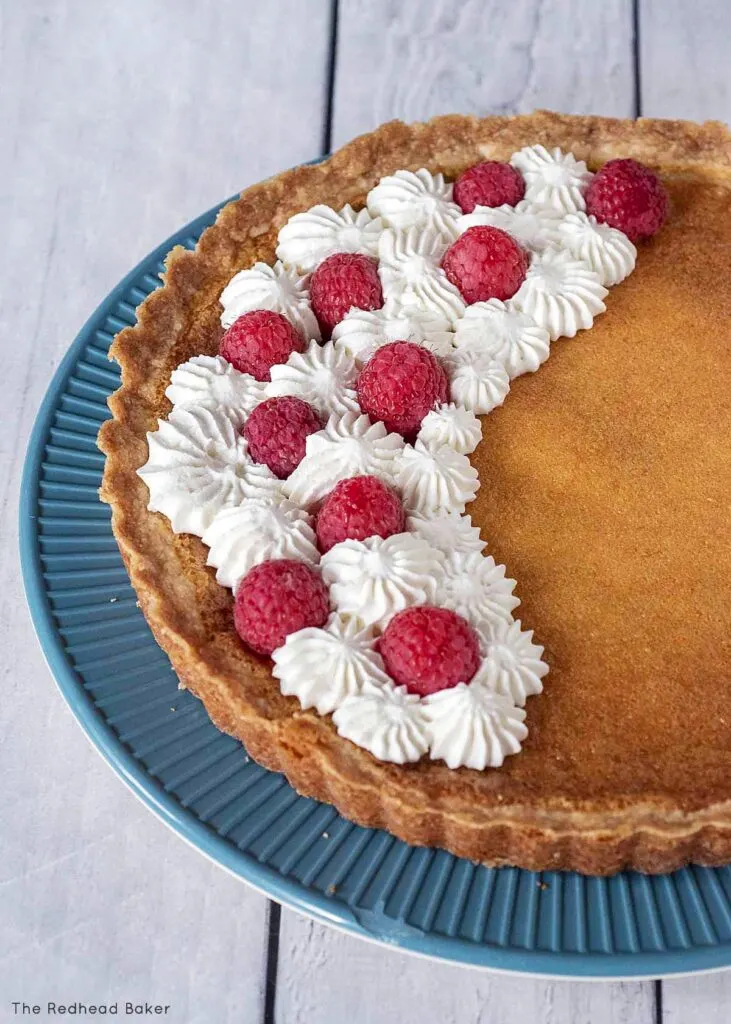 How to Make a Shortbread Lemon Tart
While pies tend to have tender, flaky crusts, tarts often have firm, crumbly crusts. Pies are made in a pie plate with a slanted sides, while tarts are made in tart pans with straight up-and-down sides and a removeable bottom.
This cookie crust was adapted from a shortbread cookie recipe where cold butter was cut into the flour mixture. I typically do that using my food processor. If you don't have a food processor, you can cut in the butter with a pastry blender, two forks or your fingers.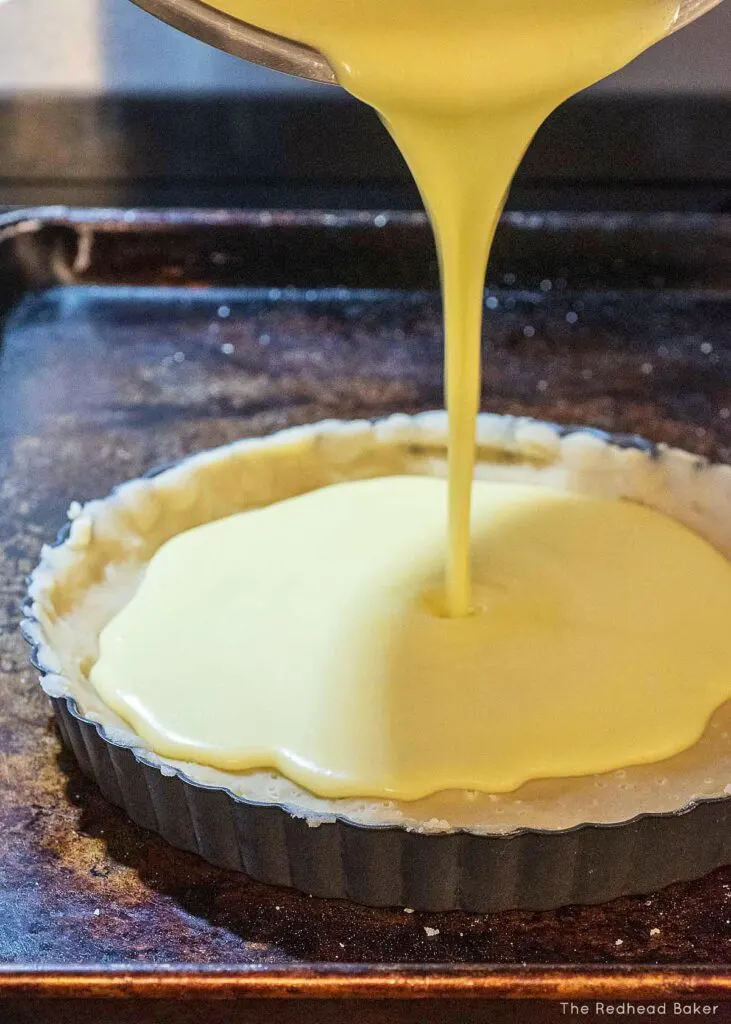 FAQs
Q: Can I use a store-bought graham cracker crust for this tart?
A: Yes, you can bake this filling in a store-bought graham cracker crust.
Q: Why do I need to freeze the shortbread crust AND poke it with a fork? Can't I do one or the other?
A: They serve different purposes. Freezing the crust before baking helps prevent the crust from shrinking away from the edges. Poking holes with a fork allows air to escape during baking, which prevents the crust from puffing up.
Q: What can I use as garnish for this tart?
A: I love a good dollop sweetened whipped cream, and a handful of blueberries and/or raspberries. Or, give it a dusting of powdered sugar.
Q: Can I use meyer lemons in this recipe?
A: Absolutely! But cut the amount of sugar back to ¼ cup.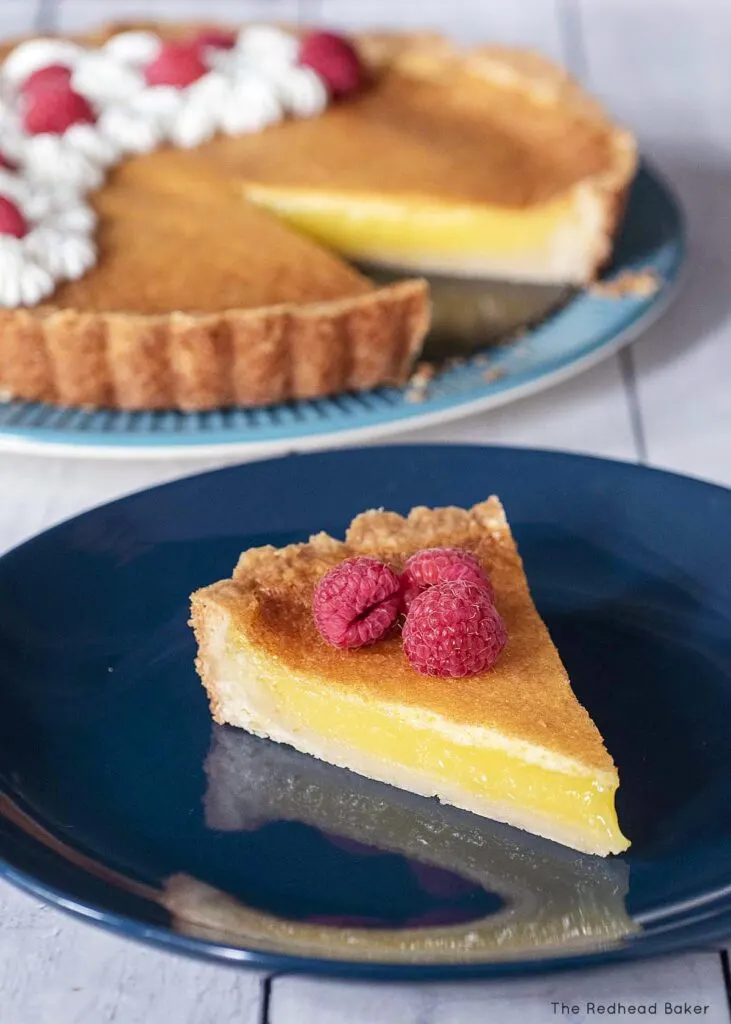 Like cheesecake, you want to bake this tart until the center of the filling just barely jiggles when you give the baking sheet a gentle shake. It will bake just a bit more when it's cooling on the rack (called "carryover cooking").
To store leftover lemon tart, place the tart on a plate and cover with plastic wrap. It will keep in the refrigerator for up to 3 days.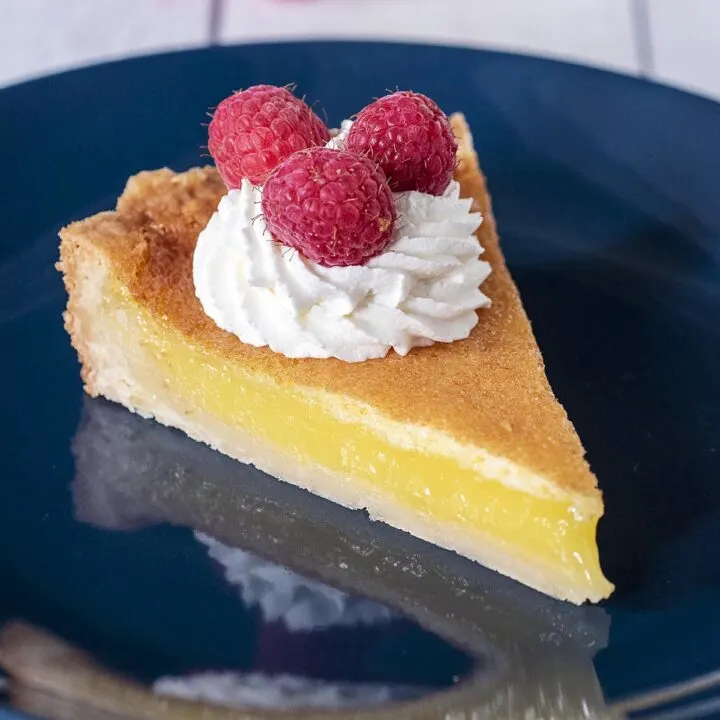 Shortbread Lemon Tart
Total Time:
8 hours
50 minutes
This shortbread lemon tart combines a sweet, crunchy cookie crust with a tangy, buttery lemon filling.
Ingredients
For the crust
1 cup (4.25 oz/120 g) all-purpose flour
⅓ cup (65 g) granulated sugar
⅛ teaspoon kosher salt
½ cup (4 oz/112 g) unsalted butter, cubed, cold
½ teaspoon vanilla extract
For the filling
3 large eggs
1 ¼ cups (8.75 oz/248 g) granulated sugar
¼ cup freshly squeezed lemon juice
Zest of 1 lemon
¼ cup (2 oz/55 g) unsalted butter, melted
Instructions
Preheat oven to 350 degrees.
Spray a 9-inch tart pan with a removeable bottom with non-stick cooking spray.
In a food processor, pulse together the flour, sugar and salt.
Add the cubed cold butter and the vanilla extract. Process until the mixture starts to form small clumps.
Empty the food processor into the tart pan. Use your hands or the back of a spoon to press the crust into an even layer on the bottom and up the sides of the tart pan. Prick with a fork to prevent puffing up while baking.
Place the tart pan in the freezer while you make the filling.
In a large mixing bowl, whisk together the sugar and eggs until the mixture lightens in color. Whisk in the lemon juice and zest.
Slowly stream in the butter and whisk until smooth.
Remove the tart pan from the freezer and place on a baking sheet. Pour the filling into the crust.
Bake for 25 to 30 minutes, until the filling is just set when you jiggle the baking sheet.
Place the tart pan on a wire cooling rack. Cool the tart to room temperature.
Place a piece of plastic wrap over the cooled tart and place it in the refrigerator until ready to serve.
Notes
Garnish with whipped cream and berries, or a dusting of powdered sugar.
Recommended Products
As an Amazon Associate and member of other affiliate programs, I earn a small percentage from qualifying purchases.
Nutrition Information:
Yield:

8
Serving Size:

1 slice
Amount Per Serving:
Calories:

102
Total Fat:

3g
Saturated Fat:

1g
Trans Fat:

0g
Unsaturated Fat:

1g
Cholesterol:

73mg
Sodium:

56mg
Carbohydrates:

14g
Fiber:

1g
Sugar:

1g
Protein:

4g
I am not a certified nutritionist. This nutrition information is automatically calculated by third party software and is meant as a guideline only.
Monday #LemonWeek Recipes