Like their cousin the snickerdoodle, lemon doodles are soft cookies with a slight crispness at their edges, thanks to a coating of sugar before baking.
I've said it before, but with a blog called The Redhead Baker, you know I have a sweet tooth, right? Or as I've joked before, a complete set of sweet teeth. It shouldn't come as a surprise. I love my sweet snacks.
I will almost never turn down ice cream (unless it has nuts in it). I have stashes of sweet snacks in several places: mini candy bars in the freezer (frozen Milky Ways are awesome!), chocolate peanut butter cups in the fridge (so they don't melt), M&Ms in my bedroom nightstand.
Sometimes, due to poor planning on my part or because certain members of my family discover my hidden stashes, the most awful thing happens — I RUN OUT OF SWEET SNACKS. Oh, the horror!
On one particular occasion, I was out of chocolate snacks. I wanted something sweet, but not chocolate. It was a warm summer day, so I wanted something refreshing, too. So instead of running to the grocery, I looked in my pantry to see what I could bake. I thought about snickerdoodles, but a big, bright lemon caught my eye.
I love the texture of snickerdoodles: slightly crunchy around the edges, but melt-in-your-mouth soft in the middle. This is a pretty standard snickerdoodle recipe, but with the addition of lemon zest to the cookie batter. The balls of dough are rolled in sugar instead of cinnamon sugar.
In order to get that perfect texture, you can't overbake these cookies. The middle of each cookie should feel slightly underbaked when touched. The edges of the cookies should be just a shade darker than the rest of the cookie, if darker at all.
If there are any Lemon Doodles left over, store them stacked in a plastic container with a tightly-fitting lid at room temperature.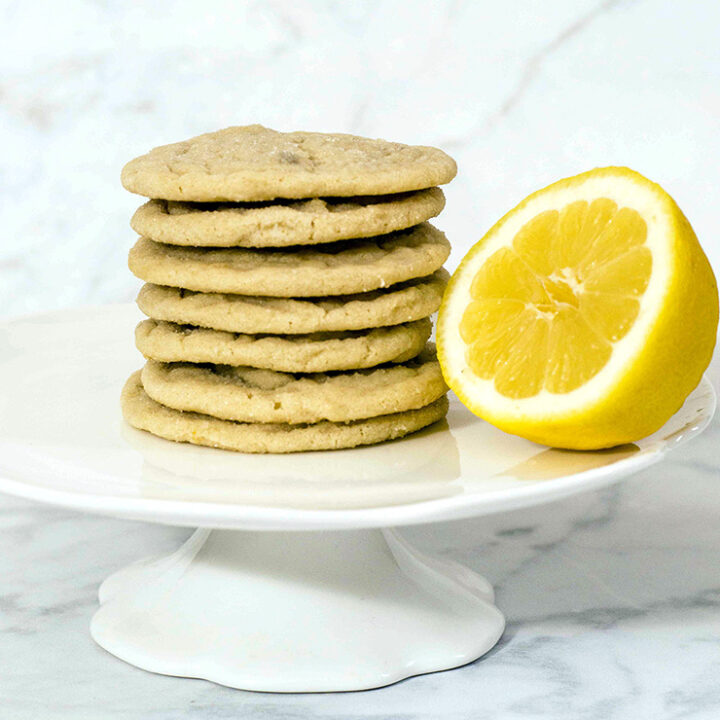 Lemon Doodles
Ingredients
1 cup unsalted butter, room temperature, 8 oz or 2 sticks
¾ cup granulated sugar, 5 ¼ oz
½ cup light brown sugar, 3 ¾ oz
1 large egg, plus the yolk only from a second large egg
1 tbsp vanilla extract
1 tsp baking soda
1 tsp cream of tartar
½ tsp kosher salt
Zest of one small lemon
2 ¾ cup all-purpose flour, 11 ⅝ oz
½ cup granulated sugar, for rolling the scooped cookies, 3 ½ oz
Instructions
Preheat oven to 325 degrees F (162 degrees C).
Line a baking sheet with a silicone mat or parchment paper, set aside.
In the bowl of a stand mixer, cream together the butter, ¾ cup sugar and brown sugar until light and fluffy, about 2-3 minutes. Scrape down the sides and bottom of the bowl.
With mixer running on medium speed, add in the whole egg, yolk and vanilla and beat for another minute, scraping the sides as necessary.
Add the baking soda, cream of tartar, salt and lemon zest, then mix for 30 seconds on medium-low speed. Scrape the sides and bottom of the bowl.
Add in flour, then mix on low just until combined.
Place the ½ cup of sugar in a shallow dish. Using a medium cookie scoop or a spoon, scoop the dough and roll into a ball. Roll each cookie dough ball into the sugar.
Place on prepared baking sheet about 2 inches apart. Bake for 10-12 minutes, turning cookie sheet halfway through baking. The cookies will appear puffy and underbaked on the top, but they will continue baking after being removed from the oven.
Did you love this recipe? Share it!
Please leave a comment on the blog or share a photo on Pinterest
Adapted from Cookies and Cups