Yes, Philadelphia is the home of the cheesesteak, but did you also know that Philadelphia is known for its tomato pie: foccacia bread topped with a thick tomato sauce and a sprinkling of Parmesan cheese.
I was born, raised, and still live in Philadelphia. I've actually never lived anywhere else. Philadelphia is a city of distinct, diverse neighborhoods, and I've lived in quite a few of them, so I feel like I've lived all over.
My favorite neighborhood is the one in which I currently live, just east of the heart of the city. I'm surrounded by history, great places to eat, green outdoor space (in the spring and summer, anyway), fascinating independent businesses, theaters ...
So, when a host was needed for a #SundaySupper theme on hometown foods, I jumped at the chance.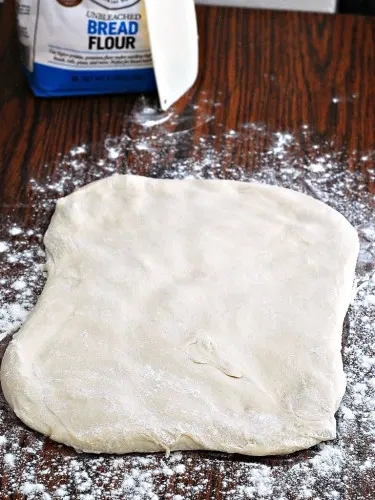 I'm sure the first food you think of when you hear "Philadelphia" is the cheesesteak. Yeah, we love our cheesesteaks. It's a shame you can't seem to get a decent outside of the Philly/South Jersey/Northern Delaware area. But anyway, seeing as Dave is trying to eat healthier, making cheesesteaks for Sunday Supper was out.
Maybe when you think Philly, you think "TastyKakes"? Mmmm, TastyKakes. Used to be you couldn't get those outside Philly, either, and if you moved away, you'd beg your family to ship you cases of the little treats. And yes, they ARE better than Hostess cakes.
Then I remembered my friend Sarah asking other food bloggers (who were not from Philadelphia) if they knew what tomato pie was. And just about nobody knew (or they thought of the Southern version, an actual pie). I had no idea that tomato pie was not known outside of Philadelphia. Some places use thin crust pizza dough, but the best kind uses thick, foccacia-like or Sicilian pizza dough.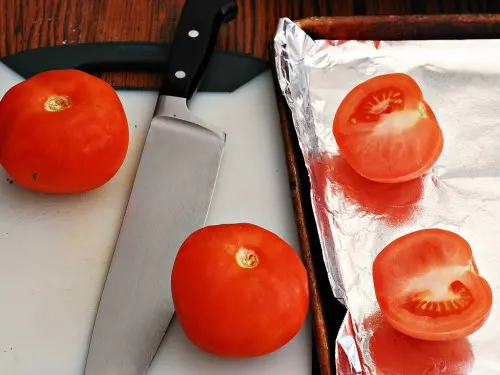 The baked foccacia is covered in a very thick tomato sauce, almost like a paste. Some sprinkle Parmesan cheese over top; others leave it off. The finished tomato pie is served either cold or at room temperature. Some eat it as a main course, with a side salad; others serve it as a snack food at parties and tailgates.
I used Peter Reinhart's foccacia for my tomato pie. The dough is so easy to make, and easy to work with. I love to eat mine with an herbed olive oil drizzled over top.
The tomato sauce portion of the recipe makes more than you will need. Halfway through reducing the sauce, I scooped half of it out and put it in a storage container for our next spaghetti-and-meatballs meal.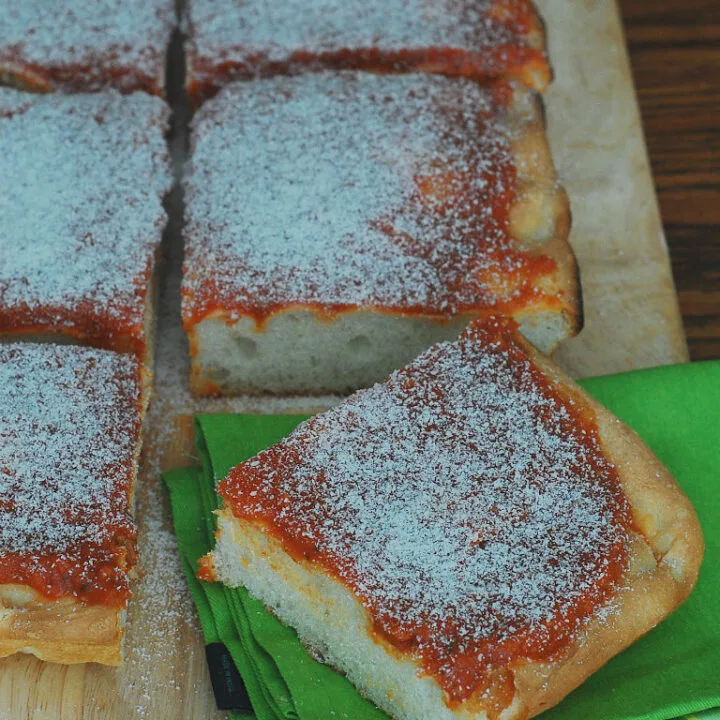 Philadelphia Tomato Pie
Ingredients
For the bread
5 cups unbleached bread flour, plus more for dusting, 22.5 ounces
2 teaspoon kosher salt
2 teaspoon instant yeast
6 tablespoon olive oil
2 cups water at room temperature, 68 to 72 degrees
¼ cup olive oil, for greasing and drizzling
For the tomato sauce
6 pounds medium tomatoes on the vine, about 2.5
29 oz can of crushed tomatoes
3 tablespoon tomato paste
4 cloves garlic, grated
3 tablespoon sugar
1 tablespoon balsamic vinegar
1 teaspoon dried basil
¼ teaspoon Italian seasoning blend
Salt and pepper to taste
For the tomato pie
½ cup of grated Parmesan cheese
Instructions
For the focaccia
In the bowl of a stand mixer, combined the flour, salt, and yeast with the paddle attachment. Combine the water and olive oil in a large measuring cup, and slowly pour into the flour mixture. Mix on low speed just until combined.
Switch to the dough hook attachment. Knead on medium speed for 5 minutes, until the dough forms a ball that clears the sides of the mixing bowl, but is still somewhat sticky.
Sprinkle bread flour in a 6-inch square on a clean, flat surface. Scrape the dough onto the floured surface, and pat into a rectangle. Let rest for 5 minutes.
Stretch the dough from end to end into a long, thin rectangle. From one end, fold a third of the dough back toward the middle, then repeat on the other end, as if you were folding the dough like a letter. Mist the dough lightly with nonstick cooking spray, and sprinkle with flour. Cover loosely with plastic wrap and let the dough rest for 30 minutes.
Stretch and fold the dough again, then mist with nonstick spray, sprinkle with flour, cover with plastic wrap and let rest another 30 minutes. Repeat the stretching and folding one more time, then let the dough rest for one hour.
Line a 12-inch by 17-inch sheet pan with parchment paper. Drizzle 2 tablespoons of the olive oil over the parchment paper and use your hands or a brush to spread it over the pan surface. Use a pastry scraper to carefully lift the dough into the pan, maintaining the rectangular shape as much as possible.
Use your fingertips to dimple the dough, simultaneously pressing out air, and spreading the dough to fill out all corners of the pan. If the dough shrinks back, let it rest about 15 minutes, then continue spreading. Loosely cover with plastic wrap and let rise for one hour.
While the dough rises, preheat your oven to 450 degrees.
After the dough has risen for an hour, bake the bread for 10 minutes. Rotate the pan 180 degrees, then bake another 5 to 10 minutes, until the bread is golden brown.
Remove the sheet pan from the oven and immediately transfer the bread to a wire cooling rack to cool completely.
For the tomato sauce
Preheat your oven to 400 degrees. Line a sheet pan with tinfoil, lightly mist with nonstick cooking spray.
Cut each tomato into quarters and place on the sheet pan. Drizzle with olive oil, and season with salt and pepper. Roast in the oven for 30 minutes.
Meanwhile, combined the remaining ingredients (crushed tomatoes through salt and pepper) in a large saucepan. Simmer over medium heat, stirring frequently. Once the tomatoes in the oven are done roasting, add them to the saucepan, and use an immersion blender to puree just until slightly chunky.
Continue simmering over medium heat, stirring frequently, until the sauce is very thick and most of the water has evaporated. Remove the pan from the heat and allow the sauce to cool to room temperature. Transfer to a storage container and chill in the refrigerator.
Once the tomato sauce has chilled, remove it from the refrigerator. Pour about 3 cups of the sauce over the foccacia, and use an offset spatula to spread it all over the bread, leaving about a ½-inch of border on all sides. Add more sauce as needed, or if you prefer a thicker layer of sauce.
Sprinkle the grated Parmesan cheese all over the tomato sauce. Serve cold or room temperature.
Foccacia recipe from Peter Reinhart; tomato sauce recipe slightly adapted from Kenji Alt-Lopez
Don't forget to check out these other #SundaySupper Hometown Foods!
Breakfast
Drinks
Appetizers and Snacks
Main Dishes
Side Dishes
Desserts