Celebrate #BrunchWeek with a fancy Eggs Benedict: a poached egg sits atop a crab cake, topped with tomato Hollandaise sauce, and served with avocado mash.
Welcome to the third annual #BrunchWeek, hosted by Terri from Love and Confections. We are so excited to have you join us this year! Celebrate brunch (my favorite meal!) with us as we prepare for Mother's Day. Thirty bloggers from around the country will showcase their best brunch dishes, from cocktails to casseroles, breakfast breads, sandwiches and salads — there is something for everyone!
I'm kicking things off with a fancy version of Eggs Benedict: I've swapped out the English muffin, and used a delicious crab cake. Tomato-flavored Hollandaise tops the egg, and a salted avocado mash sits on the side. This recipe is a homemade version of a dish that my husband enjoyed at a local Cuban tapas restaurant in Philadelphia called Cuba Libre.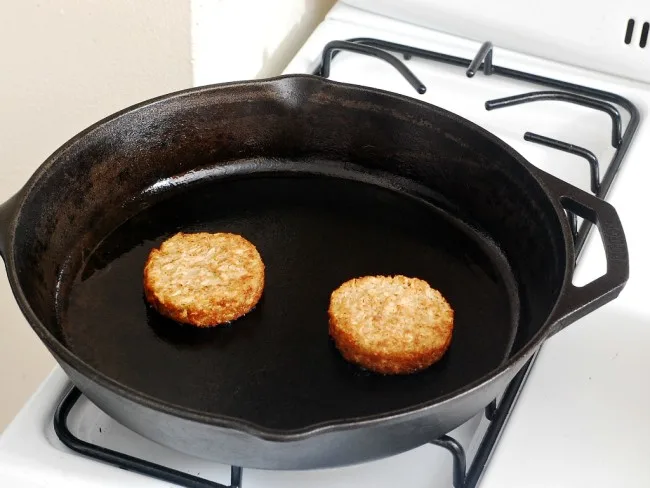 A good poached egg has set egg whites with a thickened-but-still-runny yolk. Poaching eggs take some practice, and even professionals don't get them right 100% of the time. Use a shallow pan, to limit the area the egg can spread. Keep your water at a simmer, not a boil. Use the freshest eggs you can get. Fresh eggs have "tighter" whites that retain their shape better when cooking. Adding vinegar is another trick. Lemon juice can work as well. By lowering the pH level (making the liquid more acidic), the proteins in the egg white will set more quickly, which means less feathering of your poached egg.
I've included the recipe for my favorite crab cake below, but feel free to use your own if you have another preferred recipe. Both the crab cakes and the poached eggs can be made ahead of time. When poaching the eggs, take them out of the water about a minute early. Place them in a storage container filled with ice water. When ready to serve, bring a pot of water to a simmer, and poach them for that final minute, then place on top of the crab cake. The Hollandaise should be made just before serving. Add a small pinch of frisee or arugula salad on the side for an extra special touch.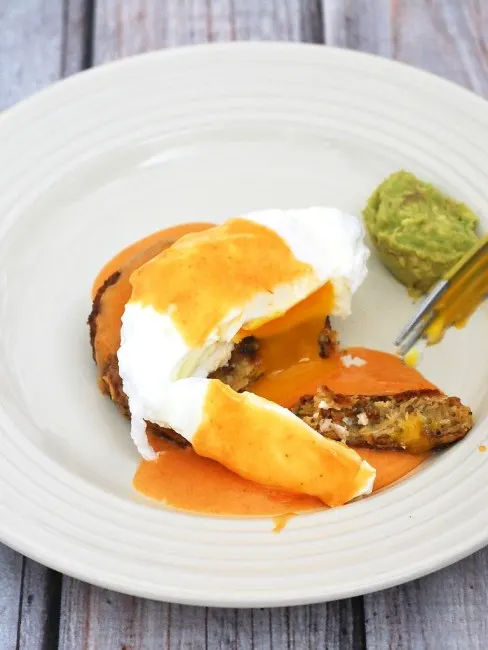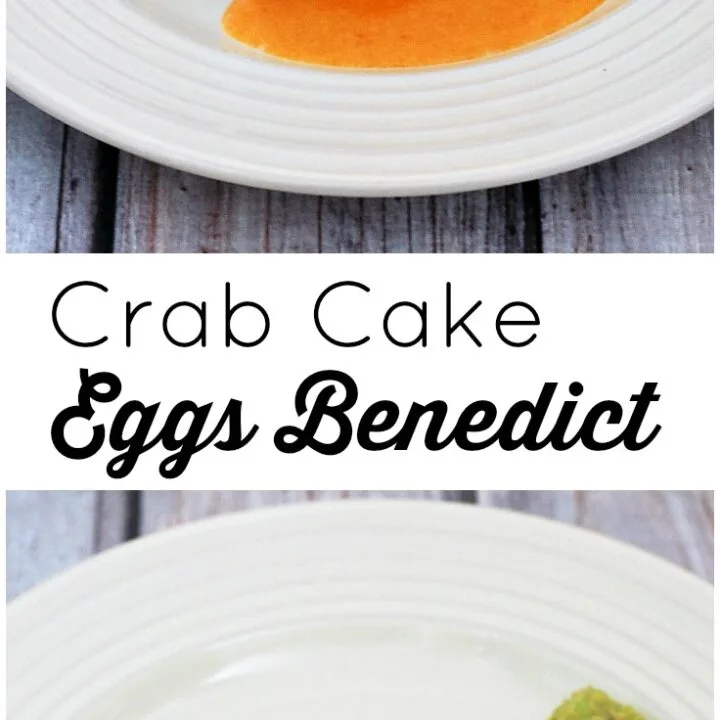 Crab Cake Eggs Benedict #BrunchWeek
Ingredients
For the crab cakes:
2 tablespoon red onion, finely chopped
1 tablespoon chopped fresh parsley
1 ½ tablespoon mayonnaise
1 teaspoon Dijon mustard
½ teaspoon Old Bay seasoning
¼ teaspoon Worcestershire sauce
1 egg white, lightly beaten
½ pound lump crabmeat, drained and shell pieces removed
¾ cup panko crumbs, divided
Olive oil for pan frying
For the tomato Hollandaise:
3 egg yolks from large eggs
1 teaspoon cold water
½ cup unsalted butter, melted and cooled
Salt and pepper
1 tablespoon tomato paste
For the eggs:
4 large eggs, as fresh as possible
For the avocado mash:
1 ripe avocado
Splash of lemon juice
Salt to taste
Instructions
In a medium mixing bowl, combine the red onion, parsley, mayonnaise, Dijon mustard, Old Bay seasoning, Worcestershire sauce, and egg white. Gently fold in the crab meat, then gently stir in half of the panko crumbs. Cover the mixing bowl with plastic wrap, and refrigerate for 30 minutes.
While the mixture chills, make the Hollandaise: In a medium mixing bowl set over a saucepan of simmering water, whisk together the egg yolks and the cold water. Whisk constantly for 3 to 5 minutes, taking the bowl off the heat periodically so the yolks don't scramble, until the mixture coats the back of a spoon.
Take the bowl off the heat and slowly whisk in the butter. Season with salt and pepper. Whisk in the tomato, taste, and add more salt and pepper if necessary. Cover with a saucepan lid to keep warm.
Cook the crab cakes: Pour enough olive oil in a large skillet to thinly coat the bottom of a cast iron pan. Heat over medium heat. Place the remaining panko crumbs in an event layer in a pie plate. Divide the crab cake mixture into 4 portions and shape into patties. Coat both sides in panko crumbs, then place the patties in the skillet. Cook until golden brown on the bottom (about 5 to 7 minutes), then carefully flip and cook another 5 to 7 minutes. Remove to a plate, and tent with foil to keep warm.
Poach the eggs: Bring about two inches of water to a rapid simmer. Add a splash of vinegar. Crack one of the eggs into a custard cup. Gently slide the egg into the water, close to the surface. Poach the egg for 3 to 4 minutes. Remove with a slotted spoon and place on top of a crab cake. Repeat with the remaining eggs.
Make the avocado mash: mash the flesh of the avocado, adding salt to taste.
Place one crab cake with a poached egg on each plate. Top with some of the tomato Hollandaise. Place a spoonful of avocado mash on the side of the plate and serve.
Crab cake recipe from Cooking Light; Hollandaise recipe from Food Network
Take a look at what the #BrunchWeek Bloggers are creating today!
BrunchWeek Beverages:
BrunchWeek Egg Dishes:
BrunchWeek Breads, Grains and Pastries:
BrunchWeek Main Dishes:
BrunchWeek Fruits, Vegetables and Sides:
BrunchWeek Desserts:
Disclaimer: Thank you to #BrunchWeek Sponsors: Bob's Red Mill, Cabot Creamery Cooperative, California Walnuts, Dixie Crystals, Grimmway Farms/Cal-Organic/True Juice, KitchenAid, Le Creuset, Nielsen-Massey Vanillas, Pacari Chocolate, Stonyfield Organic, Vidalia Onions, and Woot Froot for providing the prizes free of charge. These companies also provided the bloggers with samples and product to use for #BrunchWeek. All opinions are my own.