#BrunchWeek continues with sweet sugar-covered fried donut holes, served with three dipping sauces: caramel, chocolate, and blackberry. Bet you can't stop at just one!
Welcome to the third annual #BrunchWeek hosted by Terri from Love and Confections and Shaina from Take A Bite Out Of Boca. We are so excited to have you join us this year! Celebrate Brunch with us this week as we prepare for Mother's Day. Thirty bloggers from around the country will showcase their best brunch dishes, from cocktails to casseroles, breakfast breads, sandwiches and salads - there is something for everyone!
Today's recipe is another restaurant-inspired dish, this time from an Asian-fusion restaurant. These donut holes with three dipping sauces are served as dessert at that restaurant, but I think they're a perfect addition to any brunch menu. Who couldn't resist a pile of homemade fried donut holes, coated in sugar, and served with decadent chocolate sauce, creamy caramel sauce, and sweet blackberry sauce?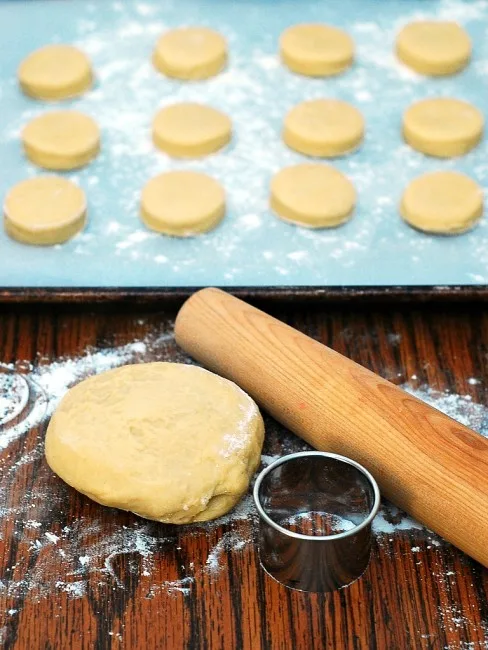 The recipe for these donut holes is the same as the one I used for my chocolate-frosted, peanut-butter-filled donuts posted early this year. This time, however, we use a much smaller round cutter to make bite-sized donuts. The fried donut holes are coated in Dixie Crystal granulated sugar while still warm, which helps the sugar adhere to the donut holes.
The sauces that accompany these donuts are very easy to make none of them takes much more than 5 minutes. Both the chocolate and caramel sauces can be made a day ahead of time and refrigerated. Just warm them back up in the microwave just before serving. Store any leftover donuts (leftover? Ha!) in an airtight container at room temperature.
The used oil doesn't need to be thrown away. It can be strained and stored in its original container in a cool, dark cabinet, to be used again in the future. If you fry something sweet in oil, keep it for sweet recipes in the future. Don't use it for savory frying; or vice versa. When the oil is spent, pour it into its original container and dispose of it with the garbage, or find out if a local program will recycle it for you. Never pour it down the drain!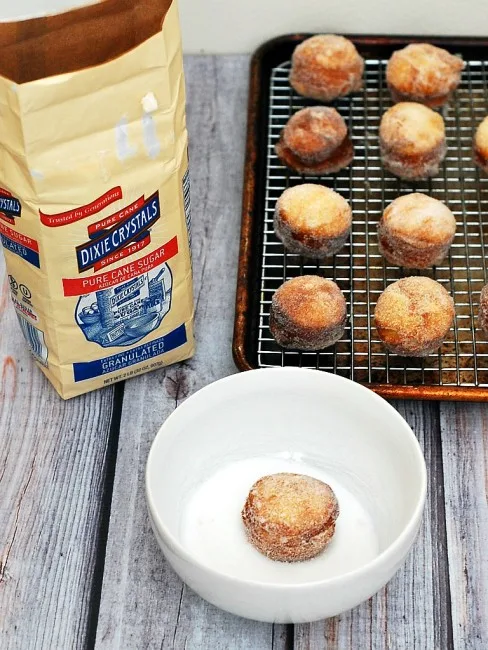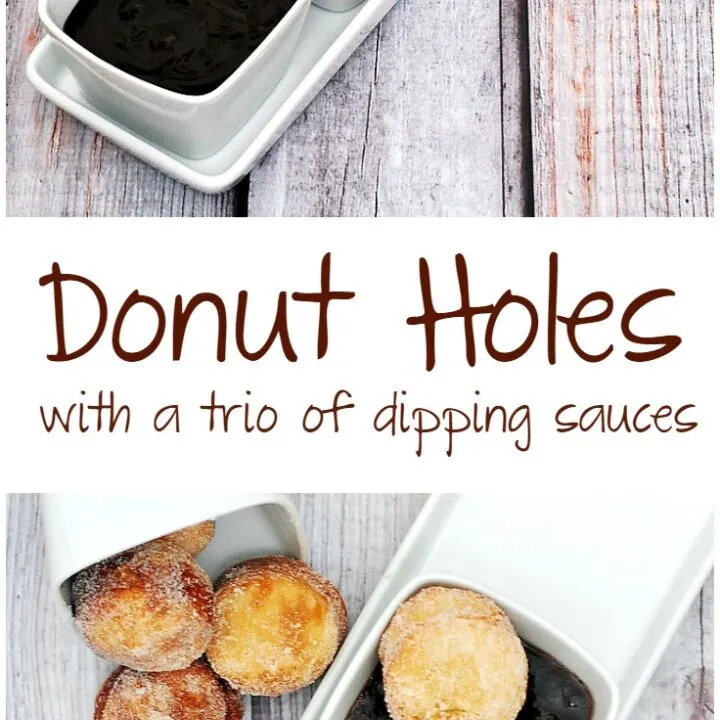 Donut Holes with a Trio of Dipping Sauces #BrunchWeek
Ingredients
For the donut holes:
2 ½ teaspoon instant yeast
⅔ cup whole milk, at room temperature (75 to 80 degrees F)
3 ½ cups unbleached all-purpose flour
1 ⅓ cups Dixie Crystals granulated sugar, divided
2 teaspoon kosher salt
3 large eggs
7 tablespoon unsalted butter, at room temperature, cut into 6 to 8 pieces
Canola oil, for frying
For the caramel sauce:
4 tablespoon unsalted butter
½ cup Dixie Crystals light brown sugar
⅓ cup heavy cream
½ teaspoon Nielsen-Massey Madagascar Bourbon vanilla extract
⅛ teaspoon salt
For the chocolate sauce:
2 ½ ounces Pacari raw 70% cacao chocolate chips
½ tablespoon corn syrup
⅓ cup heavy cream
For the blackberry sauce:
½ cup seedless blackberry jam
1 teaspoon water
Instructions
In the bowl of a stand mixer, stir together the milk and the yeast. Let sit for 5 to 10 minutes, until foamy bubbles appear.
Add the flour, ⅓ cup of the sugar, the salt, and the eggs. Using the dough hook, stir on low speed for about a minute, or until the forms a cohesive ball. Continue to stir on low speed for another 2 to 3 minutes to develop the gluten (the structure that prevents the cooked dough from collapsing).
Add the butter, a piece or two at a time, letting the butter incorporate into the dough before adding more, as the mixer continues on low speed for another 5 or 6 minutes.
Lay a sheet of plastic wrap on a clean surface, and scrape the dough onto the plastic. Form in a disc, then wrap tightly in plastic. Refrigerate overnight.
Let the dough sit at room temperature for about 20 minutes. Lightly flour a clean work surface, then roll the dough into a rectangle about ½-inch thick.
Use a floured round cutter, 1 ½ inches in diameter, to cut as many circles as close together as possible. Place the cut circles on a parchment-lined baking sheet. Cover with plastic wrap, and let sit in a warm place for 2 to 3 hours, until doubled in size and puffy.
Fill a Dutch oven with 2 to 3 inches of oil. Set of medium-high heat and warm to 350 degrees F. Place the remaining cup of sugar in a shallow dish or bowl.
Carefully drop the dough balls, 2 to 3 at a time, into the hot oil, and cook until lightly browned all over, flipping halfway through cooking. Use a slotted spoon to remove the donuts from the oil and place on a mesh cooling rack. Continue with the remaining dough balls.
Once the donut holes are cool enough to touch (but still warm), roll them in the sugar, and replace on the mesh rack to cool completely.
Make the caramel sauce: melt the butter in a heavy saucepan over medium heat. Add in the brown sugar and cook, stirring constantly, until the sugar melts. Add in the heavy cream, and cook, stirring constantly, for about 2 minutes, until the sauce is thick and bubbly. Remove the caramel from the heat and stir in the vanilla and the salt. Pour into a 6-ounce ramekin and allow to cool until just warm to the touch.
Make the chocolate sauce: place all of the ingredients in a heavy saucepan over low heat. Stir continuously until the chocolate has melted and the sauce is uniform in consistency and glossy. Pour into a 6-ounce ramekin.
Make the blackberry sauce: warm the jam in the microwave for about 30 seconds on high power, or just until melted. Stir in the water. Pour into a 6-ounce ramekin.
Serve the donut holes on a plate, with the three sauce ramekins for dipping.
Adapted from Epicurious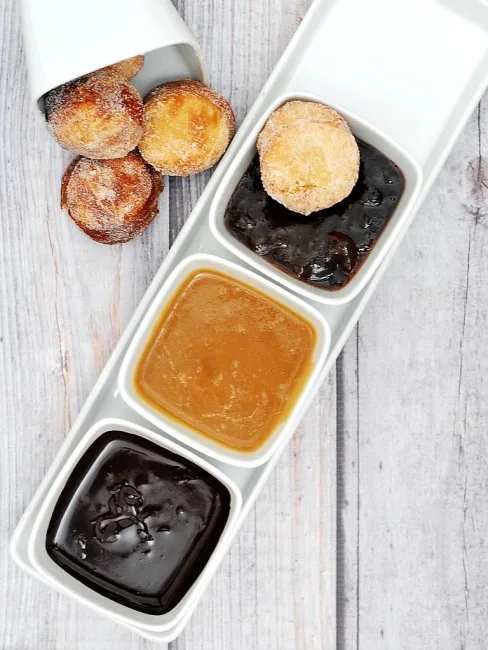 Take a look at what the #BrunchWeek Bloggers are cooking up today!
BrunchWeek Egg Dishes:
BrunchWeek Breads, Grains and Pastries:
BrunchWeek Main Dishes:
BrunchWeek Fruits, Vegetables and Sides:
BrunchWeek Desserts:
Disclaimer: Thank you to #BrunchWeek Sponsors: Bob's Red Mill, Cabot Creamery Cooperative, California Walnuts, Dixie Crystals, Grimmway Farms/Cal-Organic/True Juice, KitchenAid, Le Creuset, Nielsen-Massey Vanillas, Pacari Chocolate, Stonyfield Organic, Vidalia Onions, and Woot Froot for providing the prizes free of charge. These companies also provided the bloggers with samples and product to use for #BrunchWeek. All opinions are my own.