Is there any better flavor combo than chocolate and peanut butter? These chocolate-glazed peanut butter-stuffed donuts are practically dessert for breakfast.
Did you know that someone designated March 25th as Chocolate-Peanut Butter Day in honor of my birthday?!? Okay, maybe not in honor of my birthday. But it's QUITE a coincidence, considering that chocolate and peanut butter is my favorite flavor combination of ALL TIME, don't you think? And, for the second year in a row, Carla of Chocolate Moosey and Miriam of Overtime Cook put together this event to celebrate! Well, again, to celebrate chocolate-peanut butter day, not my birthday. Or did they?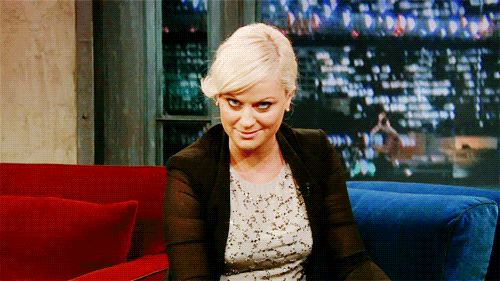 Seriously, though, today is all about chocolate and peanut butter. I had one heck of a time trying to narrow down to ONE recipe to post today. Well, cake was out, since I've done that already. Cupcakes, too. And ice cream. And candy. I wasn't kidding when I said chocolate-peanut butter was my favorite flavor combo of all time.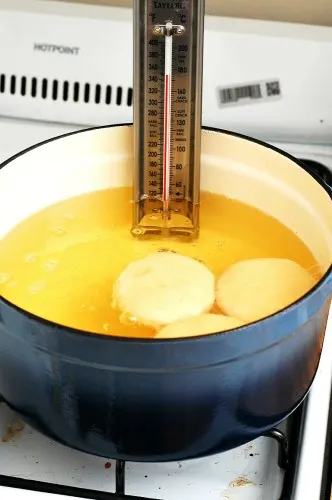 I settled on these donuts because, though a certain popular donut chain purports on their website to have a "Chocolate Peanut Butter Kreme Donut," I've never seen one in any of the hundred locations within 10-square miles of my apartment.
I can't be too upset about that, though. If I *could* find one near me? Well, I'd be stopping in there at least once a day. It's hard enough not to swing buy for a cookie dough latte. No lie, when my son was still rear-facing, I'd go through the drive-through, order a latte, and he'd yell from the backseat, "Want a donut!" before he even SAW where we were.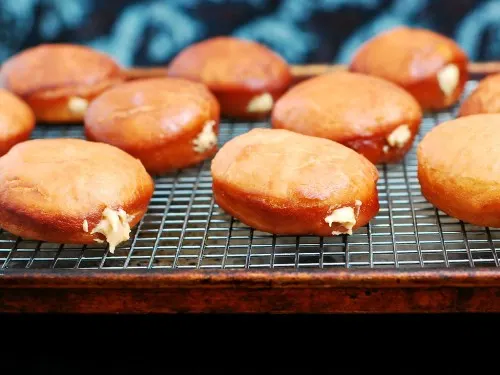 The filling below makes way more than you'll need for the 12 donuts. Save it to fill cupcakes, spread between sandwich cookies, or heck, just grab a spoon.
If your glaze turns out gloppy and slides right off your donuts, it could need more milk, or it's gotten too cold. Add another tablespoonful of milk, and slowly whisk over very low heat until it reaches a good dipping consistency.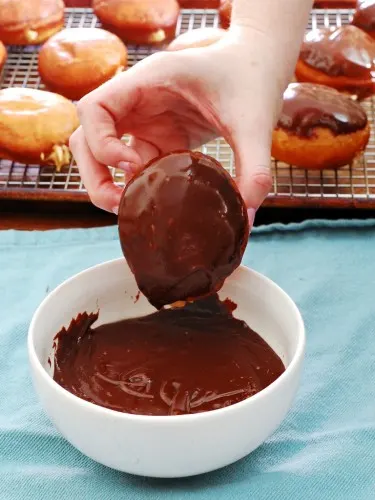 If you find you actually have donuts leftover at the end of the day, first, are you feeling okay? Maybe you might want to see a doctor? Second, they can be stored in an airtight container at room temperature for two days (use wax paper between layers if you need to stack them), or stored in airtight container in the fridge for up to a week (HA!).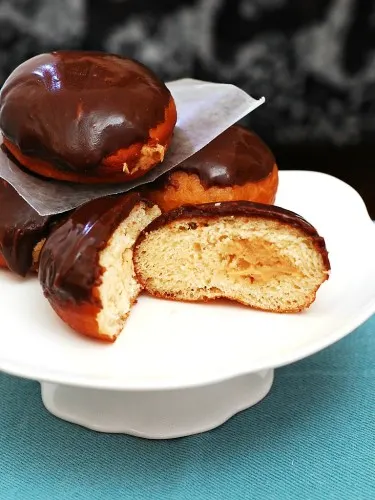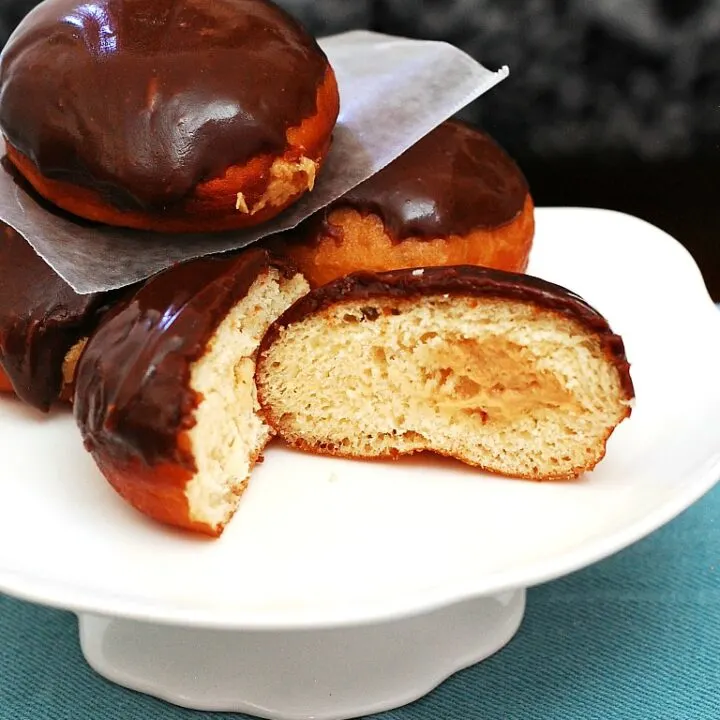 Chocolate-Glazed Peanut Butter-Stuffed Donuts
Donuts can be stored in an airtight container at room temperature for up to two days; or in an airtight container in the refrigerator for up to a week. Let come to room temperature before serving.
Ingredients
For the donuts:
2 ½ teaspoon instant yeast
⅔ cup half-and-half, at room temperature
3 ½ cups all-purpose flour
⅓ cup sugar
2 teaspoon kosher salt
3 large eggs
7 tablespoon unsalted butter, at room temperature, cut into 7 pieces
Canola oil, for frying
For the peanut butter filling:
½ cup creamy peanut butter
¼ cup half-and-half
1 ½ cups powdered sugar, sifted
For the chocolate glaze:
½ cup unsalted butter
¼ cup whole milk, warmed
1 tablespoon light corn syrup
2 teaspoon vanilla extract
4 oz bittersweet chocolate, chopped
2 cups powdered sugar, sifted
Instructions
In the bowl of a stand mixer, gently stir together the yeast and half-and-half. Let sit for about 1 minute to dissolve the yeast. Add the flour, sugar, salt, and the eggs and mix on low speed with the dough hook for about 4 minutes, to combine the mixture and build gluten.
After 4 minutes, slowly add the butter, a piece at a time, and continue to mix with the dough hook for 5 to 6 minutes, or until the butter is fully incorporated and the dough is soft and cohesive.
Remove the dough from the bowl, wrap tightly in two layers of plastic wrap, and chill in the refrigerator for at least 6 hours or up to 18 hours.
Line a baking sheet with parchment paper. On a well-floured work surface, roll out the dough into a 12-inch square about ½ inch thick. Using a 3-inch round cookie cutter, cut out as many doughnuts as you can. Discard the scraps (dough does not re-roll well). Arrange them on the prepared baking sheet, cover loosely with plastic wrap, and place in a draft-free area to proof for 2 to 3 hours, or until they are about doubled in height and feel pillowy.
When ready to fry, line a large tray or baking sheet at least two layers of paper towels. Pour at least 3 inches of oil in a Dutch oven and heat over medium-high heat to 350 degrees. Working in batches of two or three, place the doughnuts in the hot oil, being careful not to crowd them. Fry on the first side for 2 to 3 minutes, or until golden brown. Then gently flip them and fry for another 2 to 3 minutes, or until brown on the second side. Using a slotted spoon, transfer the doughnuts to the prepared tray and let cool completely.
While the donuts are cooling, make the filling: using a stand mixer, beat together the peanut butter and half-and-half with the paddle attachment. Gradually add the powdered sugar until the mixture is light and fluffy, but still smooth and creamy. You may not need the entire 1 ½ cups of powdered sugar. If filling looks too thick, add more half-and-half, a teaspoon at a time. If it's too thin, add more sifted powdered sugar ¼ cup at a time.
Fit a pastry bag with a small round tip and fill the bag with the filling. When doughnuts are completely cooled, use the pastry tip to poke a hole in the side of each doughnut, spacing it equidistant between the top and bottom. Squirt about ¼ cup filling into each doughnut.
Make the glaze: combine the butter, milk, and corn syrup in medium saucepan and heat over medium heat until butter is melted. Decrease the heat to low, add the chocolate, and whisk until melted. Turn off heat, whisk in the vanilla, then add the sifted powdered sugar, whisk until smooth. Place the mixture over a bowl of warm water and dip the tops of the doughnuts immediately. Allow glaze to set for 30 minutes before serving.
Adapted from Epicurious; Chocolate glaze recipe from Alton Brown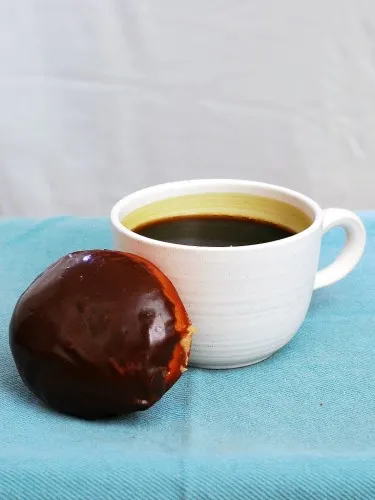 Get more chocolate and peanut butter deliciousness!