For day 5 of #IceCreamWeek, I made a homemade version of my favorite sundae from a popular restaurant chain: chocolate peanut butter ice cream sundaes!
Welcome to Day 5 of Ice Cream Week 2014! This year the event is hosted by Kim of Cravings of a Lunatic and Susan of The Girl in the Little Red Kitchen. We have teamed up with 25 amazing bloggers to share some amazing ice cream recipes with you. I hope you belong to a gym. We'll all need it by the end of the week!
Our sponsors for the event have provided us with some great prizes. A huge thanks to Cake Boss, Anolon, Microplane, WÜSTHOF, Page Street Publishing andQuarry Spoon. Kim of Cravings of a Lunatic and Susan of The Girl in the Little Red Kitchen have tossed in a bonus prize of a Cuisinart Ice Cream Maker because they think everyone should own one!
Here's what is up for grabs, One Winner Takes All:
The Recipe
I love chocolate. I love peanut butter. Put them together? I'm in heaven. My favorite candy is peanut butter cups. If there's a way to combine chocolate and peanut butter, you can bet I'll eat it.
There's a popular family-friendly restaurant chain that's known for its ice cream. They have a peanut butter cup sundae. I order it every time I go, which isn't that often, because the sundae is probably about 5,000 calories. Ok, just under 900. Seriously, it has three scoops of ice cream, peanut butter topping, hot fudge, peanut butter cups, and whipped cream. Honestly, my stomach feels bloated just thinking about it. There really can be too much of a good thing.
But after learning that I can make peanut butter topping at home, I can create my own, smaller version of my favorite sundae. It's so very simple to make, and keeps well in the fridge.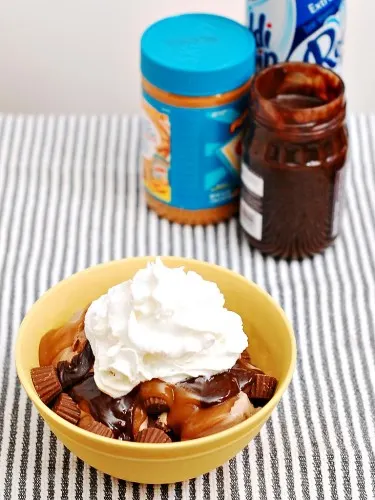 Chocolate Peanut Butter Ice Cream Sundaes
Ingredients
For the peanut butter topping
½ cup heavy cream
¼ cup sugar
¼ cup light corn syrup
2 tablespoon unsalted butter
1 teaspoon vanilla
½ cup creamy peanut butter, not the natural kind
For the sundaes
1 pint chocolate ice cream
½ cup hot fudge topping
½ cup mini peanut butter cups
Whipped cream
Instructions
Make the peanut butter topping: place the first five ingredients in a medium saucepan over medium heat and stir constantly until the sugar dissolves and the mixture is uniform. Remove from the heat and let sit for 5 to 10 minutes. Add the peanut butter and stir until fully incorporated. Pour into a container and let sit at room temperature until fully cooled.
Scoop ½ cup ice cream into each of four bowls. Top each bowl with 2 tablespoon of peanut butter topping, 2 tablespoon of hot fudge topping, 2 tablespoon of mini peanut butter cups, and some whipped cream.
Peanut butter topping recipe from Chow.com
Be sure to visit all of today's Ice Cream Week Participants: