Snack on baked churros dipped in dulce de leche this Cinco de Mayo! This pastry is traditionally fried, but this slightly healthier baked version is just as tasty.
For Mother's Day two years ago, Dave took me to a Cuban tapas restaurant, and we had a fantastic brunch. The first dish that I ordered was churros. If you've never experienced churros, you must. It's a fried pastry, similar to funnel cake except it's typically a long stick shape, then rolled in cinnamon sugar and served with chocolate sauce or dulce de leche.
Given my love of funnel cake and other fried pastries (um, hello, doughnuts), it's no wonder I love churros. Deep frying at home is a bit of a pain, though — it takes a bit of time for the oil to get up to temperature, plus, you know, the safety risks of deep-fat frying. Oh, and the unhealthiness (is that a word?) of fried food.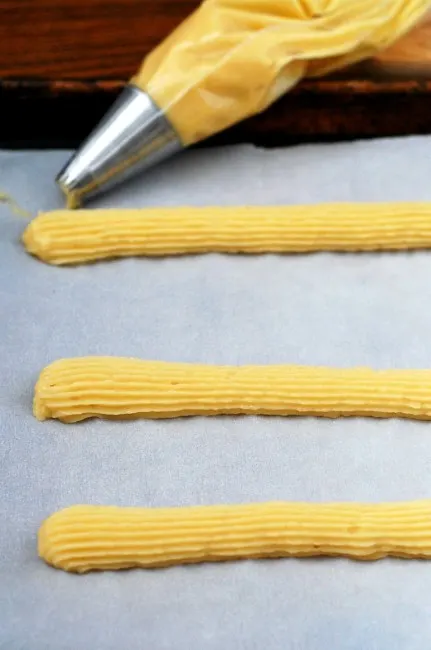 Since churros are the Latin equivalent of funnel cake, I decided to try using funnel cake batter to make churros. After all, another use for funnel cake batter is profiteroles (aka cream puffs) and eclairs.
Baked churros do not turn out as crispy as traditional fried churros, but I followed the advice of Sprinkle Bakes to toast them under the broiler for a few seconds. Give these churros a roll in some cinnamon sugar while they are still hot, or else the sugar won't stick. These treats are best eaten the day they are made, but if there are any left over, store them in an airtight ziptop bag, and given them a few seconds under the broiler again to crisp them up before devouring, I mean, enjoying.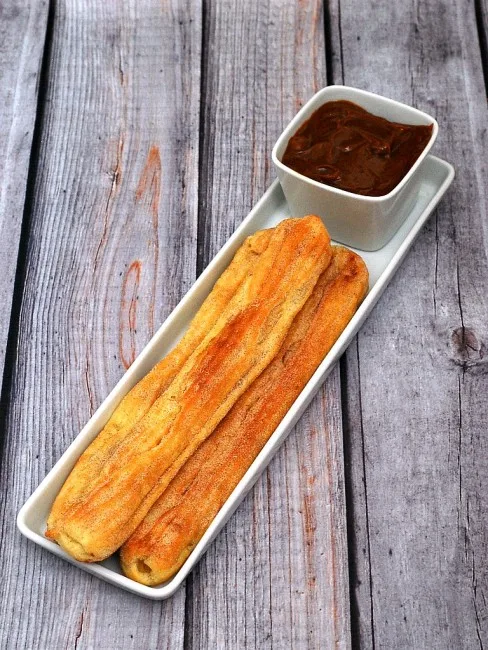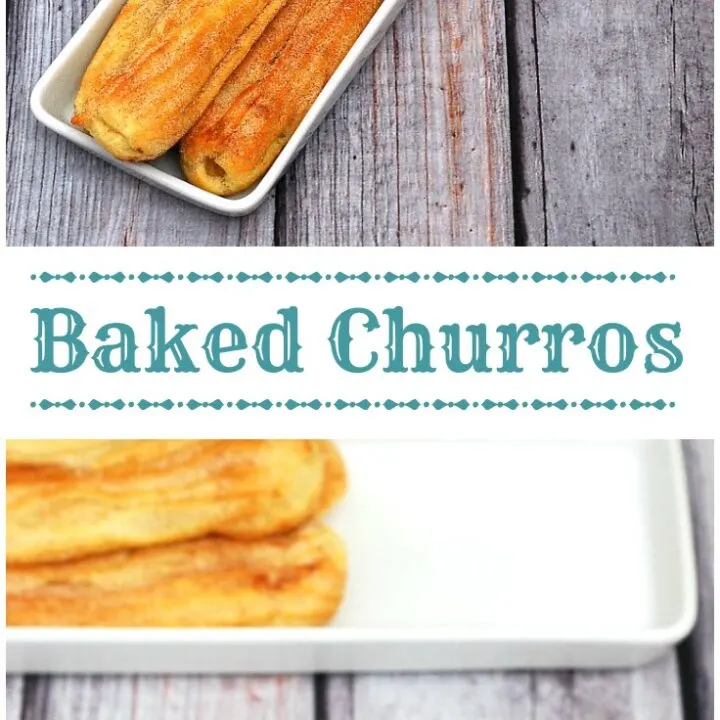 Baked Churros
Ingredients
For the dough:
1 cup water
6 tablespoon unsalted butter
1 tablespoon plus ⅛ teaspoon sugar, for sweet fillings
1 ¼ cups bread flour, 5 ¾ ounces
4 large eggs
2 egg whites
For the topping:
½ cup sugar
2 teaspoon cinnamon
Instructions
Preheat oven to 425 degrees. Line a baking sheet with parchment paper and set aside.
Bring water, butter, and sugar to a boil in a heavy-duty saucepan over high heat. Add the flour all at once and stir with a wooden spoon until it forms a ball. Continue working the mixture in the pot, until most of the moisture is boiled out. Poke your finger in the dough. It should be shiny (from the butter), but not wet from water. The dough will start to leave a film on the bottom of the pan.
Transfer mixture into bowl of a standing mixer and let cool for 3 or 4 minutes.
With the mixer on the lowest speed, add the eggs, 1 at a time, making sure the first egg is completely incorporated before continuing, then add the whites one at a time.
Once all the eggs and whites have been added and the mixture is smooth, scrape the dough into piping bag fitted with an open star tip (I use Ateco #867).
Pipe the dough in straight lines about 8 inches long and 2 inches apart, snipping the dough with scissors to end each line.
Bake for 10 minutes, then turn the oven to the broil setting. Toast the churros under the broiler (keep a very close eye on them) until golden brown.
Combine the sugar and cinnamon in a 9x13 baking pan. As soon as the churros are cool enough to touch, transfer them to the baking pan and roll in the sugar. Set on a mesh rack to cool completely before serving with chocolate sauce or dulce le leche.
Adapted from a recipe by The Restaurant School at Walnut Hill College