When I think of a casserole, I think of an oven-baked comfort dish. This is a breakfast casserole, with polenta, spinach, sausage and lots of cheese!
Casserole. How do you define it? I think of a comfort dish baked in a deep oven-to-table dish. It usually has all of the components of a complete meal: protein, veggies (or fruit) and carbs.
Most casseroles that I think of can also be made ahead and frozen (or baked and reheated). They are great for make-ahead meals for yourself, or to bring to someone who is ill or just had a baby.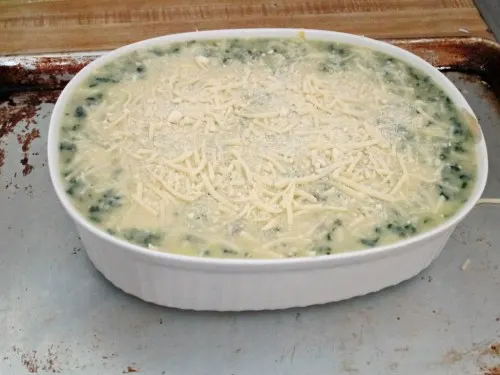 I love breakfast casseroles for holidays. For one thing, they're different from your regular-day breakfast. The second reason is that by making them ahead, you can just pop them in the oven in the morning. Who wants to wake up early on a holiday and slave over breakfast?
This casserole is full of flavorful breakfast sausage, spinach, and polenta (cornmeal). Plus cheese. Lots of cheese. All the food groups are represented. I prepped this casserole and put it straight into the oven, but you could assemble it (up to pouring all of the ingredients into the casserole dish) and refrigerate it. Or bake it, cool it, refrigerate it and reheat it.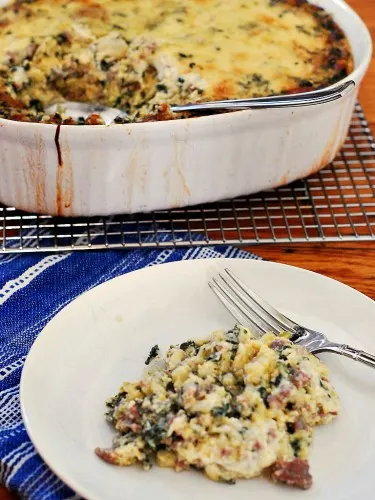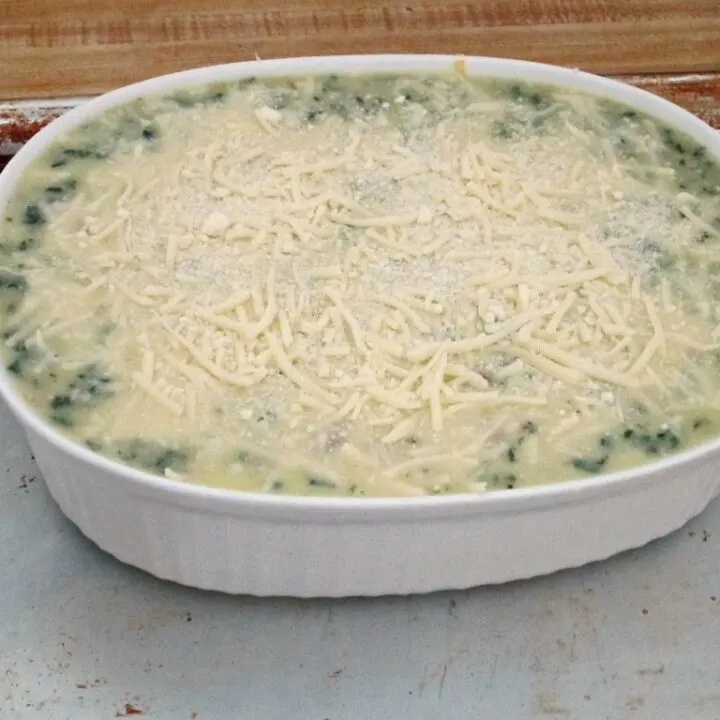 Spinach, Sausage and Polenta Breakfast Casserole
Yield:
8 main-course servings
Ingredients
1 tablespoon butter
1 lb breakfast sausage, casing removed
½ small onion, diced fine
1 oz package frozen chopped spinach, thawed and squeezed, 10-
4 large eggs
2 cups milk
4 cups water
1 ½ cups polenta
½ teaspoon kosher salt
¼ teaspoon ground pepper
2 cups mozzarella cheese, divided
¼ cup grated Parmesan cheese
Instructions
Use the 1 tablespoon of butter to grease the bottom and sides of a 1.5- to 2-quart casserole dish. Set aside on a sheet pan. Preheat the oven to 350 degrees if baking right away.
In a large skillet, cook the breakfast sausage over medium heat, breaking it up as it cooks, until no longer pink.
Add the diced onion to the skillet, and cook for about 2 to 3 minutes, until onion is softened.
Remove the skillet from the heat and add the spinach. Stir to break up the clumps of spinach. Set skillet aside.
In a large mixing bowl, beat the 4 eggs until uniform. Whisk in the milk and the water. Stir in the polenta, 1 cup of the mozzarella, and the salt and pepper.
Add the sausage mixture to the mixing bowl and stir to combine. Pour the contents of the mixing bowl into the casserole dish.
Toss together the remaining cup of mozzarella and the Parmesan. Sprinkle over top of the casserole dish and place the casserole, on the sheet pan, in the oven. Bake for 45 to 60 minutes, until the polenta is firm and a knife inserted in the casserole comes out clean.
Adapted from The Kitchn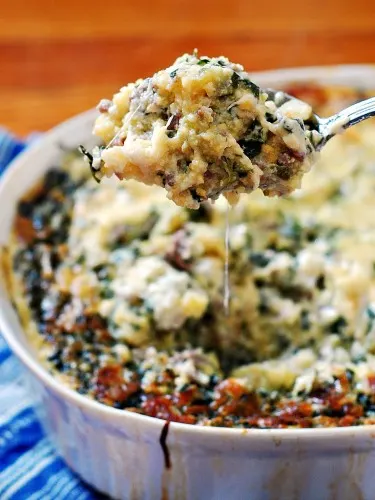 Don't forget to check out the other #SundaySupper casseroles!
Captivating Breakfast Casseroles
Appetizing Casserole Sides
Main Event Casseroles
Decadent Dessert and Sweet Casseroles