These corn and mild cherry pepper quesadillas are a take on elotes — a Mexican street food of corn on the cob, rubbed with chili, a squeeze of lime, and coated in cheese.
Earlier this month, I threw a Mexican fiesta in honor of Dave's birthday. We had a taco bar (seasoned ground beef; chipotle honey lime pulled pork; and sweet potato, black bean and corn), two kinds of empanadas, queso dip, guacamole, tortilla chips, Mexican tomato salad, and Mexican corn salad. Oh, and margarita cupcakes, Mexican hot chocolate cupcakes, and churro cupcakes. Oh, the churro cupcakes ...
Anyway, the corn salad (Cooking Light's play on Mexcian Street Corn) was really delicious, and was gobbled up really quickly. It was so simple to make, too, though we did omit the mayo, because I'm just NOT a mayo person.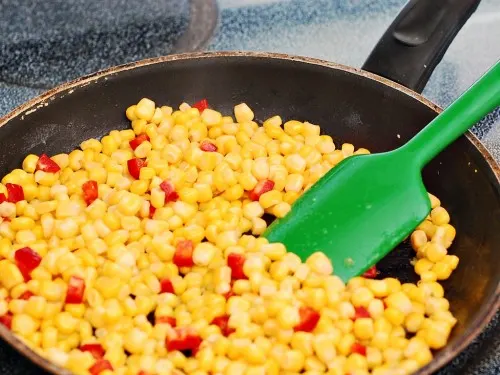 I wanted to make something like that again, but not in the same way. One way that I'm able to get Liam to eat dinner with us (and eat what we eat) is to make quesadillas. The corn salad was super easy to adapt to a quesadilla.
I wanted to add some extra flavor and Mexican flair, so I added a couple of diced cherry pepper. Cherry peppers are also called pimiento peppers, and are one of the mildest varieties of peppers. Give these quesadillas a quick spritz of lime juice before serving!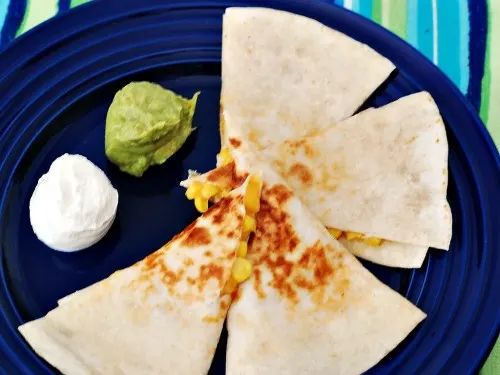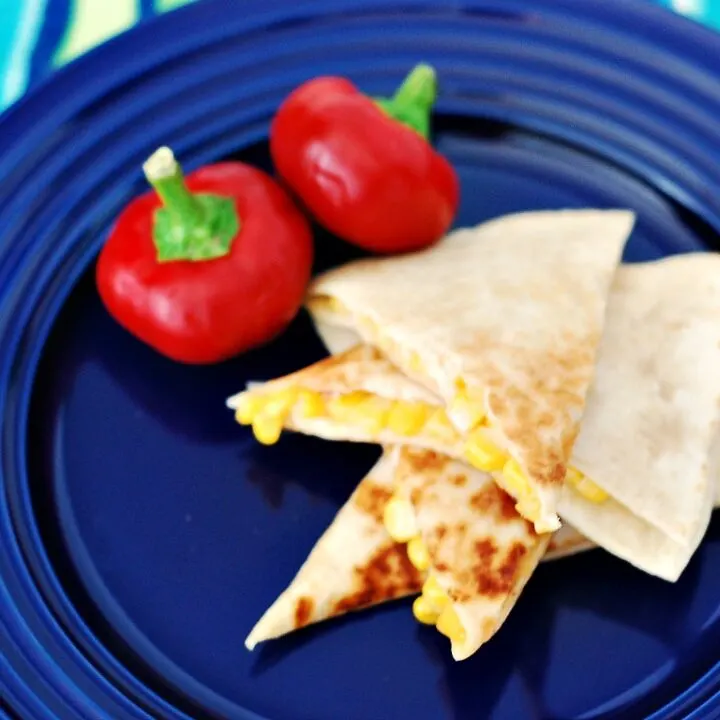 Corn and Cherry Pepper Quesadillas
Ingredients
1 tablespoon canola oil, divided
2 cups frozen corn
2 cherry peppers, seeds and membranes removed, diced
½ teaspoon chili powder
½ teaspoon salt
1 tablespoon snipped chives
4 inch flour tortillas, 10-
2 cups shredded monterey jack or colby cheese
½ cup Cotija or ricotta salata cheese, crumbled
1 lime, cut into 4 wedges
Instructions
Heat 1 teaspoon of the canola oil in a large skillet over medium heat. Add the corn and diced peppers, season with the chili powder and salt, and saute for three to five minutes, until the corn is warmed and the peppers are just beginning to soften. Transfer the corn and peppers into a bowl and add the chives. Toss to combine.
Wipe out the skillet and return to the burner over medium heat. Use a pastry brush to spread the oil evenly over the skillet. Add a tortilla, and spread ½ cup of the corn-pepper filling over one side of the tortilla. Sprinkle ½ cup of the shredded cheese and 2 tablespoon of the crumbled cheese over top. Fold the other half of the tortilla over the filling, and press down. Cook for 1 to 2 minutes, until the bottom of the tortilla is crispy and beginning to brown. Carefully flip the quesadilla over, and cook until the second side is crispy and lightly browned.
Transfer to a cutting board and use a pizza cutter to cut into 3 or 4 wedges. Squeeze the juice of one lime quarter over the wedges.
Repeat steps 2 and 3 with the remaining tortillas and filling. Serve the quesadillas with your favorite Mexican accompaniments.
Inspired by Cooking Light