"Man Food" is all about big bold flavors, and these chipotle honey lime pulled pork tacos deliver! Make them for the dad in your life this Father's Day!
It's almost Father's Day. It seems to be traditional that on Mother's Day, you go out for brunch, and on Father's Day, you stay home and cook "man food."
What is "man food"? Stuff that's grilled - burgers, steaks, chicken. Food with big, bold flavors. Food that is dripping in melted cheese.
Today's recipe falls into the big, bold flavors category: pork shoulder flavored with chipotle pepper, honey and lime. It's pretty hands-off, since the crockpot does most of the work.
You've probably noticed that in some crockpot recipes, you give the meat a quick sear before putting it in the crockpot. Not this one — you don't want a crust on the meat, because you're going to shred it once it's done cooking.
And once it's done, the meat will shred very easily. Seriously, it just about fell apart as soon as I touched it, which in this case, is a very good thing.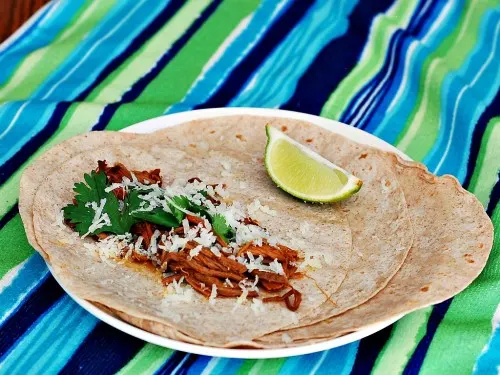 You can give this recipe as much "heat" as you like. If you like your food eye-watering spicy, don't remove the chipotle pepper seeds. If you don't, take them out. That won't take away ALL of the heat; it will definitely still have some spice. If you really don't like spicy food, well, this isn't the recipe for you.
There will be some liquid left over in the crockpot once the meat cooks. You can drain the meat well, and pour the leftover liquid into a small saucepan and boil it down until it's thick and use it like a taco sauce.
Serve with your favorite taco accompaniments: avocado slices or guacamole, salsa, sour cream, etc. I served these with Trader Joe's Spicy, Smoky Peach Salsa.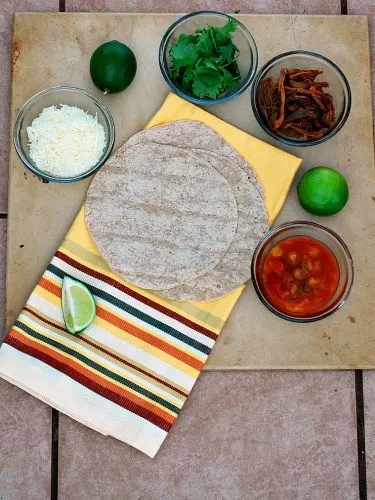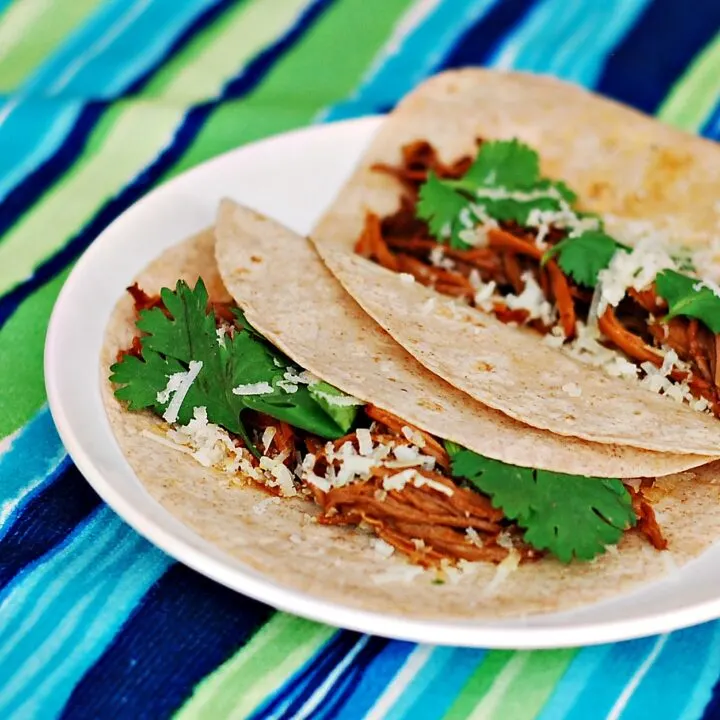 Chipotle Honey Lime Pulled Pork Tacos
Yield:
6 (2 tacos per serving)
Ingredients
For the pulled pork
Zest of two limes
1 cup lime juice
½ cup honey
1 tablespoon kosher salt
2 cloves garlic, grated
2 in chipotle chilis adobo, chopped (seeded if preferred for less heat)
1 tablespoon adobo sauce
1 lb pork shoulder, trimmed of excess fat, 2.5-
For the tacos
12 flour tortillas
4 ounces shredded manchego cheese
¼ cup cilantro, roughly chopped
Other taco toppings as desired (guacamole, sour cream, salsa, etc.)
Instructions
Place the lime zest, lime juice, honey, kosher salt, grated garlic, chipotle chilis and adobo sauce in a crockpot, whisk well.
Place the trimmed pork shoulder in the crockpot. Cook on high for 6 hours, turning once halfway through.
Once the pork shoulder is fulling cooked, shred the meat with two forks.
Assemble the tacos by placing 2 ounces of shredded meat, a tablespoonful of manchego cheese, a sprinkle of cilantro and whatever other taco toppings you like on each flour tortilla.
Inspired by The Way to His Heart