These adorable ice cream sundae cupcakes look like the real thing, but won't melt in the summer sun! Perfect for barbecues, potlucks and picnics!
It's (unofficially) summer time again, and time for barbecues, potlucks and picnics.
If I'm bringing a dish, I almost always bring a dessert. I try to bring something different from the standard brownies or cookies.
While searching Pinterest for "summer cupcakes," I found Love From The Oven's Ice Cream Sundae Cupcakes. They were so cute! They look like ice cream sundaes, but won't melt.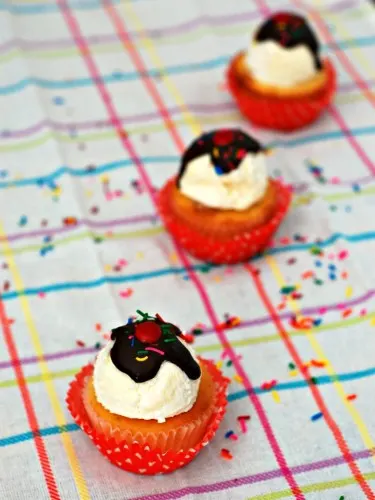 I brought these to a potluck work lunch, and they were a huge hit. Some people even thought the icing really was ice cream.
Feel free to use your favorite flavor of vanilla cake. I've included the recipe for the frosting I used below. The key is to not whip too much air into the frosting, and to chill it before scooping it onto the cupcakes.
These were really the easiest cupcakes I've ever made. No piping bags or tips to deal with, no technique involved. I think the part that took the longest was picking the red M&M's out of the bag.
As you can see in the photos, I "double-papered" my cupcakes. I baked them in white paper liners, then placed the baked cupcake (white liner and all) in a decorative liner. This is just in case the melted chocolate drizzled all the way down over the edge of the cupcake — no mess!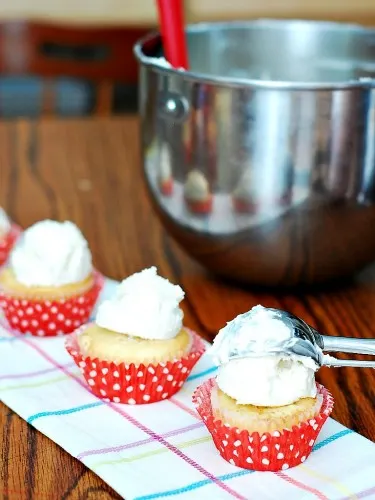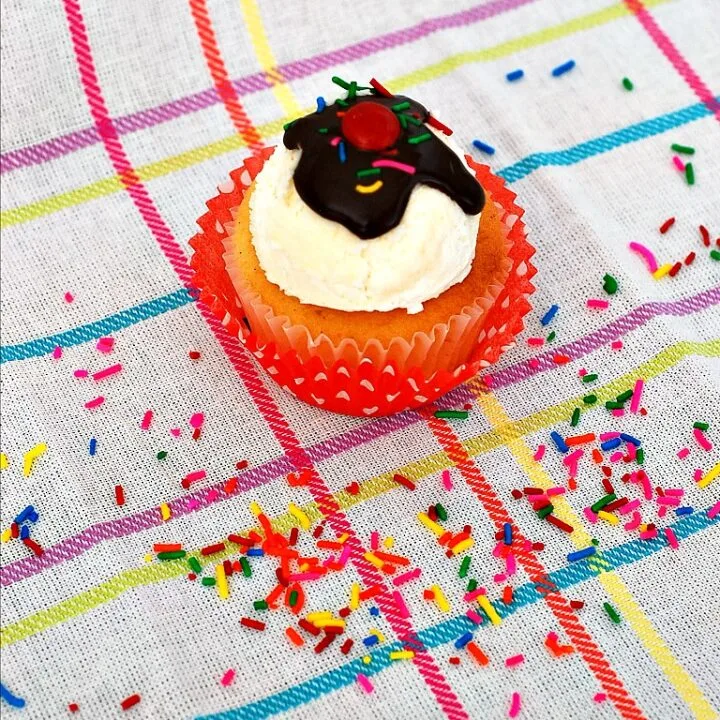 Ice Cream Sundae Cupcakes
Ingredients
For the frosting
1 pound unsalted butter, softened
1 tablespoon pure vanilla extract
3 tablespoon whole milk
½ teaspoon salt
4 cups confectioners' sugar, sifted, 1 lb
For the cupcakes
24 vanilla cupcakes
6 oz semisweet chocolate, chopped
Sprinkles
24 M red &Ms
Instructions
Make the frosting: place the butter, vanilla, milk, and salt in the bowl of a stand mixer fitted with the paddle attachment. Beat on low speed for several minutes until well-blended. Scrape down the sides of the bowl. Gradually add the powdered sugar, mixing at low speed, just until combined. Increase speed to medium and beat for another minute. Place the bowl of frosting in the refrigerator for at least two hours.
Using a large cookie scoop, scoop out the frosting and place on top of each cupcake. Place the cupcakes in the refrigerator to chill.
Meanwhile, melt the chocolate over a double-boiler. Working with two or three cupcakes at a time, pour a scant teaspoon of chocolate over each scoop of frosting, letting it drip down the sides. Scatter a pinch of sprinkles over each cupcake, then place a red M&M on top. Place in the refrigerator to set the chocolate and repeat with remaining cupcakes.
Frosting recipe adapted from Annie's Eats