These spicy little snacks will be the hit of any guy get-together. Jalapeño poppers are doctored up with spiced crispy pork belly.
Mother's Day is all about delicate brunch foods, and Father's Day is all about Man Food -- meat, cheese, bacon, and beer. Big, bold flavors.
I asked Dave for some inspiration. What kind of "man food" would he like for Father's Day? A big, juicy burger? Pizza smothered in cheese? Bacon-wrapped shrimp?
He said he'd been in the mood for jalapeño poppers. Spicy, cheesy, eat-with-your-hands snack -- that definitely qualifies as man food.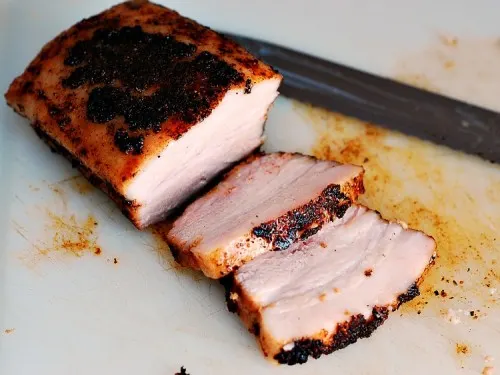 But I decided to take it to another level by adding his favorite indulgence -- pork belly. And to up the flavor ante, I covered the pork belly with a spicy chili rub before crisping it up in a skillet.
I found fully-cooked pork belly at Trader Joe's, so my cooking instructions reflect that. If you use raw pork belly, be sure to cook it fully using whatever cooking method you prefer.
The consensus? WOW! So much heat and flavor! These little poppers would be perfect for any barbecue, tailgate, or fiesta party.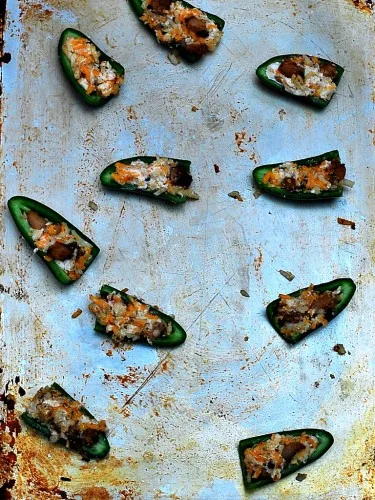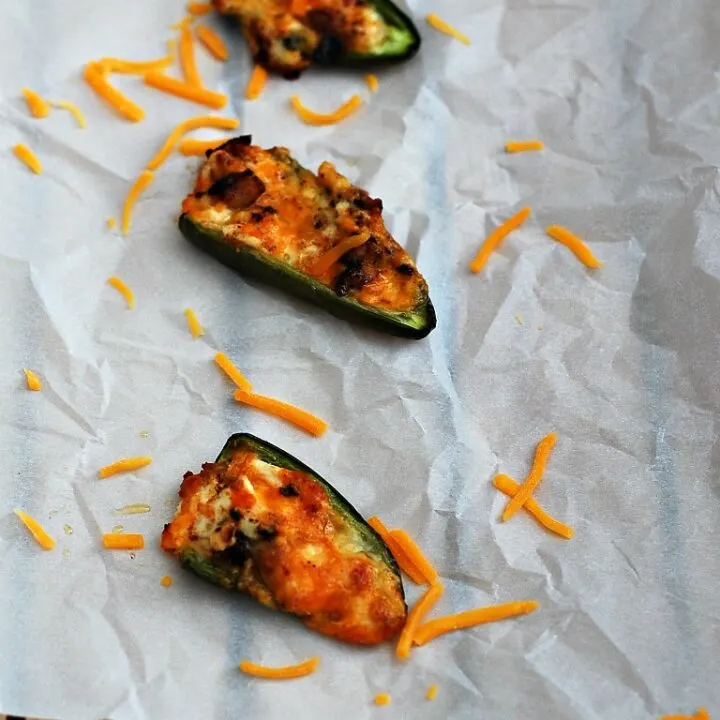 Chipotle Pork Belly-Stuffed Jalapeño Poppers
Ingredients
2 teaspoon brown sugar
2 teaspoon kosher salt
½ teaspoon chili powder
½ teaspoon chipotle chili powder
½ teaspoon black pepper
¼ teaspoon ground mustard powder
4 ounces cooked pork belly, diced
12 jalapeno peppers, split, seeds and ribs removed
1 ½ oz shredded Cheddar cheese
1 ½ oz shredded Monterey jack cheese
2 oz cream cheese at room temperature
Instructions
Combine the brown sugar, kosher salt, chili powder, chipotle chili powder, black pepper and ground mustard in a medium bowl. Add the diced pork belly and toss to coat.
Heat a skillet over medium heat, and add the pork belly, and cook until crispy. Remove with a slotted spoon to a paper-towel lined plate to drain.
Preheat the oven to 375 degrees.
In another mixing bowl, whisk together the cream cheese and the shredded cheeses. Add the pork belly and gently fold the meat into the cheese mixture.
Scoop the filling into each of the jalapeno pepper halves. Arrange the peppers on a baking sheet.
Bake for about 20 minutes, until the cheeses are melted and bubbly. Serve hot.