A flavorful, filling dessert, ready in less than 15 minutes, for just over 120 calories! Cinnamon vanilla roasted peaches with honey cream.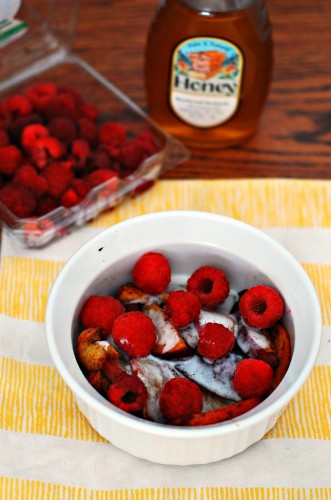 So, are you ready for something light and healthy after yesterday's calorie-fest?
I found a yummy-sounding recipe for grilled peaches with honey cream in one of  my old issues of Cooking Light. The problem? I don't own a grill. Grilling indoors is kind of frowned upon by the fire department, ya know?
I can, however, roast fruit. Roasting won't give the fruit those beautiful grill marks, but it does soften it, and caramelize the sugars.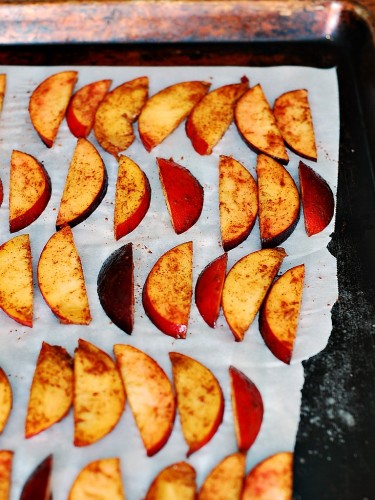 Cooking Light notes that you can substitute apricots or nectarines instead, but I think the recipe would also be delicious with pears, or even bananas.
According to SparkPeople's nutrition calculator, this recipe contains 123 calories per serving, half a gram of fat, 27 grams of carbs (3.6 grams of fiber and 22 grams of sugar) and 4 grams of protein.
This is a super quick way to have a super light, super delicious summer dessert!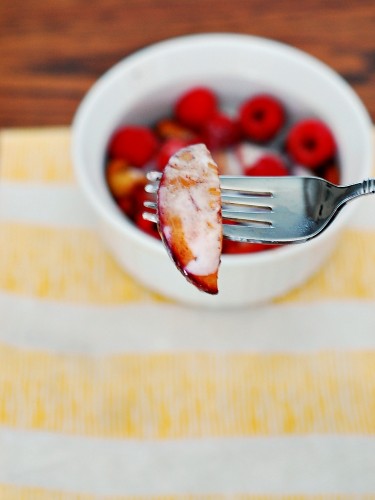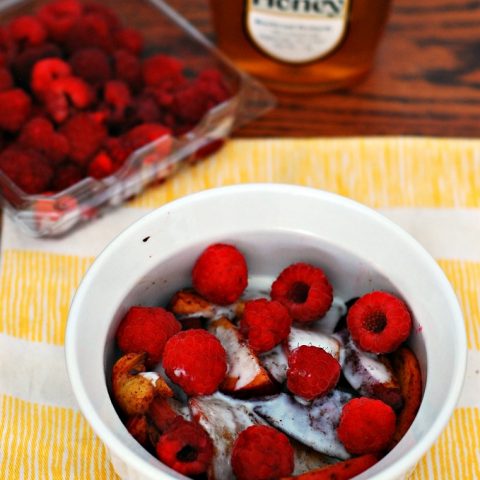 Cinnamon Vanilla Roasted Peaches with Honey Yogurt Cream
Ingredients
2 medium peaches
1 teaspoon vanilla sugar
½ teaspoon cinnamon
¼ cup fat-free vanilla Greek-style yogurt
2 tablespoon fat-free half-and-half
1 tablespoon honey
20 fresh raspberries
Instructions
Preheat oven to 400 degrees. Line a sheet pan with parchment paper.
Cut each peach into ¼-inch slices. Place them in a small mixing bowl, and add the vanilla sugar and cinnamon. Toss to coat.
Spread the peaches in a single layer on the prepared baking sheet. Roast in the oven to 6 to 8 minutes, until soft but not falling apart.
While peaches are roasting, prepare the sauce: in a small mixing bowl, whisk together the vanilla yogurt, half-and-half, and honey.
Divide the peaches between two bowls, add half the raspberries to each bowl, and drizzle two to three tablespoons of the honey cream over each bowl.
Recipe adapted from Cooking Light