This nut-free homemade granola is packed with fiber and protein, and can be enjoyed so many ways!
For this week's Snack Share Wednesday, I sent in this protein- and fiber-packed nut-free granola. I'm really enjoying coming up with new things to share, and reading the daily note to see what other children brought to share.
Granola has been a favorite snack of mine for a long time, but I have to be careful about which ones I purchase, because many contain nuts. I'm not allergic, but I have an intolerance to most whole nuts. I get a stomachache if I eat them.
In addition, Liam's daycare is, like many schools and child-care facilities, completely nut-free due to allergies. So, it's handy to have a nut-free granola recipe to make.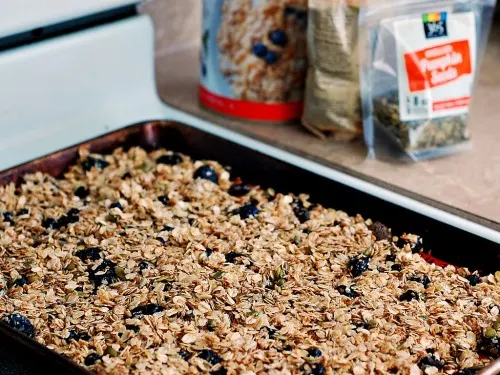 Rolled oats are available pretty much everywhere; flax seeds and wheat germ are available at most natural and health-food stores. I found both at my local Whole Foods. Agave syrup seems to be available at most stores — I've even seen it at Target.
You can enjoy this granola dry, in a bowl with milk, or sprinkled over yogurt. You can also substitute the cherry/berry mix with your favorite blend of dried fruits.
As I mentioned in another snack share post, if you'd like more ideas for toddler- and kid-friendly recipes, check out my new Pinterest board.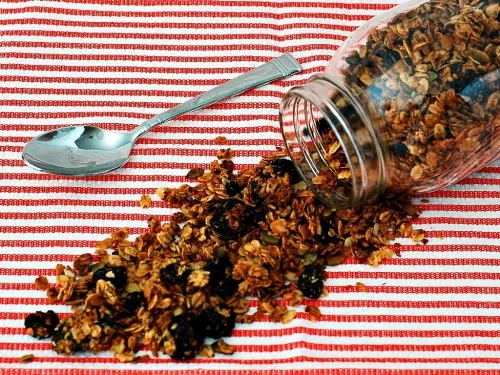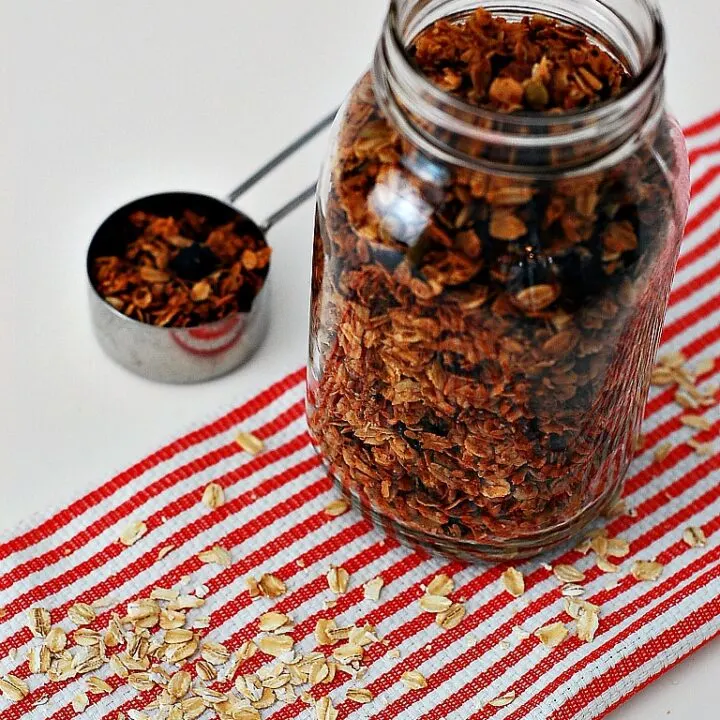 Cherry Berry Nut-Free Granola
Ingredients
⅔ cup agave syrup, or honey
½ unsalted butter
¼ canola oil
1 teaspoon vanilla extract
½ teaspoon salt
6 cups old-fashioned rolled oats
½ cup raw wheat germ
½ cup toasted flax seeds
½ cup shelled sunflower seeds
½ cup pumpkin seeds, pepitas
1 ½ cups dried fruit, cut into bite-size pieces if necessary
Instructions
Preheat your oven to 350 degrees and line two baking sheets with silicone baking liners, or spray bottom and sides very well with nonstick cooking spray.
In a small saucepan, combine the agave, butter and canola oil. Melt over medium-low heat, stirring frequently to emulsify. Remove from the heat as soon as the butter is completely melted; whisk in the vanilla, salt and cinnamon. Set aside to cool.
Place the rolled oats, wheat germ, flax seeds, sunflower seeds, pumpkin seeds and dried fruit. Toss with your hands to evenly distribute the ingredients.
Spray a rubber spatula with nonstick cooking spray. Pour the contents of the saucepan over the oat mixture, and fold quickly with the spatula until the dry ingredients are moistened.
Divide the mixture between the two prepared baking pans and spread into an even layer.
Bake for 20 to 25 minutes, stirring every 10 minutes to ensure even toasting.
Remove the pans from the oven and let the granola cool on the baking sheet.
Store in an airtight container at room temperature.
Recipe slightly adapted from Comfortably Domestic