Dark chocolate morsels and fresh cherries sweeten up hearty whole grain muffins for a delicious breakfast or snack!
It's What's Baking time again, and this time our host, Yudith of Blissfully Delicious, has chosen baking with summer produce. I've chosen to bake with fresh sweet cherries. Cherries were never on my "favorite fruits" list. That being said, I don't remember ever actually eating a fresh cherry. I don't know where my supposed dislike of them came from.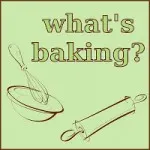 On a recent trip to Trader Joe's, they had a big display of fresh cherries. Liam insisted he wanted some. I bought a container, and cut up a few as soon as we got home. He loved them! I gave one a taste and really enjoyed them as well.
We're now on our third container of cherries since then, and while we eat most of them straight out of the container, I've been researching recipes both sweet and savory in which to use them as well.
One thing I don't like about cherries? Their pits. I must have spent about 20 minutes slicing the pits out of a dozen cherries from our first batch with a paring knife. I have since bought an OXO cherry pitter, which has made the prep a lot easier. I'm not usually a fan of single-use kitchen gadgets, but hey, the pitter can be used on olives, too!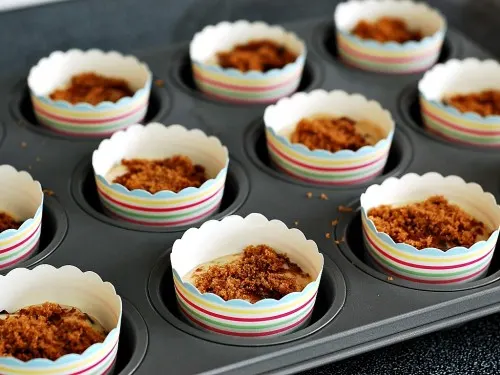 These muffins aren't the healthiest I've ever made; however, they aren't 1,000 per muffin, either. They're somewhere in the middle. According to MyFitnessPal's recipe nutrition calculator, each muffin contains 233 calories, 10 grams of fat, 33 grams of carbohydrates, and 3 grams of protein.
Instead of combining a cup each of two kinds of flour, you can use 2 cups of whole wheat flour, which would decrease the calories slightly to 229 per muffin, and increase the protein to 4 grams per muffin.
Whichever you choose, these muffins are delicious and filling, and are a great way to start your morning!
Don't forget to check out Blissfully Delicious later this month to see the other Baking with Summer Produce recipes!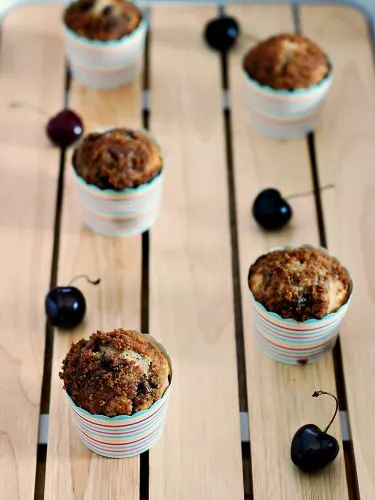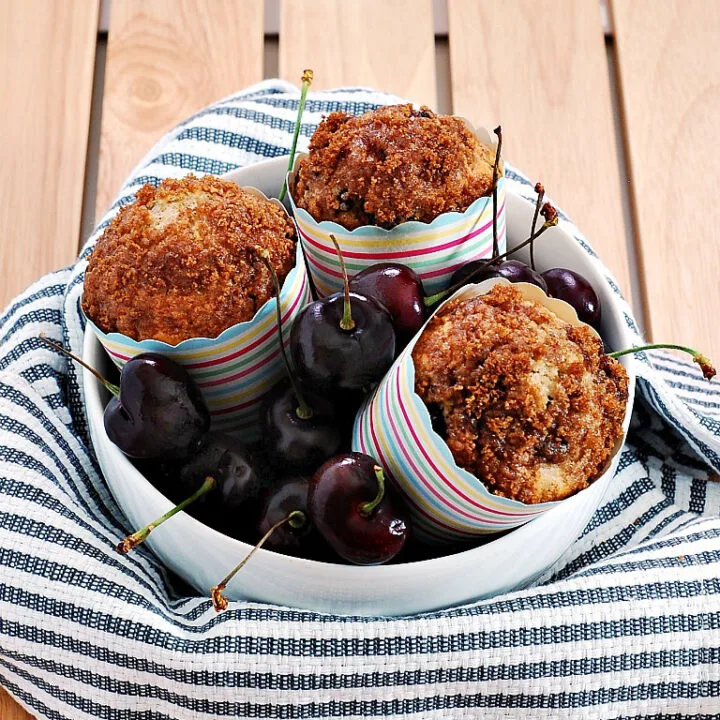 Dark Chocolate Cherry Muffins
Ingredients
2 tablespoon packed dark brown sugar
¼ teaspoon cinnamon
1 cup whole wheat flour
1 cup all-purpose flour
1 tablespoon baking powder
½ teaspoon salt
¾ cup low-fat milk, 1%
¼ cup canola oil
¼ cup honey
1 large egg
½ teaspoon vanilla extract
¾ cup fresh sweet cherries, pitted and diced
¾ cup Nestle Tollhouse Dark Chocolate morsels
Instructions
Preheat your oven to 400 degrees. Line a 12-cup muffin tin with baking cups. Set aside.
In a small bowl, mix together the brown sugar and cinnamon with a fork. Set aside.
In a large mixing bowl, stir together the flours, baking powder, and salt.
In a smaller mixing bowl, whisk together the milk, canola oil, honey, egg and vanilla extract.
Pour the wet ingredients over the dry, and whisk just until the dry ingredients are moistened. Gently fold in the cherries and dark chocolate chips.
Divide the dough evenly among the baking cups, filling each about ¾ of the way full.
Sprinkle ½ to ¾ of a teaspoon of the cinnamon-brown sugar mixture over each muffin.
Bake for 20 minutes, until baked through and golden brown on top.
Recipe adapted from Betty Crocker