Pasta and tender-crisp spring vegetables are tossed in a light, flavorful egg and cheese sauce in this spring vegetable carbonara.
Gone are the days when "eating healthy" meant bland, boring lean meats and flavorless vegetables.
Dave and I could hardly believe this recipe could be classified as healthy — it was so tasty! It's not so different from traditional carbonara. It's the addition of three kinds of veggies that makes it "better" (healthwise) than traditional carbonara.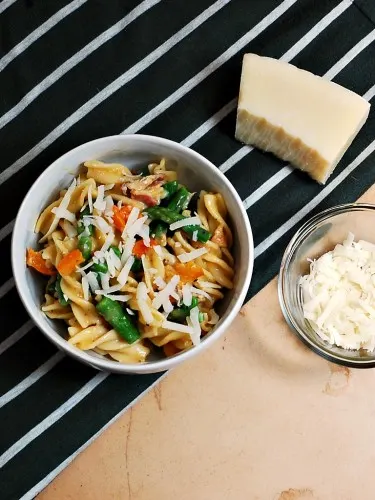 One other difference in this carbonara as opposed to the traditional is the use of pecorino romano cheese instead of parmesan. Both are Italian cheeses: pecorino is a sheep's milk cheese and parmesan is a cow's milk cheese. Pecorino has a salty, sharp bite, so a little goes a long way.
The method of briefly cooking the veggies in boiling water before plunging them into ice water is called "blanching." The ice water shocks the vegetables and stops the cooking, preserving the crisp-tender texture and bright colors.
Cooking the veggies in the sieve just makes it easier on yourself — no having to fish individual peas out of the boiling water. If you don't have a sieve, you can just cook the veggies in the boiling water, you'll just need to drain the whole pot and refill it for the pasta.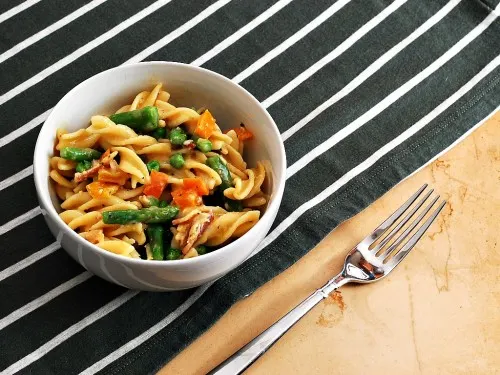 Spring Vegetable Carbonara
Ingredients
½ cup frozen green peas
12 oz green asparagus, trimmed and cut into 1-inch pieces
8 oz uncooked fusilli pasta
½ cup grated pecorino romano cheese, plus more for garnish, 2 oz
½ teaspoon kosher salt
½ teaspoon ground black pepper
3 large eggs, lightly beaten
4 slices center-cut bacon
1 cup chopped seeded red or orange bell pepper
Instructions
Fill a large stockpot with water, and set over high heat to boil. Place a bowl of ice water next to the stockpot.
Place the frozen peas and asparagus pieces in a fine-mesh sieve. Lower the sieve into the boiling water and cook for three minutes. Pull the sieve out of the boiling water and plunge into the ice bath.
Add the pasta to the boiling water and cook according to package directions for al dente. Reserve a ¼-cup of the cooking liquid before draining the cooked pasta. Set the stockpot to the side.
In a large mixing bowl, whisk together the eggs, the ½ cup of pecorino, the salt and the pepper. Slowly stream the hot cooking water into the egg mixture while whisking constantly.
In a skillet, cook the bacon until crisp. Remove the bacon from the skillet and crumble onto a plate. Drain all but 1 tablespoon of drippings from the skillet.
Cook the bell pepper in the bacon drippings for about 3 minutes, until tender-crisp.
Add the pasta, veggies and bacon to the egg mixture. Return the mixture to the stockpot and cook over low heat for about a minute, until the sauce thickens.
Divide the mixture between four plates, and garnish with additional grated pecorino cheese.
Recipe slightly adapted from Cooking Light