Sliders topped with cheddar, bacon, and onions caramelized in red wine are the perfect bite for your next tailgate!
This week, #SundaySupper is teaming up with Gallo Family Vineyards to share our best tailgating recipes that can either include or be paired with any of the 9 varietals of Gallo Family Vineyards mini wine bottles.
Though I'm not a football fan, Philadelphians (or is it just my family?) will find any excuse they can to tailgate – baseball games and concerts are the two big ones that come to mind. We're waiting in line as soon as they open the gates, with our tents, a grill, and a TON of food.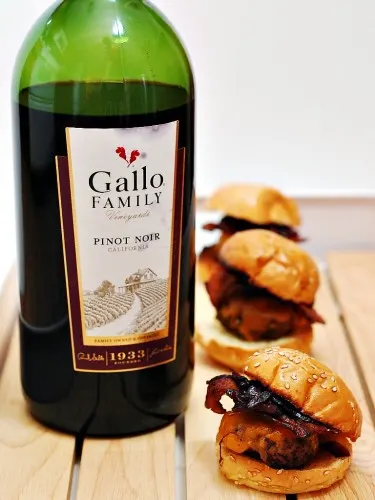 In my mind, tailgate food should be easy to eat with one hand (there aren't always enough chairs to go around!), easy to cook, and it should be delicious! These sliders definitely meet those criteria.
The onions can be cooked up ahead of time and chilled. Come game day, put them in a foil pouch and throw them on the grill to heat them up again. The slider patties can be formed ahead of time and grilled at the tailgate.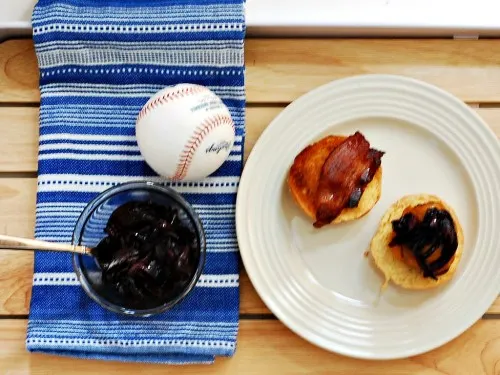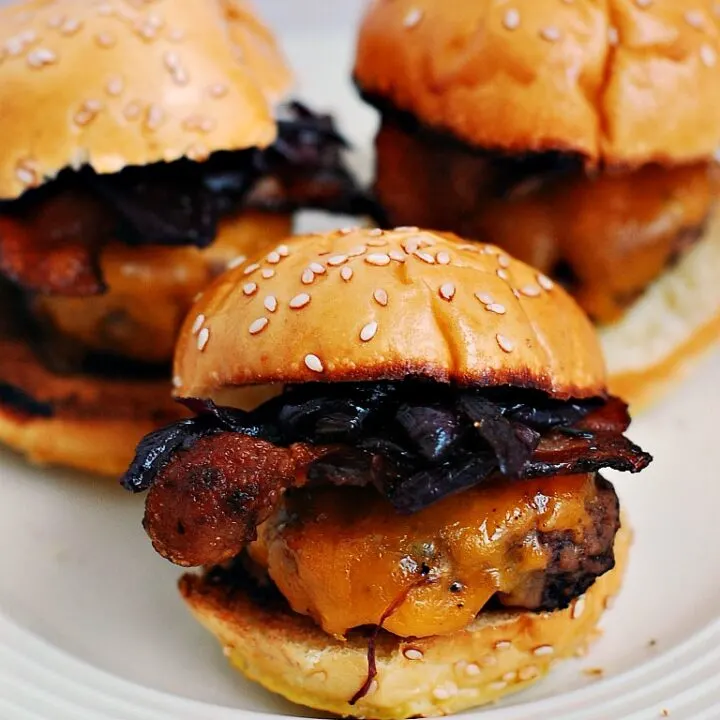 Bacon, Onion and Cheddar Sliders
Ingredients
2 slices small yellow onions, peeled and cut vertically into thin
1 tablespoon olive oil
1 tablespoon fresh rosemary, chopped
1 cup Gallo Family Vineyards Pinot Noir
2 lbs 80/10 ground beef
Salt and pepper
2 tablespoon Worcestershire sauce
6 slices cooked center cut bacon, cut in half
3 slices sharp Cheddar cheese
12 slider buns, toasted
Instructions
Heat the olive oil in a skillet over medium-low heat. Add the onions and rosemary and saute, stirring frequently, until softened but not browned, about 15 minutes.
Add the wine to the onions, and cook until the wine is almost completely absorbed, about 10 minutes.
Season the ground beef with salt and pepper, and add the Worcestershire sauce. Form into 12 patties, about 2.5 ounces each. Spray a skillet or a grill with non-stick spray, and cook sliders over medium-high heat for 4 to 6 minutes per side.
Cut each slice of Cheddar into 4 squares. Put one square on each slider and cover skillet or close grill until cheese melts.
Place on slider on each slider bun. Top with a half-slice of bacon, and some caramelized onions.
An original recipe by The Redhead Baker
To learn more about Gallo wines and find out why #SundaySupper is such great fans of their products, be sure to visit Gallo's social media sites: