Whole wheat apple spice mini muffins are a healthy, tasty treat, and the perfect size for little toddler mouths!
It's been a crazy couple of weeks. Going back to work, Ice Cream Week, getting back into a fitness routine ... I haven't had much time to bake, so Snack Share Wednesday has either been cut-up fruit, or something store-bought.
Things are starting to slow down again, so I'm finally getting back into the kitchen. The "summer session" of daycare is winding down, and transitions to new classrooms are beginning. Liam is moving up the "transitional preschool" room. He'll be 3 years old in just a couple of months! This age is both amazing and REALLY frustrating.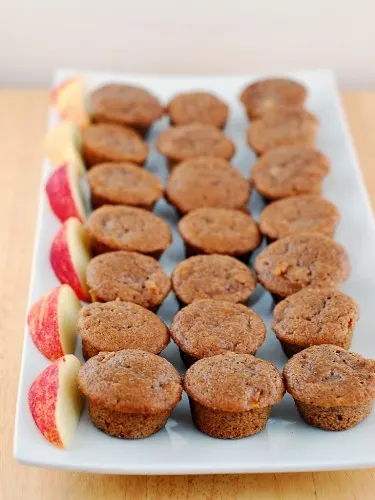 But more on Liam in another post. Today's healthy snack is whole wheat apple spice mini muffins. When searching for a recipe, I mistakenly thought these were dairy-free, but for some reason, nothing clicked in my brain that said, "Duh! Yogurt is dairy!" until I was measuring out the ingredients.
There are dairy-free yogurt options (ones made with coconut milk, or almond milk), so theoretically, you could substitute those for the Greek yogurt in this recipe. I say theoretically because I have not used these products myself, and I don't know how well they work in baked goods.
These little muffins come out so tender, moist, and flavorful. I let Liam taste one before sending the whole bag into daycare, and he loved it! Because they are so moist, they will spoil quickly if left out at room temperature, so I suggest freezing them, and defrosting muffins as needed.
If you don't have whole wheat pastry flour, you can substitute an equal amount of all-purpose flour, but then the muffins would no longer be whole wheat.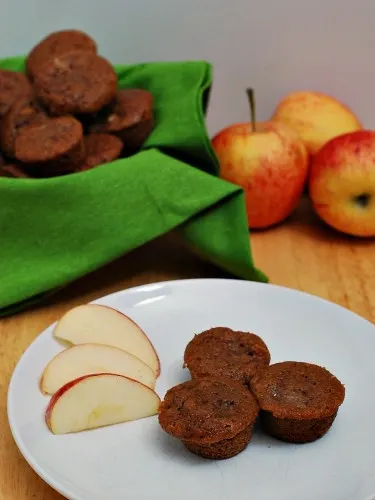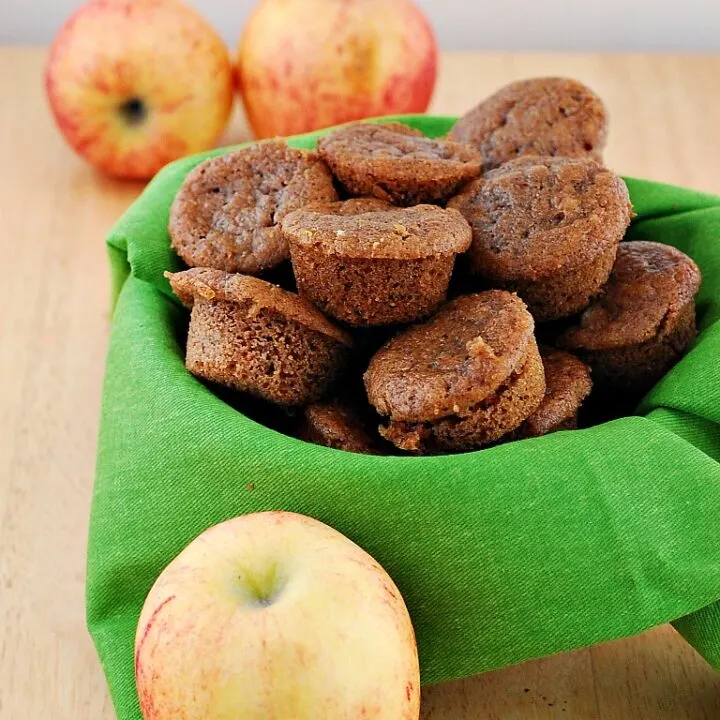 Whole Wheat Apple Spice Mini Muffins
Ingredients
1 ½ cups whole wheat pastry flour
1 teaspoon baking soda
¾ teaspoon ground cinnamon
½ teaspoon ground nutmeg
½ teaspoon ground ginger
¼ teaspoon salt
1 cup unsweetened applesauce
½ cup plain nonfat Greek-style yogurt
½ cup packed brown sugar
2 tablespoon canola oil
1 egg, beaten
1 Gala apple, cored and diced small
Instructions
Preheat your oven to 375 degrees. Coat three mini muffin tins well with cooking spray, or line with mini paper liners.
In a medium mixing bowl, stir together flour, baking soda, cinnamon, nutmeg, ginger and salt.
In a large mixing bowl, beat together the applesauce, Greek yogurt, brown sugar, canola oil and egg.
Pour the wet ingredients over the dry ingredients and stir just until combined. Fold in the apple pieces.
Spoon the muffin batter into the prepared muffin cups with a small cookie scoop, filling each well ¾ full.
Bake until a toothpick inserted in the center of the muffins comes out clean, 10 to 12 minutes.
Let muffins cool in the pan for 5 minutes, then remove from the pan by tapping the inverted pan sharply on the counter, and allow to cool completely before serving or storing.
Slightly adapted from Cookin' Canuck