Bring out a tray of these boozy strawberry shortcake dessert shooters at your next get-together and you'll be the hit of the party!
I love entertaining. From a sit-down dinner for four, to a party for 50, I love planning, decorating and cooking the food.
When planning a large party, I find that making trays of miniature foods and desserts is fun, presents well, and makes things easier on the guests.
For a long time, I had a second job working with a catering company, and all they did were trays of upscale food. They catered a lot of in-home parties for the upper-class (like the founder of a certain provider of home-delivered weight loss meals), and part of my job was plating the trays.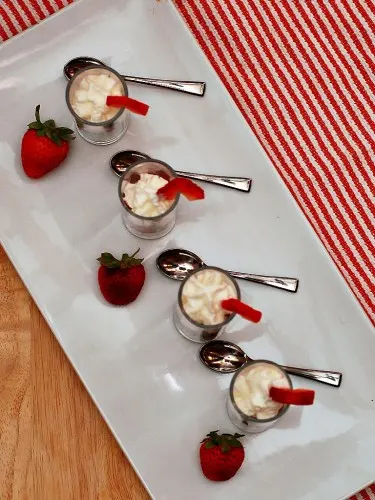 These strawberry shortcake shooters are kicked up a notch by using strawberries mascerated in sugar and red wine. Instead of shortcakes, I used crumbled shortbread cookies, both for the added flavor, and crunchy texture.
The strawberries can mascerate for several hours, but don't assemble the shortcake shooters any earlier than an hour ahead of serving time. If you prepare them any earlier, you run the risk of the strawberry/wine liquid turning the shortbread cookies into mush.
You may want to make up MANY more of these than you think you'll need, because there is no way you'll be able to eat just one!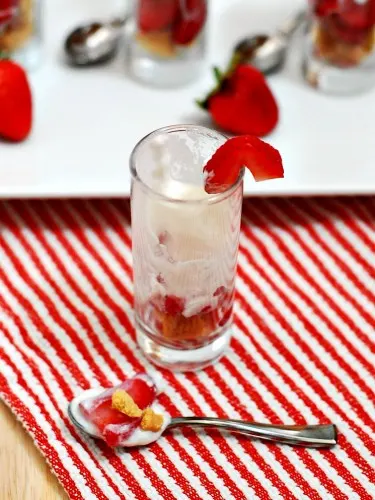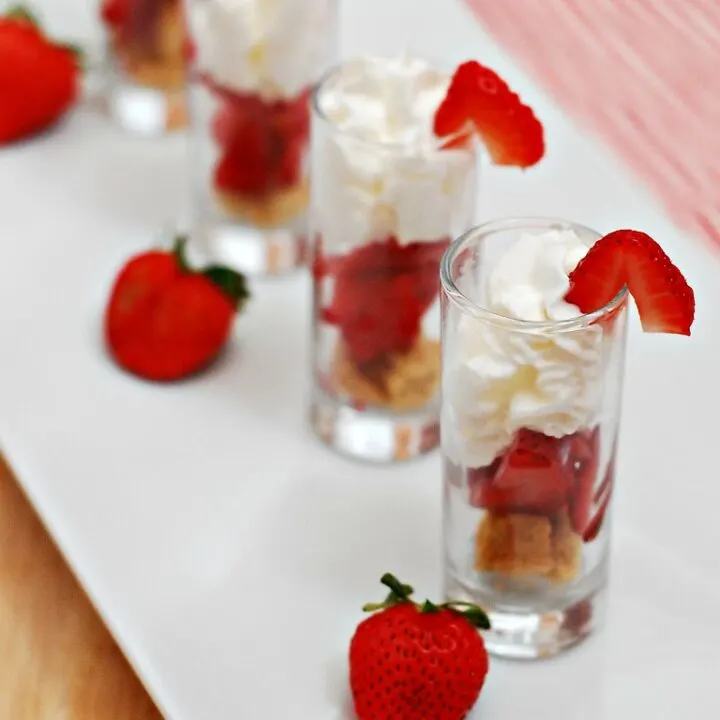 Strawberry Shortcake Dessert Shooters
Ingredients
6 large strawberries, hulled and sliced
1 tablespoon sugar
¼ cup red wine
4 shortbread cookies, broken into chunks
Whipped cream
6 small strawberries, halved, for garnish
Instructions
Place the sliced strawberries in a non-reactive bowl. Sprinkle with sugar and toss to coat. Pour the red wine over the strawberries. Set the bowl aside for at least 30 minutes.
Divide the shortbread chunks among 12 shot glasses. Divide the strawberries among the shot glasses, then top each with whipped cream. Garnish each with a small strawberry half, and refrigerate for up to an hour if not serving immediately.
A Redhead Baker original recipe
Don't forget to check out the other #SundaySupper recipes:
Savory Bites:
Sweet Treats: