A fall staple becomes an easy Halloween treat! Cauldron Caramel Apples take caramel-dipped apples to a new level with black caramel, and topped with green candy coating and sprinkles to make them look like a witch's bubbling cauldron.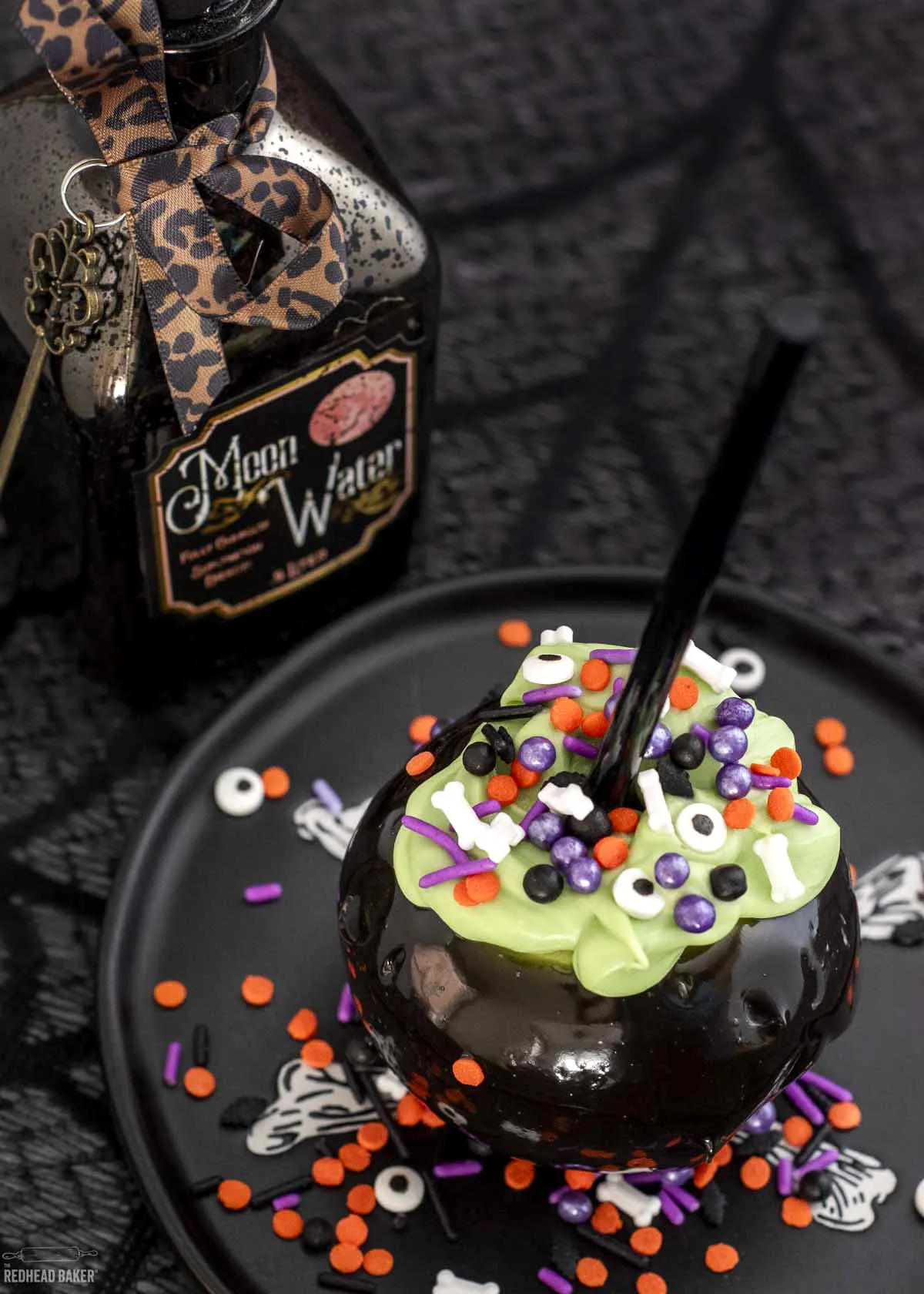 Caramel apples are one of my favorite fall treats. In this tutorial, I give them the Halloween treatment for a quick and easy Halloween treat.
Need another reason to make these? October is both Apple Month and Caramel Month! Not surprising, since the two flavors pair so well together, like in muffins, crumb cake and of course, pie.
Jump to:
Ingredients
First and foremost, you're going to need apples. I use Granny Smith because I like how the tartness contrasts with the sweet caramel. But any variety of apple will work; just pick one you like eating on its own.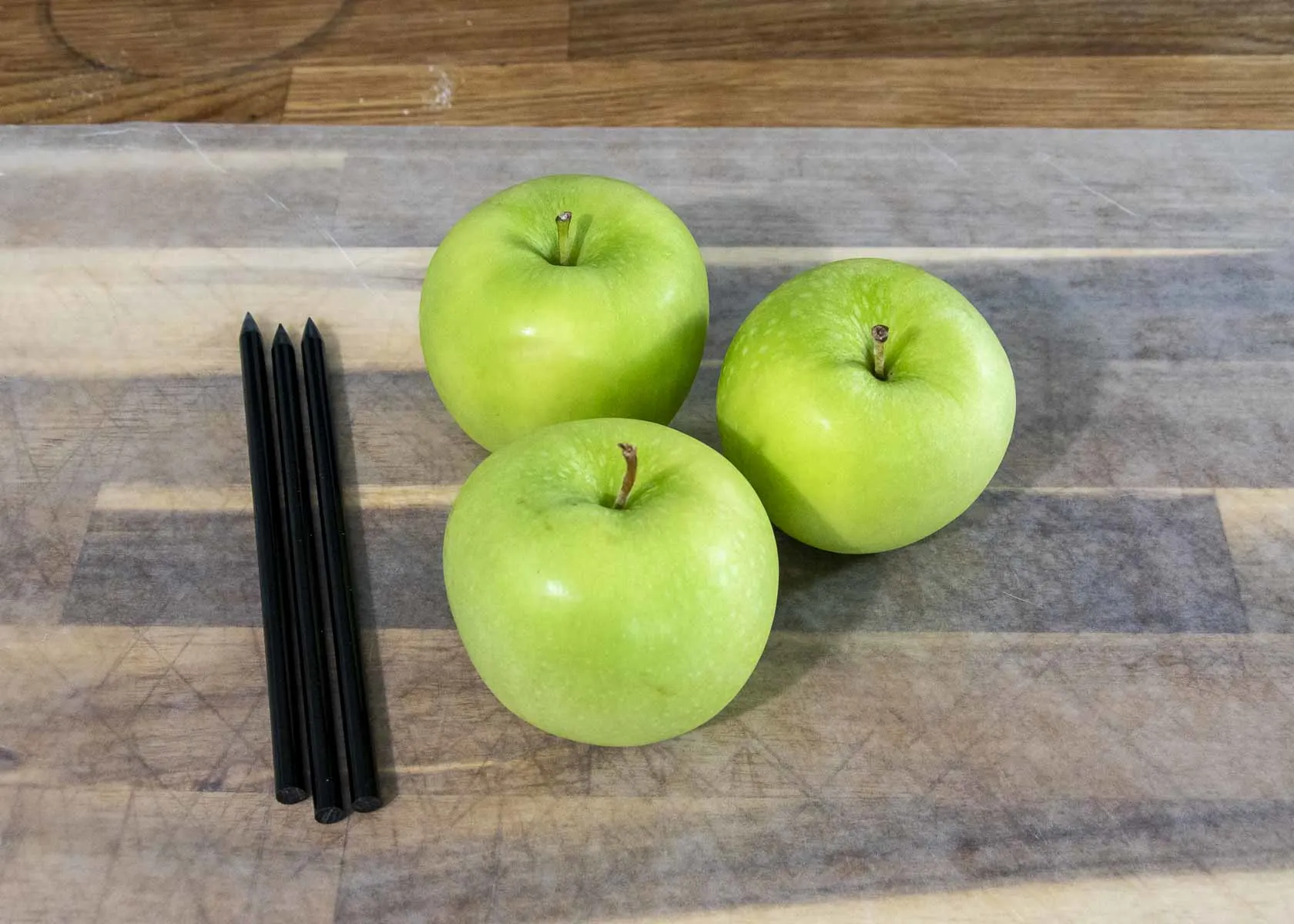 When making candy or caramel apples, I use organic apples because they are less waxy. Conventional apples are sprayed with wax so that they keep longer. Organic apples may have their natural wax (most apple varieties naturally produce a waxy coating), but most of it wipes off by the time you buy them from the store, and washing the apples removes any remaining coating.
Candy or caramel would slide off of the waxed apple, so washing and thoroughly drying the apples before dipping is an essential step.
Other ingredients you'll need are:
Caramel: you can make your own (make sure it's thick enough to coat and stick to the apples), melt down caramel candies, or use a container of the pre-made dipping caramel sold near the apples in the grocery store.
Black gel food dye: for coloring the caramel black to create the "cauldron" portion
Green candy coating wafers: you'll melt these to pipe onto the top of the apples as the "bubbling contents" of the cauldron
Sprinkles: Use your favorite Halloween sprinkle mix. I used a blend of Halloween colors (orange, purple and black), as well as sugar bones and candy eyes.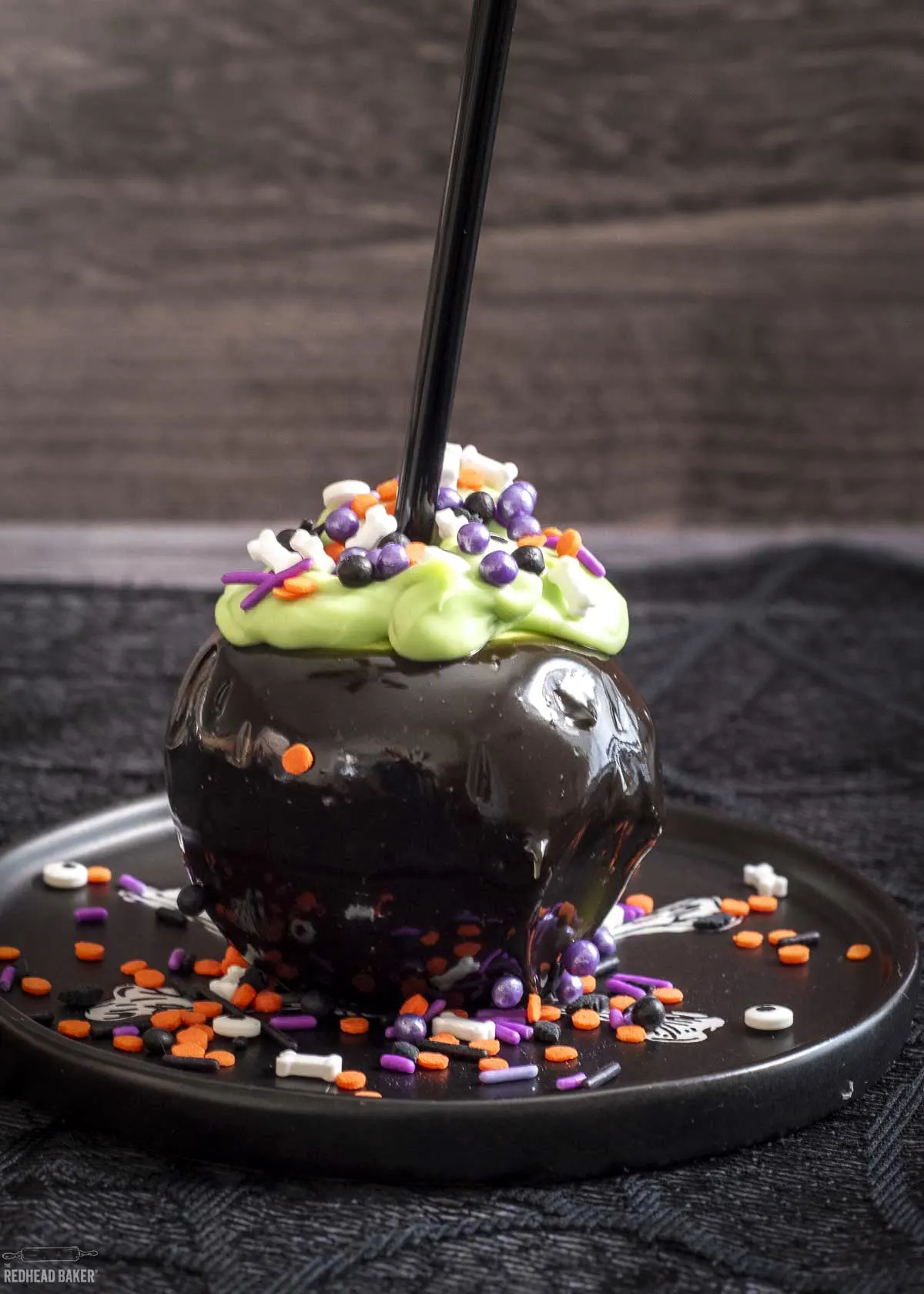 Instructions
As mentioned above, thoroughly wash and dry the apples to remove any remaining waxy coating.
Warm the caramel until it's easy to stir. Add a drop or two of black gel food dye, and stir until evenly mixed. If it's not dark enough, add another drop or two at a time and stir until it reaches the color you want.
Poke the skewers into the apples, dip the apples into the caramel and let sit so the caramel can thicken.
Pipe the green candy coating onto the top of the apple, and while still wet, add the sprinkles. Repeat with the remaining apples.
Store the cauldron candy apples in the refrigerator until ready to serve, and store any leftovers in the refrigerator as well.
Equipment
I used black acrylic sticks. The color is versatile, and the sticks can be cleaned and re-used over and over.
I warmed the caramel in a glass 2-cup measure. If you're making a larger quantity of apples, you may want to use a 4-cup measure.
I piped on the green candy coating with a piping bag, but no decorating tip, because I wanted a random, messy pile at the top to better mimic a bubbling cauldron.
Share something here that you think is key to making this recipe well, such as: Don't overcook the burgers! Sear the outside and cook to a minimum internal temperature, but they should still be juicy for best results.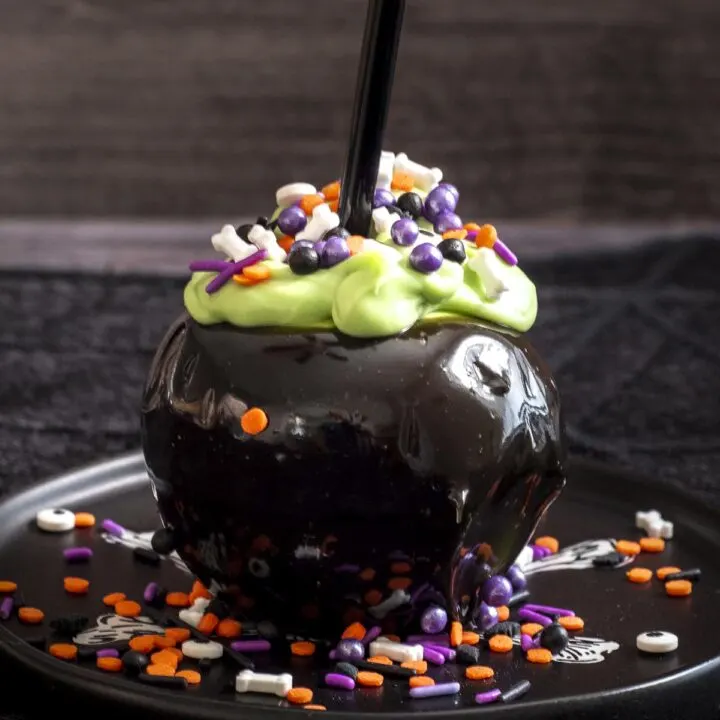 Bubbling Cauldron Caramel Apples
A fall staple becomes an easy Halloween treat! Cauldron Caramel Apples take caramel-dipped apples to a new level with black caramel, and topped with green candy coating and sprinkles to make them look like a witch's bubbling cauldron.
Ingredients
6 wood or acrylic skewers
6 Granny Smith apples, washed and dried
12 oz caramel sauce
Black gel food dye
12 oz green candy coating wafers
Halloween sprinkles
Instructions
Poke the skewers into the center of each apple.
Warm the caramel and stir until smooth.
Add one or two drops of black food dye to the caramel, and stir until evenly incorporated. Add additional dye one or two drops at a time, stirring after adding, until desired color is achieved.
Dip the apples into the caramel. Set on wax paper.
Melt the green candy coating wafers over a double boiler or in the microwave.
Fill a piping bag with the melted candy coating, and snip off the tip of the bag.
Pile green candy coating onto the top of each apple. While the candy coating is still wet, add sprinkles. Set aside until candy coating sets.
Refrigerate until ready to serve. Store leftovers in the refrigerator.
Recommended Products
As an Amazon Associate and member of other affiliate programs, I earn a small percentage from qualifying purchases.
Nutrition Information:
Yield:

6
Serving Size:

1 caramel apple
Amount Per Serving:
Calories:

263
Total Fat:

1g
Saturated Fat:

0g
Trans Fat:

0g
Unsaturated Fat:

1g
Cholesterol:

0mg
Sodium:

129mg
Carbohydrates:

63g
Fiber:

3g
Sugar:

46g
Protein:

1g
I am not a certified nutritionist. This nutrition information is automatically calculated by third party software and is meant as a guideline only.
#HalloweenTreatsWeek
HAPPY HALLOWEEN!!!
Welcome to 2023's #HalloweenTreatsWeek event!
If you're new here, Welcome! If you're a returning haunt, welcome back!
#HalloweenTreatsWeek is a yearly Halloween blogging event that is hosted by Angie from Big Bear's Wife . You'll find that this fun and spooky event is an online, week-long event that is filled with some frightfully fun Halloween treats and recipes from some fantastic Halloween loving bloggers!
For this year's 6th annual #HalloweenTreatsWeek event, we have 18 hauntingly talented bloggers that are sharing their favorite Halloween recipes throughout the week! You can following the hashtag #HalloweenTreatsWeek on social media to collect all of these frightful recipes to use at your own Halloween parties and events!
Make sure to check out all of the fun Halloween recipes that we're sharing this week!
Today's Halloween Offerings: