Pumpkin spice brioche rolls are rich and full of spiced pumpkin flavor. They're a delicious side for Thanksgiving, or any fall meal.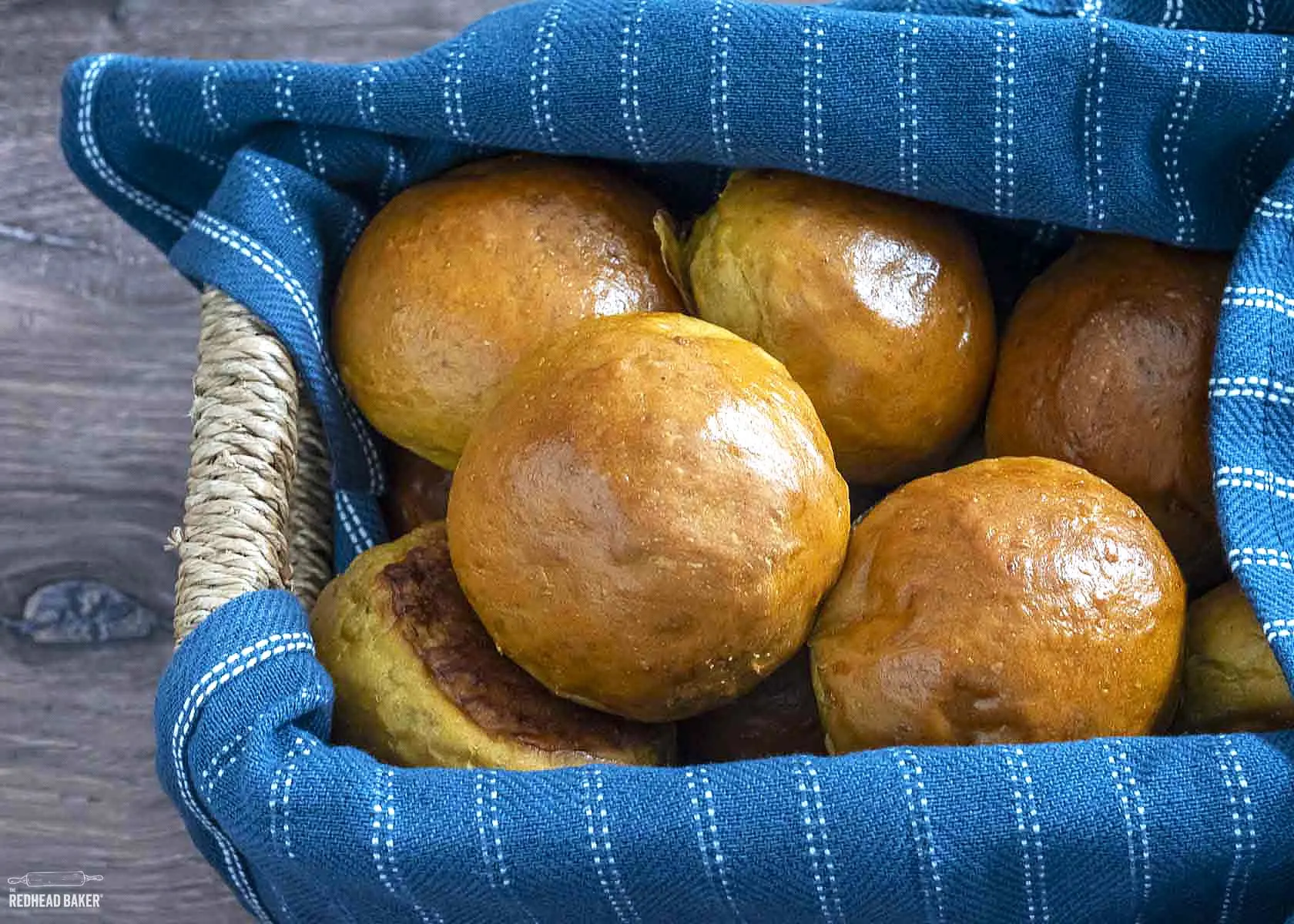 What is brioche? It's a yeast bread enriched with eggs and butter. It's similar to challah, but even richer, because it contains more fat.
If you're new to making bread, read my bread-making 101 post, and try a simple yeast bread first. Because of the high butter content of this bread, it can be a little more difficult to work with.
On the other hand, it uses instant yeast, so there's no need to worry about the water temperature being too cold or too hot at the beginning of the recipe.
Jump to:
Ingredients
This recipe does have a fair amount of ingredients, but believe me, the end result is worth it!
The recipe uses instant yeast, which is very easy to work with, because it can be mixed right in to the rest of the ingredients without needing to be activated in warm water first.
The other ingredients are:
All-purpose flour. The recipe calls for 4 cups of flour, but depending on the climate where you're making these, or even whether it's dry or humid the day you make them, you may need up to a half-cup extra. I strongly recommend weighing your flour rather than measuring by volume.
Brown sugar is food for the yeast. As the yeast feeds on the sugar, it produces carbon dioxide, which causes the dough to rise.
Milk adds moisture and richness (I highly recommend using whole or reduced fat milk; definitely not skim)
Unsalted butter
Pumpkin purée (not canned pumpkin pie filling)
Large eggs. The size of egg you use can affect your recipe, especially when you need multiple eggs.
Kosher salt. If you only have table salt, reduce the amount to 1 ½ teaspoons.
Pumpkin pie spice, a mixture of cinnamon, ginger, nutmeg, cloves and sometimes allspice.
See recipe card for quantities.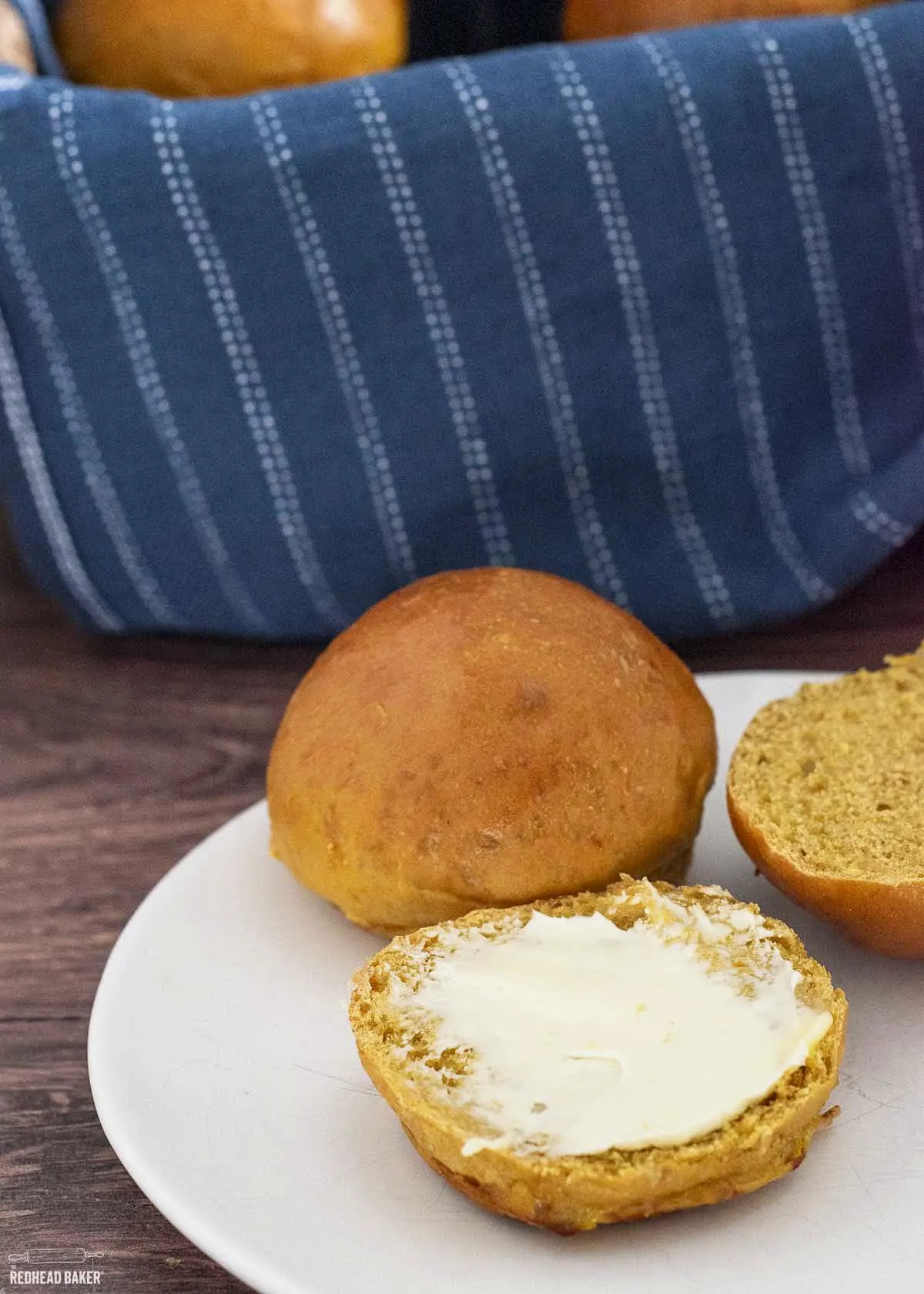 Instructions
There are no complicated techniques in this recipe. Just pack your patience, because between kneading and resting, this recipe takes a few hours.
The stand mixer and dough hook do the work of kneading the bread. Kneading by hand instead can take double the time of kneading with a mixer and dough hook. If it takes 20 minutes for the stand mixer to knead, it could take you 40 minutes by hand. My arms hurt just thinking about that.
If it's getting late and you'd rather bake them the next day, you can cover the bowl and do the first rest overnight in the refrigerator. But take it out first thing in the morning, so it doesn't overproof.
Or you can proceed with the recipe, which calls for an hour of rest. Then, it's time to divide and shape the rolls. Then they sit for a final proof (the term for the last rest before baking).
If you want a shiny finish like you'd get on a pastry from a professional bakery, give your rolls an egg wash before baking. That's when you beat an egg with a tablespoonful of water, and gently (don't want to deflate the bread!) brush it onto the bread just before baking.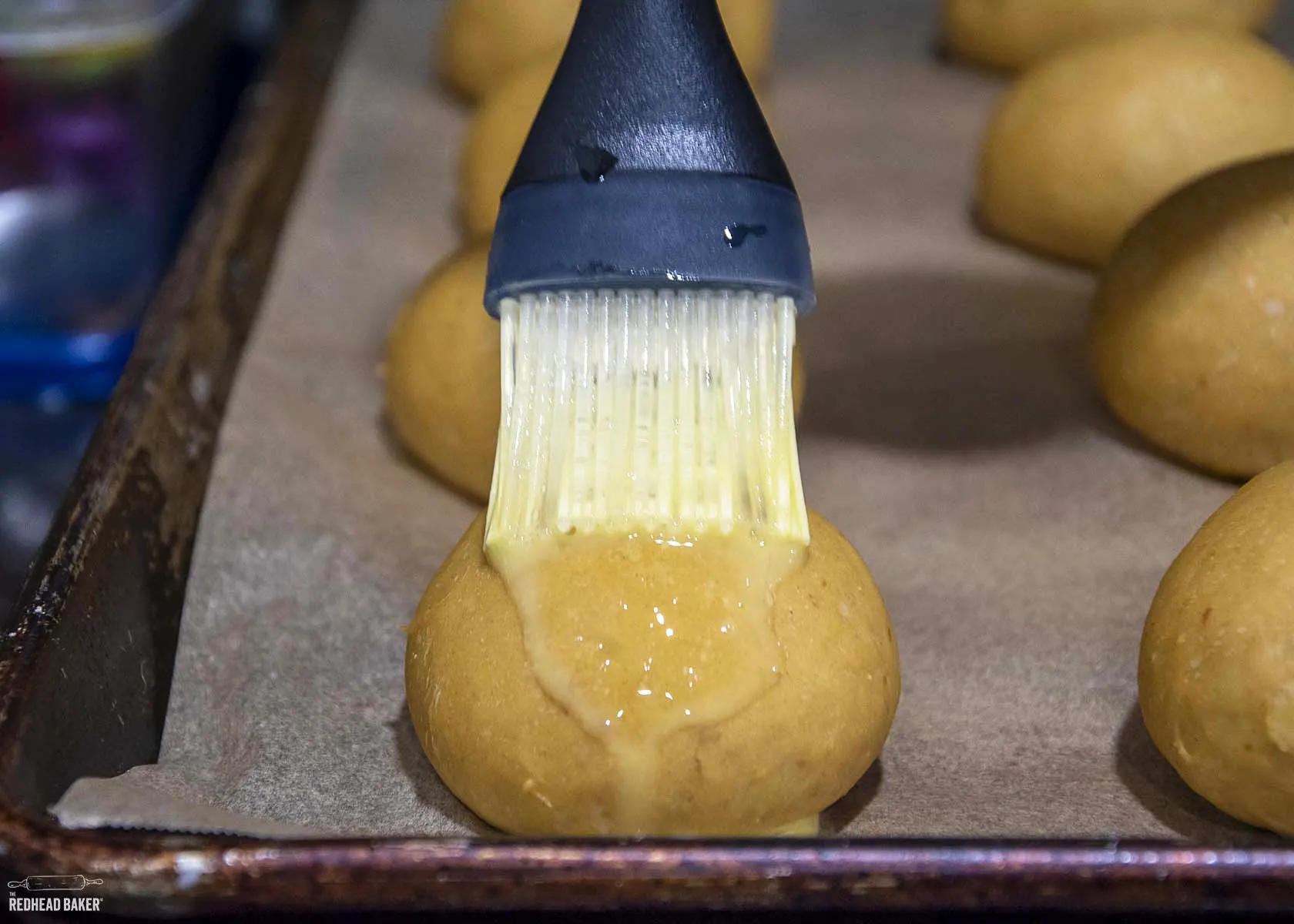 Equipment
I use a KitchenAid stand mixer with a dough hook to make the dough. It is possible to make the dough by hand; you'll need to knead by hand at least double the amount of time called for the in the recipe.
I use a bowl scraper to remove the dough from the bowl, and to lift and shape it into a long rectangle and to help with the letter fold.
I use a bench scraper to cut the dough into pieces for rolls, and I use an OXO kitchen scale to measure the pieces to ensure they are roughly the same size.
I use a silicone pastry brush for applying the egg wash.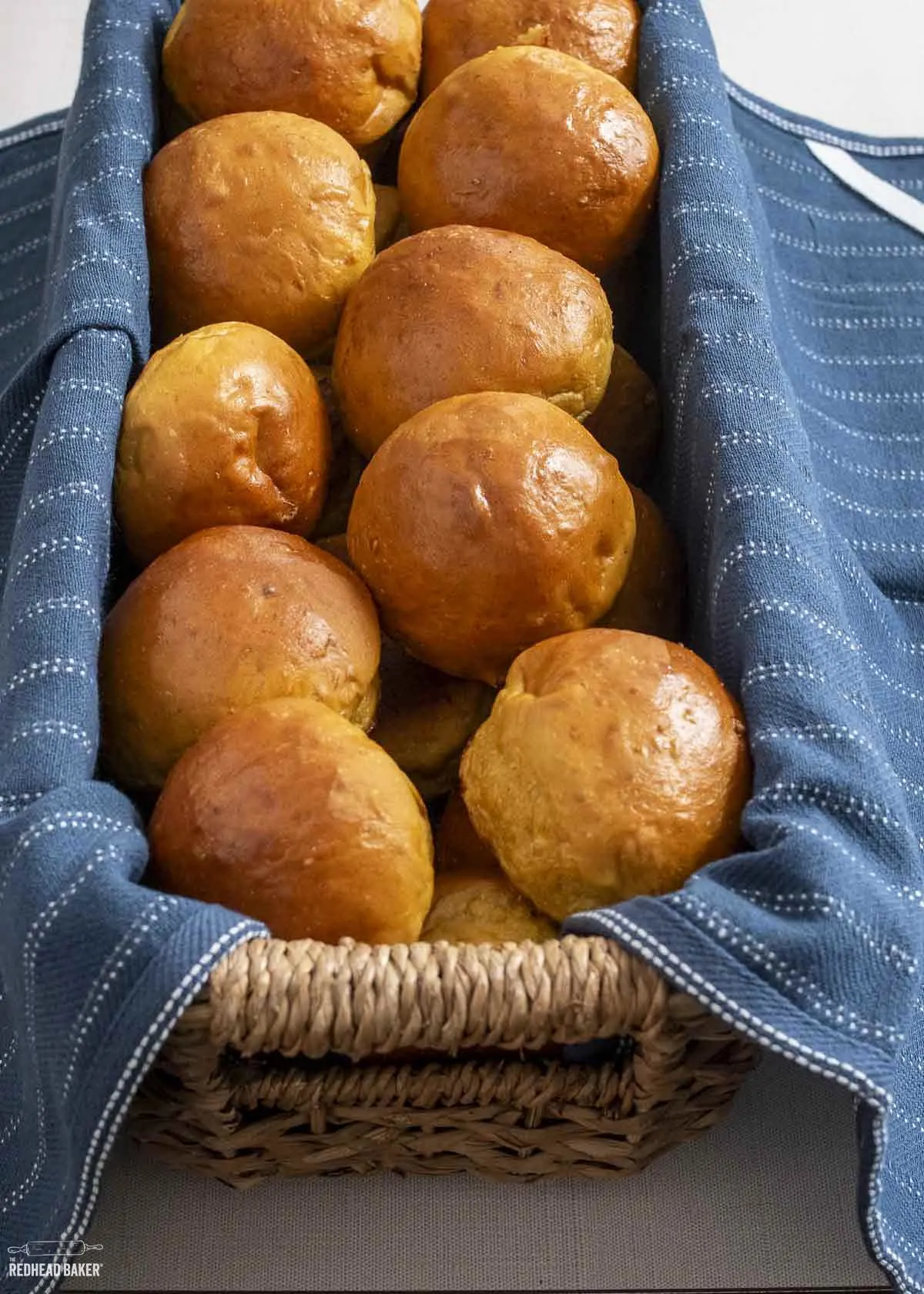 Storage
You can store your pumpkin spice brioche rolls in a plastic bag at room temperature for up to five days. Be sure to remove as much air as possible from the bag to preserve freshness.
You can also freeze the rolls in a freezer-grade zip-top bag for up to 2 months.
Top tip
The colder the brioche dough (and the butter in it) is, the easier it is to work with. However, cold butter won't incorporate into the dough! What's the secret? Make sure the other ingredients are cold. Cold eggs. Cold pumpkin. Even cold flour.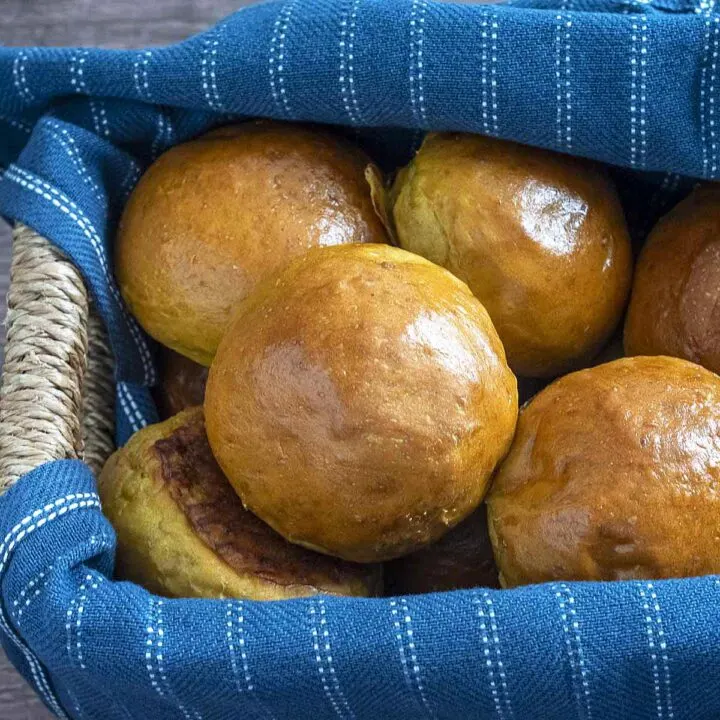 Pumpkin Spice Brioche Rolls
Total Time:
2 hours
45 minutes
Pumpkin spice brioche rolls are rich and full of spiced pumpkin flavor. They're a delicious side for Thanksgiving, or any fall meal.
Ingredients
For the dough
2 ¼ teaspoons instant yeast
¼ cup (2 oz/53 g) light or dark brown sugar, packed
½ cup (4 fl oz/118 mL) milk, lukewarm
4 tablespoons (2 oz/57 g) butter, slightly softened
2 teaspoons (.5 oz/12 g) salt
2 teaspoons pumpkin pie spice (see note)
2 large eggs
¾ cup (6 oz/170 g) pumpkin purée
4 cups (17 oz/480 g) all-purpose flour
For the egg wash
1 large egg
1 tablespoon water
Instructions
Weigh your flour into the bowl of a stand mixer (or measure it by gently spooning it into a cup, then sweeping off any excess). Add the yeast, brown sugar, milk, salt, pumpkin pie spice, eggs, and pumpkin to the bowl. Mix on medium-low speed with a paddle attachment just until not even fully combined–you should still see streaks of flour.
Switch to the dough hook and add the butter to the bowl. Knead on medium speed until the dough forms a ball and pulls away from the sides of the bowl. Be patient, this could take as long as 20 minutes. If it's still not pulling away from the sides of the bowl, knead in an additional tablespoonful of flour and knead a little more. If it still doesn't, add another tablespoonful of flour and knead a little more, repeating as necessary until it does.
Place the dough in a lightly greased bowl, and cover with a kitchen towel. Allow it to rise for 60 to 75 minutes, until it is puffy but not necessarily doubled in size.
Gently deflate the dough, and transfer it to a lightly greased work surface.
Divide the dough into 24 equal pieces. Round each piece into a smooth ball.
Line two baking sheets with parchment paper; space 12 rolls on each pan.
Let the rolls rise until puffy, though they probably won't touch one another. Towards the end of the rising time, preheat the oven to 350°F.
Beat the egg with the tablespoon of water to make the egg wash. Gently brush the egg wash onto the rolls with a silicone patsry brush. Bake the rolls for about 25 to 30 minutes until golden brown, tenting them with foil for the final 5 to 10 minutes of baking if they appear to be browning too quickly. A digital thermometer inserted into the middle of a center roll should register at least 190°F.
Remove the rolls from the oven, and let cool on the pan for a few minutes, then transfer the rolls onto a cooling rack to cool completely.
Store completely cooled rolls, well-wrapped, at room temperature for several days; freeze for longer storage.
To serve the rolls warm, arrange them on a baking sheet (you can place all on one sheet pan, or only just as many as you want to warm up). Place in a cold oven and set the oven temperature to 350 degrees. When the oven beeps that the preheat is finished, remove the warmed rolls from the oven and serve. If your oven is already on from cooking something else, warm the rolls in the 350 degree oven for 5 to 7 minutes.
Notes
If you don't have pumpkin pie spice, substitute 1 ¼ teaspoons cinnamon, ½ teaspoon cloves, and ½ teaspoon ginger.
Recommended Products
As an Amazon Associate and member of other affiliate programs, I earn a small percentage from qualifying purchases.
Nutrition Information:
Yield:

24
Serving Size:

1 roll
Amount Per Serving:
Calories:

87
Total Fat:

1g
Saturated Fat:

0g
Trans Fat:

0g
Unsaturated Fat:

0g
Cholesterol:

23mg
Sodium:

10mg
Carbohydrates:

16g
Fiber:

1g
Sugar:

0g
Protein:

3g
I am not a certified nutritionist. This nutrition information is automatically calculated by third party software and is meant as a guideline only.
#PumpkinWeek
Pumpkin season is here, and we are celebrating our love of pumpkin with #PumpkinWeek hosted by Christie from A Kitchen Hoor's Adventures. All week-long 11 bloggers will be sharing over 30 pumpkin-filled recipes for all your Autumn celebrations, including breakfasts, baked goods, savory pumpkin recipes, desserts, and drinks.
More #PumpkinWeek Recipes Below: