This easy white whole wheat sandwich bread has all of the nutritional benefits of traditional whole wheat, but has a lighter flavor.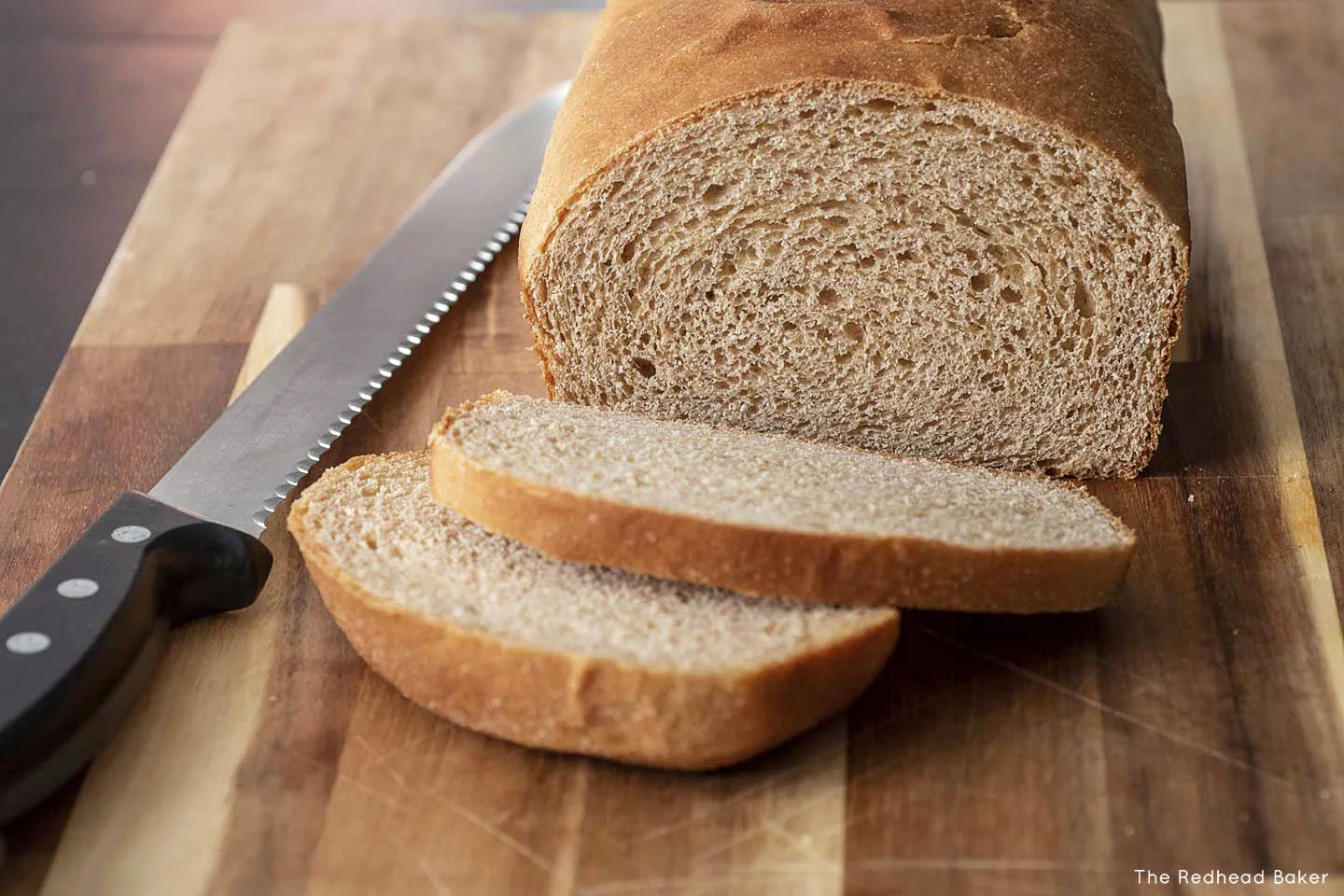 Now that we are home pretty much 24/7, we go through a lot of bread. Sandwiches for lunch, grilled cheese for dinner (a frequent choice when the 8-year-old doesn't want to eat what I've made for dinner).
And even now, 8 months after we started working and schooling from home, bread can still be hard to find. Or at least, bread that we like. We eat whole wheat, and I try to stick with brands that don't use high fructose corn syrup. You might think, "Just buy the stuff with corn syrup!" but it's so easy to make better bread at home!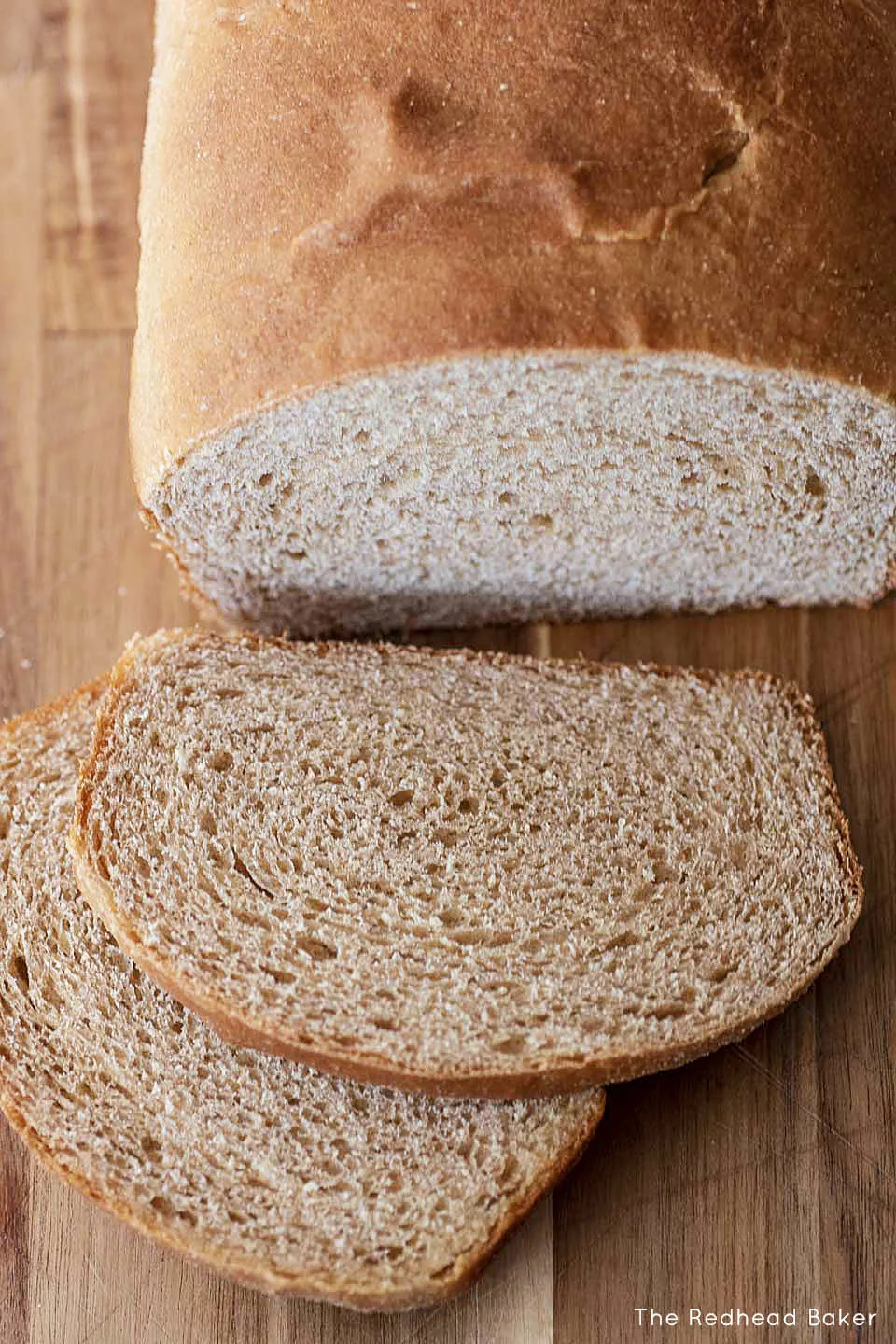 If you have a stand mixer with a dough hook, that does all of the kneading for you. And there's no complicated shaping techniques. What you get is soft, delicious whole wheat sandwich bread.
What is white whole wheat flour?
I made this bread with white whole wheat flour. This type of flour is made from a softer winter wheat, so it's lighter in color and milder in flavor than traditional whole wheat flour, which is made with a hard red wheat. But nutritionally, white whole wheat flour is the same as whole wheat flour.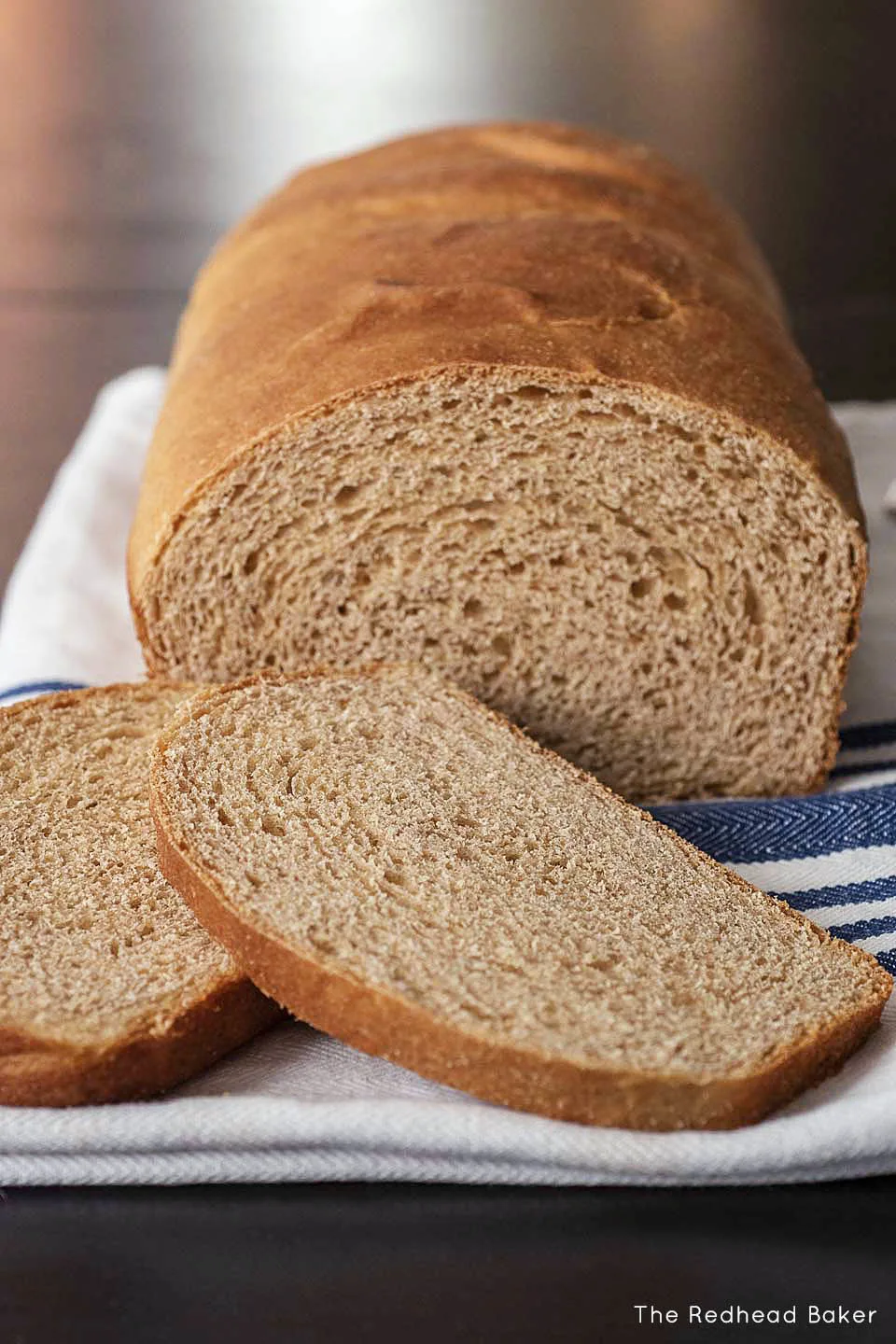 White whole wheat flour (affiliate link) can be harder to find in grocery stores than regular whole wheat flour, but the good news is that you can substitute an equal amount of whole wheat flour without needing to adjust any of the other ingredients. You will just get a darker, traditional-tasting whole wheat sandwich bread.
The other ingredients are water, yeast, honey, canola oil, kosher salt and vital wheat gluten. Vital wheat gluten (affiliate link) is another ingredient that can be hard to find in regular grocery stores. It's like a super-charged flour that's all gluten and very little starch. It's very powdery, and helps keep the bread's texture soft. If you can't find it though, you can omit it without affecting the bread too much.
Can I double this recipe?
If you have two loaf pans, this recipe can be doubled to make two loaves. If you don't need to use both right away, you can wrap the second one tightly in two layers of plastic wrap and freeze it for three to six months.
How do I store my bread?
If you have a small plastic bag, similar to the ones that store-bought loaves come in, you can place your bread in that, and use a twist tie to close it. If I know I'm going to bake bread, I have, on occasion, grabbed an extra produce bag at the grocery store when picking fruit.
If you don't have a plastic bag, however, you can tightly wrap your bread in plastic wrap or tinfoil. Whether you use a bag, plastic wrap or foil, the bread can be stored at room temperature.
If you want to go to the ecofriendy, non-plastic route, you can try a reusable beeswax bread wrapper (affiliate link).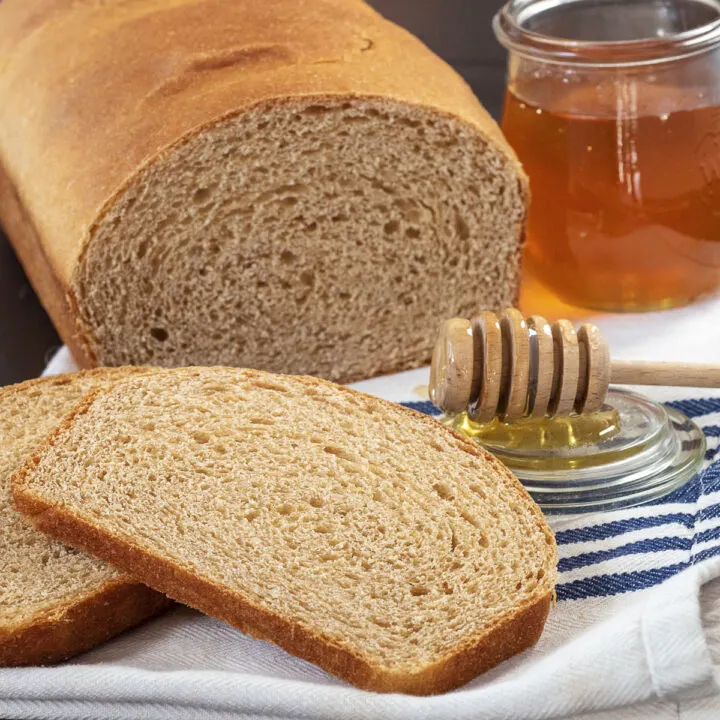 Soft White Whole Wheat Sandwich Bread
Rising Time:
1 hour
30 minutes
Total Time:
2 hours
20 minutes
This easy white whole wheat sandwich bread has all of the nutritional benefits of traditional whole wheat, but has a lighter flavor.
Ingredients
3 cups (12 oz/340 grams) white whole wheat flour plus more as needed
1 ¼ cups (296 ml) warm water (between 105-110 degrees F)
2 ¼ teaspoon (.25 oz/7 grams) instant yeast
2 ¼ teaspoon (.25 oz/7 grams) vital wheat gluten
3 tablespoon (44 ml) honey
3 tablespoon (44 ml) canola oil
1 ¼ teaspoon (.25 oz/7 grams) kosher salt
Instructions
In the bowl of a stand mixer, combine 1 cup of the flour, the yeast and the water. Whisk until all of the ingredients are hydrated. Set aside for 20 minutes.
Add the remaining flour, the vital wheat gluten, honey, canola oil, and kosher salt to the mixing bowl.
Place the bowl on the stand mixer fitted with the dough hook attachment and knead on low speed for 4 minutes.
Increase the speed to medium-high and knead for about 6 minutes, until the the dough forms a ball around the hook and cleans the sides of the bowl. Add a tablespoonful or two more flour to the dough if it seems too sticky.
Spray another mixing bowl with nonstick spray. Remove the dough from the stand mixer bowl, and form into a ball. Place in the mixing bowl and mist the top of the dough with nonstick spray. Cover with plastic wrap and set aside to rise for 45 minutes.
Spray a 9x5 loaf pan with nonstick spray. After the dough has risen, punch down the dough to remove the air bubbles. On a surface lightly dusted with flour, stretch the dough into a long oval. Roll the dough up, pinching the seam to keep the roll closed. Place the dough, seam-side down, in the prepared pan. Place in a warm area to proof for 45 minutes.
Ten minutes before the proofing time is up, start preheating your oven to 350 degrees F.
Bake the loaf for 30 minutes, until baked through and golden brown on top.
Cool the loaf completely on a wire rack.
Cut the loaf with a serrated bread knife, and store any unused bread at room temperature in an airtight plastic bag or wrap tightly in plastic wrap.
Notes
You can substitute an equal amount of traditional 100% whole wheat flour for the white whole wheat flour.
Recommended Products
As an Amazon Associate and member of other affiliate programs, I earn a small percentage from qualifying purchases.
Nutrition Information:
Yield:

16
Serving Size:

1
Amount Per Serving:
Calories:

190
Total Fat:

4g
Saturated Fat:

0g
Trans Fat:

0g
Unsaturated Fat:

3g
Cholesterol:

0mg
Sodium:

47mg
Carbohydrates:

35g
Fiber:

6g
Sugar:

0g
Protein:

7g
I am not a certified nutritionist. This nutrition information is automatically calculated by third party software and is meant as a guideline only.
Check out these yeast bread recipes, too: