This decadent chocolate layer cake is rich, tender, moist perfection! It's filled and frosted with fudgy chocolate frosting.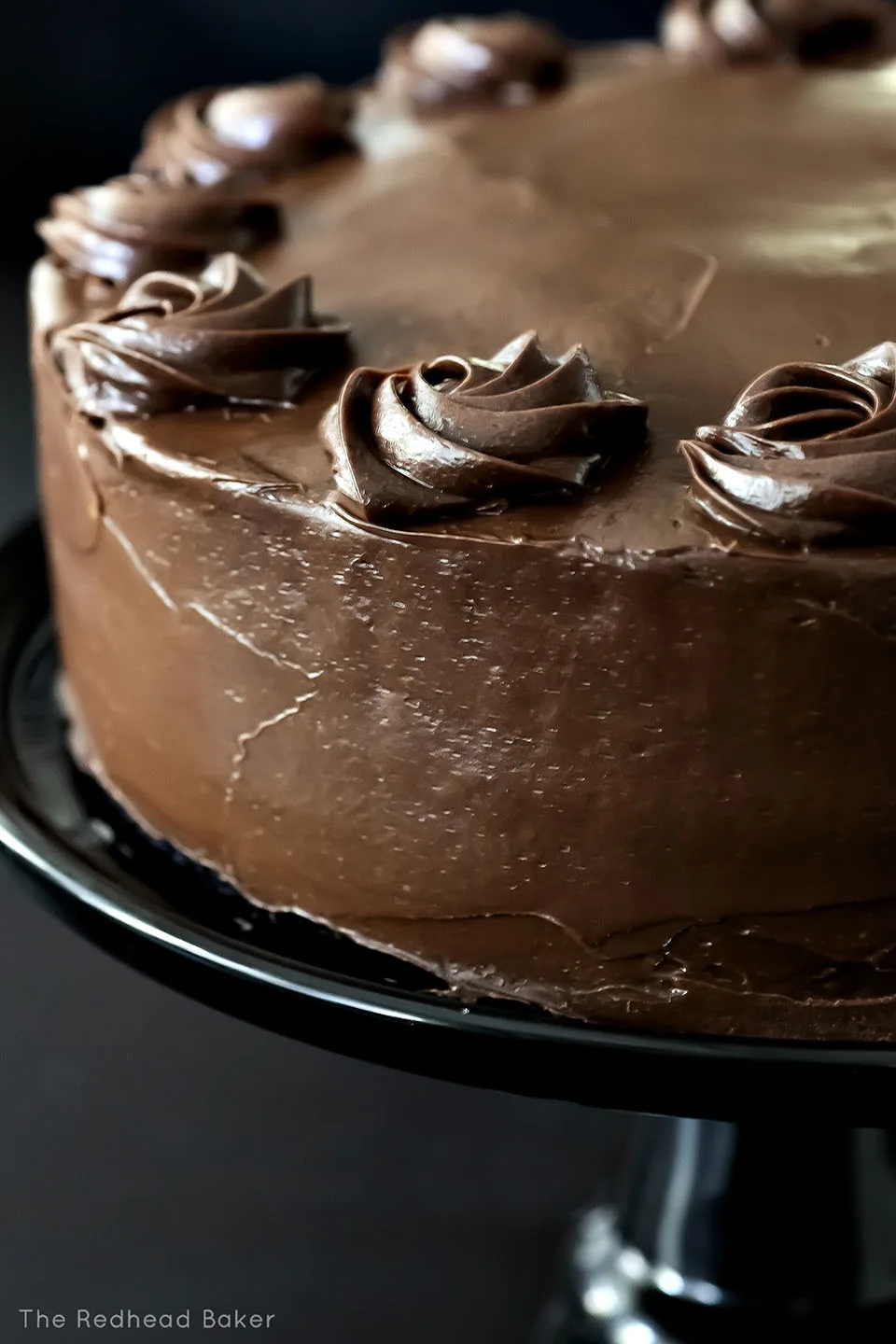 It's the final day of Choctoberfest! It's the final day to enter to win a KitchenAid mixer. Scroll down to the bottom of the post to enter.
I'm sharing one of my all-time favorite chocolate desserts: this decadent chocolate layer cake. I've never made another chocolate cake recipe after I discovered this one over ten years ago.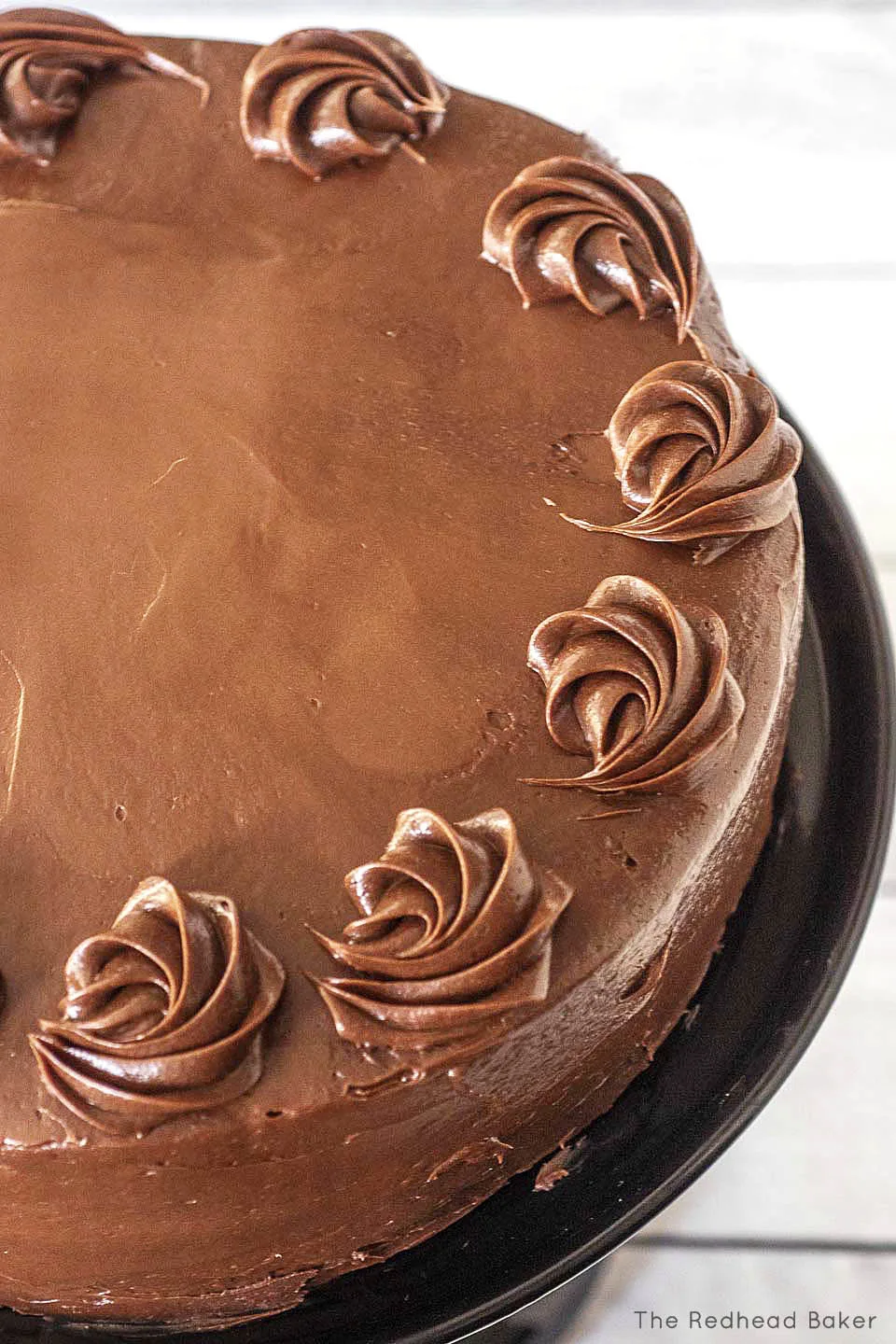 I was working as a pastry chef a large-scale bakery in the suburbs of Philadelphia. The bakery didn't have a store-front. They supplied desserts to local restaurants and hotels, and made the occasional wedding cake.
That meant that just about every batch of batter I was making yielded dozens of cakes. The ingredients were measured in double-digit pounds. "Scraping the bowl" meant rolling up your sleeves and getting elbow-deep in cake batter.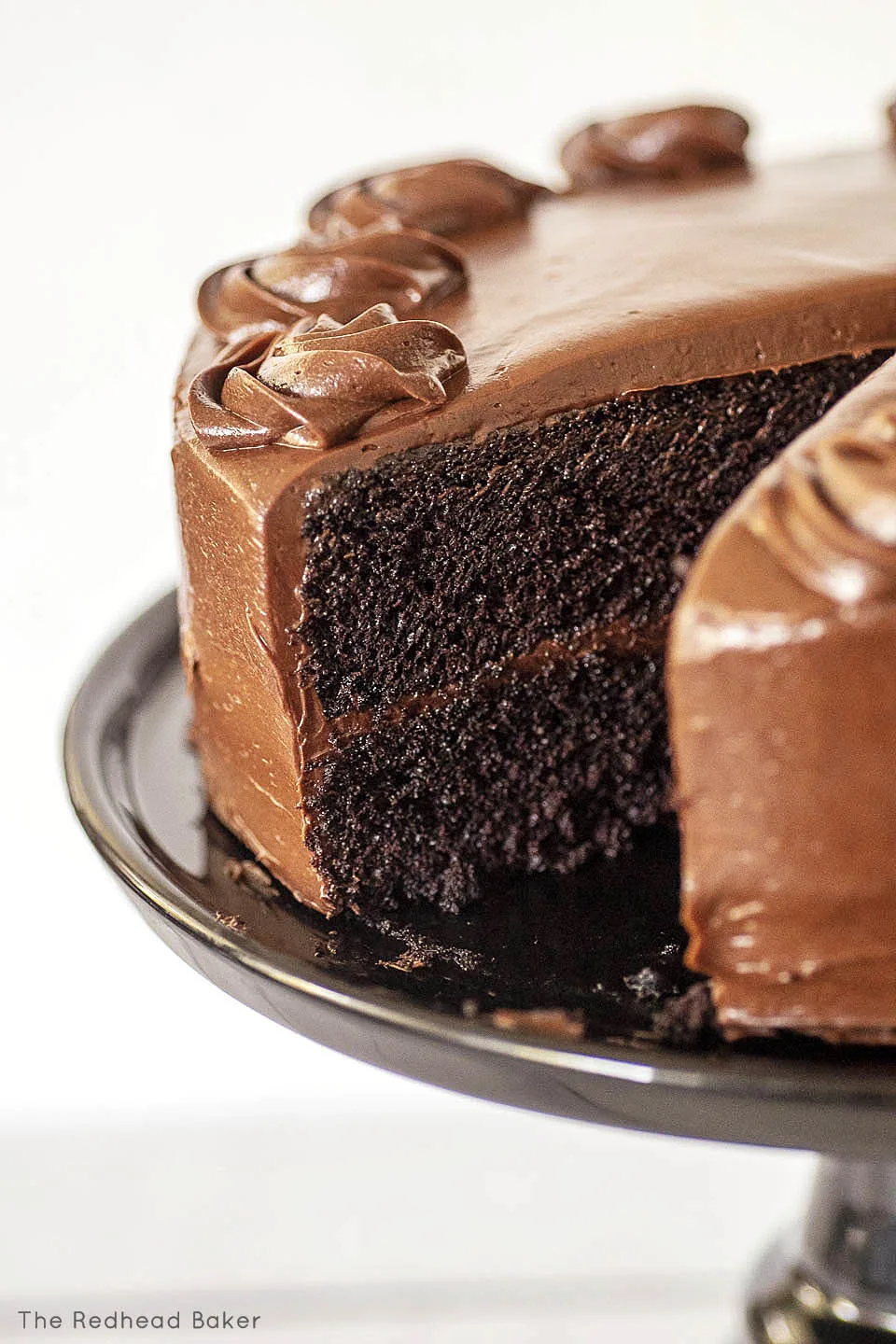 Generally, scaling a recipe up to double it or down to halve it, especially cookies, is simple and straightforward. Cakes can be a bit trickier, especially when scaling up to make 40 cakes at once, or scaling down a large-batch recipe to make only 1 cake, so it took a bit of perfecting before I was ready to share this with people making cakes at home.
The batter for this cake is very wet. Many chocolate cakes taste dry, because not only does the flour absorb moisture, but so does the cocoa powder. In addition, people tend to over-bake chocolate cakes. Unlike vanilla cakes, you can't get a good sense of doneness through color in a chocolate cake.
Because it is so wet, it's very likely to stick to the cake pan, so it's important to thoroughly spray with nonstick spray, use parchment rounds (instructions for making your own are included in the recipe notes) and spray the parchment with nonstick spray.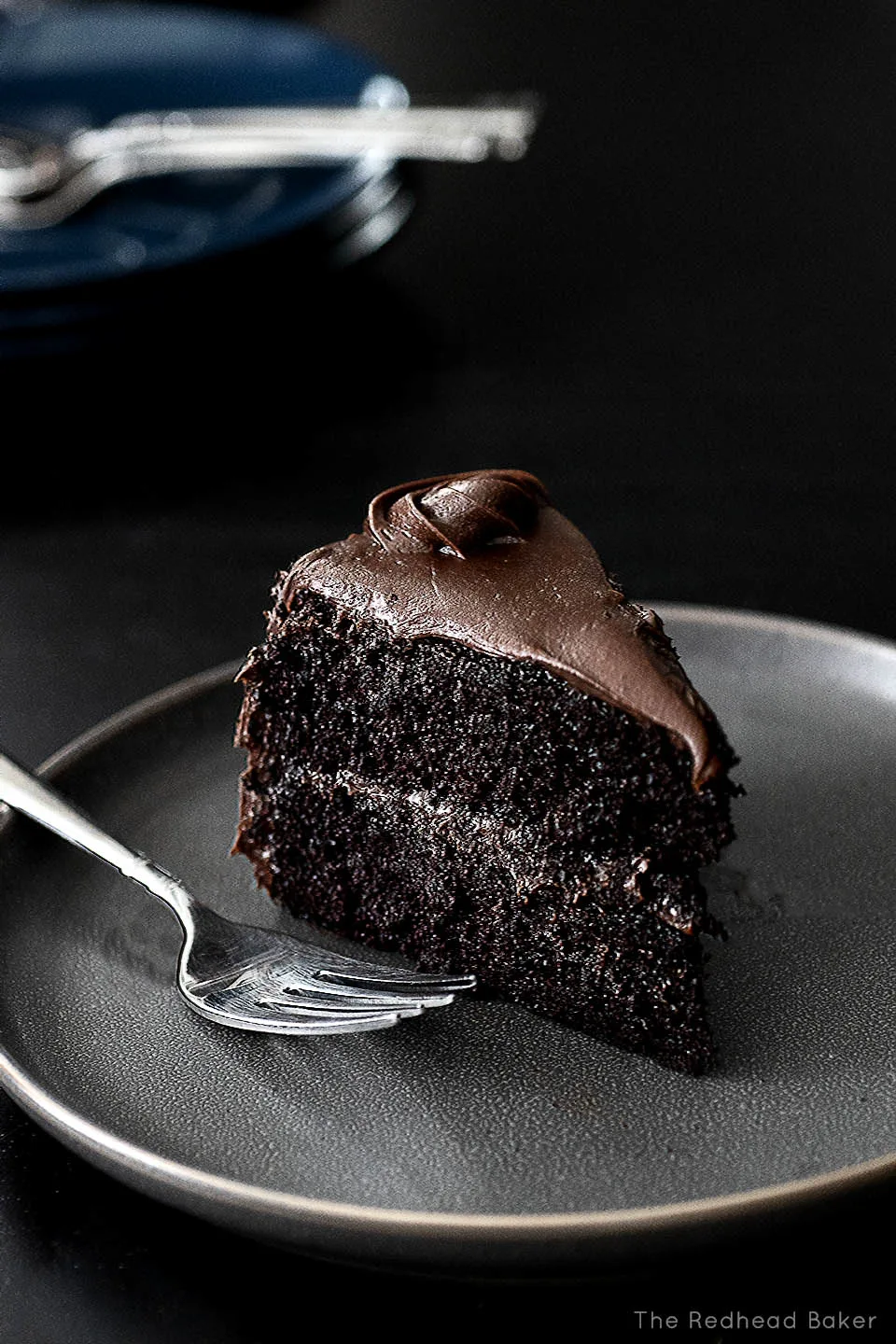 Now, if you've seen other cakes I've shared, you'll know I'm a huge fan of Swiss meringue buttercream. But with this cake, I like to frost it with a fudgy chocolate frosting. Swiss meringue buttercream can only take about 4 ounces of melted chocolate before it becomes too stiff, and that's not enough chocolate flavor for this cake.
That being said, this frosting is much softer, and doesn't hold up as well to piping decorations. That's why I added simple, slightly flat rosettes rather than the tall swirls you'd normally see me add.
Because this cake is so tender, I highly recommend baking it, cooling it, and then chilling it overnight before leveling and frosting. Trying to level this cake while it's warm will just shred it. Use a serrated knife to level the cake, using a gentle sawing motion.
This cake will serve 12 with generous slices, but it's very rich, so small slices will still satisfy, and you could get up to 16 slices out of the cake. To store this cake, I chill it for about 30 minutes to firm up the frosting, then cover the cake loosely with plastic wrap, and return it to the refrigerator.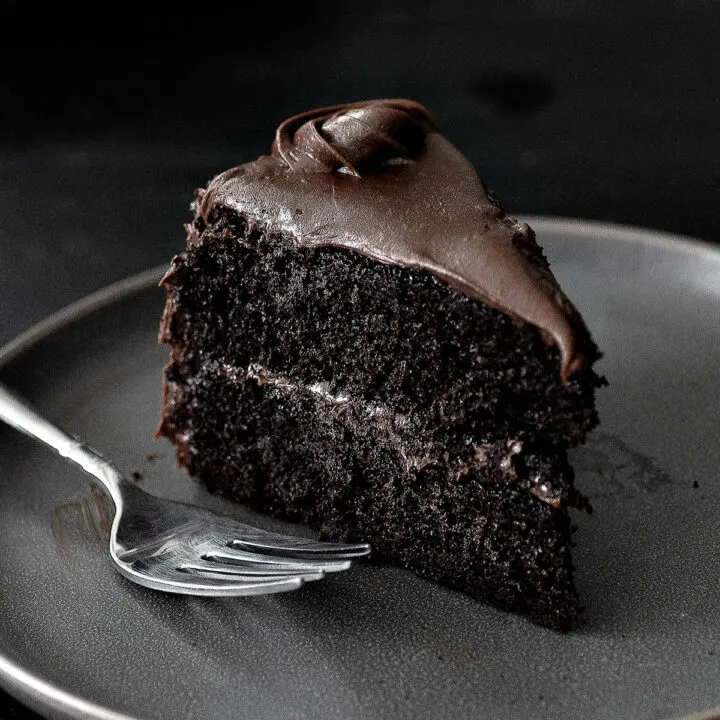 Chocolate Layer Cake with Fudgy Chocolate Frosting
Total Time:
2 hours
5 minutes
This decadent chocolate layer cake is rich, tender, moist perfection! It's filled and frosted with fudgy chocolate frosting. 
Ingredients
For the cake
2 ¼ cups (9 ½ oz/269 grams) all-purpose flour
2 cups + 2 tablespoon (15 oz/425 grams) sugar
1 cup + 2 tablespoon (3 ½ oz/99 grams) unsweetened cocoa
1 tablespoon (½ oz/14 grams) baking soda
½ teaspoon salt
2 large eggs
1 cup water
1 cup strongly-brewed coffee
½ cup vegetable oil
1 ¼ teaspoon pure vanilla extract
For the frosting
2 cups (14 oz/397 grams) sugar
1 cup (3 oz/85 grams) unsweetened cocoa powder
1 cup whole milk
½ cup (4 oz/113 grams) unsalted butter, cut into pieces
¼ cup light corn syrup
¼ teaspoon salt
2 teaspoon vanilla
2 ½ to 3 cups (10 to 12 oz/283 to 340 grams) confectioners sugar
Instructions
Preheat the oven to 325 degrees. Spray two 9-inch cake pans with nonstick spray. Line with parchment circles, then spray the circles with nonstick spray.
Combine the flour, sugar, baking cocoa, baking soda, and salt in the bowl of a stand mixer.
In a large measuring cup, combine the water and coffee.
Add the eggs, oil, vanilla, and half of the water/coffee mixture to the dry ingredients. Mix just until combined.
Add the remaining water/coffee mixture and mix until incorporated, then beat on medium-high speed for 3 minutes. The batter will be very wet and loose.
Divide the batter between the two cake pans, and bake for 40 to 45 minutes, until a cake tester or toothpick inserted in the center of the cake comes out clean.
Cool the cakes in the pan for 10 minutes, then carefully remove from the pan and cool on wire racks until room temperature.
Make the frosting: In a large saucepan, mix the sugar and cocoa. Stir in the milk, cubes of butter, corn syrup and salt. Heat over medium-high heat to boiling, stirring frequently. Cook at a boil for 3 minutes, stirring occasionally. Remove the saucepan from the heat, and cool for 1 hour.
Add the vanilla and 2 cups of the powdered sugar. Beat until incorporated. Add more powdered sugar, ¼ cupful at a time, and beating until you reach a spreadable consistency.
Level the cakes by cutting any domed tops off the cakes. Place one layer of cake on a cake stand or serving plate, and spread about half a cupful of frosting over the cake. Place the second layer on top. Spread the sides and top of the cake with a very thin layer of frosting. Refrigerate for 20 minutes.
Spread a thicker layer of frosting on the top and sides of the cake, and smooth with an offset spatula. If desired, pipe a few rosettes on the top of the cake.
Notes
This is a very wet, loose batter that sticks very easily to the cake pans, so do not skip using the parchment circles. To create your own, trace the outline of the cake pan on parchment with a Sharpie marker, then cut inside the traced line.
Recommended Products
As an Amazon Associate and member of other affiliate programs, I earn a small percentage from qualifying purchases.
Nutrition Information:
Yield:

12
Serving Size:

1
Amount Per Serving:
Calories:

240
Total Fat:

11g
Saturated Fat:

2g
Trans Fat:

0g
Unsaturated Fat:

9g
Cholesterol:

34mg
Sodium:

177mg
Carbohydrates:

30g
Fiber:

1g
Sugar:

11g
Protein:

4g
I am not a certified nutritionist. This nutrition information is automatically calculated by third party software and is meant as a guideline only.
a Rafflecopter giveaway