This classic chocolate ice cream is rich, ultra-creamy, and ultra-chocolatey. Enjoy on its own, or add your favorite mix-ins.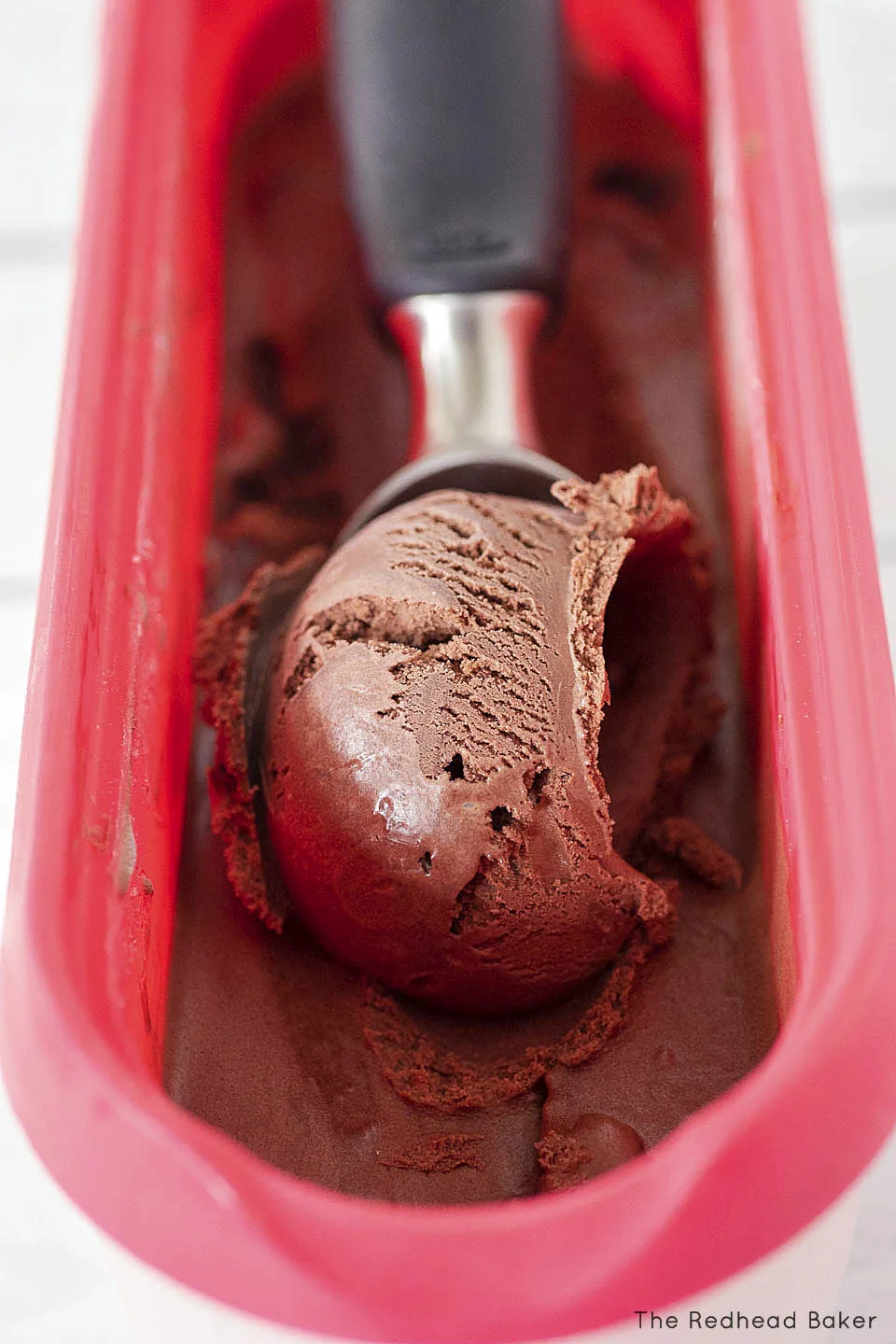 I have been a chocoholic for my entire life, since my grandmother gave me a taste of chocolate when I was two weeks old. Hey, times were different back in 19...., well we won't go there.
Chocolate ice cream has always been my most favorite chocolate dessert. The simplest desserts, when made well, are just amazing.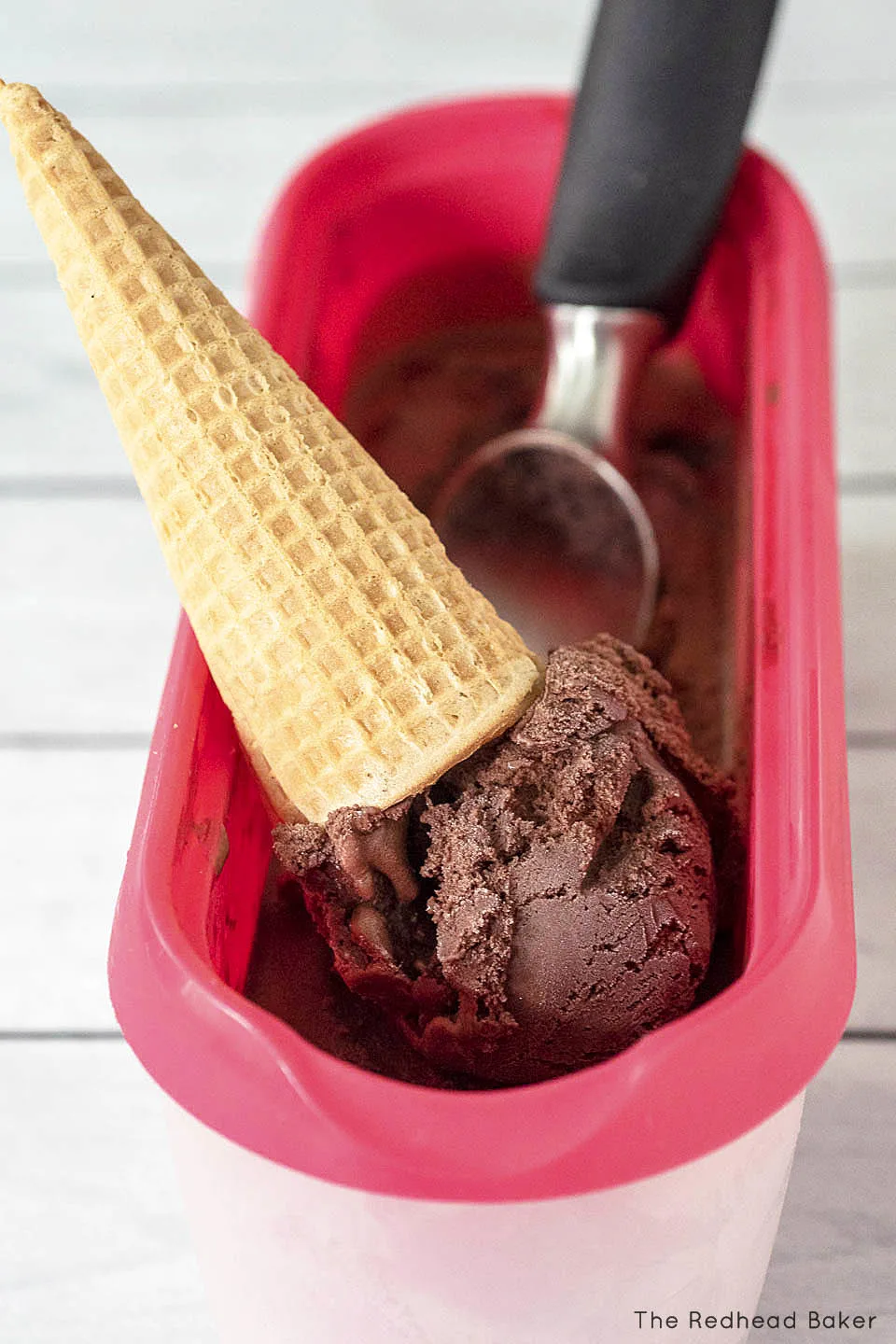 What are the ingredients?
This chocolate ice cream needs just six ingredients. Because there are so few, that means you should use the highest-quality ingredients you can find, and that you can afford. There are no other flavors to mask the quality of poor ingredients.
What you're doing with the ingredients is making a custard, where a dairy mixture is thickened with eggs. The dairy mixture is first heated to dissolve the cocoa powder. A portion of the heated dairy is mixed with the yolks to heat them up, but not cook them.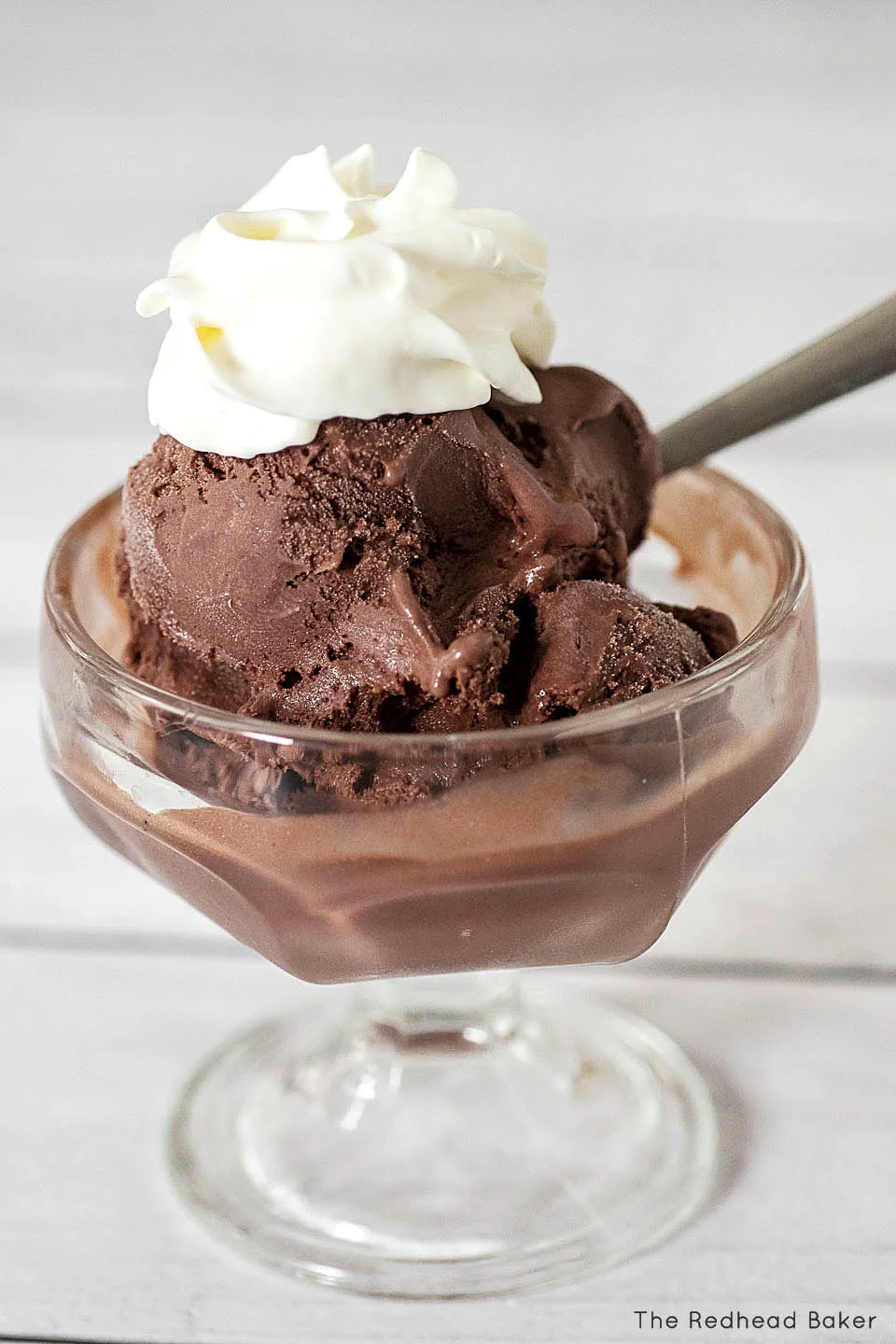 How do I know my custard is done?
The French have a term for the desired custard texture: nappe (pronounced "na-PAY"). What does it look like? Take a wooden spoon and dip it in the custard. Swipe your hand across the back of the spoon. Does the liquid run into the empty area where you swiped? You have not yet reached nappe. If the liquid does not run into the empty area, you've reached the desired thickness.
If you're cooking with a thermometer (affiliate link), the temperature at which nappe occurs is 170 degrees F. If you go too far over this temperature, you don't need to start over. Just pass your custard through a fine-mesh sieve (affiliate link) to remove any scrambled egg proteins.
You can use either regular unsweetened cocoa powder or Dutch cocoa powder in this recipe. Since it's not being baked, you don't need to worry about adjusting baking powder or baking soda. Dutch cocoa will give you a richer chocolate flavor, but you don't need to make a special trip to the store if all you have on-hand is regular cocoa powder.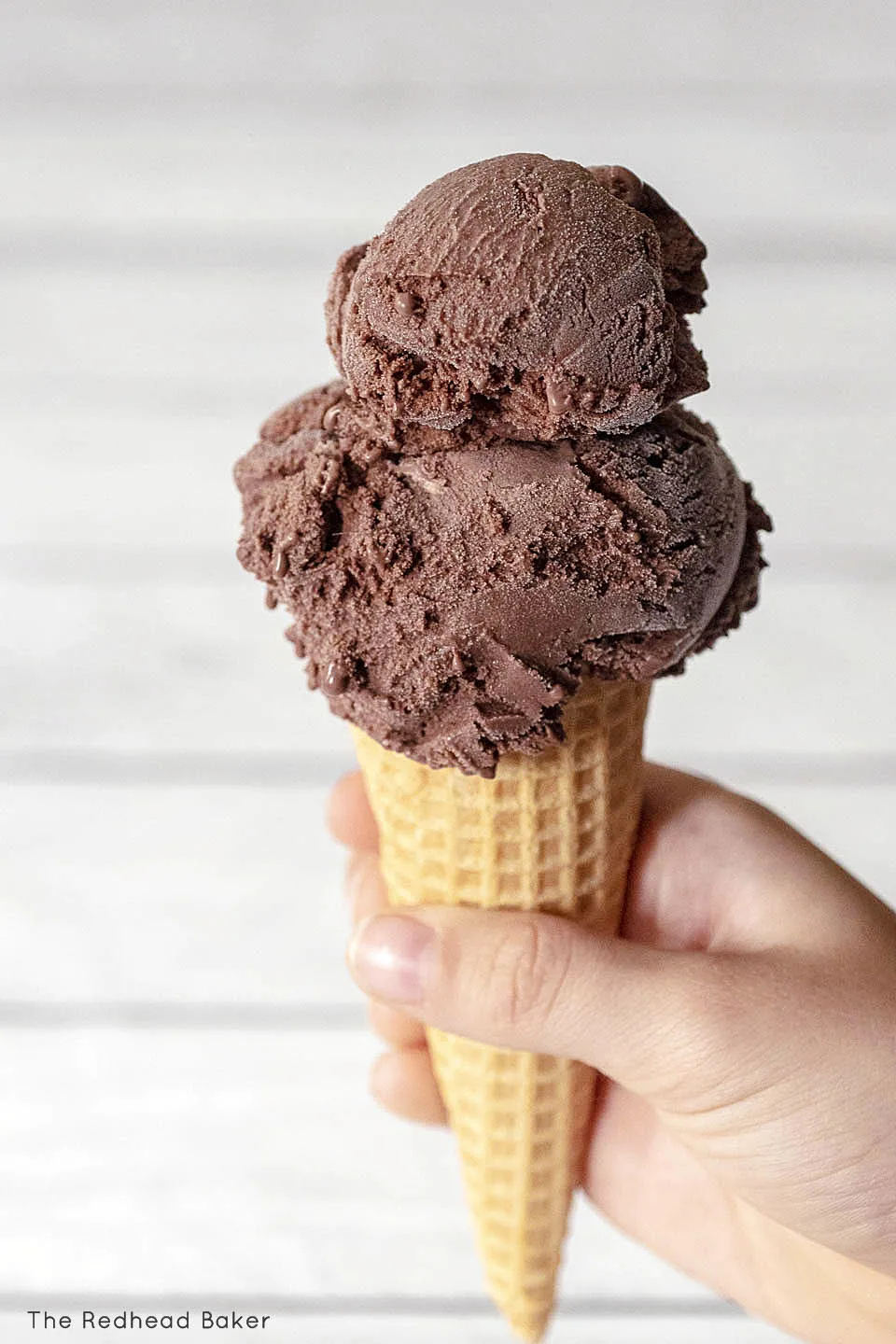 This chocolate ice cream also makes a great starting point for mix-ins! Some options include bits of edible cookie dough, peanut butter, marshmallow creme, fruit ... whatever flavors you love to eat with chocolate! Simply add them to the ice cream churner during the last five minutes of churning.
Don't forget that this is #Choctoberfest, and you can enter to win a KitchenAid mixer! Use the entry widget under the recipe, and click through to check out other bloggers' chocolate recipes.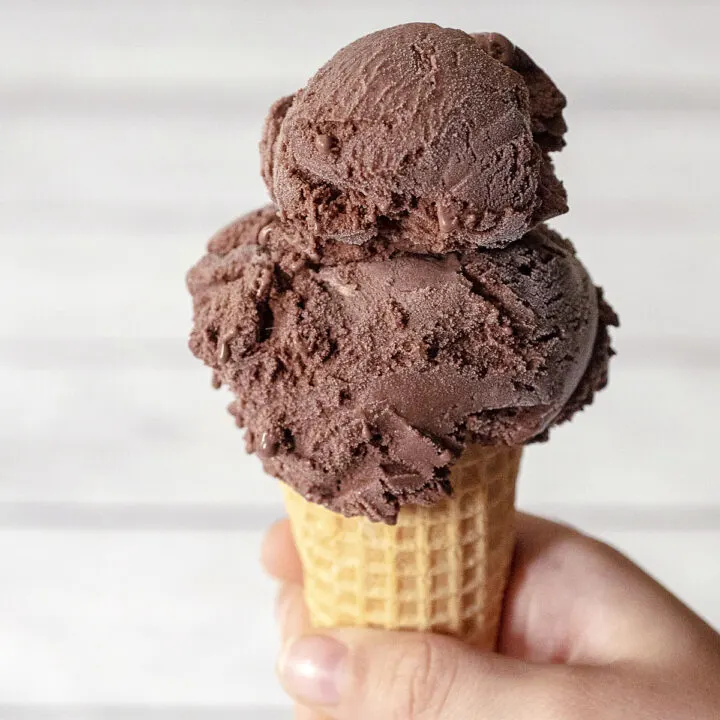 Classic Chocolate Ice Cream
Total Time:
8 hours
40 minutes
This classic chocolate ice cream is rich, ultra-creamy, and ultra-chocolatey. Enjoy on its own, or add your favorite mix-ins.
Ingredients
1 ½ cups half-and-half, divided
½ cup heavy cream
¾ oz (¼ cup) dark cocoa powder
4 large egg yolks
½ cup + 2 tablespoon sugar
1 teaspoon vanilla extract
Instructions
Place ½ cup of the half-and-half in a large saucepan. Add the cocoa powder. Whisk over medium heat until the cocoa powder dissolves.
Add the remaining half-and-half and the heavy cream. Bring to scalding over medium heat.
While the half-and-half mixture is heating up, whisk together the yolks and sugar, until lightened in color and thickened. Do not stop whisking, or the sugar will "burn" the yolks (the sugar will cause the egg proteins to clump together, and you'll need to start over with new yolks).
While continuing to whisk, slowly drizzle about a quarter of the hot liquid into the egg yolks. Then pour the yolk mixture back into the saucepan.
Stir over medium heat with a wooden spoon until the mixture thickens, and coats the back of the spoon without running when you swipe your finger across the back. If you have a thermometer, the temperature should be 170 to 175 degrees F.
Pour the mixture through a fine-mesh sieve into a clean mixing bowl. Let the bowl sit at room temperature for 30 minutes, then stir in the vanilla. Cover the bowl with plastic wrap, and refrigerate for 4 to 8 hours.
Process in an ice cream maker according to the manufacturer's instructions. Transfer the churned ice cream to a freezer-safe container and let it harden for at least 4 hours.
Notes
If you want to add mix-ins, add them to the ice cream maker in the last 5 minutes of churning.
Recommended Products
As an Amazon Associate and member of other affiliate programs, I earn a small percentage from qualifying purchases.
Nutrition Information:
Yield:

6
Serving Size:

1
Amount Per Serving:
Calories:

219
Total Fat:

17g
Saturated Fat:

10g
Trans Fat:

1g
Unsaturated Fat:

7g
Cholesterol:

198mg
Sodium:

91mg
Carbohydrates:

8g
Fiber:

0g
Sugar:

7g
Protein:

7g
I am not a certified nutritionist. This nutrition information is automatically calculated by third party software and is meant as a guideline only.
a Rafflecopter giveaway